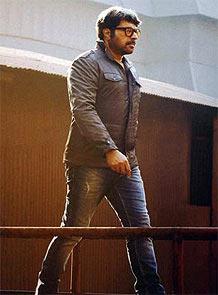 Director Aashiq Abu has not been in good form for some time.
His last few films Da Thadiya, Idukki Gold and Gauri (in the 5 Sundarikal anthology) received mediocre response.
He hopes to bounce back with next week's release, Gangster.
If the film does well it would also help superstar Mammootty who has had a line of flops, including this year's Balyakalasakhi and Praise the Lord.
Aashiq had denied the media entry to the location of Gangster to keep the "salt n' pepper look" of the hero a surprise. But the news leaked anyway.
The posters of the film were launched at a small function in Kochi and the film's trailer has received a favourable response, especially from the fans of the superstar.
Mammootty plays a gangster named Akbar Ali Khan. Sekhar Menon, John Paul, Nyla Usha and Aparna Gopinath are also in the cast.
Can Gangster live up to all the hype? We will have to wait another week to know.