The top posts on social media from your favourite Bollywood celebrities: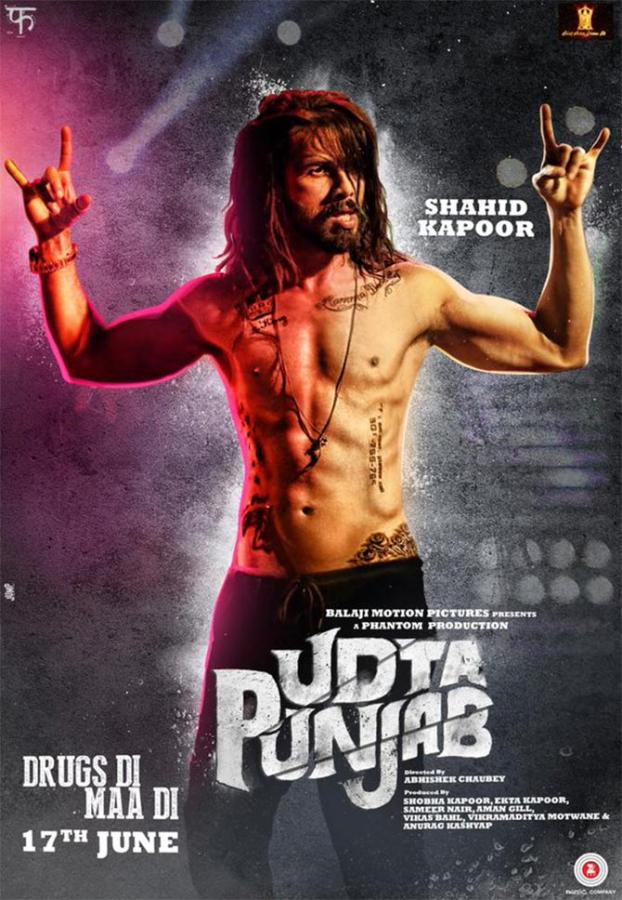 The Udta Punjab controversy seems to have finally come to an end, with the Bombay High Court clearing the film with just one cut. The court has asked the Censor Board to issue a fresh certificate to the film within two days.
As soon as the verdict was announced, B-town celebs took to Twitter and lauded the landmark judgement.
Dia Mirza: 'The triumph of #UdtaPunjab is the victory of #Democracy. And a victory for the spirit that DOES NOT GIVE IN OR GIVE UP.'
Neeraj Ghaywan: 'Landmark judgement! Bombay HC has reminded CBFC that its job is to certify and not censor. It will set a precedent for future films.'
Shahid Kapoor: 'Landmark judgement#UdtaPunjab will fly and so will the voice of freedom and expression. Thank you all for the support. This is your victory.'
Alia Bhatt: And FINALLY #UdtaPunjab will flyyyyy!!Here's to freedom of expression, to our judiciary, to the industry, to the media and to YOU ALL.'
Karan Johar: And justice there is!!!!!!!!! #BombayHighCourt ....#UdtaPunjab ...as a filmmaker I feel empowered and relieved!!!!
Milap Zaveri: 'HUGE Victory! #WellDoneUdtaPunjab @EkmainaurEktu7 @anuragkashyap72 @shahidkapoor @aliaa08 @FuhSePhantom.'
Masaba Matena: 'Udta Punjab to be released with 1 cut and a disclaimer! SEE YOU ALL at the movies on Friday the 17th.@FuhSePhantom @balajimotionpic.'
Ashvini Yardi: 'U guys have created history !!!! @FuhSePhantom @balajimotionpic #UdataPunjab.'
Starring Shahid Kapoor, Alia Bhatt, Kareena Kapoor Khan and Diljit Dosanjh, the film will hit the theatres on June 17 as scheduled.
The only scene that will be deleted in the film is the one with Shahid's Tommy Singh urinating into the crowd.
'We have read script in entirety to see if film encourages drugs. We do not find the film questions sovereignty or integrity of India by the names of cities, reference to state or by a signpost,' the court said, referring to the Censor Board ordering the deletion of 'Punjab' and names of other places in the state in the film.
'Do not act like a grandmother,' the court added. 'Change as per the times now. The CBFC need not be over-sensitive in the matter of art. The CBFC cannot stop creative people abruptly as it may discourage them. This will kill creativity. These days filmmakers are brutal, direct and straightforward. One need not treat them harshly just because of this.'
The court further noted that the CBFC is not empowered by law to censor films, as the word censor is not included in the Cinematograph Act.
'Censor in common parlance means to certify a movie. Therefore, if by law the board is empowered to make changes, cuts, or deletions, this power of the CBFC must be consistently in consonance with the provisions of the Constitution and the Supreme Court directions,' Justice SC
Dharmadhikari said.
As per the revised disclaimer, the Udta Punjab makers will have to delete reference to Pakistan. They will also have to make additions to the disclaimer to the effect that the movie, its characters and the filmmakers do not promote the use of drugs and abusive language, and that the film is only attempting to depict the reality of drug abuse.
***
Aamir Khan puts on muscles for Dangal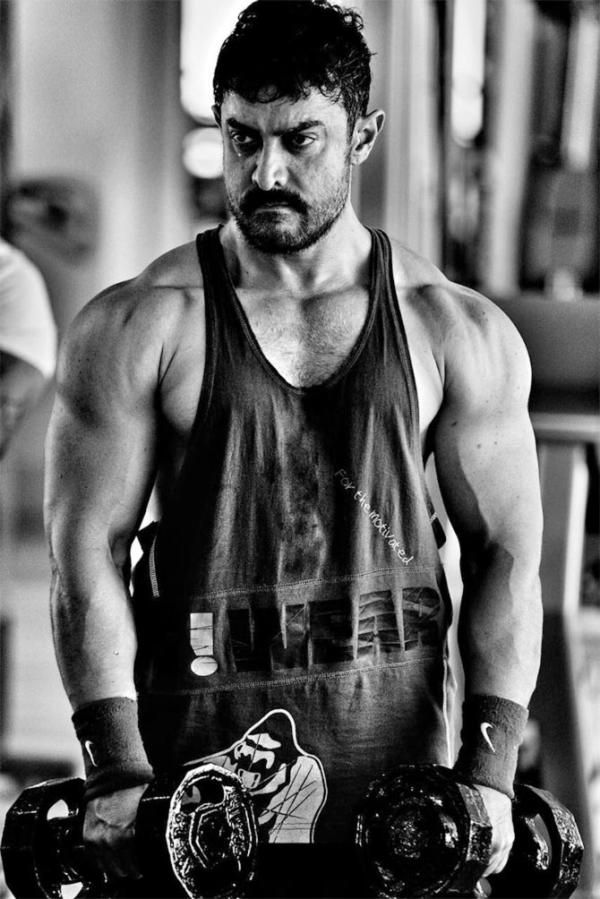 Aamir Khan will resume shooting for his much-awaited film Dangal soon.
After gaining weight for the film, the actor has now gone muscular to play the younger version of wrestler Mahaveer Singh Phogat.
Khan took to Twitter and shared his new look and tweeted: '2 days to go before I shoot for young Mahaveer.... @avigowariker.'
Dangal, which is biographical sports drama, is being directed by Nitesh Tiwari and is slated to release on December 23.
***
'Innocent lives lost yet again'
Several Bollywood stars took to social media to condemn the mass shooting at a gay nightclub in Orlando and pay tribute to the victims:
Priyanka Chopra: 'Heartbreaking to hear about the #OrlandoShooting May peace come upon this earth.. Prayers for the victims and their families. #prayerforlove.;
Akshay Kumar: 'Deeply saddened to hear about the #OrlandoNightClubShooting. Sending love & prayers to the victims & their families.'
Alia Bhatt: 'Heartbreaking to hear about the #OrlandoNightclubShooting!!! Can just imagine what the families and people are going through. Shocked!!'
Shraddha Kapoor: 'Shocked to hear about the #OrlandoNightClubShooting. Innocent lives lost yet again. So heartbreaking. Praying for these attacks to stop.'
Sonakshi Sinha: 'RIP the victims of the #OrlandoNightclubShooting! u'll were proud of who u were and that is how you shall be remembered. Prayers and love.'
Farhan Akhtar: 'Heart goes out to all families devastated by the Orlando shooting.. Your grief is unimaginable and we share it with you. In solidarity.'
Sonam Kapoor: 'Please please stop the hate... "It was times like these when I thought my father, who hated guns and had never been to any wars, was the bravest man who ever lived". ~Harper Lee, To Kill a Mockingbird, Chapter 11. #orlandoshooting #tolerate #love #peace #lgbt #allreligionsleadtoonegod.'
Tamannaah Bhatia: 'Heartbreaking to hear about #OrlandoNightclubShooting , prayers to the all the family's who have lost their loved ones.'
***
Parineeti bonds with Ayushmann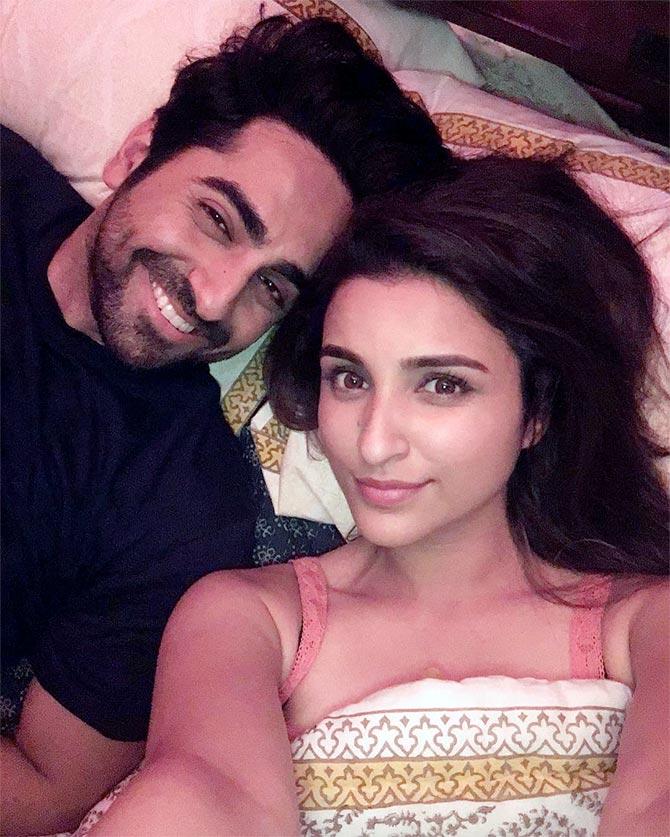 Parineeti Chopra, who is shooting for Akshay Roy's Meri Pyari Bindu in Kolkata, is enjoying her time on the sets.
She shared a picture of herself with co-star Ayushmann Khurrana, above, and wrote: 'Lounging around on a sunday ;) only way to keep awake at night shoots!!'
The film is being produced by Maneesh Sharma, under the Yash Raj Films banner.

When Salman and Randeep enjoyed coffee together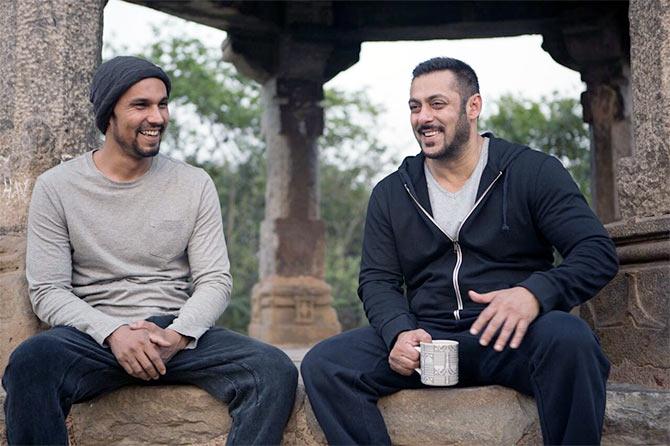 Director Ali Abbas Zafar, who recently completed shooting for his upcoming film Sultan, took to Twitter to share a behind-the-scene photograph of Salman Khan and Randeep Hooda, above.
He tweeted, 'Buddy time -casual coffee break between takes.'
Randeep plays Salman's MMA trainer in the film.
Sultan, which also stars Anushka Sharma, releases on July 6.
***
Irrfan Khan, Tom Hanks promote Inferno in Singapore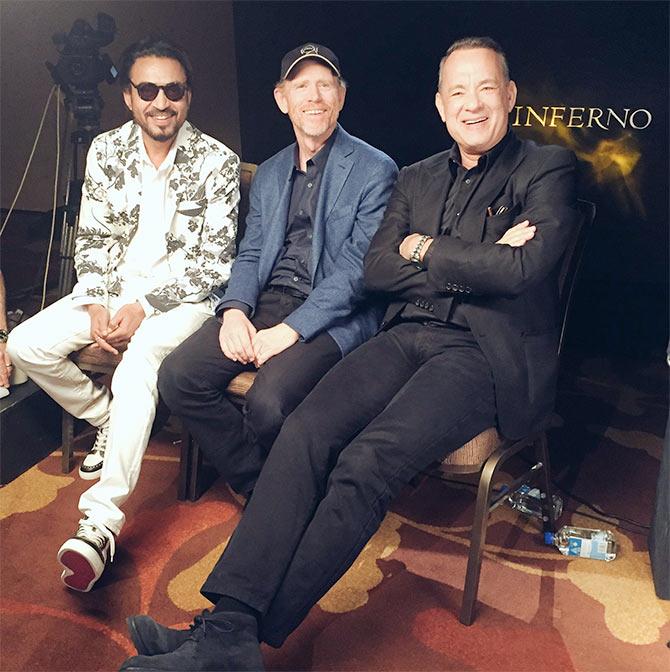 Irrfan Khan, who is promoting his Hollywood film Inferno in Singapore, shared a picture of himself with director Ron Howard and Tom Hanks, above.
'Reunited for @infernothemovie promotions with these amazing guys @RealRonHoward @tomhanks in #Singapore !!' he tweeted.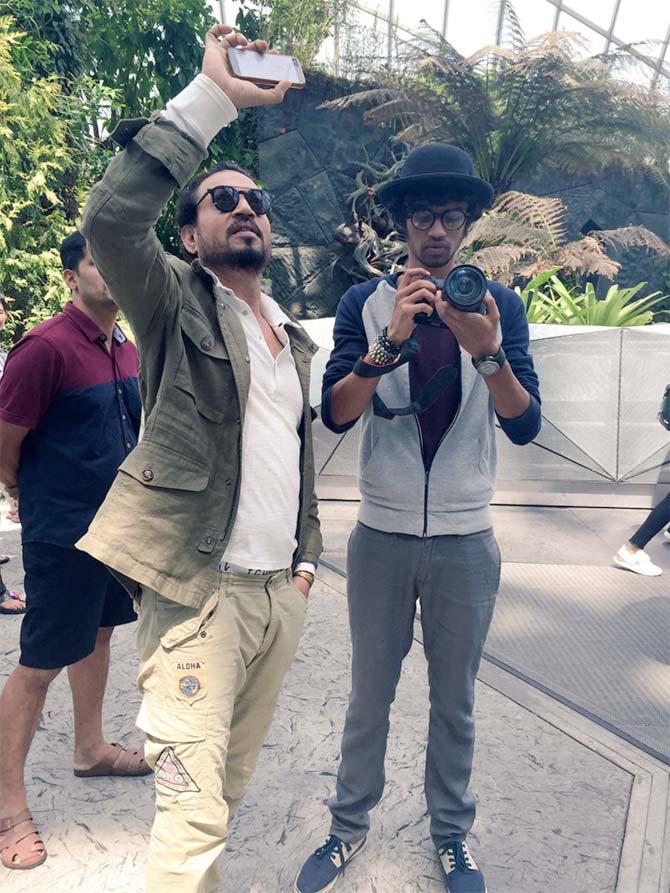 Meanwhile, he went sightseeing with his son Babil. 'When we both are in action.... #IrrfanandBabilinSingapore #Traveldiaries,' he added.
Directed by Ron Howard, the film is a sequel to Angels & Demons and will release on October 28 in India.
***
Meet Karan Johar's new family member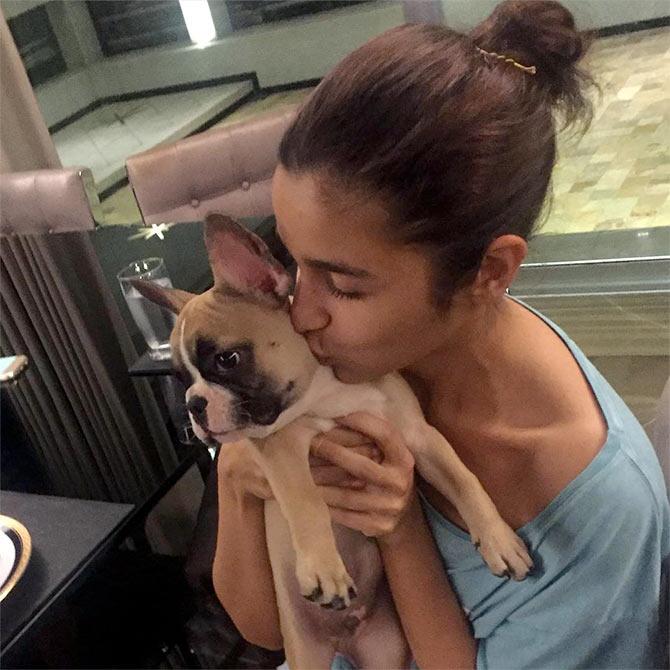 Alia Bhatt recently paid Karan Johar a visit, and met a 'new member of his family' at his house in Mumbai.
Karan shared a picture with his pet Nobu, above, and wrote: 'New member of the family....NOBU JOHAR...@aliaabhatt launches him on social media.'
***
Kriti, Sushant leave Budapest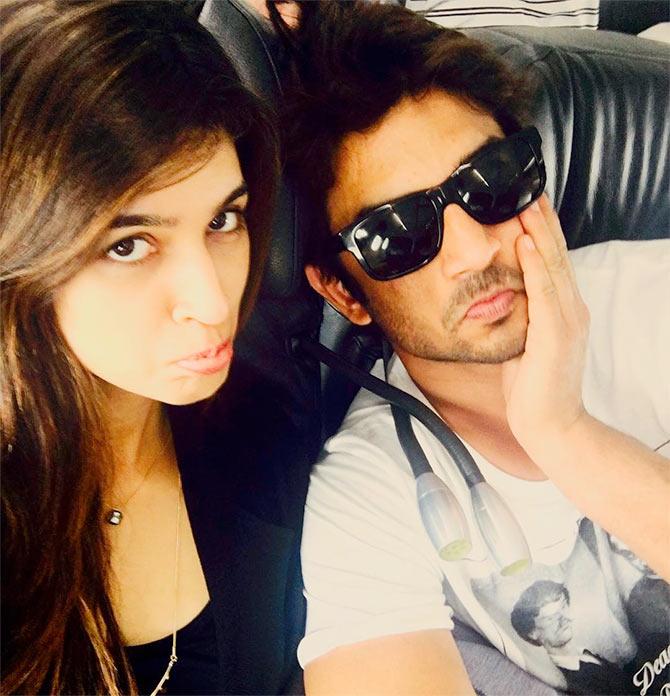 Kriti Sanon and Sushant Singh Rajput have wrapped up the shooting for Dinesh Vijan's film Raabta in Budapest.
Kriti shared a picture of them together, above, and wrote: 'Bye bye Budapest!! You've been a lovely home for the last 2.5 months!! You shall be missed!! #sentiwalifeeling @sushantsinghrajput #Raabta.'
The film is scheduled to release on February 12.
***
Maryam Zakaria shoots an item number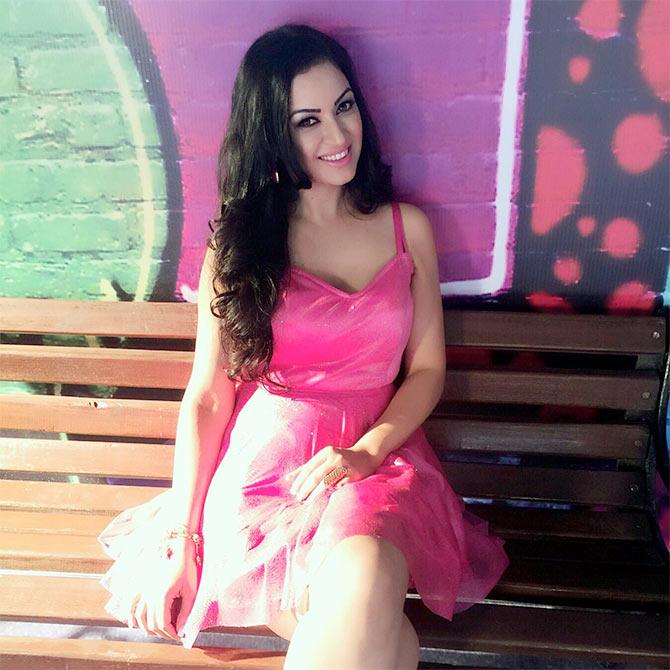 Maryam Zakaria recently shot an item number for Abhishek Jawkar's film Missing on a Weekend.
She shared a picture, above, and tweeted: 'My latest Bollywood song shoot from the movie "Missing on a Weekend" #bollywoodmovie #song.'
The film will release on June 24.