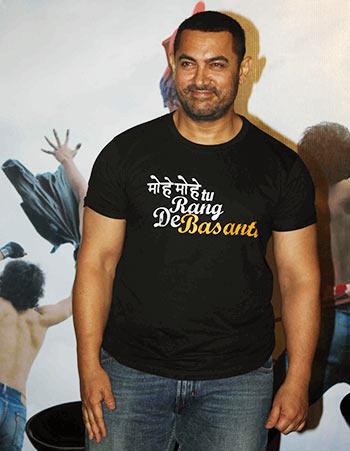 'See my actions in the last 25 years, the kind of films I have done.'
'I have been doing Satyamev Jayate for the past four years. Why am I doing that? It's because I love my country. I am taking time out my busy schedule to do it. And I am happy about doing it because that is my contribution in nation building.'
Director Rakeysh Omprakash Mehra's brilliant film Rang De Basanti has completed 10 years and the cast -- including Waheeda Rehman, Aamir Khan, Sharman Joshi, Siddharth and Atul Kulkarni -- were present to celebrate it at PVR Infinity Mall, Andheri, a western suburb of Mumbai.
The team also released a book on the screenplay and anecdotes of the making of Rang De Basanti, along with a documentary called Rubaroo.
Aamir Khan used the platform to clarify his statements on the intolerance issue in India.
"Very few people understood what I said and there are some who are upset with me," he said. "I understand why people are upset with me. If I was in their place, even I would have been upset. What these people have been told is not truth. The common man in India was told that 'Aamir Khan wants to leave this country. What do you think?'
"I never said I want to leave India. If someone had asked me this question, even I would have been upset."
Aamir blamed the media for the backlash.
"To some extent, our media has to be blamed because even you asked this question to everyone. But there is no truth to this. You twisted my words. This time, I want to say clearly that I was born here and I will die here. I have never thought of leaving this country, nor has Kiran (Rao, wife). We are not going to leave this country even in future," he said.
"When I go abroad, I can't live anywhere for more than two weeks. I get homesick. I want to come back to my country."
Talking about Kiran Rao's statement, he said, "Somewhere, it was my mistake. I should not have shared what we spoke privately on a public platform. She made me realise that."
"Also, I never said that India is intolerant. See my interview once again and you will know," he added.
Aamir said he agrees with Prime Minister Narendra Modi that unity is our strength.
"Our Prime Minister said unity is our strength and that no one should spread poison. Unity in diversity is our country's motto. I ask people, who are spreading negativity, not to do that. This is what I wanted to convey even then."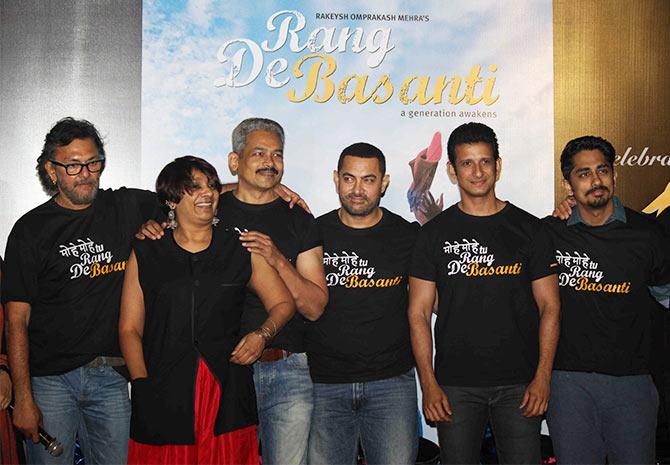 Image: Rang De Basanti's director Rakeysh Omprakash Mehra, his wife and editor of the film PS Bharathi, Atul Kulkarni, Aamir Khan, Sharman Joshi, Siddharth celebrate ten years of the film.
Aamir asked everyone to look at his actions and his work for the last 25 years and then judge him.
"Whatever I say about myself will not make any difference. See my actions in the last 25 years, the kind of films I have done. I have been doing Satyamev Jayate for the past four years. Why am I doing that? It's because I love my country. I am taking time out my busy schedule to do it. And I am happy about doing it because that is my contribution in nation building."
"I belong to a freedom fighter's family. My great grand uncle Maulana Abdul Kalam Azad fought for the freedom of this country. I love my county and that is the reality."
Aamir also spoke about working with Sunny Leone after her interview on The Hot Seat got a lot of criticism, thanks to the condescending questions.
"I was hurt with the way the interview was conducted, especially when she was asked, 'Do you think you will ever get a chance to work Aamir?' and she said no. I felt bad when she said that. If the story is good and if we suit our characters, I have no qualms about working with her. I have nothing to do with her personal life. She is a human being and a woman, and I respect her for that. I hope she would like to work with me too."
Photographs: Pradeep Bandekar