'I was very nervous. I have sat in so many narrations with him so I know that, if he doesn't like something, he immediately says, 'Mazaa nahi aaya (It didn't work for me).'
'But when he heard my script, he started crying and got up and went to the bathroom.'
'Those five minutes, till he came out, seemed like five years to me.'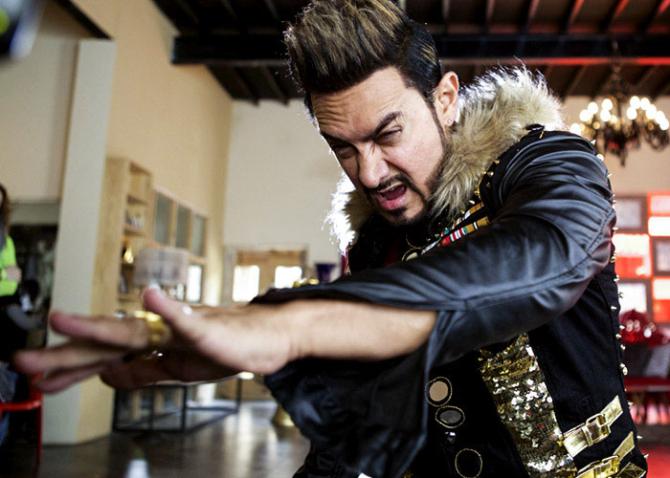 IMAGE: Aamir Khan in Secret Superstar.
There's something endearing about Advait Chandan, the director whose first film, Secret Superstar, will hit the big screen this Thursday.
The 30-year-old's excitement makes you smile.
He can barely sit still for a second. His body language is animated and his manner courteous as he chats with you.
Clearly, he is hungry and not just for success at the moment. He's already ordered two toasted sandwiches that have gone cold as he enthusiastically dived from one interview into another. And now, he's ordered a third.
You can't blame Advait, he's finally seeing his dream come true.
Advait -- who had earlier worked as an assistant director on Aamir Khan's Taare Zameen Par and Kiran Rao's Dhobi Ghat -- quit assisting to become Aamir's personal assistant.
His friends thought he was crazy and predicted he would end his career as the star's peon.
But he proved everyone wrong when he got the opportunity to direct Secret Superstar, an Aamir Khan Productions film; in fact, he even got a chance to direct Aamir Khan, who has a pivotal role in it.
Advait was so excited about his movie, says his lead actor, Zaira Wasim, that he wanted her to quit Dangal and debut with Secret Superstar.
Now, as his film enters the court of public opinion, Advait confesses to having mixed feelings.
He masks his nervousness in a long conversation with Patcy N/Rediff.com.
Excerpts:
Are you excited?
I am very excited and nervous at the same time.
I am not sleeping very well; I get nightmares... like I am watching the film with the audience in PVR and suddenly I realise there is no VFX in one scene. It feels like I am appearing for my board exams.
You started your career with Prahlad Kakkar. How did you land up with Aamir Khan Productions as an assistant director on Taare Zameen Par and Dhobi Ghat?
My family was very filmi. Every Friday, we would go to the theatre to watch a movie; while eating food, too, we needed to watch television.
I started working very early. I would go to Prithvi theatre (in Juhu, north-west Mumbai) as a teenager for the Prithvi theatre festival and attend children's workshops. I was part of the children's theatre group run by Neeraj Kabi, where I would act and once co-wrote a play.
I started doing backstage work in theatre. I was always interested in writing and directing. I started writing but did not have the guts to tell anyone I wanted to direct.
As a child, if I liked a film, I would try and adapt it in a school play.
When I was in (St) Xavier's College (a premier Mumbai college, located in south Mumbai), I was one of the organisers of the Malhar festival for Mr & Mrs Malhar. Prahlad Kakkar was the judge for the contest I had designed that year.
I showed him what I had done till then and asked him for a job as I wanted to drop out of college; I felt suffocated in the classroom.
He casually asked me to come to his office. When I reached his office, Genesis, the next day, he told me he had asked me to come some day, not the very next day.
Still, I persisted.
When he came to know I was in Class XII, he asked me to complete my board exams and then meet him. I continued to go to his office and send him cheesy messages, promising to work hard if he gave me a job.
After I finished Class XII, his first assistant director, Shujaat Saudagar of Rock On 2 fame, called and asked me to join Prahlad.
I did, but I was not interested in advertising and selling products. I wanted to make a feature film.
After that, I wanted to work with Farhan Akhtar on Don but I did not get a chance. Instead, I got to work for Honeymoon Travels Pvt Ltd (Reema Kagti's directorial debut, produced by Farhan Akhtar's Excel Entertainment) as they wanted cheap assistant directors.
But I heard you almost lost your job on Honeymoon Travels Pvt Ltd?
Reema Kagti was not happy with me but Zoya Akhtar saved me.
I goofed up very badly. I did not give the call sheet to the cameraman and, because of that, the camera came late on the sets.
Reema was very upset and she sacked me on Day 3. She said, 'This guy doesn't know the importance of the call sheet.'
She was right; because of my mistake, the camera came an hour late and not only cost the production house but they got less time to shoot as well.
It was a huge mistake. I gave everyone else the call sheet and missed this guy.
I was given a bus ticket for my return journey.
My parents were already unhappy that I was not studying; then, I quit my job at Prahlad Kakkar's office to take up a low paying job at Honeymoon Travels. Now, if I were to tell them I lost this job as well, they would be most upset.
I cried a lot, I thought my world had ended. But Zoya gave me another chance; I was just 18 then.
I did Positive, a short film with Farhan; I assisted there too.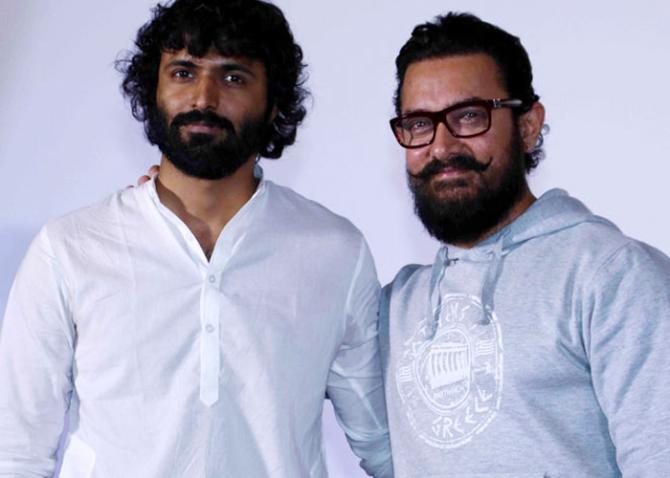 IMAGE: Advait Chandan with his mentor, Aamir Khan.
How did you start managing Aamir Khan's dates?
Sumita Ram, a producer at Genesis, joined Aamir Khan Productions; at Genesis, I was her right-hand man. She called and asked me to join her.
I never got to interact with Aamir Sir much; may be just once or twice. One day, when he called me by my name, I immediately called my mother and told her about it. I felt like I had achieved something!
I worked a lot with Kiran Ma'am, I reported directly to her as I was working in their production house. She was the backbone of Aamir Khan Productions and was taking care of the creative department and the logistics.
She asked me to work on Dhobi Ghat. I got a lot of credits for the film, like casting director, location hunting and assistant director.
I even got to shoot some scenes for Dhobi Ghat and I made the making of Dhobi Ghat. You could say that Dhobi Ghat was my film school.
During those days, Facebook and Twitter were beginning to become popular in India. Aamir Sir asked me if I was on Facebook and had a Twitter handle. When I told him I did, he asked me to make an account for him.
It was exciting that I had the passwords for his Facebook and Twitter accounts. I would manage them for him and, because of that, we started getting closer.
If you wanted to become a director so desperately and you were going the right way, why did you leave that route and become Aamir's personal assistant?
My friends told me I was becoming his peon. I told them they were mad.
When you are an assistant, you just become good, better and best; nothing more than that. But, by working with Aamir Khan as his manager, I would get to learn a lot.
I would understand the rationale behind his choosing the films he signed; I would get a chance to rehearse with him. I would get to see directors directing him.
During the shooting of Rajkumar Hirani's PK, I was there all the time. I got to learn so much just by being on the sets... so what if I had to do a secretarial job?
My job included all kinds of random things like registering Aamir Sir's car, or sending his car for servicing and fixing his appointments, but I had no problems with that because I got to learn a lot.
I got to go everywhere he went. I asked his permission to sit in meetings with him and he agreed.
When Dhoom's first narration happened, I had a good equation with Aamir Sir; he told Victor (the film's director, Vijay Krishna Acharya) to let me sit in. I got to listen to Dangal's and PK's first narration too.
There were so many more narrations that Aamir Sir rejected, I got to sit in on them as well.
While listening to the script he would immediately say, ''Sorry yaar, mazaa nahi aa raha hai (Sorry, buddy, it's not working for me)' or 'Second half bahut weak hai (The second half is very weak)' or 'Conflict bahut weak hai (The conflict is very weak)' or 'Bahut heavy lagi film, mujhe nahi jami (The film is too serious, it's not working for me)'.
By just listening to them, I knew my film should not have these problems.
I also noticed that he liked films that had a good dose of humour.
IMAGE: Kabir Sajid, Meher Viz and Zaira Wasim share an Awww! moment in Secret Superstar.
How did Secret Superstar come about?
I would write everyday but nothing would move forward because there was no deadline.
I was writing an urban film about first world problems, but it wasn't going anywhere. Then, during Satyamev Jayate, I realised what a real hero would look like.
I had a charming guy with six packs in mind but Satyamev Jayate opened my eyes. A hero is a person who sacrifices his or her happiness to take care of others.
During that shoot, I came across a boy who learned golf on the internet and became a world champion. From there, I got the idea of a girl who sings in a small town, puts her video on the internet and it goes viral.
The impact the internet is having on this generation was the broad thought.
I took this story idea to Kiran Ma'am; I would never go to Aamir Sir. She asked me to write the screenplay. She helped me a lot after my first draft was ready, she told me what was working and what was not.
When it was finally ready, I asked both of them for their feedback.
Kiran Ma'am was travelling at that time so Aamir Sir heard it and suggested a few more changes. But, to get this film up to the screenplay stage, Kiran Ma'am gave me a lot of moral support.
I heard Aamir cried when he heard the script for the first time?
Yes, he did.
I was very nervous. I have sat in so many narrations with him so I know that, if he doesn't like something, he immediately says, 'Mazaa nahi aaya (It didn't work for me).' But when he likes something, like it happened during PK, he says, 'Oh shit, Raju! What a film, yaar! It is too good, yaar!'
Even during Dangal, he gave a good reaction. But when he heard my script, he started crying and then he got up and went to the bathroom.
Those five minutes, till he came out, seemed like five years to me.
He then asked, 'When do you want to make it?' Immediately, I told him.
I had narrated the script to him in September and PK was releasing in December, so he asked me to start it four months after PK's release.
But it was a too long a wait; how did you manage?
Yes, I had to wait for a long time; I even had to wait for Zaira.
I had quit Aamir Sir's job and was working on this film. It was ready but couldn't go on the floors so I started playing a lot of computer games and spent a lot of time with my son.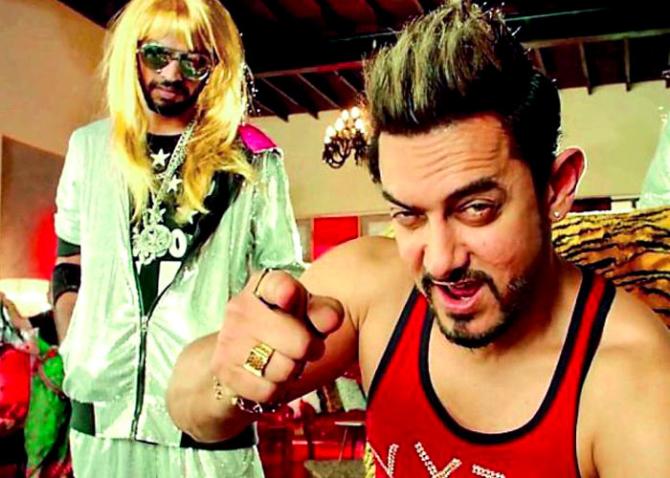 IMAGE: Aamir Khan in Secret Superstar.
Every time Aamir is in a film, there is speculation that he must have directed or edited it. Tell us what your experience of working with Aamir Khan was like.
His contribution has been massive.
You cannot deny his contribution to any film he works in.
I feel he helps in many ways to make the film better, not just creatively but in terms of the respect that he gives the director, the story; he will cut his own scene if the pace of the story weakens.
Aamir Khan is the kind of a guy who will taste the food and add salt if it is less. Your calling this interference or guidance depends upon how secure you feel.
I feel that, every time he gave any suggestion, it only helped Secret Superstar.
What if he suggests something you don't like? Who wins in such a situation?
It is not about personal victories; each time, the film won.
It was not just Aamir Khan who gave suggestions; even Anil Mehta (the director of photography) and Sanya Malhotra (who played the younger Phogat daughter in Dangal) gave suggestions; we took all the good ones.
Push and pull is part of every film.
One man can write a film but, to make a film, you need lots of people and all of them contribute.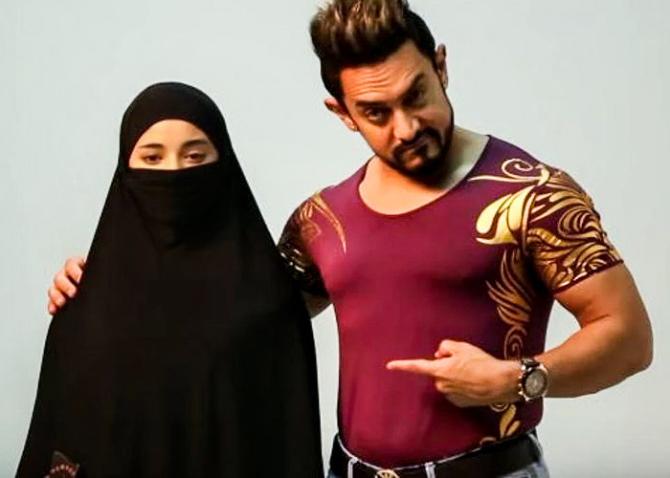 IMAGE: Zaira Wasim and Aamir Khan in Secret Superstar.
How difficult was it for you to direct Aamir who is your mentor in this industry?
He made it very easy.
I would have not been able to make the transition from fan-boy to manager to director; it is he who allows you to smoothly make that transition.
He treats you like a director, so you feel like one.
Can you tell us some qualities about Aamir that not too many people know?
I don't know if people know how deeply he sleeps, it is impossible to wake him up.
I don't think people have seen his sense of humour; privately, he is very funny. He is very formal when he gives interviews but he has a ridiculously funny sense of humour.
He fights like a child when he plays board games.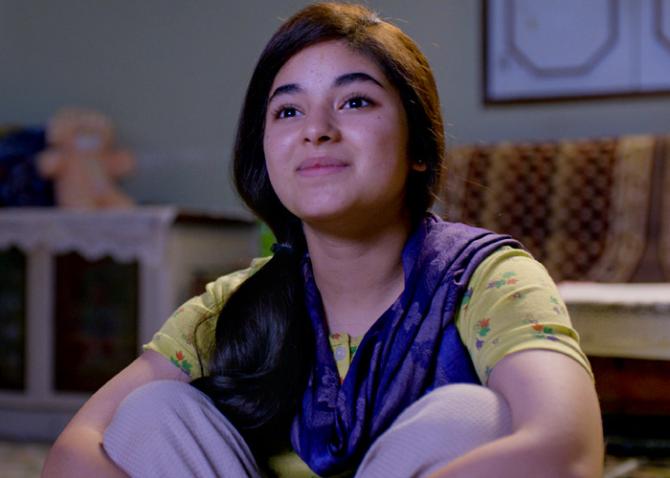 IMAGE: Zaira Wasim in Secret Superstar.
How did you select Zaira? She was brilliant in Dangal and, from the trailers of Secret Superstar, she seems to have given another excellent performance. And she is good in academics as well.
Aamir Sir saw her audition and liked her a lot. He called me up and said, 'Just met a girl. She is in Mumbai for a day. We really like her for Dangal; you should also meet her.'
I met her, I liked her. In 20 minutes, I told Aamir Sir she was terrific and we should immediately start the shoot. But he said she would first shoot for Dangal. I told him, 'Why should she do Dangal first? She will be the hero in my film.'
I tried to convince him to take another girl for Dangal and keep Zaira for my film but Aamir Sir refused.
Aamir Sir was the producer for both the films.
I spoke to Nitesh Tiwari (the director of Dangal); I even tried talking Zaira into walking out of Dangal... Finally, Aamir Sir told me 'Dekh, tu irritate mat kar (Look, don't irritate me). If you want Zaira so desperately, wait for her.'
I had to wait for Zaira for seven months.
I would select two or three people for other roles and then tell him which one was the best.
Though Aamir Sir would give the final okay, he didn't change any casting.
Aamir has a good relationship with his co-stars; they become his good friends. How does he maintain that kind of relationship?
I organised his 50th birthday celebration and we invited all his friends.
He has really close friends from his school days; he has friends from his cricket team too.
When you see them together, they still crack the stupid childish jokes that they did in school... their humour is base level (laughs).
They give bad words to each other.
One day, I asked him about a guy who was talking to him giving him only bad words.
Aamir told me he was his school friend and they had been like that since childhood; he is very casual about it.
He stays in touch with all his friends.
Does Aamir's body language change when he is interested, or not interested, in a film?
Whether a narration is good or bad, Aamir gives it his full attention.
If he is laughing or crying or getting emotional, then he is liking the script.
Sometimes he laughs, but he still doesn't like the script.
You can't guess from his expressions.
The best part is he immediately tells the director whether he has liked, or not liked, the narration.