''For women, it's about, 'See idiot, this is what we go through.' For that, they will get their men.'
'When he comes, he will understand women's problems and say, "You are special" and she will get that 10 minutes ka bhaav. But it's very important.'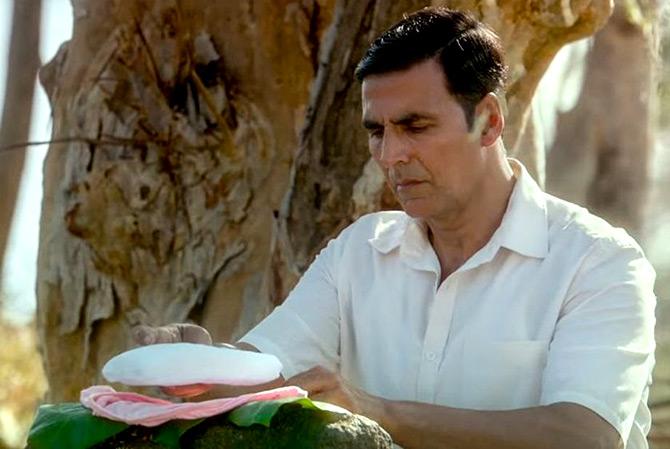 IMAGE: Akshay Kumar in PadMan.
Almost *everyone* is doing the #PadChallenge -- from celebrities to ordinary folk -- and everyone seems to want to prove a point.
Does Akshay Kumar have another winner on his hands?
In the first part of the interview with Rediff.com's Patcy N, PadMan Director R Balki spoke about the stars of his film, Akshay Kumar, Radhika Apte and Sonam Kapoor.
"We live in La La Land, thinking this is an old taboo topic. It is a global issue," Balki tells Patcy in the concluding part of the interview.
You make issue-based films, whether it was Paa. Ki & Ka, PadMan....
I don't think Paa is an issue-based film. Paa is a human issue.
All human beings have emotions, so if you are doing a film on a human being, there will some problem or the other.
Cheeni Kum is not about any issue. Falling in love at 'this' age is not a social issue.
I never looked at Ki & Ka as a social issue -- 'I don't want to work as a man, I want to earn as a woman.'
PadMan is a real social issue because the man's life is a social issue.
The topic itself is taboo. Nobody talks about it openly. Do you see it as a challenge for a family to come together and watch the film?
Undoubtedly, this is a family film.
I feel a lot of men, who watch the film solo, will decide to be more civilised and a little cool and yet be a little sensitive about life.
I believe humanity is progressing. Men are trying to be better.
I feel a lot of men will be affected by this film, rather than women.
For women, it's about, 'See idiot, this is what we go through.' For that, they will get their men.
When he comes, he will understand women's problems and say, 'You are special' and she will get that 10 minutes ka bhaav. But it's very important.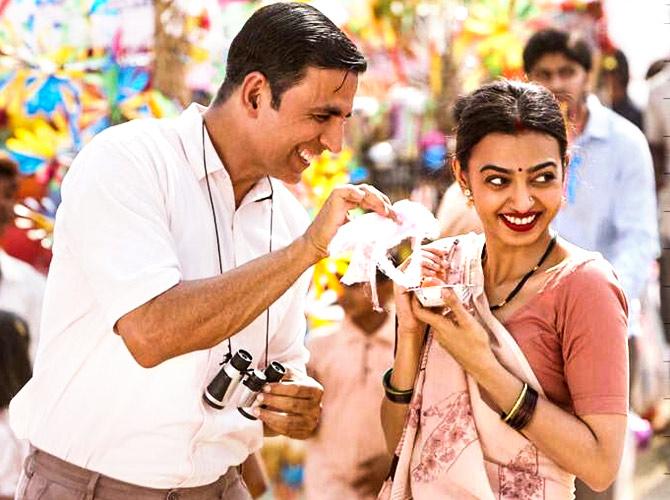 IMAGE: Akshay Kumar with Radhika Apte in PadMan.
What kind of reviews did you get for the trailer and songs?
Since nobody has really cursed me, I suppose the reviews are really good. People have loved the music.
The day after the trailer was launched, I was at an event among people who normally relax by watching ghastly dubbed films in the afternoon on their mobiles.
I saw a bunch of security guys and bouncers at the event watching the trailer and arguing about it.
Their discussion was on the colour of the packet of the sanitary napkin. An older guy was telling (the younger ones) how his daughter recently got periods.
Can you imagine guys like them discussing this topic? Their job is to protect people, in short, bash up people and they are discussing such a sensitive topic.
It was such a fantastic sight.
At that time I did not think they were discussing my film. I was thinking about the topic they were discussing. That gave me a lot of joy.
Regional films have been venturing into taboo areas. Why does Hindi cinema shy away from such topics?
I am a South Indian, so I will tell you the mentality of my community.
When Shamitabh was released, people cursed the shit out of me.
'What is this useless ending? Everybody is dying and everybody is crying. Nonsense.' People told me all this. I smiled because I also knew it was ridiculous.
I will tell you why I did that. Somewhere, it's my genetic problem. In the south, a Hindi film like Shamitabh ran to packed houses.
They loved the film, they worshiped Dhanush. They came out of theatres in tears. I thought something is wrong with humanity.
The same thing I remember about Sadma. It didn't even run for a week, but Moondram Pirai (the Tamil original) is a classic in the south.
I refuse to believe that we don't like tragedies here, but I realised they (the people in the south) love pain.
Pain affects them a lot and they will not curse a film for making them go through the pain. They will be thankful.
Here (in Bollywood), we like sorrow and tragedy, but if we have to go through pain of a certain kind, we detest it.
We like to feel sad and touched, but we don't want to be disgusted with life.
There is this Tamil film, Naan Kadavul, directed by the great director Bala. This is a film on beggars and how they are deformed and made to beg across the world.
It is a gory film, but it was a smash hit in the south. It will not run even for a day here.
Maybe because we see so much more pain in real life that we want to see romantic and sad films only.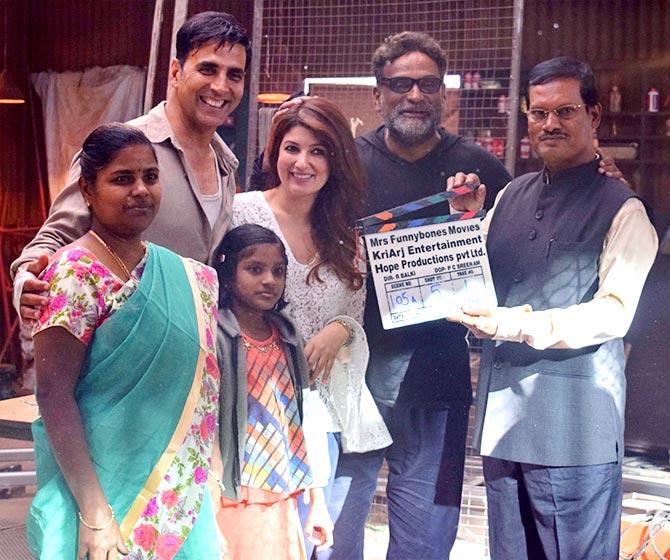 IMAGE: Akshay Kumar, Twinkle Khanna, R Balki with Arunachalam Muruganantham, his wife Shanthi and daughter Preeti.
When did you get over the taboo of menstrual cycles?
I never had it. When I was a kid, my mother would sit outside in the courtyard. I never asked why.
When I was in Standard 9, we learnt about it, but back then, I didn't care so much about it.
When I started my advertising career, the kind of things I heard during a campaign for pads were so ghastly and so revolting that I was shaken.
But again, the campaign passed.
Yes, I have bought a lot of pads for (wife) Gauri in my life; people look at me strangely.
But during this film, when I heard from Arunachalam (Arunachalam Muruganantham) and we sat with NGOs that were doing this kind of research, that's when I realised the depth of the problem.
You have to address the problem by making people talk about it freely first.
I am happy that this will be the first Hindi film showing in Iraq after many years.
Normally, they are very conservative; they want censors and cuts, but they have not asked for one cut for this film.
They want the film as it is; they want to show it to every woman in the Middle East, which shows that society is ready (for such films).
Governments don't change unless they sense people are ready for it and take them there faster. I have seen that change happening in society.
We live in La La Land, thinking this is an old taboo topic. But it is a global issue, and I am not talking about third world countries only.
I am talking about developed countries having this issue. There are very few countries which don't have this issue, like Norway and Sweden.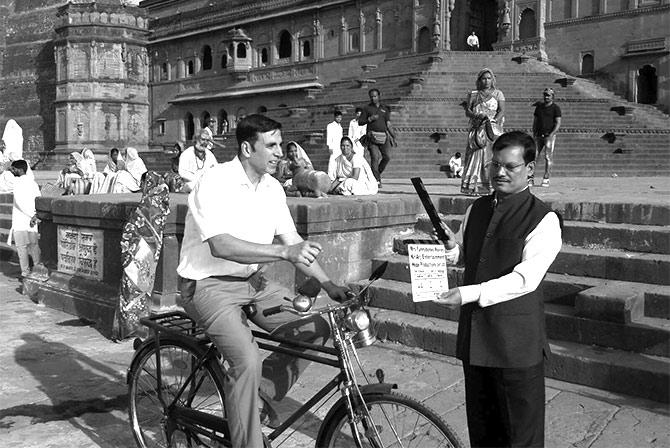 IMAGE: Arunachalam Muruganantham launches the shoot of PadMan.
What is your take on Arunachalam Muruganantham?
He is a real tripper, he is a creative guy.
He has a lateral take on everything under the sun.
What was Twinkle Khanna's involvement in the film?
Twinkle was involved in getting Muruga to agree to do the film, to give us the official rights. He has not given official rights to anybody till now.
After that, she went about writing her book (The Legend of Lakshmi Prasad) and we went on writing our film and we both finished at the same time.
We realised that there are two versions of the same man.
Twinkle is the presenter of the film in the sense that she has done all the background work like getting Muruga on board, understanding the topic, speaking to NGOs, speaking to Oxford, speaking to people who are concerned with the film.

IMAGE: Deepika Padukone in Padmaavat.
You pushed your film ahead by two weeks to make way for Padmaavat.
Padmaavat is different from what we have seen in the recent past because there is so much that the film has gone through.
People who have never seen a film in their life want to see Padmaavat to know what the problem was with it.
It was also banned in some states, so it needed all the screens it could get.
If we had released together, I don't think box office numbers would have suffered, but we would miss the conversation that we want the audience to have after watching PadMan, the subject we are dealing about.
The box office fight would not be between PadMan and Padmaavat, but between the Karni Sena and PadMan and PadMan would have lost because the Karni Sena is violent.