Ashwiny Iyer Tiwari's Bareilly Ki Barfi had the critics reaching for the stars.
But that is just the tip of the iceberg discovers Rediff.com's Savera R Someshwar.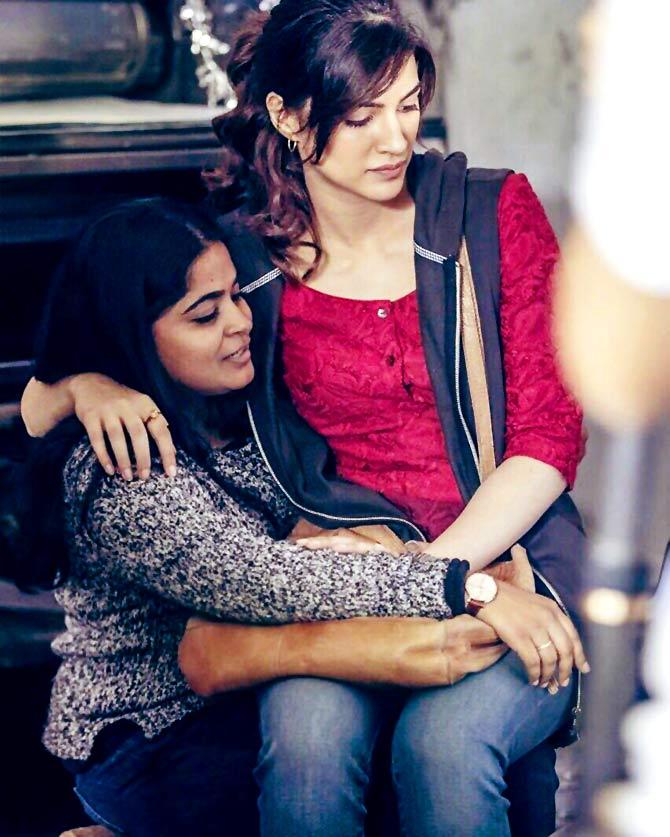 IMAGE: Kriti Sanon captioned this image 'My favourite seat in between shots! Full pampering and "laad" for Bitti by her adorable director!! Love you @Ashwinyiyer' Photograph: Kind courtesy Kriti Sanon/Twitter
It was the last thing director Nitesh Tiwari expected when he called home from an outdoor shoot for his film Dangal, which would soon become one of the highest grossing movies ever.
'Papa,' Amaarisa and Aaradhya, his twins, chided him, 'kab se aapka yeh film chal raha hai (You are taking so much time to make this film). Dekho , Mamma has already finished two films (Nil Battey Sannata and its Tamil version, Amma Kanakku) and come back and you are still stuck with your first film.'
Her husband laughed and laughed, recalls Ashwiny Iyer Tiwari, barely able to hold back the giggles herself, and told her, 'See, this is the biggest compliment for you.'
Now, that count has changed, with Ashwiny adding the well-received Bareilly Ki Barfi to her list.
While she can now breathe a sigh of relief, a few days ago her world was enveloped in the chaotic madness that precedes every release, with her heart probably thumping a few anxious extra beats every minute to cope with the adrenalin rush.
"And then, you do have those moments, you know, when you feel low because of the stress and tension," smiles Ashwiny.
So she reached out for a hug from seven-year-old Aaradhya, who happened to be around, asked with a child-like need for reassurance, "Mamma ka picture achcha chalega na, babbu (Mamma's movie will work, won't it?)."
His answer brimmed with confidence. "Daro mat," he told his mother. "Aapka picture na Dangal se bhi achcha chalega (Your movie will do better than Dangal)."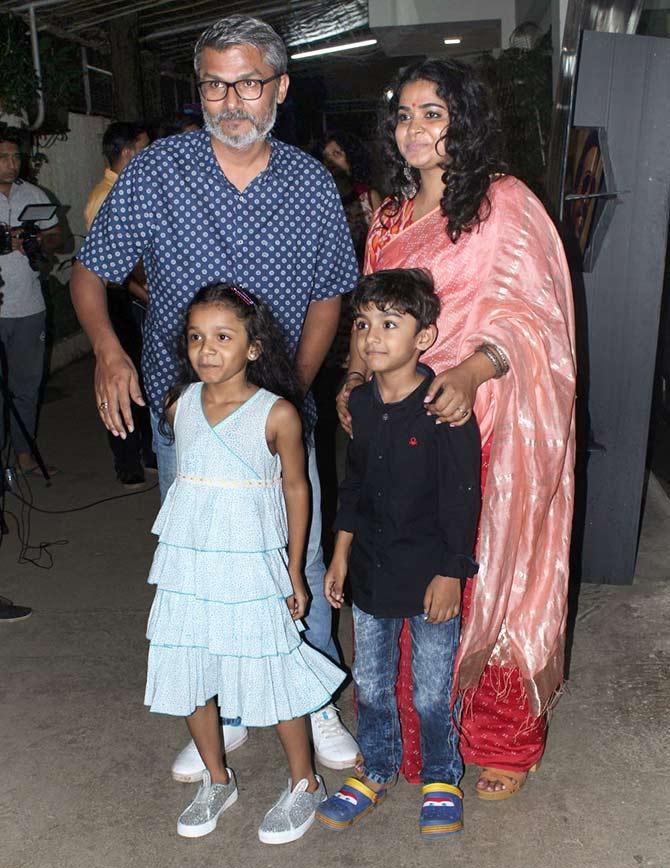 IMAGE: Nitesh Tiwari and Ashwiny Iyer Tiwari with their seven-year-old twins, Amaarisa and Aaradhya, at a screening of Bareilly Ki Barfi. Photograph: Pradeep Bandekar
Yet, despite over 15 very successful years in advertising, question marks were raised about her decision, and her ability, to become a filmmaker.
People wondered why she would leave a job where she could "become the national creative director somewhere, earn shitloads of money, fly all over the place, go to Cannes" and choose to start from scratch in another industry.
Even Nitesh was worried. "In his case, it was understandable," she says. "When you are in a relationship, every decision you take affects the whole family. Especially when you have children, a husband, a mother..."
Then, Ashwiny made her first short film, What's For Breakfast.
It was a thriller.
"He completely stopped worrying after that," she laughs.
There are many, though, who -- to put it politely, -- imagine Nitesh's hand in her talent, in her films. And it riles her no end, probably because -- especially after Dangal -- he is perceived the more successful of the two.
"That means he will be helping in his wife's work" the petite filmmaker's kohl-lined eyes flash dangerously.
"And I have endure questions like how did he help you? Unka toh haath rahega na (He must have helped)? They don't want to know how hard I have worked to reach here." Or what her contribution is to her husband's movies.
"Then I am asked: When you work, he has to take care of the kids, no? I mean, don't I take care of the kids when he's not there? Aren't they his kids too?"
A flabbergasted laugh escapes her.
"A guy can do things independently, but a woman always needs support to do anything? It's so stupid. Which era are we living in????"
"I am not a feminist but... we both work equally hard! I got an award the same year Nitesh did, but no one recognises that!"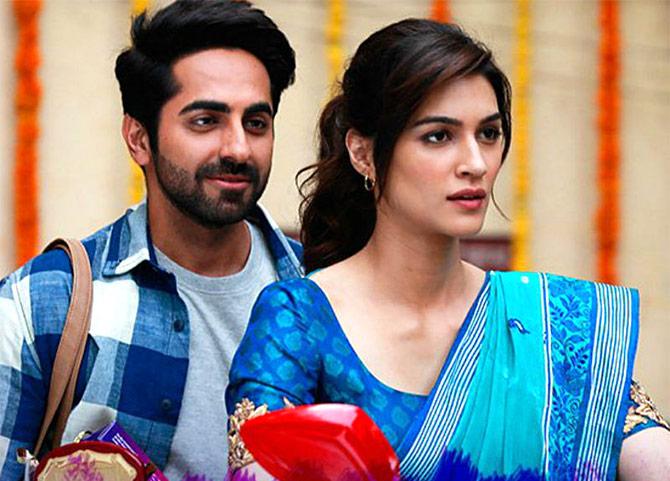 IMAGE: Ayushmann Khurrana and Kriti Sanon play Chirag Dubey and Bitti Mishra respectively in Bareilly Ki Barfi.
At that moment, she sounds like a particularly fierce Bitti Mishra, the highly independent character played with just the right amount of sass by Kriti Sanon in Bareilly Ki Barfi.
That generous laugh that is never too far away from Ashwiny bubbles up again.
"Yes, more or less. There were instances when my costume stylist came and told me, 'Ma'am, you and Kriti (dressed as Bitti) are wearing the same clothes.' And we were like, 'Oh my God, this is a bit too much!'
Unlike Bitti though, "I don't smoke. And I only drink sometimes."
The latter, apparently, has rather upset Nitesh. When the two of them first got together -- they met via common friends in 2002 -- he was very happy that his partner was a woman who could share a drink with him.
He didn't expect her to change her mind in the future.
When Ashwiny finally stops laughing, she explains, "When you're young and in advertising and have nothing to really bother about... if it is Friday evening, then it means you party with your friends or go pub-hopping or watch movies..."
But, within a year of their marriage, Ashwiny had a profound realisation: 'I'm done with this now...' And poor Nitesh was like: What happened to the girl I married???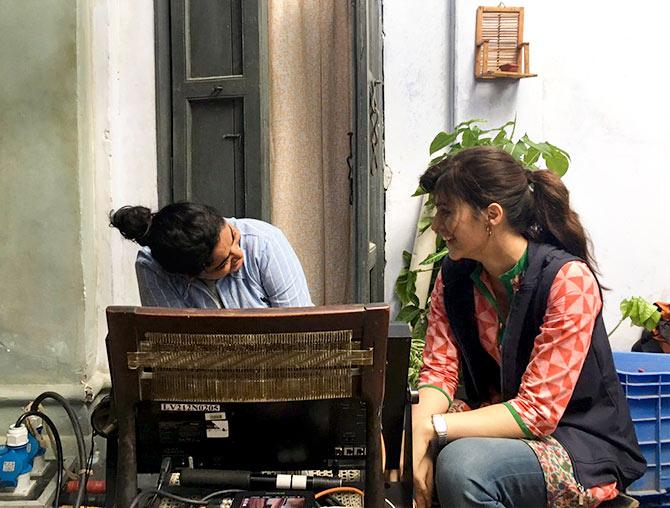 IMAGE: The laughter never stops -- Ashwiny and Kriti on the sets of Bareilly Ki Barfi. Photograph: Kind courtesy Kriti Sanon/Twitter
That girl, at the moment, was busy explaining Bitti, and Kriti, and Bareilly Ki Barfi.
"I wanted a cute, bubbly face," says Ashwiny, who had seen Kriti in her debut film, Heropanti. "And I wanted someone who had never touched a role like this."
So the 37 year old did the one thing she swears by -- research!
"Kriti comes from a simple background. She wasn't born with a silver spoon in her mouth."
"Her mother is a physics professor and her father is a chartered accountant. She has one sister and her family lives in east Delhi."
"She has seen that world. She has gone to college. She was an engineering student. And she is a girl who has come on her own into this film world. It was important that she have that kind of baggage."
Considering the kind of films she makes, Ashwiny says, the history of the people she works with is a vital part of their creative collaboration. "It's very important that they come with their own experiences."
The first actor to be cast was Ayushmann Khurrana, someone she wanted to pull out of his "simple, sweet boy roles" and transform into a selfish bully "who still has a good heart."
Ayushmann has admitted in interviews that Chirag Dubey -- who's completely unlike Ayushmann -- was not an easy character for him to play. "That's what excited him. And that's what excited us in terms of getting him on board because you are going to get something out that is going to be very different," she says.
During the course of filming Bareilly, Ashwiny began to believe it was time for Ayushmann to expand his oeuvre. "Suddenly, you realise you can do these kind of roles too. I told him I would love to see him in a stronger role. I am so glad one of the next films he is doing is a thriller (Sriram Raghvan's next, the tentatively titled Shoot The Piano Player, also features Tabu and Radhika Apte)."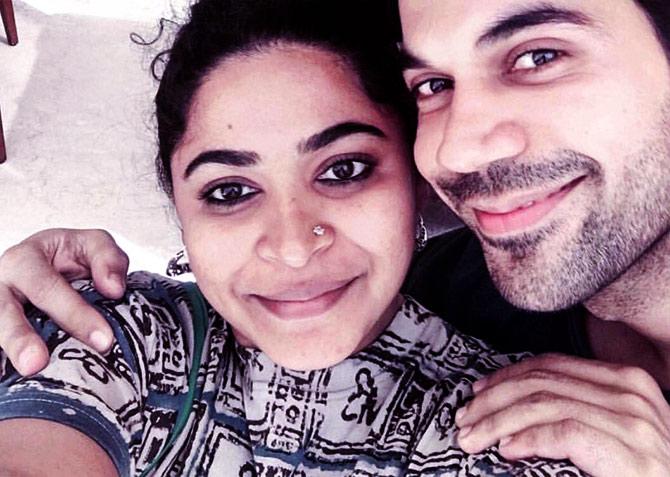 IMAGE: Selfie time with one of her favourite actors, Rajkummar Rao. Photograph: Kind courtesy Ashwiny Iyer Tiwari/Twitter
When it came to Pritam Vidrohi -- incidentally, this film is yet another testament to this 32 year old's incredible talent -- she could not look beyond Rajkummar Rao, an actor -- you realise when you look at her Twitter feed -- she adores.
He fit all her requirements -- "his story, in terms of where he comes from, what he has grown up with and, of course, a good actor. Rajkummar gets all of this very nicely."
And then she had the "icing on her cake", Seema Pahwa and Pankaj Tripathi -- otherwise known for his villainous turns, he plays the sympathetic yet unintentionally funny principal in her debut film, Nil Battey Sannata -- as Bitti's parents.
"They are very senior, very talented artistes. In a lot of Kriti's scenes with Seema Pahwa and Pankajji, their experience and their profoundness in their thinking and in the way they act spilt over on Kriti. It must have been an amazing learning experience for her, something that will stay with her forever."
In Nil Battey Sannata, Ashwiny was focused on a young single mother desperate to carve a better life for her stubborn daughter.
"Bareilly Ki Barfi is about savouring the moment. Staying in the city, we forget that there is something called oneness. We are always rushing, always concerned with where we are going next, what we are going to do...'
"It is a simple, slice-of-life story, populated by characters who have their own character flaws. The film has a lot of moments where you will hopefully feel, arre, I also want to sit in a place like this..."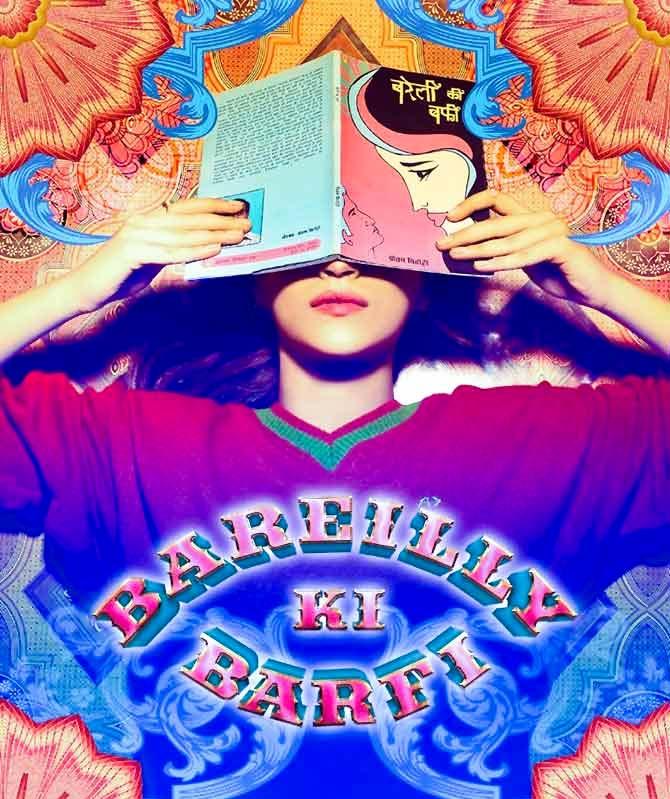 IMAGE: The book that sparked off Bitti's romance...
For such moments can lead to anything. Even a movie.
This one, for example, began in a book store at the Delhi international airport, at the moment Ashwiny picked up an English translation of a French book Ingredients Of Love.
And began to simmer into what would eventually become Bareilly Ki Barfi when a line in the book resonated with her.
"Out of that one line," she says, "we created a whole film."
A film that explores the varied nature of relationships in the Indian family and societal dynamic.
"The relationship between two girls, two boys, how boys express their emotions when they are alone -- which they never do in front of women."
It explores that easy, unusual relationship between a father and a daughter in north India who has never been discriminated against because of her gender -- something that is beautifully established within minutes of the movie beginning to unfold on the screen.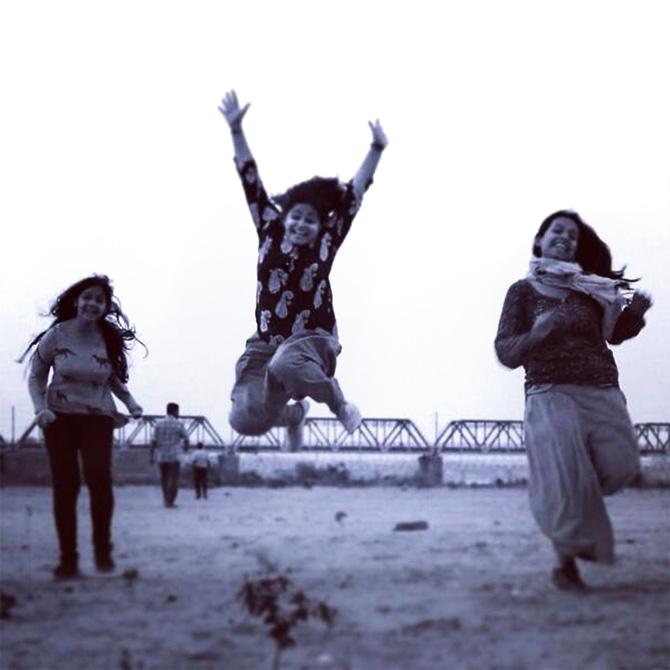 IMAGE: A free-spirited Ashwiny. Photograph: Kind courtesy Ashwiny Iyer Tiwari/Twitter
And then, there is the relationship between the rebellious daughter and the practical minded mother. 'The kich-kich," Ashwiny laughs. "It's exactly like the relationship between my mother and me."
Though she is married and a mother to two children "still my mother has so many issues with me about how I am running my life and what I am doing in the store and why I have I brought so much of kirana (groceries) when there are hardly any people at home nowadays... you know?"
That "kich-kich" is an essential part of their relationship.
"I still remember when I was, I think, 26, she constantly wanted to know why I was not getting married. When I got married, she began asking why I was not having kids. Thank God I had twins, otherwise it would have been, 'Where's the second one?'" she laughs.
Though Ashwiny clearly adores her strong-willed mother, who she calls her "guiding force", she would not always give in. Especially when her plan for her future was different.
When she decided she no longer wanted to study for chartered accountancy but enrol as a commercial arts student at Sophia Polytechnic instead, she fought with her mother until the senior Mrs Iyer gave in.
"Then, when I told her I wanted to get into advertising, she found out about all the advertising agencies and made me write down a few names on a page that I had to actually pin to my wall. The list included top ad agencies like Ambience, Leo Burnett, Lowe, which was known as Lintas then... and I had to get into one of them."
And then, there was the time when she told her Tamilian mother that she would be marrying an Uttar Pradesh wallah.
"Yeah, but then I told her he is from IIT, so suddenly jaws dropped. Then it was fine. They would have anyway found me a guy who is from one IIT or the other, in which case I would have been somewhere in the US now."
What her mother -- who is a "really strong influence" on her -- has also done is infused in her only child's DNA with strength and self-esteem.
"She always told me that you need to get married, but you also need to fall in love before you get married. That you need to have children but you need to continue working and maintain my identity."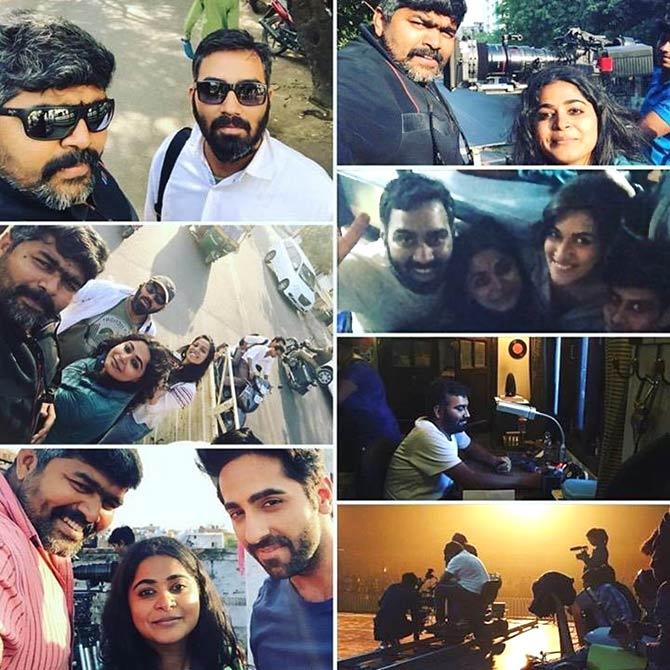 IMAGE: Glimpses from the sets of Bareilly Ki Barfi. Photograph: Kind courtesy Ashwiny Iyer Tiwari/Twitter
This strong backbone is what imbues Bitti's character who, when asked by a prospective groom if she is a virgin, serves it right back. First, by saying no. Then, by asking him if he was one.
With this one conversation, which lasts barely seconds on the roof of Bitti's house, Ashwiny underlines the hypocrisy of the situation.
"Bitti has started working and she is doing pretty well for herself. She understands she is of a marriageable age. But the point is, can she... will she... get married to any guy who comes along?"
"Unless you are going for a love marriage, it is very important that you get married to a person whom you also like. As a girl, you have to ask yourself what you want. Who do you want to get married to? Has anyone asked you that question? You can't just succumb and get married to anyone because we stay in a society which says log kya kahenge (what will people say), right?"
"In terms of the thinking, it is about being independent. I am not saying independent means being feminist. I am not saying independent means not listening to your parents. It is about finding your space and finding your identity, which is a huge thing in our country."