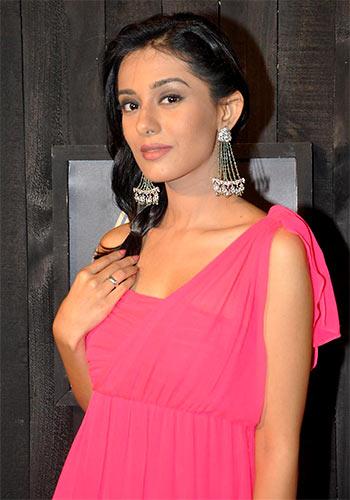 'Sometimes in the race to the get to the top, you might end up losing your destination.'
Amrita Rao gets ready for television.
Main Hoon Na girl Amrita Rao has signed her first television show, Meri Awaaz Hi Pehchaan Hai, which will premiere on &TV on March 7.
The show has three generations of two sisters whose lives revolve around music. The show is reportedly based on Lata Mangeshkar and her sister Asha Bhosle.
Meri Awaaz Hi Pehchaan Hai also stars Deepti Naval, Zarina Wahab and Pallavi Joshi.
Amrita tells Rediff.com contributor Rajul Hegde why she chose television over films.
This is your first fiction show on television. What made you take up Meri Awaaz Hi Pehchaan Hai?
It's a mix of many factors. When Vikas Gupta (Head of Programming, &TV) narrated the story of Kalyani and Ketki, my instant reaction was, 'OMG! What a concept.'
They told me that this one is for creative satisfaction and not for TRP, so it will churn out soulful content.
Sometimes under the pressure of TRPs, you tend to add spice and kill the dish. There is no scope for that as this is a finite series.
Meri Awaaz Hi Pehchaan Hai is a powerful story of two illustrious singing sisters with diverse dimensions. This show has the potential to have a lasting impression on the minds of the audience.
Rumour has it that the story is inspired from the lives of Lata Mangeshkar and Asha Bhosle. Is it true?
I don't think so.
If anybody wants to draw a comparison, they are most welcome to. We will take it as a compliment (smiles). Believe me, nobody spoke about any reference point. They just told us about the characterisation.
If there is any story related to music and two sisters obviously it will be compared with Lataji and Ashaji in India.
As the story unfolds the audience will get to see a different story. The character has so much more to offer and it's a challenging one.
When movie actors appear television, people assume their film career is not doing well. What do you think?
It's their perception but I will leave time to prove it. The reason I chose to do a finite series is because I am doing my next Hindi film this year. In the past two years, I have been getting television offers from top channels. Now, I have found the right subject.
You know, Bollywood is very comfortable and the commitment is for limited period. In a film, there are four-five highlight emotional scenes and romantic scenes. But in television, the journey is so long and there is so much that it's emotionally draining as well.
I don't think I would be open to non fiction shows (reality shows) as a contestant or for an infinite show. There is negativity and wrong messages. Sometimes I get scared with the kind of content that gets popular. Like you see people poisoning each other's plates. What all can happen watching that.
Are you doing Prakash Jha's film Satsang which features Ajay Devgn?
I cannot answer that. All I can say is, I am working with a director with whom I have worked before and it could be an issue-based drama.
Dipti Naval is playing the older version of your character in the show. Is there any pressure on you?
Diptiji is such a profound actress that I wish I could have worked with her. I am smitten by her smile. She has the sweetest smile in the industry.
Since she is playing me (the character's older version), there is no opportunity to work with her. It's a compliment that she plays my older version. She was so relatable on screen, we always felt like that it was me. She was always the girl next door and I have always been the girl next door in Bollywood.
Diptiji will first watch my episodes and then shoot for her part. A senior actress like Diptiji has to study what I have done as Kalyani and then take it forward from there. So in that sense there is so much pressure on me.
Could you talk about your experience training for the vocals and sitar for this show?
I have been training for it for the last one month. Sitar is mindblowing. When I was in school, I had done Hindustani classical music for three years. So singing for this show was like revisiting my childhood. But sitar is a musical journey on its own.
The chords of the sitar and vocal chords of the human beings can touch the same notes, it's amazing. People who have mastered it can play it so beautifully that you don't need a singer to compliment it. But here (in the show), they want to symbolise the passion for music of Kalyani apart from singing.
How would you sum up your Bollywood Journey?
I feel blessed that I was lucky to have done films which were still in my comfort zone. Of course, in the last four-five years, the trends have changed.
Filmmaking has become more real. Hence it's become more personal onscreen and that is something not in my comfort zone. So I chose to decline some good offers.
Sometimes in the race to the get to the top, you might end up losing your destination.
I was sure about who I am, what I wanted to do and who I am going to be in life. Career in the film industry is a phase. You first have to be true to yourself.