As M Karunanidhi passed into the ages, we look back at some of the legendary scriptwriter's greatest movies.
CN Annadurai and M Karunanidhi of the Dravida Munnetra Kazhagam realised quite early that movies can be used to promote their ideals and send out a political message.
Together they created the matinee idol MG Ramachandra, the do-gooder, rescuer of damsels in distress and champion of the poor in movie after movie.
Later, when the matinee idol MGR turned against Karunanidhi, and confined him to the Opposition ranks for 13 long years, Karunanidhi realised he had created his own nemesis.
MGR's meteoric rise was testimony to the fact that Karunanidhi was a script, screenplay and dialogue writer par excellence.
His movies carried the Dravidian ideology he espoused.
It was his dialogues that showcased thespian Sivaji Ganesan's talent in the early days.
A Ganesh Nadar/ Rediff.com looks back at seven Karunanidhi's most memorable movies.
This, of course, is not an exhaustive list. Do add your personal favourites in the message board below.
Rajakumari (1947)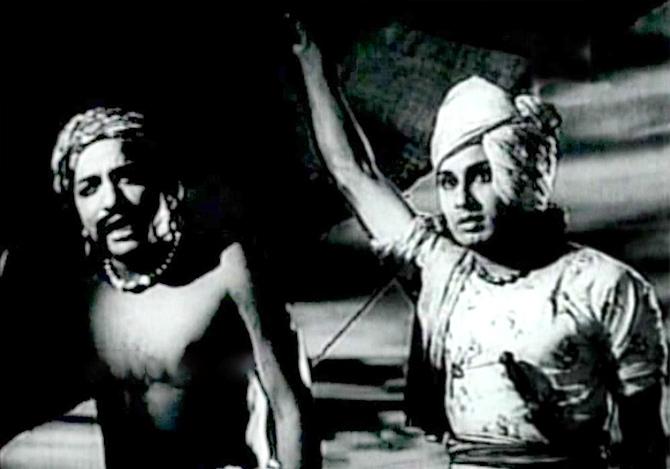 Karunanidhi wrote this script when he was only 20 years old.
Though this was MGR's 15th film, it was his first film as a hero.
Sandow M M A Chinnappa Thevar, who featured in a fight scene in this movie, went on to become one of the biggest producers in Tamil cinema.
He also produced the Hindi hit film, Haathi Mere Saathi, featuring Rajesh Khanna.
Parasakthi (1952)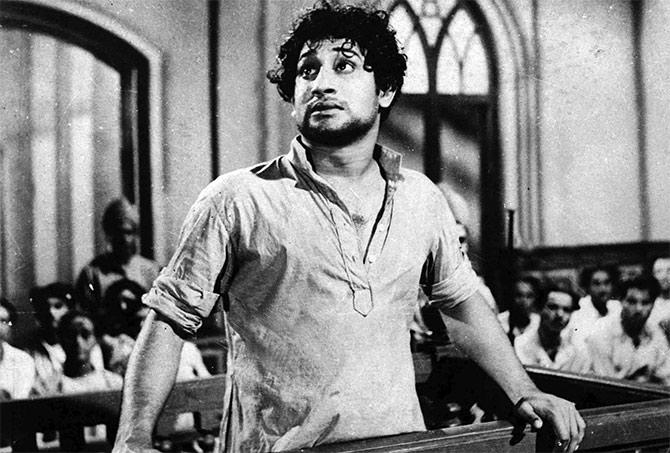 Parasakthi, Sivaji Ganesan's debut film after a career on state, showcased his immense talent on screen, and remains a benchmark for dialogue delivery.
The fiery dialogues from this movie are still quoted in Tamil movies, and both the actor and the script-writer are lionised for their work.
It caused quite a flutter during its release for its anti-Brahmin stance and mocking of Hindu customs. But, then, the Dravidian movement was built on a rationalist and anti-Brahmin platform.
Manohara (1954)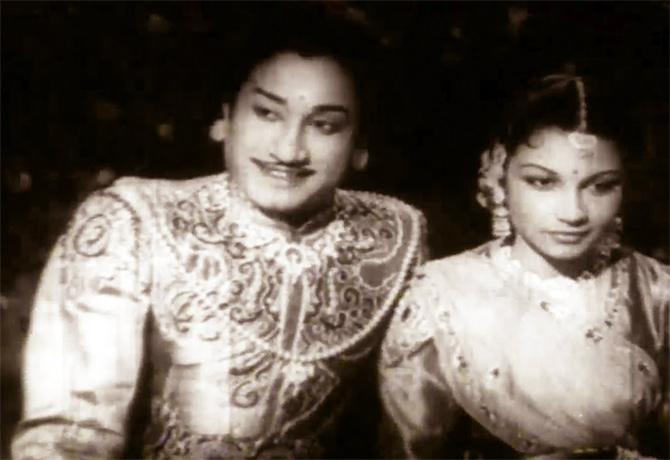 Manohara was also popular for its fiery dialogues, written by a young Karunanidhi and delivered perfectly by Sivaji Ganesan, both of them coming together after their collaboration in Parasakthi.
The film not only showed Ganesan's acting talent but firmly established him as the greatest dialogue artiste of his time.
His oratorical skills in this movie are the stuff that legends are made of.
Malaikkallan (1954)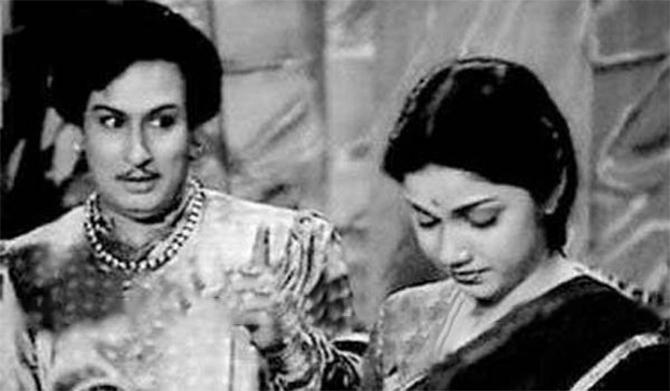 Malaikkallan, with shades of Mark of Zorro, played by MRG in his swashbuckling style, ran for 140 days in Chennai, a record for those days. Its success also inspired MGR to use the template for his future projects.
Malaikkallan was also the first Tamil film to win a President's silver medal.
Poompuhar (1964)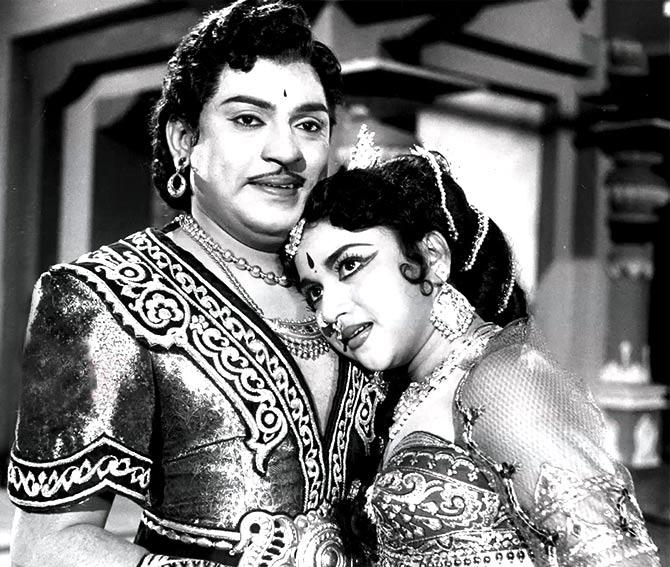 Karunanidhi was known to use historical stories for his scripts.
One such film was based on one of the five great epics of Tamil literature, Silappatikaram, and brings on celluloid the epic love story of Kovalan and Kannagi.
Paasakiligal (2006)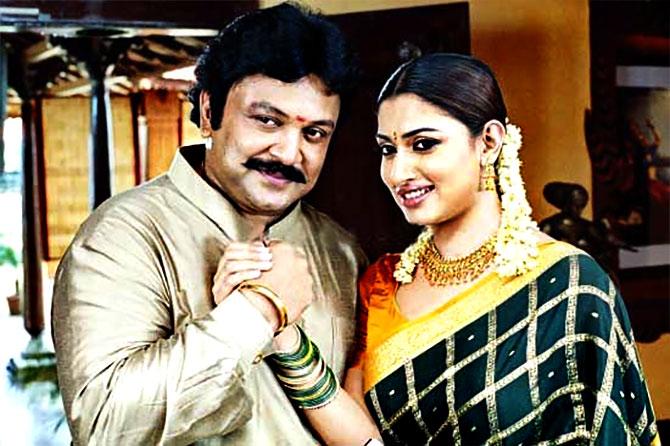 Not only did Karunanidhi write Paasakiligal, he also directed the film. Toplining the cast was Prabhu, son of thespian Sivaji Ganesan with who Karunanidhi had made magic in the past. However, it could not be repeated with the son, and the film did not fare well at the box office.
Ilaignan (2011)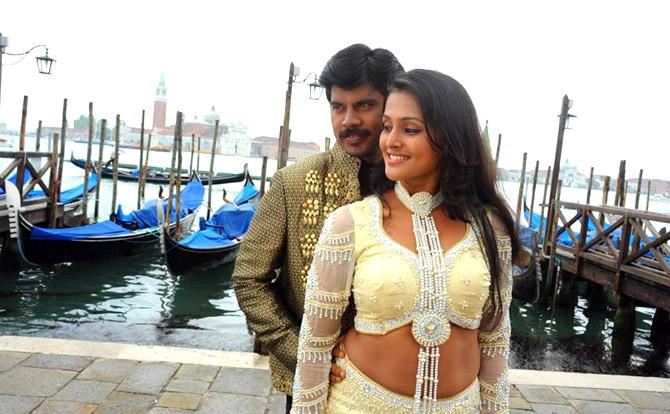 Karunanidhi wrote Ilaignan while he was the chief minister of Tamil Nadu in 2011 and the film had a rather impressive cast, including Meera Jasmine, Khusbhoo, Namitha et al.
This script is probably the only one in Tamil cinema that is based on a Russian novel, The Mother, by Maxim Gorky. Unfortunately, the film suffered from a theatrical overhang, and was not well received.
It made clear that Karunanidhi was heavily influenced by Russia. Why else would be name his son Stalin?