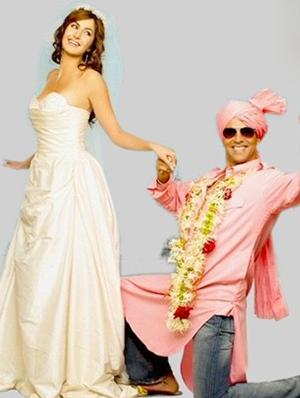 The very filmi Valentine's Day Special!

Every love story strives for a happy ending. Luckily, in the magical realm of movies, it's mostly a foregone conclusion.

It's only fitting we celebrate the most romantic day of the year with these happily-ever after scenes from Bollywood.


Don't Miss:
50 Shades of filmi lovin': Jab they met
50 Shades of filmi lovin': Movie-wala love
50 Shades of filmi lovin': Achy Breaky Hearts!

50 Shades of filmi lovin': Let's talk about sex, baby!


Love will find a way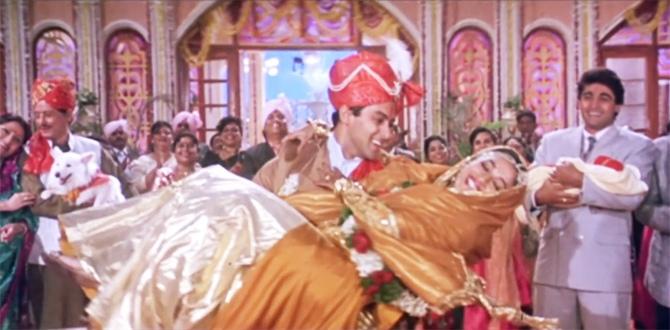 Image: Salman Khan and Madhuri Dixit in Hum Aapke Hain Kaun
An unfortunate turn of events in Hum Aapke Hain Kaun compels Madhuri Dixit and Salman Khan to sacrifice their love for the sake of family duties.
God bless their four-legged well wisher Tuffy and his timely intervention that reunites them just in the nick of time.

On the right track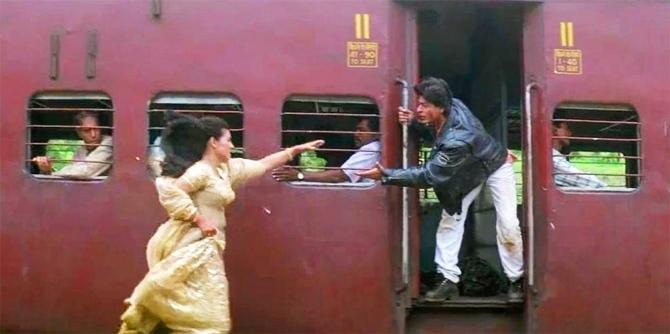 Image: Kajol and Shah Rukh Khan in Dilwale Dulhaniya Le Jayenge
Shah Rukh Khan gatecrashes ladylove Kajol's wedding to another, appeases her unyielding daddy and leaves no stone unturned to underscore the tall claim in the film's title.
After a lot of hue and cry, the father finally relents and lets his darling daughter rush towards her beau in Dilwale Dulhania Le Jayenge's iconic train scene.

She's the one!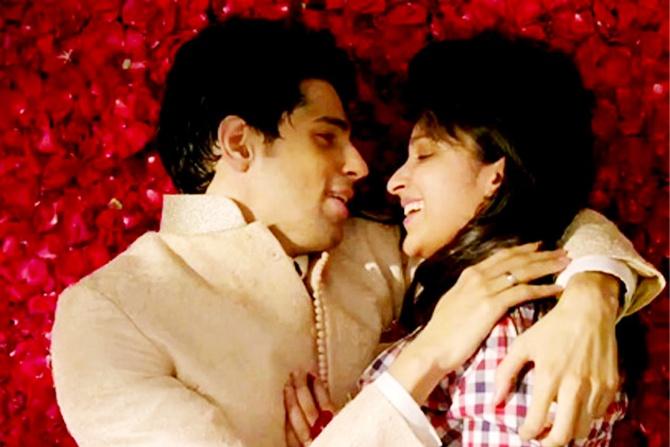 Image: Siddharth Malhotra and Parineeti Chopra in Hasee Toh Phasee
Siddharth Malhotra is engaged to marry Parineeti Chopra's elder sister in Hasee Toh Phasee.

But his increasing interactions with the quirky younger sibling find him drawn to her instead.
Eventually he realises PC's the one and runs away from the altar only to bump into the one he wants to spend the rest of his life with.

Marrying Mr Right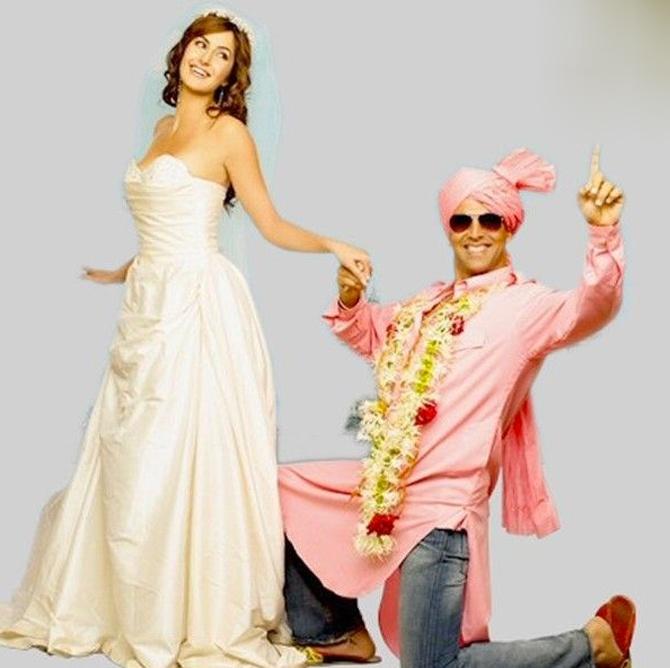 Image: Katrina Kaif and Akshay Kumar in Namaste London
Katrina Kaif marries Akshay Kumar under family pressure but continues to date her English boyfriend on the sly.

Yet the more she interacts with her besotted, unconditional significant other, the more she drifts away from the original fella.
In the end, when it's time to say 'I do' Katrina dumps the phirang and embraces her pleased-as-punch desi with gusto.

And they lived crazily ever after…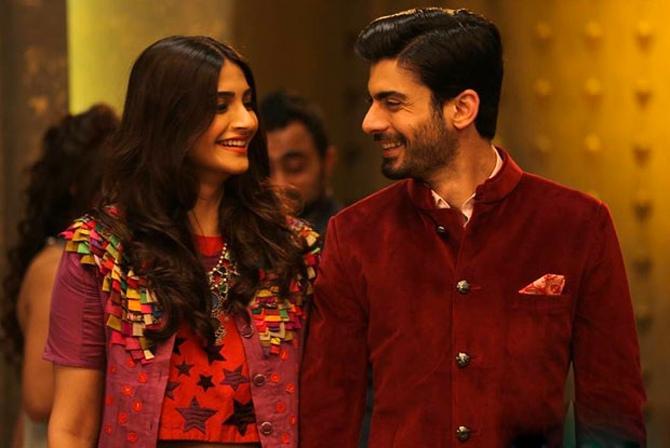 Image: Sonam Kapoor and Fawad Khan in Khubsoorat
More Disney than Hrishikesh Mukherjee, Sonam Kapoor's Khubsoorat remake is about a maverick physiotherapist falling for Fawad Khan's dashing Prince.
There's undeniable attraction but the Prince, already engaged to marry, fears his family's disapproval and rebuffs her advances.

Eventually he musters the strength to follow his heart and win back his zany girl on her terms.

Better late than never!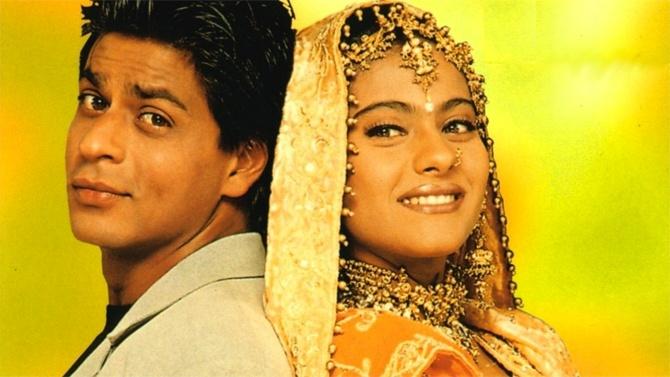 Image: Shah Rukh Khan and Kajol in Kuch Kuch Hota Hai
SRK and Kajol go through a great deal of heartache and wishing on stars in Kuch Kuch Hota Hai before they accomplish a happy ending.
In the first half, he's attached to Rani.

In the second half, she's attached to Salman Khan. It takes one's misfortune and the other's magnanimity to bring these star-crossed lovers together in a manner most melodramatic.

Airport serenade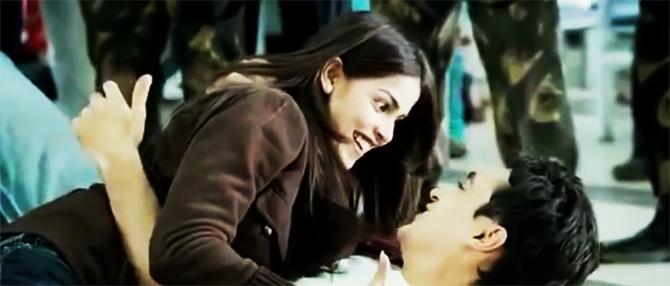 Image: Genelia D'Souza and Imran Khan in Jaane Tu... Ya Jaane Na
Bollywood loves an airport finale.

Be it Dil, Aashiqui or …Aur Pyaar Ho Gaya, it always ends the same.
Nothing comes close to Imran Khan gallantly galloping on a horse all the way to Mumbai's international airport, getting past its strict security to tell his US bound best friend and soul mate Genelia D'Souza how he feels about her by singing Jaane Tu…Yaa Jaane Naa.
Needless to say, she accepts his super romantic proposal.

Mad about you!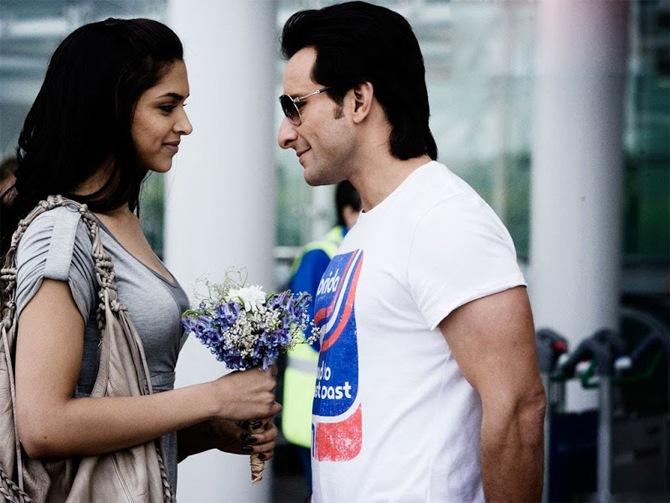 Image: Deepika Padukone and Saif Ali Khan in Love Aaj Kal
Saif Ali Khan and Deepika Padukone take their own sweet time to conclude they're made for each other in Love Aaj Kal.
What makes up for this frustrating loss of precious hours is the sweet fashion in which Saif shows up at Deepika's work site and bares his heart out.
And boy, does it work?

Made for each other
Image: Konkona Sen Sharma and Ranbir Kapoor in Wake Up Sid
After sharing a roof for several months, Konkona Sen Sharma and Ranbir Kapoor develop a fond spot for each other.

It's only when they have to stay apart they realise how good they are together.
While she writes a column to express her affection, he rushes to meet her in pouring rain and confess his feelings like a true blue Bollywood hero.

Crazy little thing called love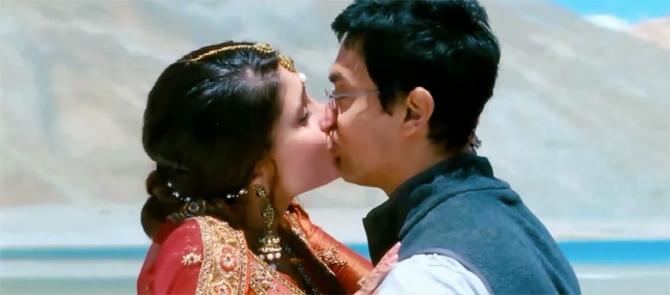 Image: Kareena Kapoor and Aamir Khan in 3 Idiots
Kareena Kapoor calls off her wedding, makes a smashing entry on a yellow scooter against the stunning backdrop of Ladakh to announce a stunned, previously incommunicado Aamir Khan she loves him and promptly plants a kiss on his lips.
Of course he kisses her back, reveals his single status and all's well that ends well.

Yep, even for 3 Idiots.