Often hailed as one of the best romantic comedies of all time, Richard Gere and Julia Roberts starrer Pretty Woman has aged remarkably well.
As the film turns 25 -- it was released on March 23, 1990, we reproduce Sukanya Verma's nostalgic tribute to the classic.
Would you believe it's been a whopping 25 years since Pretty Woman first came out?

That's quite something what with the Richard Gere-Julia Roberts classic showing no signs of ageing.
An unlikely fairy-tale between a suave millionaire and an exceptionally charming, free-spirited prostitute continues to enjoy a reputation for being the ultimate guilty pleasure outclassing the likes of other syrupy romances -- Four Weddings and a Funeral, Sleepless in Seattle, Notting Hill and When Harry Met Sally to be voted as the Top Favourite Valentine's Day movie, ever by a poll conducted in UK.
And so it's only appropriate to time its re-release in the country around the festival of romance, February 12 to be precise.
When Pretty Woman first came out it met with a mixed response from critics.
While Time dissed it as 'old-fashioned' moviemaking 'without the old panache,' The Washington Post dubbed it as 'a Frankensteinian fantasy of great romantic moments' while Chicago Sun-Times' Roger Ebert gave it a generous 3 and a half stars stating, 'The movie is sweet and innocent. It protects its fragile love story in the midst of cynicism and compromise.'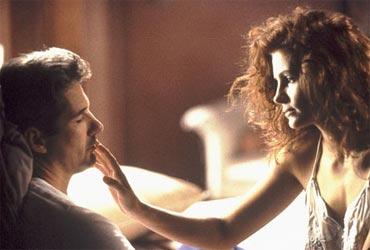 Playing Edward and Vivian proved to be a turning point for Gere and Roberts.
While its super success instantly catapulted its gorgeous leading lady in the glamorous league of Hollywood's A-listers, Gere's somewhat dwindling career, too, got a new lease with the dizzy popularity of this Pygmalion meets Cinderella caper. To think, they almost didn't get the parts.
Best known for helming rom-coms like Runaway Bride, The Princess Diaries and the soon-to-release multi-starrer, Valentine's Day, director Garry Marshall approached/auditioned everyone from Molly Ringwald, Michelle Pfeiffer, Daryl Hannah, Meg Ryan to Drew Barrymore, Winona Ryder and Jennifer Connelly for Vivian's role. While some weren't too comfortable playing a sex worker, others seemed simply too young for the part.
It's impossible to imagine any other actor except the unbelievably charming Gere filling the shoes of Edward. Marshall, however, originally conceived the character with Christopher 'Superman' Reeves or Godfather's razor-sharp mobster Al Pacino in mind.
Fortunately for Pretty Woman's leading players, none of these actors showed interest and history was made.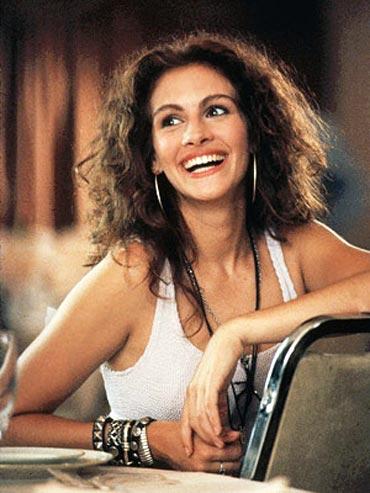 Till date, the audience just cannot get enough of Edward and Vivian's velvet-smooth chemistry.

Not only did Pretty Woman, drawing its title from Roy Orbison's smashing ditty, Oh, Pretty Woman... put Julia Roberts on the popularity map, the American sweetheart also made it to People's Magazine's Most Beautiful in the following year.
Predictably the moniker refused to part.

The good-humoured actress was quoted telling the publication, 'Let's get real. Mediocre Girl might have bugged me. Pretty Woman I can live with.'
And why not?

It earned her a Best Actress trophy at the Golden Globes as well as her second Best Actress nomination at the Oscars, which she lost to Kathy Bates (for Misery).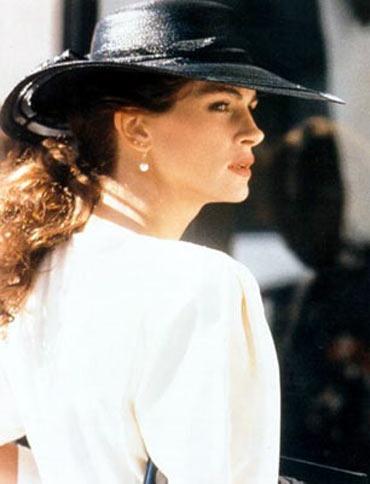 Let's not forget the secondary characters.
It's amusing to watch Jason Alexander; Seinfeld's lovable albeit emotionally clumsy George Constanza play a rather scummy lawyer here.
The man who has a hard time finding/maintaining dates in the sitcom goes to the extent of manhandling Julia Roberts in the movie. Surprisingly, he plays the jerk with astonishing conviction.
And then there's a Marshall regular, Hector Elizondo, playing the Fairy Godmother, with characteristic elegance and kindness.

He's masterfully instinctive when he tells Edward, 'It must be difficult to let go of something so beautiful.'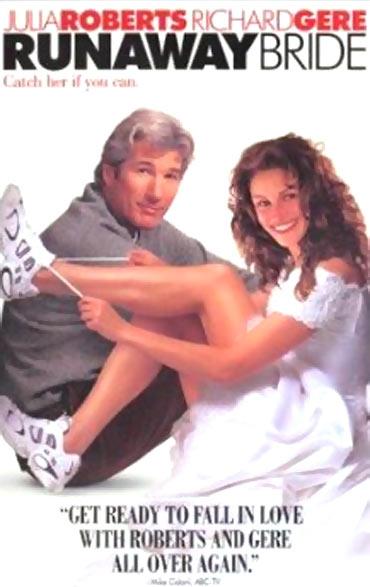 The makers of Pretty Woman, along with its principal cast, collaborated on another romance, Runaway Bride to repeat the success of Pretty Woman.
While not a loser by any measure, it didn't quite match up to the expectations both in content and box-office.

Talks of a sequel popped up but Roberts dismissed them by saying, 'Nobody wants to see an old hooker.'
The sweeping love story has inspired Bollywood as well.

If Karan Johar bought the song rights to use it as a modified bhangra-rap track (reworked by Shankar-Ehsaan-Loy) in Kal Ho Naa Ho, others like Abbas-Mustan ripped off the entire Preity Zinta playing a prostitute-with-golden heart track from this 1990 Hollywood blockbuster.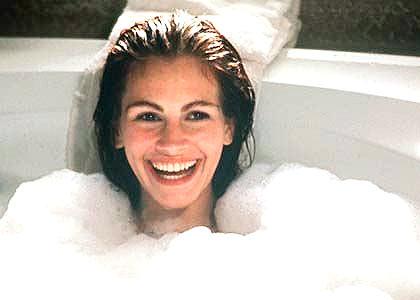 What makes a movie bear such tremendous repeat value? Memorable moments such as these:
Remember the scene when Vivian is rudely shown the door at a fancy boutique of Rodeo Drive, an upscale shopping haven of Beverly Hills.

And the payback that follows with little help from Edward?
Oh, not to forget when Vivian lives every woman's ultimate fantasy, indulging in crazy retail therapy carrying those adorable shopping bags, whilst walking the high-heeled walk, against the beats of Orbison's infectiously breezy track.
The numerous intimate moments between Vivian and Edward, especially when he realises she wasn't doing drugs but merely flossing her teeth.'

I had all those strawberry seeds. And you shouldn't neglect your gums.'
Vivian's hilarious antics in the bath-tub sequence animatedly crooning Kiss by Prince. Classic Julia Roberts!
Or the heart-stopping romantic finale, against the backdrop of a modified version of La traviata, involving a heart-stopping gallant Gere and glorious Roberts doing a contemporary take on how the knight in shining armour, finally, rescues the princess.
And then some more.

It's like Vivian says, 'I'm gonna treat you so nice, you're never gonna let me go.'