'We will see footfall returning to pre-COVID levels by January.'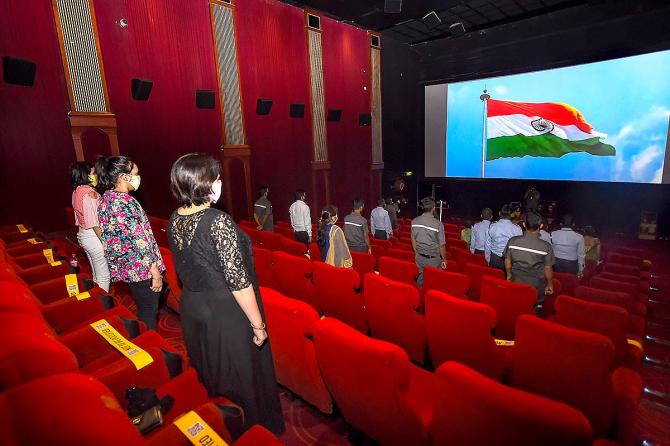 In the words of Joni Mitchell, you don't know what you've got till it's gone. Maybe a year without theatres reminds us of what we had, and what we can still have, again. Multiplex and single screen theatre operators' long wait to welcome audiences back seems finally over.
With key markets like the National Capital Region, Maharashtra, Telangana, and Andhra Pradesh allowing the curtains to lift on what was once a source of collective entertainment and escapism, but now seen as Petri dish for the virus, operators may now expect the turnstiles to spin again.
But their recovery is still gossamer thin.
Authorities at some of the largest markets in the country have given the green signal to theatre operators after four months of inertia since April -- pumping life into a sector on life support since early 2020.
From the country's largest screen operator PVR to multiplex majors like Inox Leisure, Carnival Cinemas, and Cinepolis, theatre chains are now gearing up to premiere much-anticipated titles and cash in on moviegoers' craving for a premium bucket of popcorn.
"Following the ministry of home affairs' directive to states and Union Territories to impose or relax restrictions after ground-level assessment, PVR announces its reopening on July 30 in states and UTs where multiplexes and theatres have been given the go-ahead to reopen," said a spokesman for PVR.
The biggest multiplex chain, with 842 screens across 71 cities, has prepared a fresh bouquet of offerings and special consumer engagement schemes to encourage people to visit the theatres.
To encourage people who got vaccinated during the nationwide vaccination drive, PVR has introduced a 'JAB Offer' in the first week of reopening, where one vaccinated guest will get another ticket free on select content, as well as one food-beverage combo gratis with the purchase of another.
"As on date, 12 states and two UTs where PVR is present in India and Colombo have allowed cinemas to reopen with varying norms relating to social distancing. These account for 526 screens across 111 properties, which is around 60 per cent of our total screen portfolio. We are reopening our cinemas on a staggered basis," said Gautam Dutta, chief executive officer, PVR.
The country's fifth largest chain Miraj Cinemas, which has 150 screens, has reopened in states where theatres are allowed to reopen from August 5.
Cinepolis, which has 419 screens, resumed operations in Hyderabad.
Its other properties will open gradually in the weeks to come, stated the company.
The multiplex major has lined up some big Hollywood releases like Mortal Kombat, The Suicide Squad 2, Promising Young Woman, The Conjuring: The Devil Made Me Do It to lure cinema-goers to its properties.
The challenges ahead of its recovery to pre-COVID days, however, are many.
The revenues of listed majors like PVR and Inox have dwindled since April 2020.
In the March and June quarters, PVR's sales from movie tickets remained at a meagre Rs 88 crore (Rs 880 million) and Rs 22.7 crore (Rs 227 million), respectively, down from Rs 330 crore (Rs 3.30 billion) in March 2020.
According to industry experts, the absence of any new major release from Indian production houses is the biggest challenge multiplex operators face.
Ajay Devgn's Bhuj: The Pride Of India and Siddharth Malhotra's Shershaah, based on the 1999 Kargil War hero and Param Vir Chakra recipient Captain Vikram Batra, released exclusively on over-the-top streaming platforms.
According to Saaminder Malik, an independent film distributor and analyst, as viewers of Hollywood films reside mostly in metros and top cities, banking on them may yield limited sales.
Some of the single screens and multiplexes may have resumed operations but weak footfall remains a worry, said Kamal Gianchandani, president of the Multiplex Association of India.
According to sources, although top players like PVR have opened their screens in the bigger markets like Delhi-NCR from July 30, occupancy levels have been marginal.
Further, a latest survey by LocalCircles shows only 10 per cent of moviegoers plan to visit the theatres in the next two months.
Among the 11,000-odd respondents, 67 per cent said they do not plan to visit the theatres in the next two months, compared to 8 per cent willing to watch multiple shows on screens.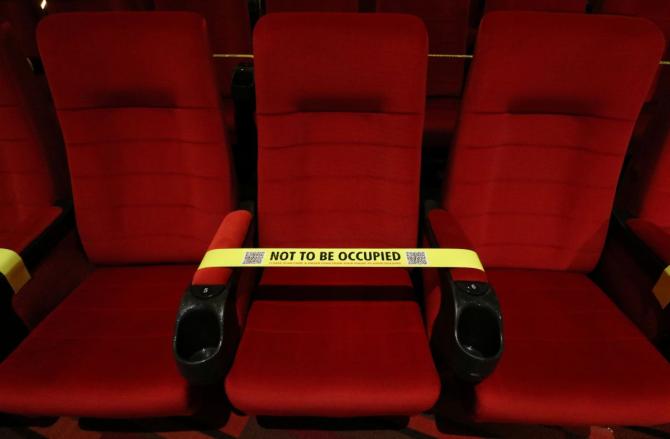 Unwillingness to take seats at the theatres may turn out to be fatal for many small operators. Medium to large operators get 35-40 per cent of their revenues from additional spending by visitors like food and beverage and on-screen advertisements.
Most consumer goods companies have shifted their focus to digital channels, by massively cutting down spending on traditional media like print, outdoor ads, and theatre screens.
Theatre owners are now banking heavily on revision of rent and common area maintenance (CAM) charges.
According to the PVR's management, it "has restarted its engagement with landlords and developers to seek waivers or discounts for rent and CAM payments".
Meanwhile, it is "keeping its fixed costs low to reduce cash-burn and preserve liquidity".
At the end of the June quarter, the company had availed of additional liquidity of Rs 200 crore (Rs 2 billion) under the Emergency Credit Line Guarantee Scheme 3.0, while it has Rs 850 crore (Rs 8.5 billion) as liquid cash.
According to estimates by Edelweiss Securities, Inox -- the second-largest player -- may get some relief from a 35 per cent rent waiver.
'We expect a minimum concession of about 30 per cent on rent and CAM, but negotiations are still underway and uncertainty remains. We will keep a close watch on the developments on this front,' it noted.
The multiplex operators are leaving no stone unturned -- from vaccinating their staff and minimising human contact to enabling digital transactions via popular e-wallets. To further facilitate paperless movie ticket purchases at the box office, quick response codes are being sent to customers' phones.
Owners and operators are, however, not ready to quit without a fight.
According to them, the recovery may be slow, but it is expected to be steady in the festival season with big-budget money-spinners like Akshay Kumar's Sooryavanshi and Prithviraj and Ranveer Singh's '83 scheduled to release in early October to reel in the cine-lovers.
"Realistically, we will see footfall returning to pre-COVID levels by January next year, and 2022 will be a blockbuster year for the industry," said Amit Sharma, managing director, Miraj Cinemas.