Welcome to the brand new American Desi family enterprise -- the Bollywood motion picture. Come one, come all and please remember, leave your disbelief hanging off the hook beside your shower stall.
A healthy suspension of disbelief is demanded of us right away because a struggling dancer Suhani (Gayatri Patel) shares an enormous Mumbai apartment with her female newscaster friend (Sugandha Garg, last seen in Jaane Tu...Ya Jaane Na). She also conducts dance classes in similarly large premises where it is unclear whether there is a charge or the classes are free. Her landlord (Anjan Srivastav) appears mildly creepy but he is not above extending the rent deadline just because she asked. It appears that she earns enough as a bartender in some anonymous upscale nightclub to afford a designer wardrobe. Oh, and one more thing, everybody seems to know that this woman is a 'dreamer'.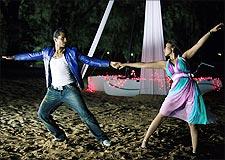 Toss in a group of street kids who dance to block-rocking beats in the dead of night, a 'lovable' restaurateur (Ajay Choudhary) who falls head-over-heels for the dancer with dreams of becoming a star (of a hit music video, no less) and a creepy video director (Aquib Afzal) who can make our leading lady's dreams come true (for a price of course), and you have most of the ingredients required to make Let's Dance an acceptable yarn about a determined young woman and her struggles to succeed.
The leading lady appears to have given this role her all but since the film lives and dies with her performance and her character's journey, she doesn't quite prove up to the task. She dances, but doesn't own a single move that looks capable of sticking in a viewer's head. Being weighed down by lengthy dialogues that she clearly couldn't keep pace with (as evidenced by the tedious dubbing) doesn't help. The effort is clearly visible which might be part of the problem, because even the casual movie viewer can probably tell when someone is trying too hard.
Denying the existence of any real chemistry between the leading lady and the men in her life would be to suggest that someone somewhere had assumed that chemistry could be manufactured out of the set of circumstances the film works with. It doesn't appear that such considerations were spared much thought during the filmmaking process.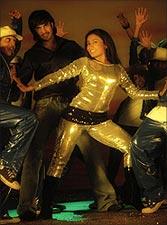 To the film's credit, the one action sequence (yup there is one of those even in a movie named Let's Dance) that sets up the finale, is well executed. For the brief duration of that one sequence it appears that the people responsible, did their jobs while still wide awake.
There is nothing about Let's Dance that isn't driven by cliche. Perhaps one must practice a form of generosity and avoid expecting...anything from a film that aspires to be a musical (from its advertising and marketing). There is nothing wrong with that aspiration per se, except that this is Bollywood and every film is a musical. Sure, this film is about a dancer so it makes sense for there to be a lot of naach-gaana interwoven with the narrative. But here is Problem Number One -- the music isn't very good.
Most schools of logical thought would agree that replacing quality with quantity is a guaranteed recipe for disaster. Since the director (and editor) Aarif Sheikh didn't see fit to craft the song and dance sequences for maximum effect, Let's Dance takes on the complexion of a Boogie Woogie marathon (or really bad music videos) -- minus the hit music.
Problem Number Two is that the possibilities within the story are never realised. The reason for the crime reporter's existence in the film, the part the kids play in the actual measurable storyline and the way it all comes together in the end leaves behind severely unrealised potential.
Rediff Rating: