Trade estimates pegged the Hindi version collection at Rs 210 million -- a commendable performance for a dubbed film.
Urvi Malvania reports.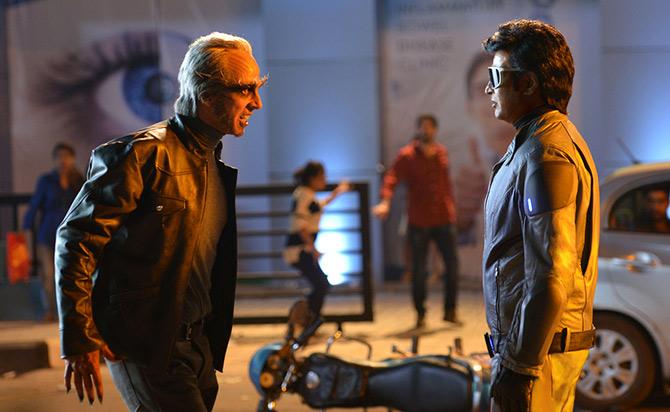 The Rajinikanth and Akshay Kumar-starrer 2.0, the sequel to 2010's Enthiran (Robot), has collected Rs 600 million on the first day of release.
The film, made at an estimated cost of Rs 5.5 billion, released across 7,000 screens in the country in three languages -- Tamil, Telugu, and Hindi. It has been released in both the 2D and 3D formats, the latter has gained more popularity across languages.
Trade estimates pegged the Hindi version collection at Rs 210 million -- a commendable performance for a dubbed film.
While it is nowhere close to the first-day collection of Baahubali 2: The Conclusion's Rs 400 million haul, pundits said 2.0's showing was good.
"The Baahubali franchise is another orbit altogether. There's no comparison," says trade analyst Komal Nahta. 2.0's performance, he points out, has been good despite the fact that the film was released on a working Thursday, and audience traffic to the cinemas was low.
The Tamil and Telugu versions collected around Rs 400 million in all.
Akshay Kumar's presence in the film was a major draw for Hindi-speaking audiences. While critics have given mixed to negative reviews for the film, almost all have commended the actor's performance.
In terms of Hindi language releases, this is the seventh highest opening of the year.
If the film's release in all languages is taken into account, the Rajinikath starrer is the highest opener of 2018, beating Thugs of Hindostan's opening day record of Rs 522 million.
The Aamir Khan and Amitabh Bachchan starrer was also released in the same three languages, but had a distinct advantage of being released during Diwali.
The box office performance of 2.0 is being lauded by distributors and analysts, considering its release in the middle of a normal working week, without the advantage of a festive weekend.
The film's massive budget, however, demands that it do well at the box office. While the producers have recovered some of the money from satellite and streaming rights -- an estimated Rs 1.9 billion -- it still needs to collect at least Rs 5 billion to Rs 6 billion at the box office to break even, and make money for everyone in the film's production, distribution and exhibition eco-system.
Given the first-day collection, positive word of mouth, and a four-day weekend ahead, experts believe the film may just achieve this.
2.0 was released in nearly 3,500 screens overseas.
Initial trends from these locations indicate that the film has fared average-to-well there. One of the main draws of the film in India is the visual effects and CGI, and 3D production.
The estimated collection from the overseas marketing on the first day is Rs 210 million from the US, Australia and New Zealand.