The zesty one-liners, for starters.
A free-spirited chatterbox crosses paths with a sad, silent type in a train compartment.
Geet Dhillon and Aditya Kashyap's crazy adventures around overexcited Punju families, shady, small town lodgings and scenic hill stations lead to a gamut of wholehearted discoveries in Imtiaz Ali's superhit Jab We Met.
Critics loved its 'feel-cool' content and 'fresh twist to an age-old tale' while the audience lapped up Bhatinda's Sikhni and her carpe diem ardency.
At the time of its release though, Imtiaz Ali wasn't THE Imtiaz Ali and Shahid Kapoor and Kareena Kapoor had yet to succeed as an on-screen couple. The news of their shocking split attracted more attention than the movie.
Circa 2017 -- they've long moved on, happily married, become parents and even reunited for the critically acclaimed Udta Punjab.
Jab Me Met has acquired its place in Bollywood's pantheon of new millennium classics. And its director Imtiaz Ali, Jab Harry Met Sejal notwithstanding, is perceived as the last word on contemporary relationships on celluloid.
On its 10th anniversary, we look at the 10 things we still love about Jab We Met.
1. The zingers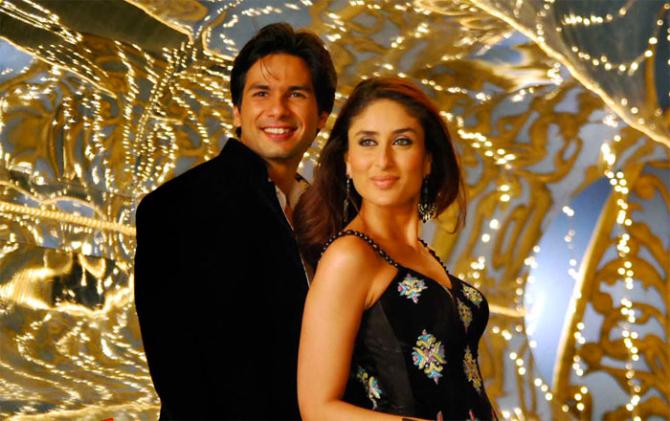 'Nalayak, vardi uthake phenk de (Thow away your uniform, you useless man),' she scoffs at the sleepy security guard's uselessness.
'Tumhe na uthake museum mein rakhna chahiye, ticket lagna chahiye tumhe dekhne ke liye (You should be kept in a museum and people who want to see you should be charged an entry fee),' he quips in sheer amazement.
Jab We Met's biggest strength are its zesty one-liners and quirky interjections.
Apart from light-heartedly conveying Geet's exuberance and Aditya's exasperation, they lend their free-flowing banter its much-loved bounce and bang.


2. Geet's gleeful enthusiasm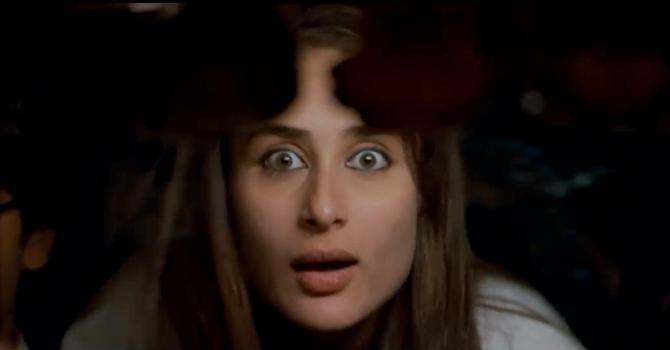 Kareena is a picture of wide-eyed optimism taking on Geet's ready-to-elope gusto, live-in-the-moment zeal and chirpy, cartoonish verve, hopping between public transports and offering unsolicited gyaan to unsuspecting strangers.
Upbeat characters become tiresome after a while but Geet's loony naivete continues to endear.
3. The humour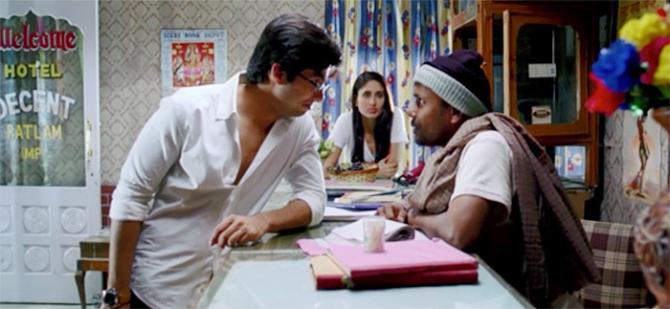 What happens in Ratlam stays in Ratlam aka The One where Geet and Aditya rent a room in Hotel Decent.
There's much to chuckle about the duo's misadventures en route to Bhatinda, but that one episode of midnight looniness in Ratlam sets the tone for the rest of the movie.
4. The fundas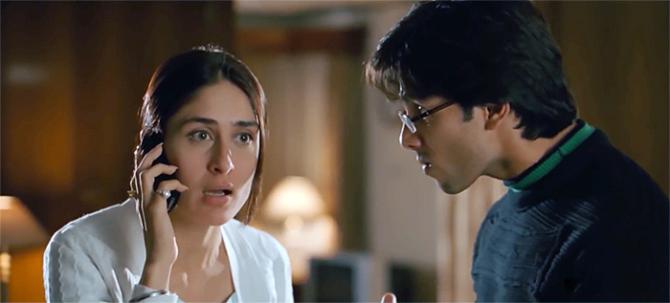 Closure is found in the most ingenious ways in Jab We Met.
While Geet talks Aditya into burning his ex's photo and flushing it down the toilet, Aditya encourages her to call her cad boyfriend and curse the daylights out of him with the choicest expletives.
Endless release. Timeless relief.
5. The chemistry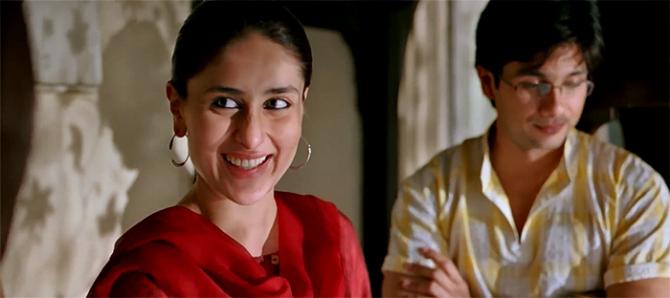 There's a Shrek and Donkey vibe to Geet's artless utterances and Aditya's disinclination.
But as they advance from travel companions inspiring the best in one another to smiley-faced sweethearts in denial, it's easy to root for their union.
Imtiaz provides Shahid and Kareena with ample room to express their emotional range. The upshot is absolutely melting.
6. Poor little rich guy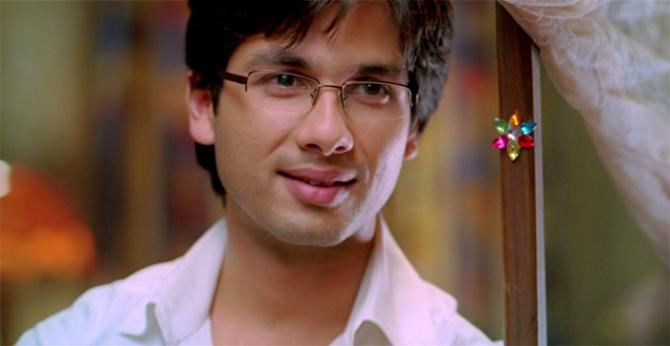 Extroverts are tailor-made for scene stealing.
When Jab We Met released, everyone gushed about Kareena's yak-yak zing and didn't pay enough attention to Shahid's contribution in their chalk and cheese camaraderie.
But it's his restraint and grace as the bespectacled nice guy that creates a sense of balance and prevents Geet from turning into a jarring caricature.
7. Happy feet!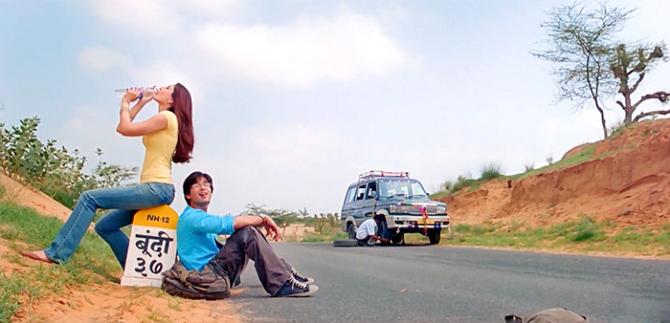 Known for his vagabond vision, Imtiaz explores Jab We Met's road romance fervour to boost Geet and Aditya's lively connection with the soulful scenery of Punjab, Rajasthan and Himachal Pradesh.
8. The disarming candour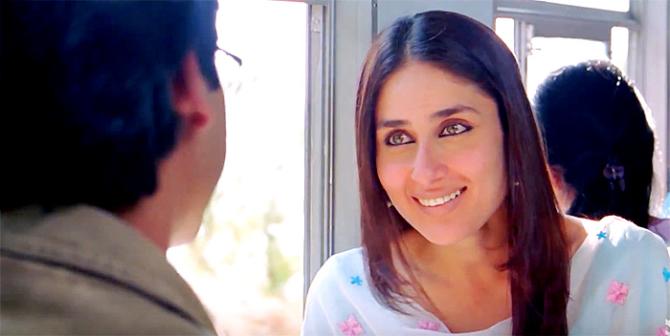 Spontaneous demonstrations of self-love show up every now and then. After all 'Main apni favourite hoon (I am my favourite person),' believes Geet.
She's equally sure of Aditya's affection for her. 'Main tujhe bahut achi lagti hoon na (You really like me, don't you)?'
On anyone else, this would seem like typical Bollywood heroine entitlement but on Geet it looks becoming. And only Kareena can pull it off.
9. The lilting score
From Mauja mauja to Tum se hi, Pritam-Irshad Kami's eclectic soundtrack doles out a breezy range of bhangra, pop and love duets alongside Sandesh Shandilya's classical composition Aaoge jab tum for the film's soundtrack.
The songs aren't in the same league as Rockstar but pack in sufficient allure.
10. Geet's wardrobe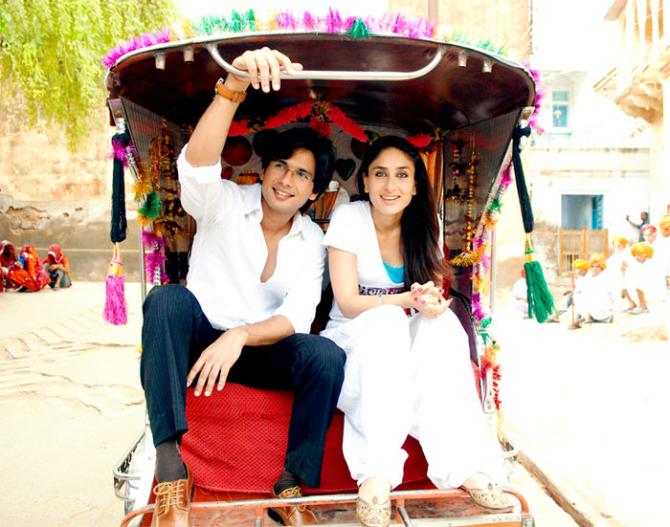 What's not to love about a rosy-cheeked Bebo flouncing about in hip Patiala salwars teamed with an oversized T-shirt or gorgeous phulkari designs?