Skip Fifty Shades of Grey. Watch these well-made films recommended by Aseem Chhabra.
On Wednesday, thousands of journalists from around the world filled up three large theaters for the Berlinale press screenings of one of the most talked about films of the season – Fifty Shades of Grey.

The film, based on the bestseller by the same name, was supposed to work its sexual charm this Valentine's Day but as it turned out, Fifty Shades of Grey is neither trashy, nor sexy.

It is exceptionally boring, so badly written and acted that most of the press at the Berlinale had a grand time laughing at the film.
So this is my Valentine's Day advice to filmgoers -- just skip Fifty Shades of Grey.

Instead here is a list of 10 remarkably sexy and well-made films worth visiting on this special occasion.

Blue is the Warmest Color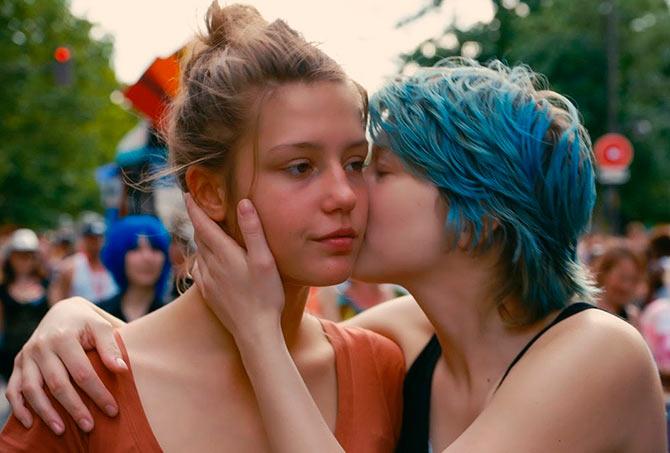 Image: Adèle Exarchopoulos and Léa Seydoux in Blue is the Warmest Color
This French Palm D'Or winner from 2013 made a lot of news for its very graphic lesbian lovemaking scenes.

One scene lasts nearly 10 minutes, enough to make it an uncomfortable experience for people watching the film in a crowded theater.

But people who watch the film at home should have a very different sense of that scene.
Blue is the Warmest Color is a sad film with a lot of tears and heartbreak.

But it is also a beautiful film about two people (played by French actresses Adèle Exarchopoulos and Léa Seydoux) in love and expressing their feelings for each other.


Blue Velvet


Image: Kyle MacLachlan and Isabella Rossellini in Blue Velvet
David Lynch's 1986 film is a cult classic tale of innocent people entangled in the world of crime and disturbing violence.

But in the middle of the film is the story of forbidden passion between a younger man (Kyle MacLachlan) and an older women (Isabella Rossellini), who is a cabaret singer, and whose husband and child have been kidnapped.
Blue Velvet is a creepy and a scary film about the dark places human beings can venture into.

Its sex scenes are not easy to watch.

But the unsettling situations make those sex scenes very compelling as well.


Body Heat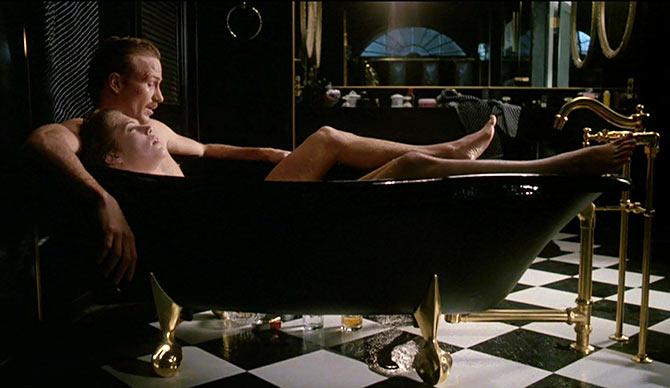 Image: William Hurt and Kathleen Turner in Body Heat
Body Heat is a modern-day play on the film noir theme with Kathleen Turner as the femme fatale to William Hurt's small town lawyer.

A crime is committed in the midst of a heat wave in Florida. Meanwhile, the lead pair -- they were both first time actors at that time -- engage in some very passionate lovemaking.
Body Heat is a rare film where the audience can actually feel the heat burning the screen, set to the jazzy score by the late John Barry.


Crash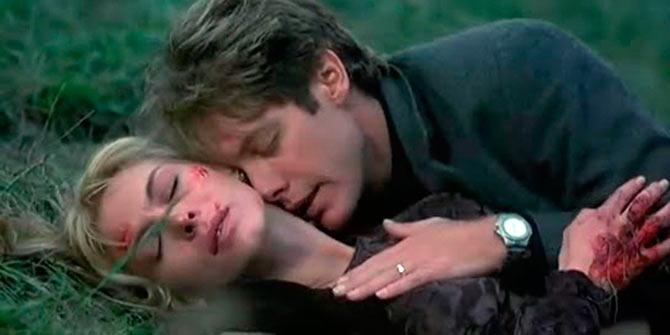 Image: Holly Hunter and James Spader in Crash
Not to be confused with the Oscar winning film of the same name, this Crash was made in 1996 with Holly Hunter and James Spader playing the leads.

Directed by the Canadian master David Cronenberg, Crash is a bizarre tale of a group of people, living on the edge of the society and with a very kinky taste.

They are sexually turned on by car accidents and like to perform sex after their body parts are smashed up.
All of this may sound very weird, but Crash has a very high sex quotient and it is a must watch film for those who are interested in seeing cinematic representation of extreme forms of sexual desires.


The Dreamers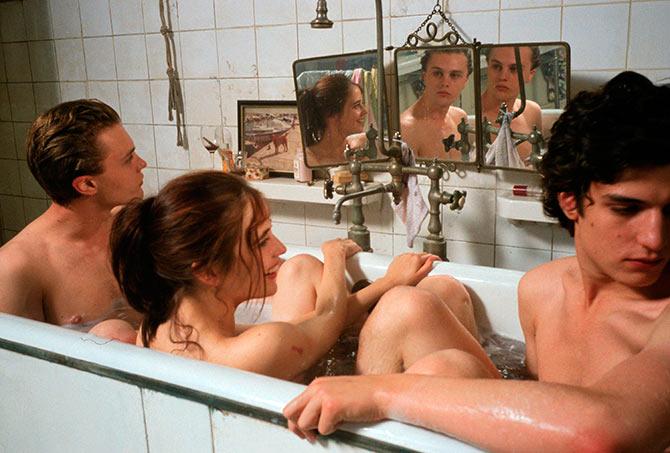 Image: Louis Garrel, Michael Pitt and Eva Green in The Dreamers
In Bernardo Bertolucci's 2003 film, a French brother and sister, and their American friend stay holed up in a Paris apartment while the city is burning during the May 1968 riots.
They play games celebrating their passion for cinema.

But the games also take a strong sexual, ménage-a-trios tone.
The Dreamers is Bertolucci's homage to the films that inspired him, especially the French New Wave.

But the NC-17 film also examines the sexual freedom that the three protagonists experience in the midst of political turmoil in Paris.


The Hunger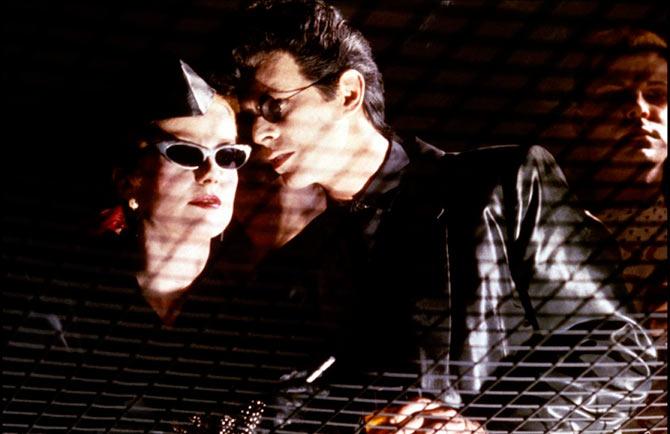 Image: Catherine Denueve and David Bowie in The Hunger
The first work by the late Tony Scott, this 1983 film has Catherine Denueve and David Bowie -- modern day vampires, facing premature aging.

And they search for a victim who will help them out of their misery.
The Hunger is a very stylish and sexy looking film. And a highlight of the film is an erotic lesbian lovemaking scene between Denueve and a young doctor, played by Susan Sarandon.


Last Tango in Paris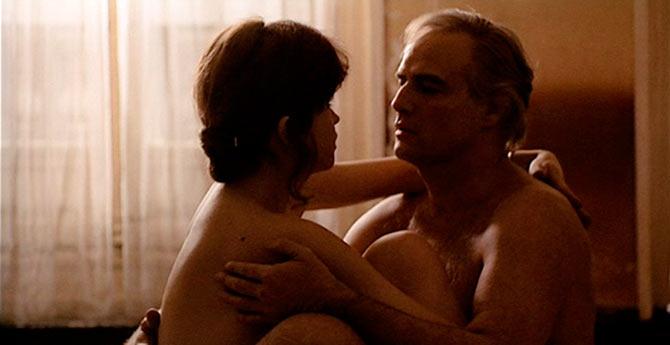 Image: Maria Schneider and Marlon Brando in Last Tango in Paris
Bertolucci is an Italian filmmaker, but France has played an important role in his cinematic psyche.


Last Tango in Paris is a 1972 film that has a recent American widower -- Marlon Brando, carrying on a very strange sexual relationship with a young French woman -- Maria Schneider.

The two meet regularly in an empty apartment, but they know nothing about each other, not even the names.
Last Tango in Paris shocked and thrilled the audience and critics in 1972.

Forty-three years later, the film still holds well and the sex scenes -- there are plenty of them, are quite unlike anything that has been depicted on the screen.


Lust Caution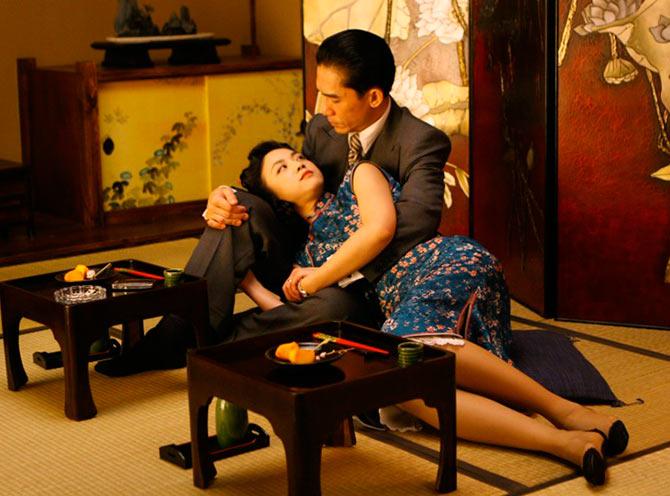 Image: Tony Leung and Wei Tang in Lust Caution

Ang Lee's 2007 period drama got the NC-17 rating for its intense sex scenes between a Chinese politician (Tony Leung) serving the occupying Japanese army and a young woman (Wei Tang), who is playing a double game in this relationship.
Lust Caution is a beautifully made costume drama with lovely production design.

The sex scenes between the older man who has the power, and a younger woman, who nearly becomes his sex-slave, enhance the film's thriller-like tone.


Stranger by the Lake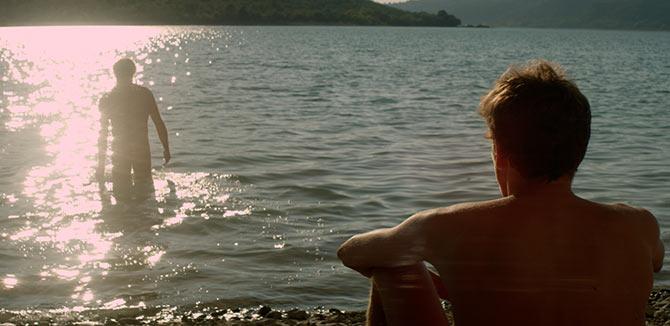 Image: A scene from Stranger by the Lake
This noir French thriller is set along a lake where gay men lie naked on the beach, and engage in repeated sex activities.

In the middle of the summer, a young man witnesses a murder, but he is terribly confused, because he is also attracted to the killer.
Stranger by the Lake shows us the anonymous sex world of gay men in a very real manner.

Add to that the Hitchcockian narrative and Stranger by the Lake is very compelling film to watch.


Y Tu Mamá También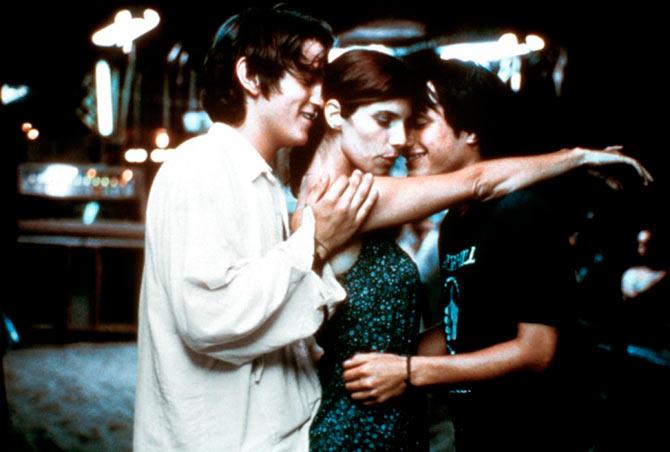 Image: Gabriel Garcia Bernal, Maribel Verdú and Diego Luna in Y Tu Mamá También
Alfonso Cuarón's Y Tu Mamá También is a seminal road trip film that redefined Mexican cinema's worldwide reputation, as well as made international stars out of its two male leads Gabriel Garcia Bernal and Diego Luna.
At the center of this film's narrative about two horny young men, is a tragic tale of an older woman who sets out on this journey for entirely different reasons.

No matter what they are searching for, Y Tu Mamá Tambiénis very sexy film that ends in a night of binge drinking and a threesome act that will change the character's lives forever.