Happy birthday, Kangana!
Beautiful, creative, funny, unpredictable, tough, opinionated, Kangana Ranaut is all the wonderful adjectives you can think of. But if there's one thing she's not, it's stereotype.
Constantly challenging and shattering Bollywood's precious myths or stirring its privilege lot out of undeserved comfort with her extraordinary candor and whimsical sense of humour, there is a lot one can learn from the actress who left her home in the hills of Himachal Pradesh to grab the limelight in Bollywood.
As the Queen turns 30 today, we make note of the 10 important life lessons she's imparted.
1. Be comfortable in your own skin.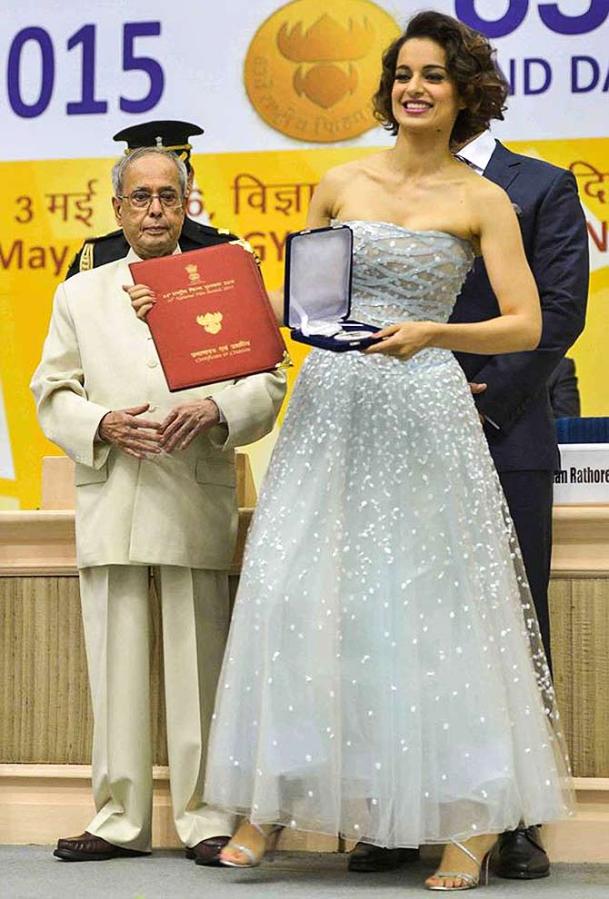 IMAGE: Kangana Ranaut receives the National Award from President Pranab Mukherjee at Vigyan Bhavan. Photographs: Rashtrapati Bhavan/Facebook
Whether it's dropping out from school to pursue modeling as a teenager, picking a gown over the traditional sari to collect her many National Awards, speaking her heart out in ways Bollywood isn't accustomed or proudly describing herself as 'bohemian, very earthy and moody,' Kangana does not pretend to be anyone she's not.
2. Nobody can hurt you against your will.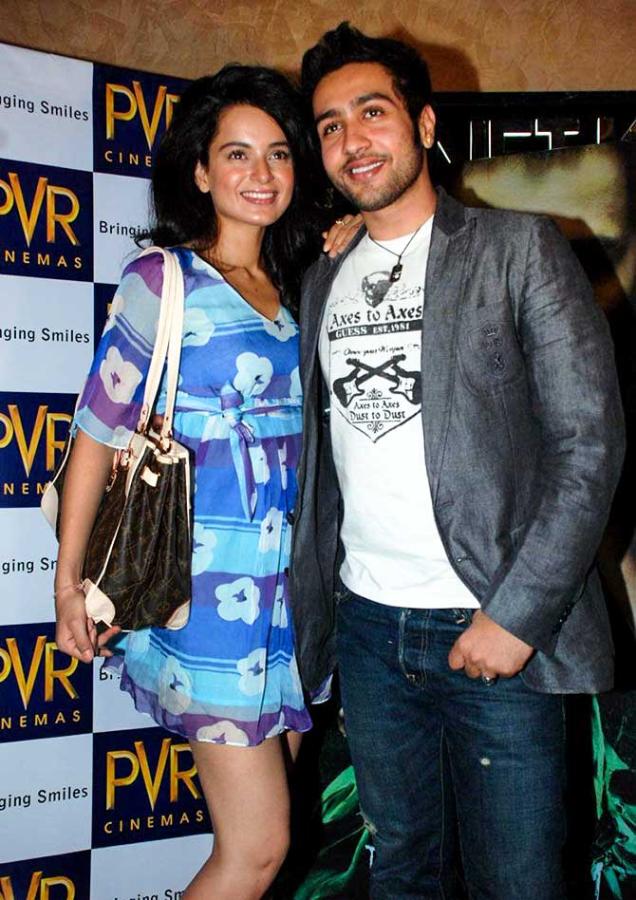 IMAGE: Kangana with Adhyayan Suman in their happy days. Photograph: Pradeep Bandekar
She's been subjected to all kinds of slander and name-calling but the Queen star refuses to feel offended.
'If your agenda is to shame me, it's not happening,' she responded after ex-boyfriend Adhyayan Suman released a diatribe against her in the media.
3. Kill with sarcasm and smile.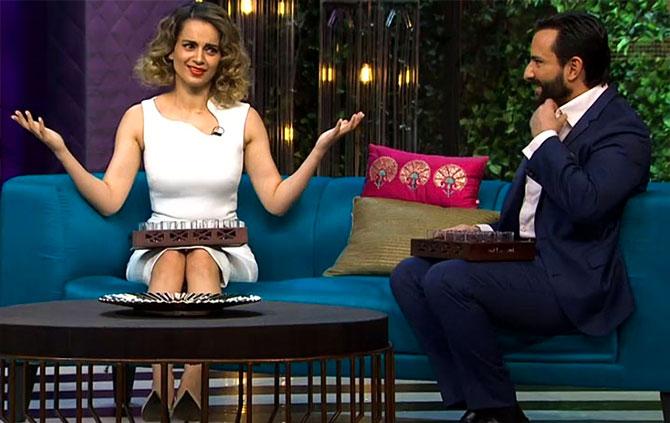 IMAGE: Kangana with Saif Ali Khan on Koffee With Karan
The memory of KR shooting down KJo on his celebrity chat show Koffee With Karan is still fresh in our memory.
As is the dumbstruck expression of the glamour-fixated filmmaker after Kangana disclosed, 'In my biopic, if ever it's made, you'll play that stereotypical Bollywood biggie, who is like you know -- very snooty and completely intolerant towards outsiders, flag bearer of nepotism, the movie mafia.'
4. Never let anyone intimidate you. Do not put up with anyone's abuse, bullying or entitlement.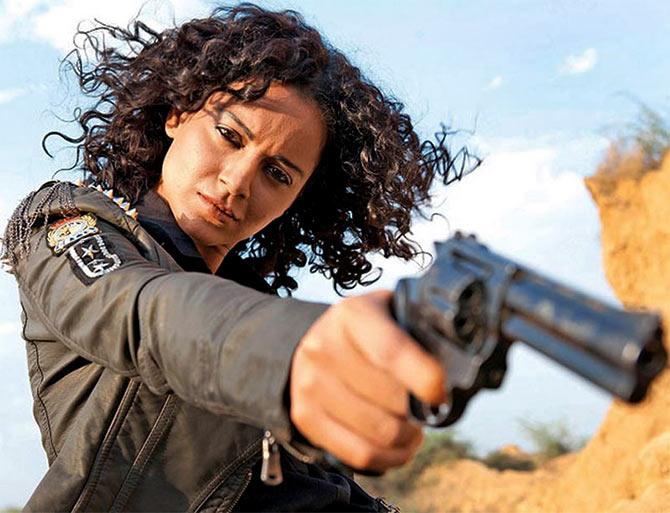 IMAGE: Kangana knows just how to be the Revolver Rani in real life.
Do not be fooled by her porcelain-like fragility. Be it her father, friend or filmmaker, the three-time National award winner has always found the strength to fight back physical and mental attacks on her being by speaking up and hitting out.
5. It's not your accent but your thoughts that define you.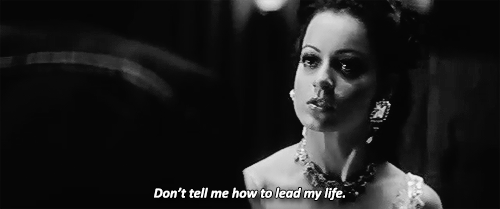 Ridiculed for her wobbly English and accent, the Gangster girl never showed her hurt or humiliation.
Instead of getting defensive, she took pains to learn the language and dazzle with her intelligence proving its what you say and not the pronunciation that matters.
6. Never feel obligated to fulfill another's expectations of you.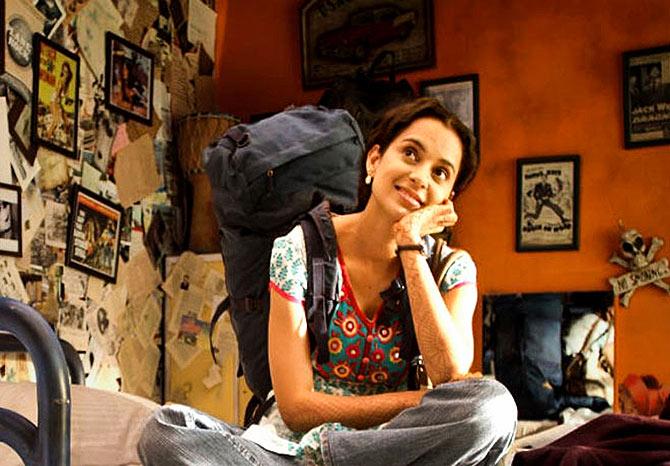 IMAGE: Kangana's Queen, pictured here, is one of the biggest hits of her career.
Her parents wanted her to be a doctor but Kangana was inclined towards showbusiness. Following her dream and not her family's led to enormous fame and fortune.
7. Be the leading lady of your movie instead of the Khans.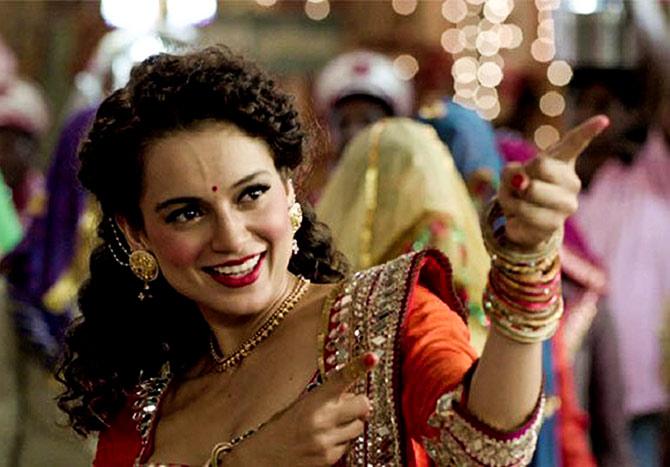 IMAGE: Kangana's Tanu Weds Manu was such a hit that it spawned a sequel. It was even bigger.
There is more to a Hindi film actress than starring opposite Salman, Shah Rukh and Aamir Khan. High time Bollywood stopped treating it like some barometer of her success.
Despite the skepticism surrounding this Khans boycott, Kangana's resolve to be her own brand is truly inspiring.
8. Diplomacy is for cowards.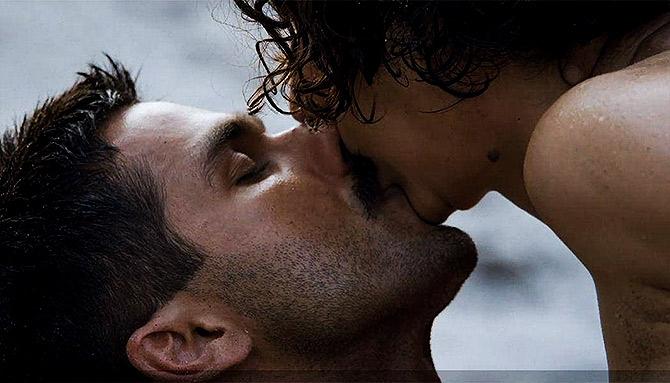 IMAGE: Kangana and Shahid Kapoor in Rangoon
Whether it's panning 'silly ex' Hrithik Roshan for hiding behind daddy Rakesh Roshan during their ugly feud, mocking the likes of Priyanka Chopra and Deepika Padukone for working in Hollywood as 'baits she wont fall prey to,' describing her working experience with Rangoon co-star Shahid Kapoor a 'nightmare,' or calling out Karan Johar's nepotism Kangana doesn't mince words.
9. Be an active feminist not just a vocal one.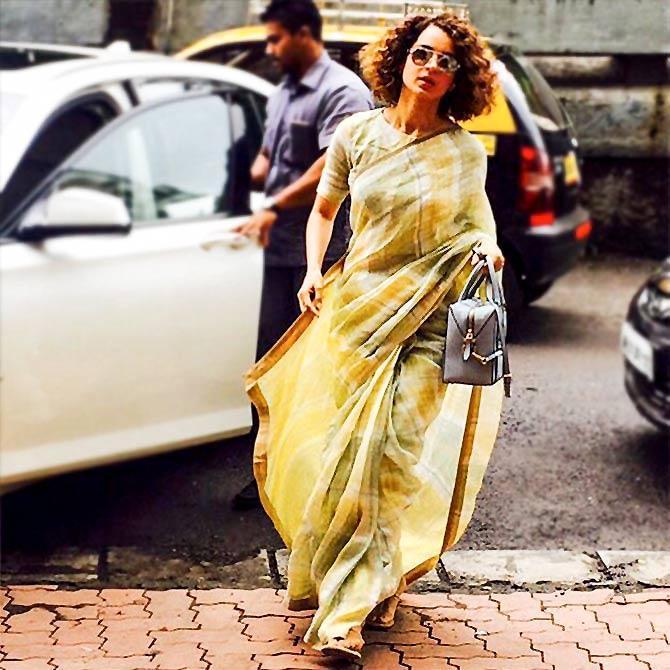 IMAGE: Kangana loves her unruly hair, and it shows! Photograph: Style By Ami/Instagram
She turned her unconventionality into her uniqueness. Her unruly hair, her shrill voice, her unorthodox career choices and her 'self-pleaser' lifestyle –everything about Kangana Ranaut screams living life on her terms. If a man isn't assured enough to embrace her powerful personality, it's his loss.
Women need to believe they're equals for men to believe it as well, the actress once said.
She should know. She's made a shining example out of it.
10. Style is easy. Attitude is what lends it substance.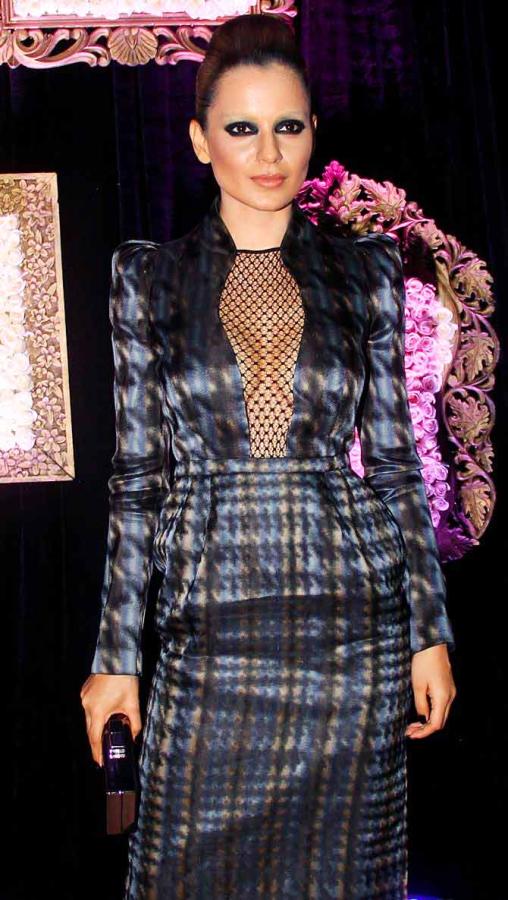 IMAGE: Kangana sets new trends with her blonde eyebrows. Photograph: Pradeep Bandekar
Whether she's walking out of the airport, promoting her movies, gracing the red carpet or setting the ramp on fire, Kangana Ranaut radiates a rare glamorous individuality that only comes from knowing who you are and not the label you're wearing.
Few fashionistas realise this trait. Fewer possess it.