Sukanya Verma gives us a recap of the 91st Academy Awards.
Oscars 2019 wasn't off to an auspicious start.
At first, overwhelming opposition forced the Academy to withdraw its plans of introducing a Popular film category.
The uproar following comedian Kevin Hart's homophobic tweets left them with no choice but to drop him and proceed without a host.
More embarrassment followed after its decision to distribute trophies for certain categories like cinematography and editing during commercial breaks met with sharp dissent.
But the show must go on.
And it did.
Though not always smoothly.
If on one hand, one didn't feel the absence of a jibe-ready anchor, the 91st Oscars wasn't without its share of snags and silly decisions.
Between an awkward opening gig by Adam Lambert and Queen belting out hits like We Will Rock You and We are the Champions, Green Book's shocking, inexcusable Best Picture win that made us pray for a Moonlight/La La Land scale goof up and the Academy's infuriating show of love for Bohemian Rhapsody, the ceremony redeemed itself over these 10 glorious moments.
Spike Lee wins his first Oscar!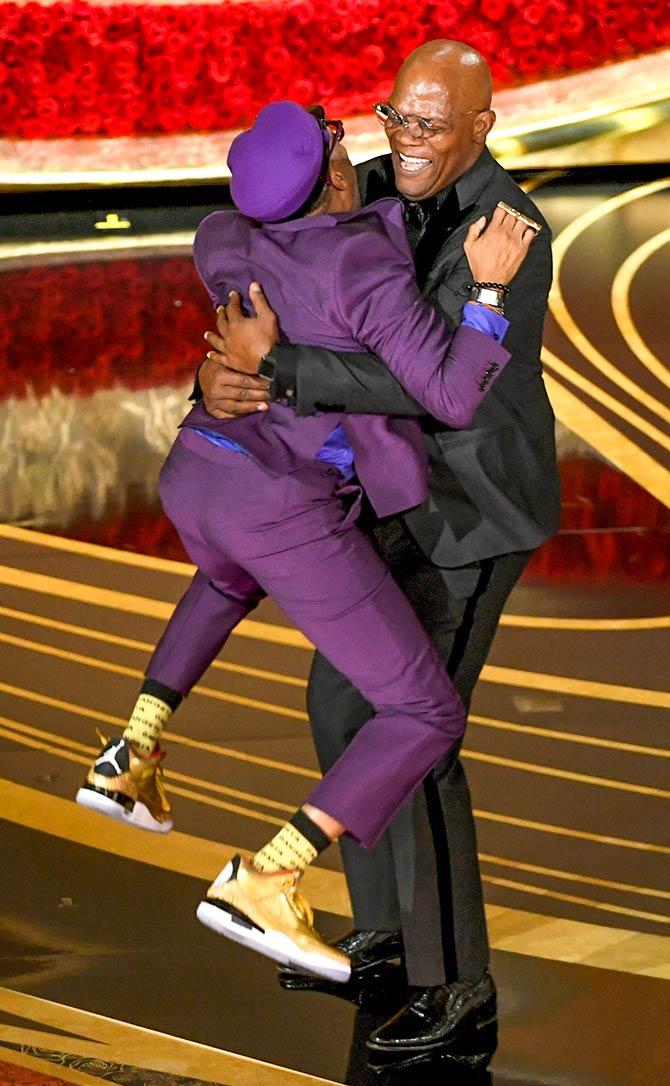 One of the most influential and visionary filmmakers, Spike Lee has been largely neglected by the Oscars, and he finally got his due in a Best Adapted Screenplay award.
Though he shares the win with Charlie Wachtel, David Rabinowitz and Kevin Willmott, I doubt anyone noticed anything besides the purple suited auteur's ecstatic response to Samuel L Jackson big bear hug.
Pure Oscar gold.
Known to speak his mind, his speech resonated his political views: 'The 2020 presidential election is around the corner. Let's all mobilize. Let's all be on the right side of history. Make the moral choice between love versus hate. Let's do the right thing! You know I had to get that in there.'
Bradley Cooper and Lada Gaga's explosive chemistry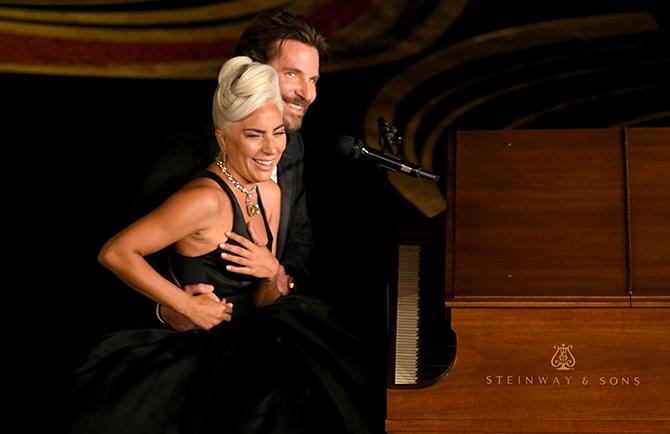 The social media went berserk typing 'KISS' in bold letters as A Star is Born's dreamy leads gazed deep into each other's eyes, oblivious to the cameras, the audience, the viewers glued before their television sets, while performing a song from their movie (Shallow) to sizzling effect.
Chemistry like that doesn't happen every day.
Olivia Colman's rollicking Queen's speech!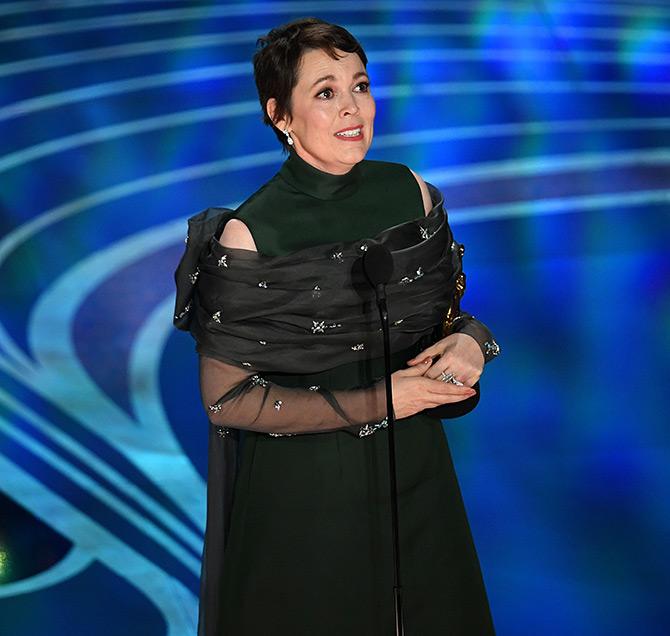 Can't imagine anyone better than Olivia Colman to topple hot contender Glenn Close and walk away with her first ever Oscar for her portrayal of the eccentric, unsound Queen in The Favourite.
Colman's a riot when it comes to acceptance speeches.
'This is hilarious. I got an Oscar! Okay, I have to thank lots of people. If, by the way, I forget anybody, I'm going to find you later and give you all a massive snog,' she said.
Wouldn't we all love to be snogged by this buoyant, brilliant lady?
Del Toro and Cuarón's Mexican bromance!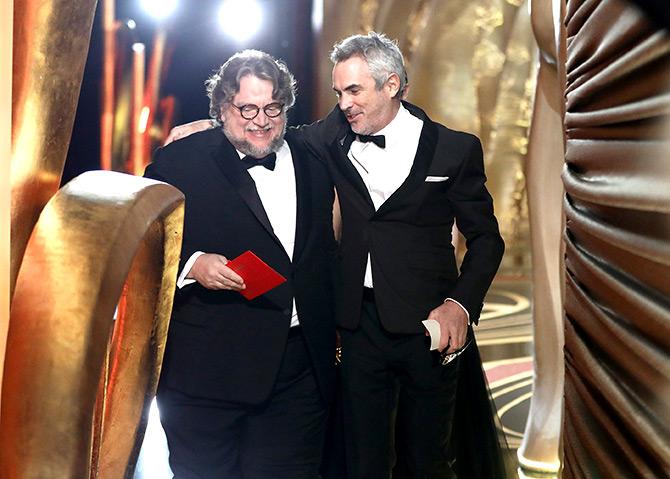 Alfonso Cuarón is the fifth Mexican director in six years to win an Oscar. He's the first ever to win for both cinematography and direction in the same year.
What made this achievement truly special is the fact that Cuarón's amigo and fellow filmmaker Guillermo Del Toro handed him the Best Director trophy.
The sheer warmth and friendship enveloping their Mexico-Mexico bhai-bhai camaraderie could not be sweeter.
Javier Bardem's Spanish Touch!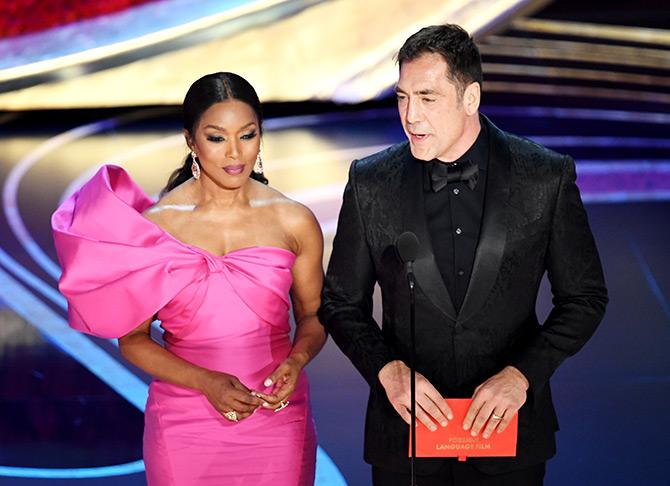 Javier Bardem is hot.
Javier Bardem speaking Spanish is hotter. (Especially when he took a jab at Donald Trump and said that 'there are no borders or walls that can restrain ingenuity and talent'.)
Javier Bardem announcing Rrrrrrrrroma as winner is heat wave in February.
Back to back win for Black Panther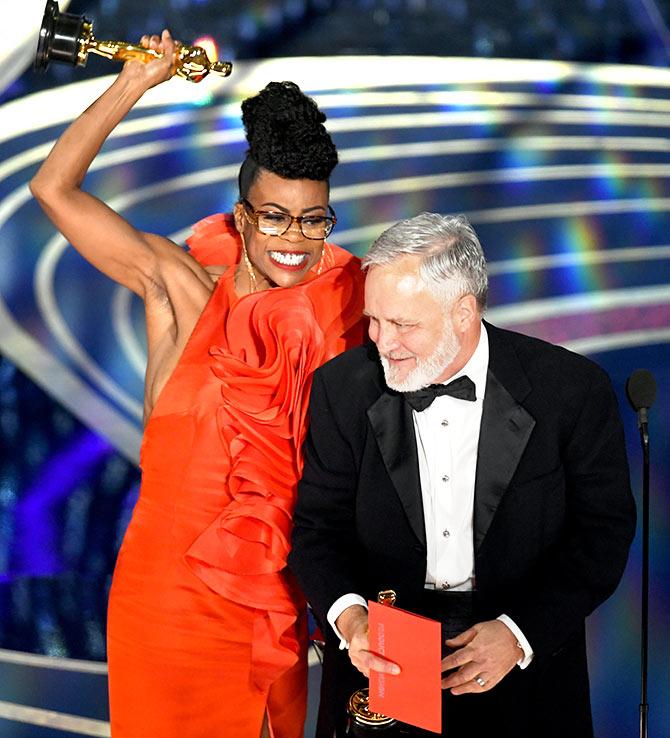 And the Best Costume Design goes to Ruth E Carter for Black Panther.
And the Best Production Design goes to Hannah Beachler for Black Panther.
Superhero movies can do more than sell toys. Black Panther's multiple nominations and wins are proof of its potential.
With these back-to-back wins, Wakanda's behind-the-scenes girl power -- Carter and Beachler -- became the first African American women to receive Oscars in their respective categories.
It's what Beachler said: I did my best and my best is good enough.
Maya Rudolf, Tina Fey and Amy Poehler 'we are not hosting' intro to the Oscars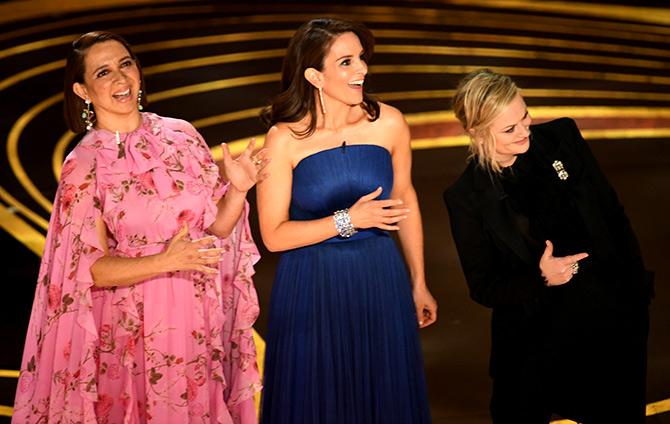 'There is no host.'
'No popular category.'
'No commercials.'
'And Mexico is not paying for the wall.'
The digs at Oscars and Trump are on point. Within seconds, the power packed troika of Maya Rudolf, Tina Fey and Amy Poehler have demonstrated everything one wishes for in an awards function host.
Too bad it's only a teaser. Perhaps Oscars were gauging our response for next year?
Alright then, wholeheartedly approve, sign and seal.
India's proud Oscar moment!
'A period should end a sentence, not a girl's education.'
Solid words. Solid win.
And now for the best part.
Best Documentary (Short Subject) winner, Period. End of Sentence directed by Iranian-American Rayka Zehtabchi, which explores the stigma relating to menstruation is not only set in India but also co-produced by our very own Guneet Monga's Sikhya Entertainment (The Lunchbox, Masaan).
Monga's euphoric tweet pretty much sums the mood: 'WE WON!!! To every girl on this earth... know that you are a goddess... if heavens are listening... look MA we put @sikhyaon the map.
Melissa McCarthy and Brian Tyree Henry's costumes parody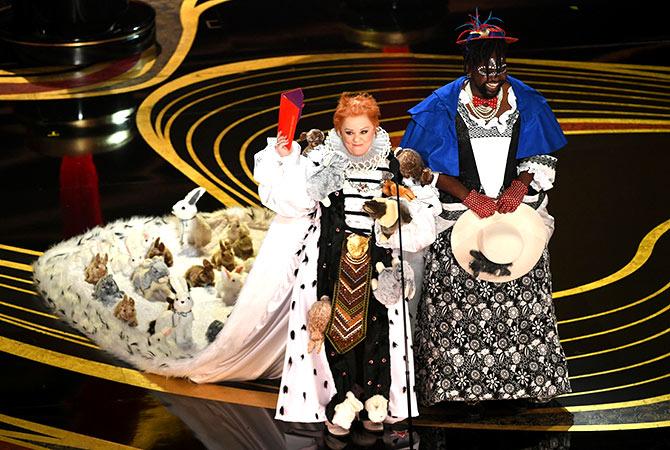 There's a lot going on visually in Melissa MaCarthy and Brian Tyree Henry's silly but shrewdly put together ensembles. Look carefully and you will spot references to all the five Best Costume Design nominated designs.
Wakanda makeup art from Black Panther.
Rabbits and pearls from The Favourite.
Tudor dresses from Mary, Queen of Scots.
Gloves and hat doffed at Mary Poppins.
Cowboy hat doffed at Ballad of the Buster Scruggs.
Star presenters who stood out!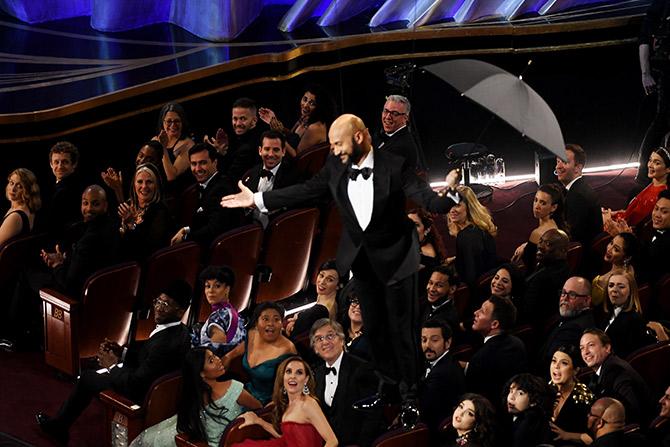 Celebrity attendance was in short supply this year. But there were some sparkly, strange and stunning appearances that caught our eye:
A gliding, umbrella wielding Keegan-Michael Key descends upon the audience in a Mary Poppins-inspired entry before introducing Betty Midler's performance for a song from the reboot.
Jason Mamoa wearing a pink scrunchie -- colour-coordinated with his suit -- around his wrist.
Julia Roberts makes a surprise entry for the final award looking her best ever in years wearing a hot pink Elie Saab.
A statuesque Charlize Theron making a good case to be cast as the next 007 while fellow presenter and current Bond, Daniel Craig looks on unsuspectingly.