'When I came into the industry, I was a lone ranger, trying to do films that I believed in.'
'I was constantly swimming against the tide. Now the tide has changed.'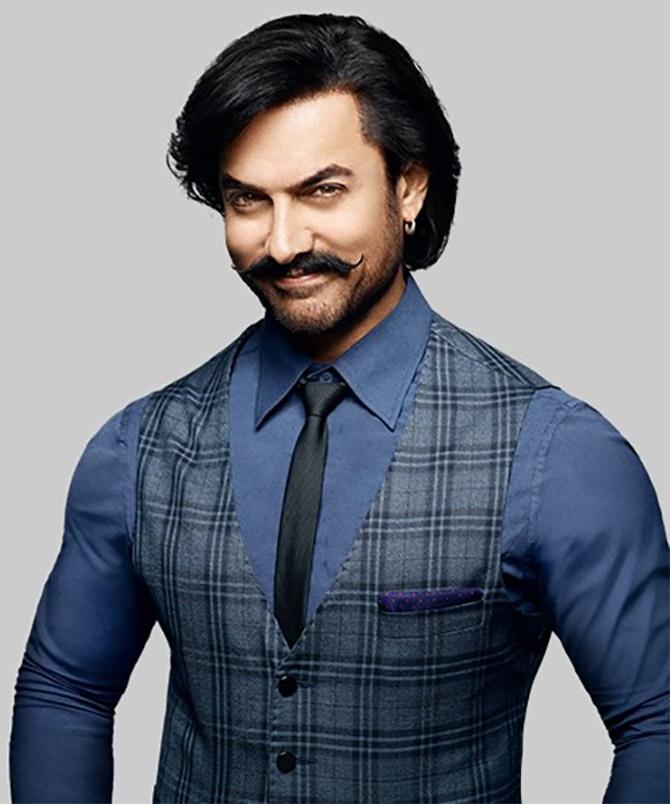 It has been three decades since Aamir Khan made his adult debut in Qayamat Se Qayamat Tak -- he had acted as a seven year old in his uncle Nasir Hussain's Yaadon Ki Baraat.
As Aamir gears up for his much awaited Thugs of Hindostan, he speaks about his unusual trek in Indian cinema, why he didn't agree to play Sunil Dutt in Sanju, his first day on the sets and more...
Urvi Parikh listens in.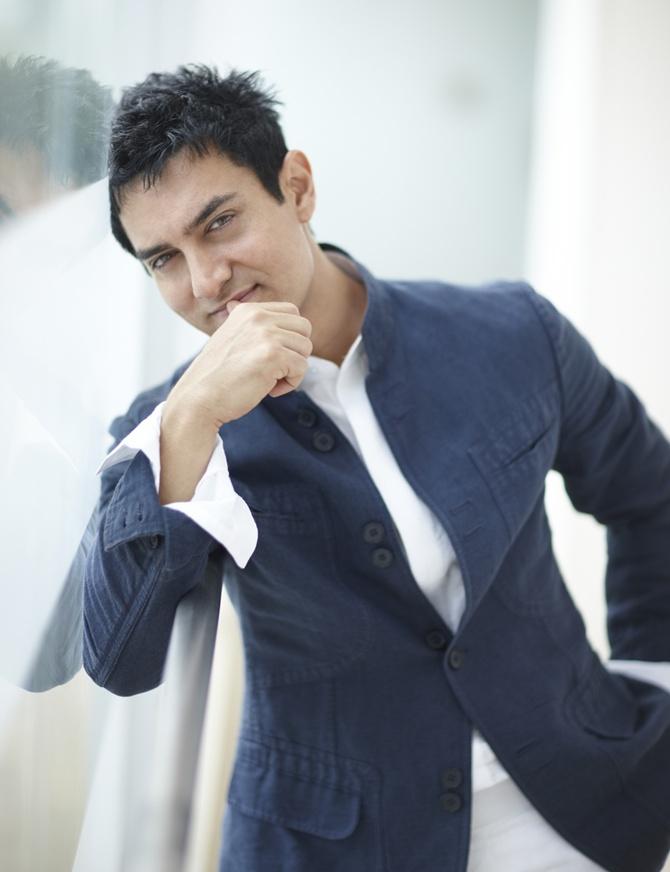 It has been 30 years since your debut. How have these years gone by?
It really feels like yesterday. It just doesn't feel like 30 years have passed. Time has that quality where it passes like a flash.
When an Aamir Khan film is releasing, the audience has immense trust in it, they know it will be a good film. Was there a strategy to get such a reputation?
I am not sure I can claim that I actively tried to build that reputation.
Actually, what I have followed through my career is that I have been very demanding with myself.
The work that I do has to stand up to my own standards.
What's important for me is: Am I happy with a role/film? I want to do good work and be happy with it.
What I keep doing is a quality check on my work. I want to do good work and I have been striving for it.
Perhaps that has resulted in the trust between me and the audience.
They then saw that work I did over the years was of good quality. It ended up building goodwill over time.
All I did was I just satisfied myself as a creative person.
To build goodwill in any industry, it takes a while.
If you are consistent, then the faith comes over time.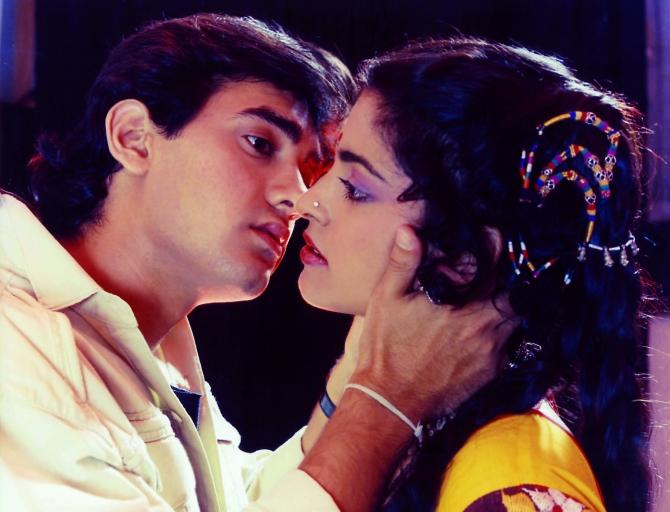 Any fond memory from these 30 years that has stayed with you?
My first film Qayamat Se Qayamat Tak, I have this anecdote to share.
We were shooting in Ooty. Since we recently saw the movie again, it's all fresh in my mind.
There is a scene where Juhi (Chawla) and I get lost in the jungle in the night. Then we meet and go to sleep. But when I get up in the morning she isn't there. She has gone to the river to get water.
So my first shot was the one where I get up and find out that she wasn't there around me.
I remember, on the first day, we reached, got ready and we were about to shoot.
We took one or two takes and then the shoot was interrupted because of the fog.
We waited for a while, but the fog refused to go and we had to pack up. So technically, my first shot couldn't be done at all.
My first day of shooting was a washout. I started thinking I hope this is not a bad omen (laughs).
'Just because my first day was a washout, I hope my career won't be a washout too'. I was having these thoughts at that time. My first day was a disaster.
You recently revealed that for QSQT, two endings were shot -- a happy one and a tragic one.
What made you choose the tragic one at a time when people looked forward to romantic movies?
It wasn't my decision. It was (QSQT Director Mansoor Khan, and Aamir's cousin) Mansoor's decision.
It was strongly endorsed by (Mansoor's sister and Aamir's cousin Nuzhat Khan) Nuzhat and me. We three were in the favour of a tragic ending.
With the way the movie played out naturallly, it would be very weird to see everything is hunky dory between the two families.
Dhanraj killed Ratan's brother. To now get the two families together is difficult.
Dramatically speaking, the natural end had to be tragic.
We went ahead with what we liked and hoped that the audience would also believe in our instincts.
We totally felt that the tragic end was completely natural.
Though we shot a happy end, it was done with very little belief.
We shot the tragic end first and then we did the happy end. But there was no belief in it.
The happy end wasn't even edited. I have not even seen it.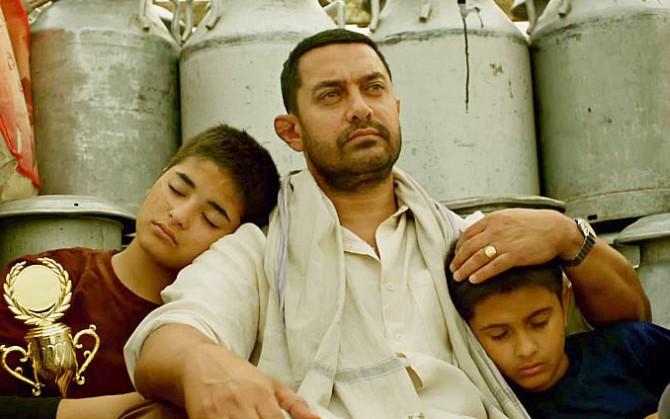 Do you agree that you are a born actor?
I don't feel I am a born actor.
When I see actors like Naseeruddin Shah, Raghubir Yadav, Zaira Wasim, Dilip Kumar, Amitabh Bachchan -- they are powerhouse actors.
When they give a shot, there is so much belief. It comes out naturally.
I feel I don't have that gift. I have to work myself up to that level.
I enjoy acting, but it takes me a little while as compared to someone who would do it instinctively.
For instance, when we were shooting for Dangal, Zaira got the hang of the Haryanvi accent within a week. I took four months.
My first reading is always pathetic.
During that time I feel the director will ask me to leave.
When I was in the first reading of Lagaan, I was scared that director) Ashutosh Gowariker would drop me..
My biggest strength is I am not scared to fail.
So I'm not shy or scared to do rehearsals.
I can sense a good performance and I can work my way there.
As human beings, often how we behave is not how we are feeling.
I may be hurt, but I won't be showing it for various reasons.
Say, for example, in a performance if I show that I am hurt then that's a superficial level of performance because I am hurt and I'm showing hurt.
Slightly deeper is I'm hurt and I'm not showing it, but you are understanding it by just seeing my behavior.
When you layer a performance, it gets richer.
Human beings are unidimensional.
For instance, in Talaash, my character is living with the fact that he could not save his son.
So no matter what scene I'm doing through the film, that dark cloud of guilt and the fact that he could not save his son should always be there.
No matter what scene he is doing in the movie. You remove that layer, then the performance will change.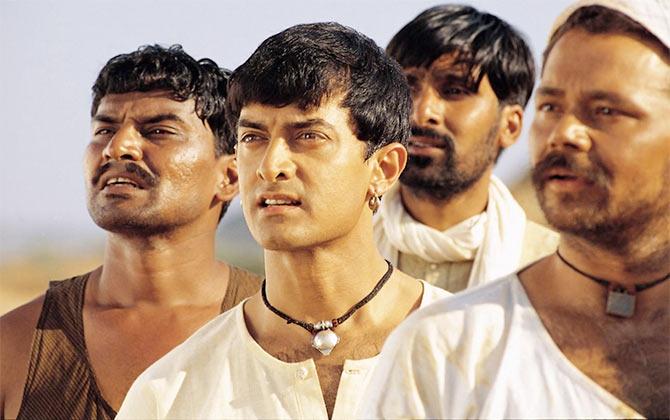 Do you believe in method acting?
I don't know what method acting is because I haven't studied acting.
Method acting is a particular school of acting taught in the USA.
I haven't read books on acting.
I have my own method.
I am not a method actor in the classical sense.
These days, a lot of actors learn dance, sword fighting, horse riding and many such skills. Do you think it is important?
I think all of this is important.
Being able to understand or deliver a good performance is part of being a good actor.
Learning to sing, dance, horse riding, fight are all skills. They will help you in some way or the other.
If you are a good dancer, it will add grace to many other things, and not just your dance.
It helps your performance even when you are not doing that particular thing.
I had learnt stunts before QSQT. I think it did help me to have a basic understanding of stunts.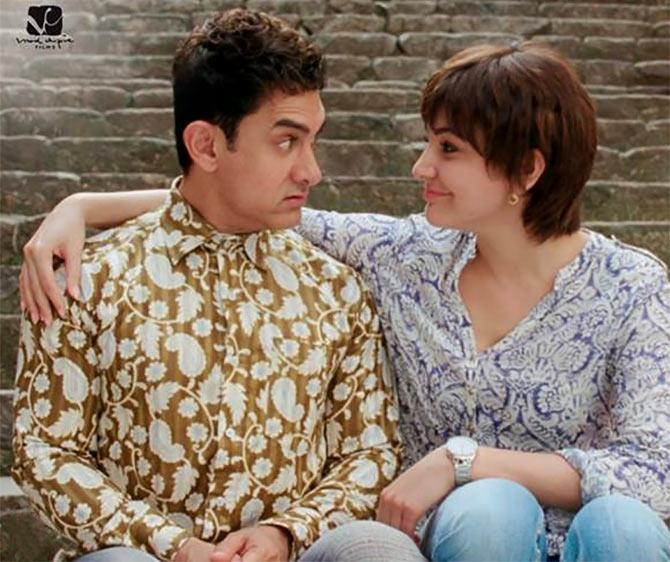 With so many years of acting, is it easy now to memorise long dialogues before the shoot?
No. Some people have a photographic memory.
Sanjay Dutt can just see one page, and he will know all the lines.
You give him three pages, he will look at them, keep the paper aside, and be ready.
I am not like that. I take time. I don't have a photographic memory.
I do rehearsals for three to four months before a film.
I do rehearsals with the director, then I do rehearsals alone, and that's when I learn my lines so that when I am on the set, I should be ready.
It should be your lines and not the writer's lines, that takes time with me.
Which has been your most difficult character in this 30-year journey?
PK was the most difficult character to play because I had no reference point.
(Director Rajkumar Hirani) Raju gave me a great cue for that. Don't think of yourself as an alien on Earth. Instead, think you are an Earth person going on some other planet.
Everything has to be new to the person and he doesn't know what it means to be on that planet.
It was tough because I know everything on Earth.
That couldn't reflect in my performance.
I have to believe that I don't know about it.
I have to unlearn and make myself believe that this is something new.
There is a scene in PK that 'God hung himself' and I have to react -- 'What? When? Now who will help me find my remote?'
It was a funny scene, but I had to divorce myself from the humour and I had to do it sincerely.
That was difficult.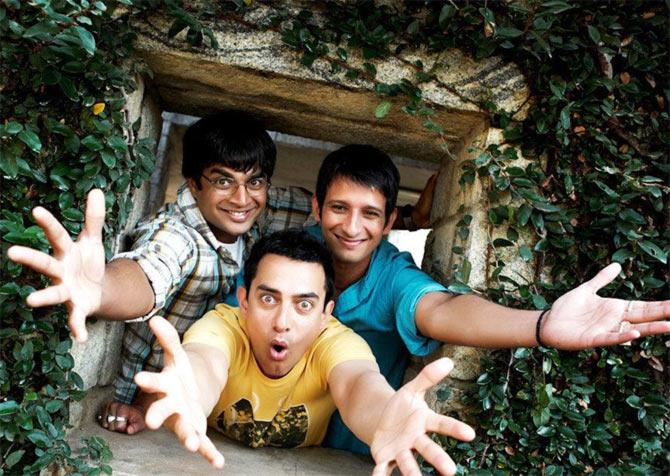 How did you establish yourself in the Chinese market?
I didn't establish the market. The Chinese people did. I had nothing to do with it.
3 Idiots became a hit online. Not in the theatre.
When that worked, they searched for more of my films online.
The establishment of a market in China is because of them.
I don't know the Indian market either. I do films because I like it.
Aamir, you are one of the few actors who have bridged the gap between content- driven cinema and commercial success. Is it a conscious thing?
I don't look for social content in my movies. I am not even slightly thinking of that.
I have had a mix range of films like Delhi Belly, Thugs of Hindostan, Dangal, etc, I get drawn to stories which I like.
It has to be something that excites me, engages me. Sometimes it might have a message, sometimes it might not.
I don't think whether it is commercial or not. I am not able to think like that.
I don't define things sharply.
For me, my cinema should be good, and I want to be loved by as many people as possible.
When I say 'good cinema', for someone that may mean 'critically acclaimed.'
I want to be loved by everyone. Now that may mean 'commercial cinema' to someone.
These are terms that don't go in my head. Maybe because I want both of these things and it eventually translates into commercial and critically acclaimed cinema.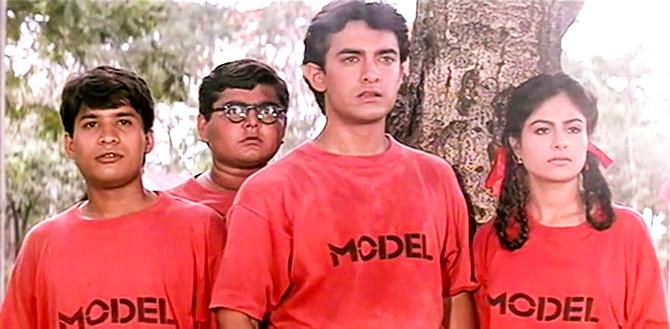 Aamir, you did films like Jo Jeeta Wohi Sikandar, Baazi at a time when other actors were scared of experimenting. Your films weren't considered mainstream. Have things changed now? Do you think the risk paid off?
I do believe the sensibilities of the audience is changing.
If today, Jo Jeeta Wohi Sikandar was released, it would have been a massive hit because today's audience likes such content.
When I came into the industry, I was a minority, I was a lone ranger, trying to do films that I believed in.
The market did not believe in it, a host of people also did not believe in it.
I was constantly swimming against the tide to do the films I believed in. Now the tide has changed.
So the films that I believed in then and no one else did have actually become more mainstream today.
I was not doing it for a pay-off, I was just doing it.
I was not concerned if it will pay off or not, my focus was to do films that I believed in.
When I do a film like Talaash, I know it is not going to be the biggest hit of the year, but I want to do it.
When did you realise that you were a star?
During Dil Hai Ki Manta Nahi.
The cap (he wore in the film) became very popular. Everyone was buying that cap. That was the first time I noticed it (that he was a star).
Though the first time I sensed it was after QSQT.
People would just come everywhere to see me; I couldn't walk on the road.
I did a successful film, but I didn't have a car. I used to travel by autorickshaw or bus, but after a point, I couldn't.
So I used to ask my uncle can I borrow your car, I have to go somewhere and there are people everywhere I go.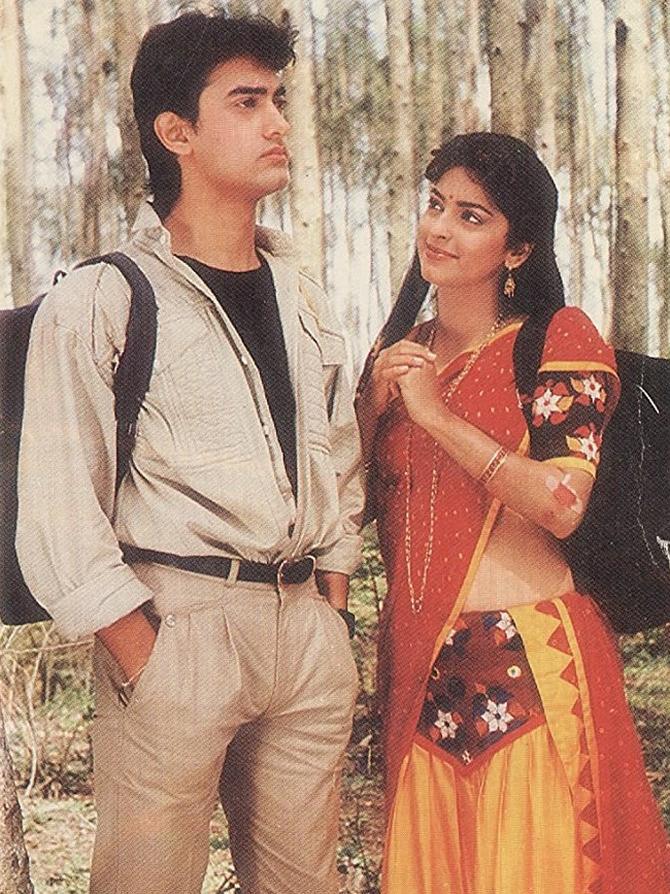 How much were you paid for your first film?
I got paid 1,000 rupees a month. The film went on for a year-and-a-half.
Actually, almost 11 months, so I made 11,000 rupees for my first movie.
You were approached by Rajkumar Hirani for Sanju, to play Sunil Dutt. What happened?
I absolutely loved the script. It is fantastic.
He wanted me to play Duttsaab's role. Duttsaab's role is a fabulous role.
There is so much about Sanju's relationship with his father.
Sanju's role is unbelievable.
As an actor, I told Raju that Sanju's role had won my heart.
In this film I can't do any other role apart from Sanjay Dutt's, which I can't do because Ranbir (Kapoor) is doing (it). So don't offer me any other role.
I can't come to a set thinking and looking at Ranbir and be like, hmmm... these should be my lines (laughs). I can't do it.
I am sure Ranbir has done it really well. He is a fantastic actor.
I can't wait to see the movie.
Any fond memories of Duttsaab that you have?
Duttsaab was one person who sent me telegrams. Diwali, Eid, birthdays or if my film had done well, he would send me a telegram.
I remember when the Mumbai riots happened in 1993, the film industry had taken a delegation to the chief minister, saying bring the army, do anything, but stop the riots.
30, 40 of us had gone there. After that, since no immediate action was taken, we decided we would sit below the Mahatma Gandhi statue near Mantralaya (the Maharashtra government headquarters in Mumbai).
We would do the protest. We would be out in the open and if someone wanted to kill us, then it's okay.
We won't get up. The violence has to stop.
For the first night, five of us stayed under the statue. Yash Chopra, Duttsaab, Johnny Walker, myself and one producer, whose name I don't remember now. The five of us stayed up the first night.
We didn't have security. It was just the five of us.
The next day, some action was taken. But that night, I remember very well.
For me, it was a wonderful thing.
Duttsaab, Johnny Walker and Yash Chopra were telling me their stories. It was amazing.
Duttsaab was very dignified, strong, gentle, warm, a very empathetic person.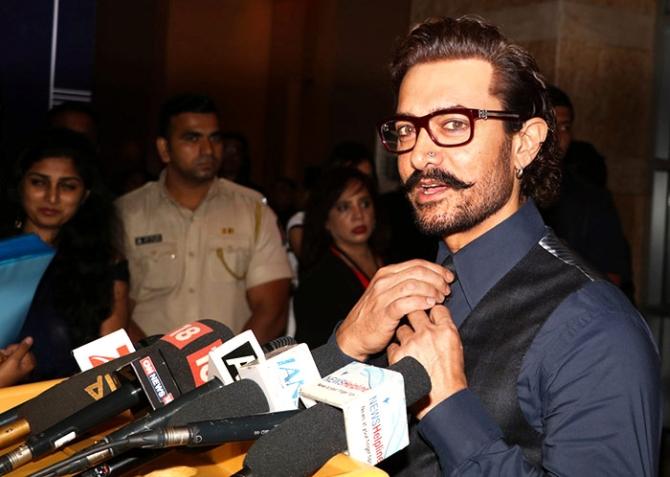 What's next on the cards for you?
After Thugs of Hindostan, I haven't signed any film yet.
I am producing Gulshan Kumar's biopic along with (T-Series owner and Gulshan Kumar's son) Bhushan Kumar.