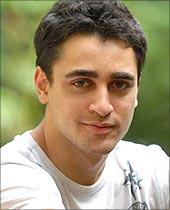 Most party-hearty youngsters in Maharashtra have faced the heat of the newly-set drinking age limit in the state but they have found a sympathizer in none other than actor Imran Khan. The

Delhi Belly

actor had expressed his concerns over the government decision and now is all set to file a Public Interest Litigation (PIL) on the state as he feels it is wrong on the government's part to ban a person's freedom of choice despite being an adult.

Being an American citizen Imran is not eligible to file a PIL so he'll get his lawyers to file the PIL on his behalf.



Before addressing the media Imran Khan read out a statement, "I want to state for the record that I do not endorse the consumption of alcohol as it can damage health, it can ruin careers and tear families apart and I have witnessed it first hand."



The actor also maintained that youngsters need to be more responsible with alcohol. Being a part of a democratic society the actor felt that it was his right to stand up and ask questions. Imran further added that raising the age limit for the consumption of alcohol from 21 to 25 was illogical and counterproductive.



Imran believes that raising the

age will lead to a lot of illegal activities. "I think increasing the age limit would increase the criminal activities and also give rise to bootleggers."



The actor felt that he was taking a very moderate stance as instead of raising a voice and protesting by going on strikes to garner public attention he was filing a PIL with the court.



Imran was unhappy by the double standards the government showed and that was the main reason for his protest. He said, "When one can vote at 18 and elect a government and even marry and have children at the age of 21, rainsing drinking age to 25 is ridiculous. Either have a blanket ban or this entire debate should not be brought up at all."



The actor whose film Delhi Belly is releasing next month said that filing a PIL was not a publicity stunt to promote his movie, "I cannot deny that it might appear like I am doing a publicity stunt. The truth of the matter is that the issue is much bigger than films. The timing of my action is related to the state governments decision and not to my movie." said Imran. He also mentioned that taking up an issue consumed his time and he is already busy with his films.



The actor also plans to start a signature campaign which will be a Facebook page called Power to You.