S Saraswathi traces the movie Supernova's journey in show business.
Rajinikanth began his acting career in 1975.
As Kabali releases, a look at how an ordinary bus conductor in Bangalore grew to be one of the biggest icons of Indian cinema.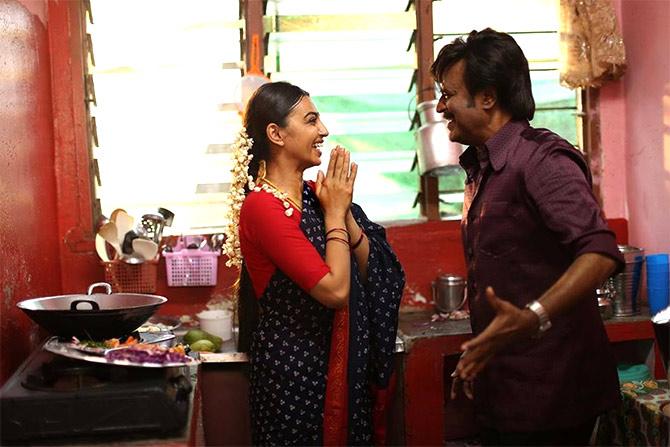 IMAGE: Radhika Apte and Rajinikanth in Kabali.
Born into a Marathi family on December 12, 1950, Rajinikanth was named Shivaji Rao Gaekwad. He is the youngest of four siblings and when he was five years old, he lost his mother. His father was a police constable.
Right from school, young Shivaji had a passion for acting and participated in school plays, winning praise for his performances.
After completing his education, he worked as a coolie and carpenter before being recruited by the Bangalore Transport Service as a bus conductor.
The bus conductor soon quit his job and joined an acting course at the Madras Film Institute, much against his family's wishes.
It was here that filmmaker K Balachander noticed him and asked him to speak Tamil.
In August 1975, Shivaji Rao Gaekwad became Rajinikanth and made his debut in Tamil cinema with a small, but significant, role in Balachander's Apoorva Raagangal.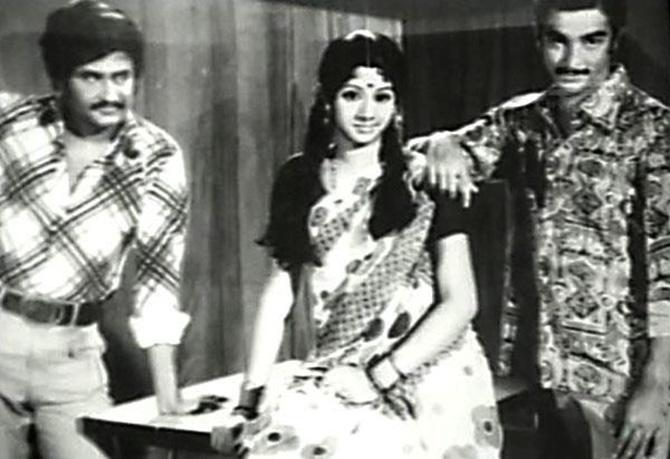 IMAGE: Rajinikanth and Kamal Haasan in Moondru Mudichu.
This was followed by a series of negative roles, but his performance in Moondru Mudichu drew him a lot of attention.
He was brilliant as a spurned lover, who carelessly tossed his cigarettes into the air, earning him a fan following that remains loyal to this day.
Moondru Mudichu will also be remembered for being the first film that featured Rajinikanth and Kamal Haasan together.
The duo worked in nearly 10 films before going their separate ways.
Rajini played a womaniser in many of his films in the late 1970s including Katha Sangama, Avargal, Aadu Puli Aattam and Gaayathri.
His first colour film, Bharathiraja's 16 Vayathinile saw him play a ruthless rogue, Parattai, whose often repeated dialogue, 'Idhu Eppadi Irukku?' ('How is this?'), is fondly remembered even today.`
In 1977, director S P Muthuraman gave him the opportunity to play one of the leads in the film, Bhuvana Oru Kelvikkuri. Following the film's, the director and actor made 24 films spanning over a decade.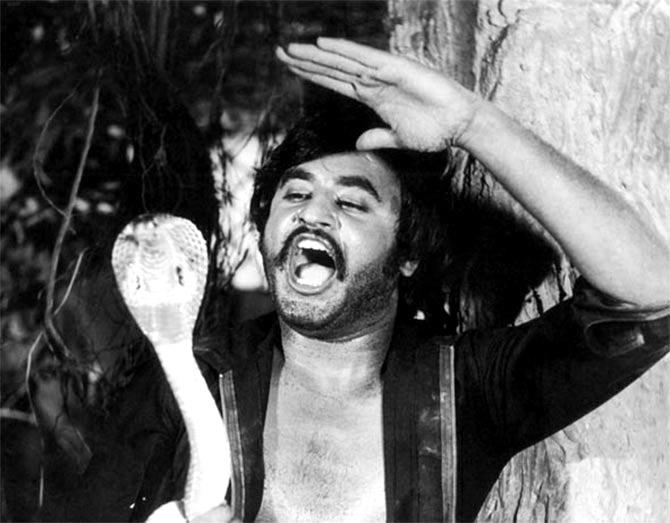 IMAGE: Rajinikanth in Bhairavi.
Three years after making his debut, Rajinikanth finally got the opportunity to be the solo hero in Bhairavi in 1978.
Directed by M Bhaskar, it was a huge sensation.
Kalaipuli S Thanu, one of the film's distributors, placed a 35 feet high cutout outside the Plaza Theatre in Madras, where the film was being screened.
Thanu also added the tag 'Superstar' as his title and to this day, Rajinikanth remains the undisputed superstar of Tamil cinema.
Another landmark film in his career is J Mahendran's Mullum Malarum, in which he played a winch operator Kali, who loses his arm in a freak accident.
Rajini gave an unforgettable performance and the film turned out to be a massive success.
What made the movie's run at the box office sweeter was Rajini's determination to prove himself to producer Venu Chettiar who believed he was not hero material, and only suited to play negative roles.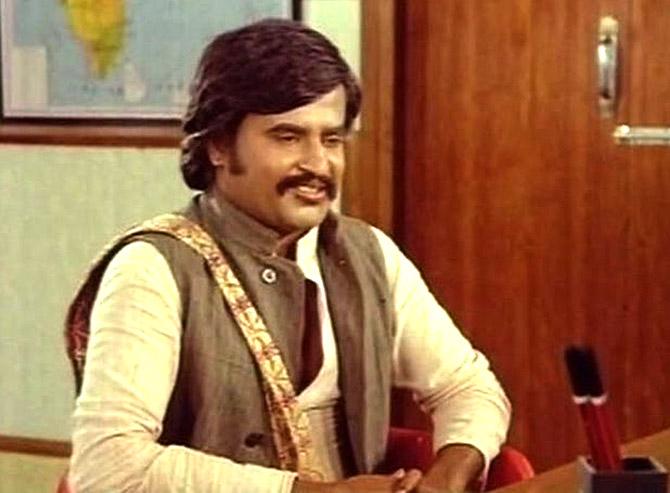 IMAGE: Rajinikanth in Thillu Mullu.
Ninaithale Inikkum, Billa, Johnny and Murattu Kaalai are some of Rajini's many commercial successes during this period.
The 1981 comedy Thillu Mullu, directed by Balachander, was another turning point in Rajini's career.
By then Rajini had acquired the image of an angry young man, but the role suggested by his mentor broke the stereotype.
And with seemingly no effort, the actor demonstrated perfect comic timing, and the film turned out a huge box office success.
It was during the making of this film that Rajini met his future wife Latha, a student of Ethiraj College, who came to interview him for her college magazine.
In 1983, Rajinikanth made a successful debut in Hindi cinema with Andha Kanoon, alongside Amitabh Bachchan and Hema Malini.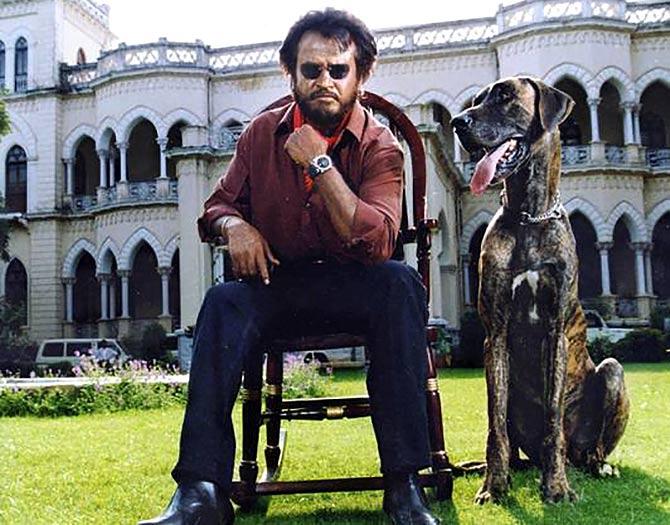 IMAGE: Rajinikanth in Baashha.
Rajini's 100th film, Sri Raghavendra, which released in 1985, turned out to be one of the biggest flops of his career.
His performance as Sri Raghavendra Swami won him much critical acclaim, but failed to set the cash registers ringing.
His Hollywood debut Bloodstone (1988) also turned out a major dud at the box office.
Suresh Krissna's Baashha in 1995 catapulted him to stardom again, earning him the status of a demigod in the state.
The same year also saw K S Ravikumar's Muthu being dubbed into Japanese, as Mutu: Odoru Maharaja.
The film was a spectacular success, earning Rajini a large Japanese fan base.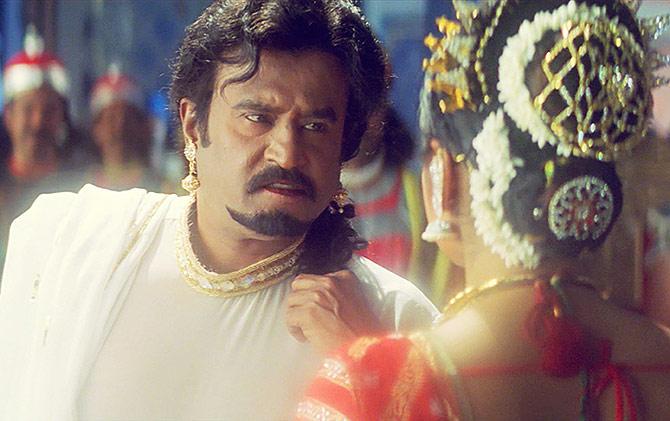 IMAGE: Rajinikanth in Chandramukhi.
P Vasu's 2005 release Chandramukhi, one of the biggest blockbusters of the decade, and director Shankar's Sivaji (2007) and Enthiran in 2010 smashed all previous box office records, making Rajini one of the highest paid actors in Asia.
Rajinikanth also holds the distinction of being part of India's first photo-realistic performance capture film, Kochadaiiyaan.
Directed by his daughter and released in 2014, the film flopped miserably.
The last couple of years have not been good for the actor.
There has been much criticism about his choice of scripts. Lingaa, which also released in 2014, was another disaster.
But the 65 year old is not ready to give up yet.
In an unexpected move, the actor teamed up with a relatively new director, Pa Ranjith, for Kabali.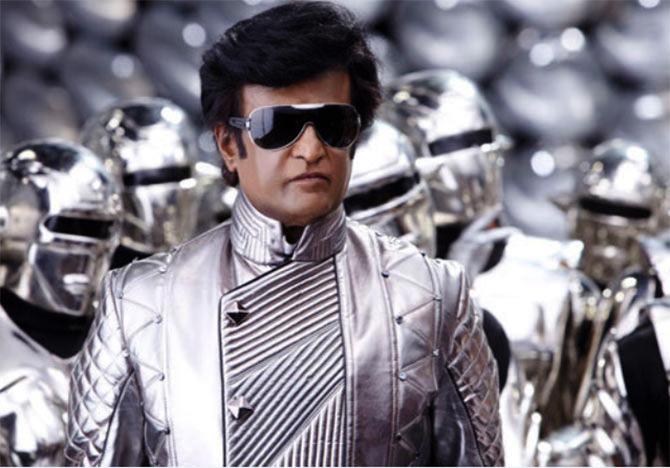 IMAGE: Rajinikanth in Enthiran.
The film, which has him essaying an aging gangster, will be followed by Enthiran 2 with director Shankar.
There have been several slumps in his career, but Rajinikanth has always risen again and prove his critics wrong. Can he do it again?