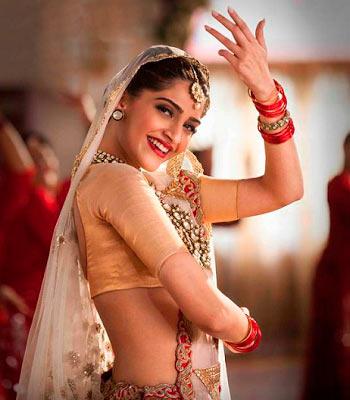 'Salman has been my heartthrob since I was 14. He is so incredibly amazing as a person. I am very lucky to be working with him on such a big film.'
Straight talk from Sonam Kapoor.
It's a package deal these days.
Stars who act in a film are also required to promote it in various ways, including giving interviews.
There are some stars who do not like this process.
Sonam Kapoor, for example, may have enjoyed working with Salman Khan in Prem Ratan Dhan Payo but when it came to talking about it...
Patcy N/Rediff.com tries her best to get some answers in this brief chat below:
It is every actress's dream to work with Salman Khan. When Sooraj Barjatya approached you for Prem Ratan Dhan Payo, what was your reaction?
I was overwhelmed because he is the biggest superstar in the country. I am a huge fan of his.
Salman has been my heartthrob since I was 14. He is so incredibly amazing as a person. I am very lucky to be working with him on such a big film.
How old were you when you saw Maine Pyar Kiya?

I was five years old (when the film released). He was 18 or 19 then.

I watched Maine Pyar Kiya after Hum Aapke Hain Koun..! which I loved. Because I loved it so much, I watched Maine Pyar Kiya.
Is it true that you did not charge a single penny to work with Salman and Sooraj?

Have they been saying that? It is not true; I don't do anything for free. We have been talking of equal pay and stuff like that. (Pauses) Why would I do it for free?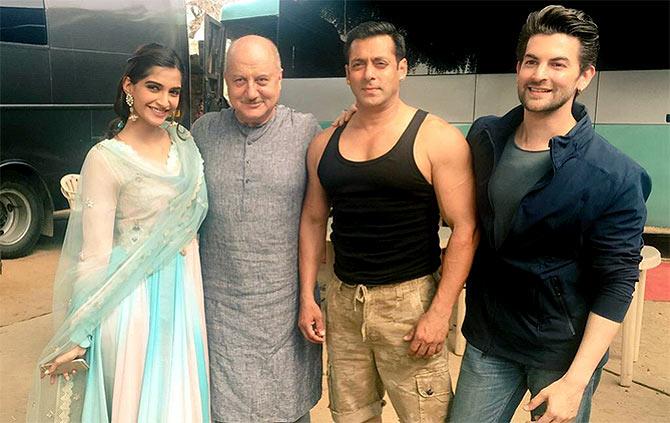 Image: Sonam Kapoor with Anupam Kher, Salman Khan and Neil Nitin Mukesh on the sets of Prem Ratan Dhan Payo.
Because you were getting a chance to work with Salman and Sooraj Barjatya...

The only film I've done for free is Bhaag Milkha Bhaag. Actually, even that was not for free. I charged Rs 11 for that because I always take a token.

(Asks the PR) Why is this lady asking me if I have done this film for free? Is it a PR plug that you have put up?

There is a story floating online.

Really? I haven't heard this.
(Turns to the PR again, who confirms it. Sonam asks, 'Is it an item where I've named or is it a blind item?'
PR replies, 'It is not a blind item, you have been named.')

I know where it is coming from but the answer is no.

You got to work with Salman for 200 days. How was the experience?
Salman has worked on the film for 220 days and, yes, I've worked for 200 days.

What was that experience like?

It's very strange because a lot of my films have taken a really long time. All my big films, whether it is Sanjay Leela Bhansali's film or Rakeysh Omprakash Mehra's Milkha or Delhi 6, or Mausam (directed by Pankaj Kapur).
But my sister's films like Khoobsurat, Aisha and Ranjhanaa have taken a shorter while because they don't require such large sets.
Every film that you do, with the crew and the unit, you always create a relationship and you become friends because you are literally living with those people day in and day out.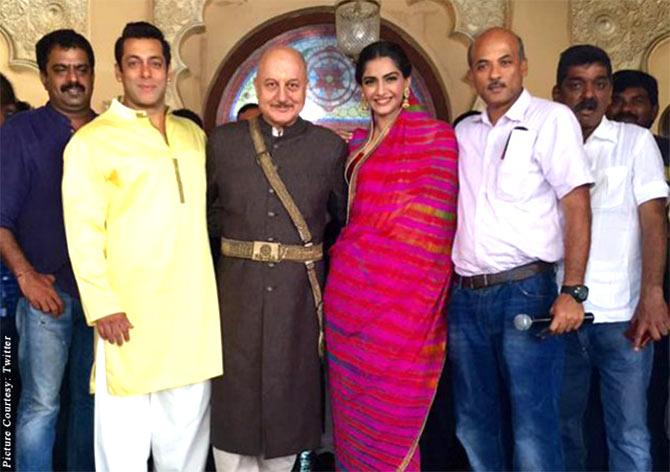 Image: Salman Khan with Anupam Kher, Sonam Kapoor and Sooraj Barjatya
Sooraj Barjatya is known for making certain kind of films. How was it working with him?

Everybody makes different films.

But his movies are family oriented, musical, big budget and tend to have a sense of grandeur.
Shakti Kapoor once told me that when he was shooting for Hum Saath-Saath Hain, bhajans were playing on the sets. Is it true that when you are on a Sooraj Barjatya set, the atmosphere is very religious and peaceful?
It's a very peaceful atmosphere because your place of work should be like that, but no bhajans were playing on the sets for sure.
It was a very happy atmosphere to be in but a lot of my directors have given me love. All directors are different and everybody has a different way of working.
Soorajji is an incredibly warm and an amazing human being and it is lovely to work in a happy atmosphere.
Whether it is Anand L Rai (Raanjhanaa), Rakeysh Omprakash Mehra (Delhi 6, Bhaag Milkha Bhaag), Sanjay Leela Bhansali (Saawariya), Shashanka Ghosh (Khoobsurat) or anybody else, we've all worked in a very pleasant happy atmosphere. I've never had bad experiences during any film.
Was it intimidating for you to perform in front of Salman the first time?

No, I've done a film called Saawariya with him. It was my first film. But in that he had a very small role.

That was a 20 day shoot and this was 220 days.

Saawariya did the breaking of the ice in thing but still, for the first four to five days, I was intimidated because it was Sooraj Barjatya and Salman Khan. And they are legends. But I got over it really fast because they gave me a lot of respect and made me feel like a part of the family.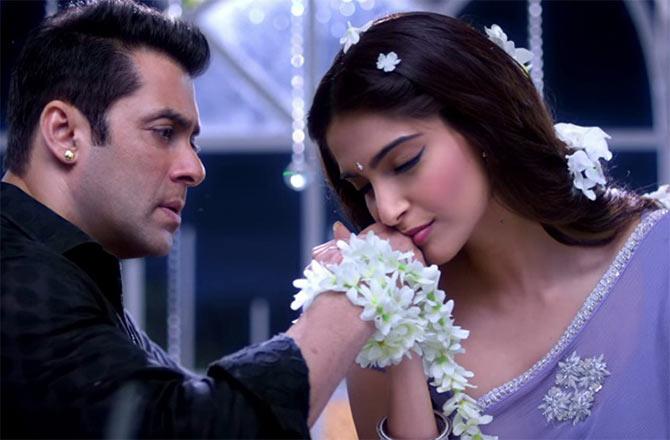 Image: Salman Khan and Sonam Kapoor in Prem Ratan Dhan Payo
What was it like romancing a hero 20 years older than you?

You should ask the other girls who work with the Khans that.
It was incredibly easy working with Salman.
Would you ask the same question to Deepika or Anushka or Sonakshi? I am sure they were not asked these questions.

Why not?

(Interrupts) But did you ask them how was it romancing them?

Yes, I've asked Deepika about Ranbir Kapoor and she was okay with it...

I am okay with it. I am just wondering because this is the first time I've been asked these kind of questions.

During Nishabd, people must have asked the same question to Jiah Khan.

Yes, but that was Amitji (Amitabh Bachchan) and Jiah and it was Lolita. I don't know if you know what Lolita is?

Salman recently said you look beautiful and you are more talented than Aishwarya and Madhuri Dixit...

He's been very kind, but I don't think it is true. I don't think I am as beautiful or as talented as either of them.

What is your take on award wapsi?

I don't know how to explain it without it becoming controversial, but I think what people are fighting for is the right thing to fight for, namely tolerance, but I am not sure if I agree with the method.
So the method to get to a goal might not be something that I agree with, but the goal and the intention are correct, so I can't argue with it.
I can't judge anybody who is giving away their awards or taking awards because I am not in the position to do it, since I don't have any. At the same time, I think what they are fighting for is extremely idealistic so I can't laud them or criticise them either.