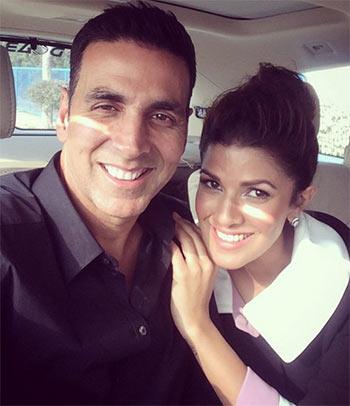 'I had seen Waqt, starring Balraj Sahniji, and I can never forget it. There is a happy family and an earthquake later, everything is gone.'
'That movie got stuck in my head. How one man loses his entire family and becomes a pauper. The same thing happens in Airlift.'
Akshay Kumar, and his lovely leading lady Nimrat Kaur discuss their latest film.
While his wife Twinkle Khanna is known for her wicked sense of humour, Akshay Kumar isn't far behind. No wonder, it's always a delight to interact with the Khiladi Kumar.
Akshay was in a cheerful mood during the promotional interviews of his film Airlift. But instead of answering questions, the actor decided to ask some of his own.
In the picture: Akshay Kumar and Nimrat Kaur take a selfie. Photograph: Nimrat Kaur/ Instagram.
'Pehle ye bataiye ki Airlift kya hain?' he asked the media.
When reporters wondered if roles were reversed, AK quipped: 'Aur kya?'
Then, he turned to a reporter closest to him and asked: 'Kya tahalne aaye ho? If you've come here, you must know something.'
After grilling the media, Akshay Kumar finally decided to take the questions.
His gorgeous co-star Nimrat Kaur joined in the interaction. Patcy N/Rediff.com took notes.
What is Airlift all about?
Akshay Kumar: Airlift is based on a true story. The most amazing part of this story was that it was hidden from all of us.
Did you ever read about India bringing back 1,70,000 Indians (from Kuwait)? It's listed in the Guinness Book of World Records for the biggest airlift evacuation ever done by any country. Even I was surprised to hear of this when I met them (some of the evacuees). Their experience was unbelievable.
Just imagine, you are a billionaire and suddenly Saddam Hussain attacks and there is nothing left. The Kuwait dinar is reduced to a zero value. You have no money left. The stories were unbelievable.
I cannot talk much about my character but he is still alive and is a big businessman today.
He still lives in Kuwait? Did you meet him?
Yes, he is in Kuwait. I haven't met him but my director (Raja Krishna Menon) and others have met him.
How old were you when this incident took place?
Akshay: This happened in 1990, but why would you ask my age?
I would like to know what you were doing during that period.
Akshay: For me, the war had just started. I entered the (film) industry in 1990. I was unaffected by what was happening that time. But there are so many videos of it; people running (for safety).
I think every family should take their children for this movie; the entire episode should be in text books. When they talk about history, they don't mention this. There is a political reason for that.
Actually, during that time, we were very close to Saddam and so, we wanted to keep a low profile. That's why the whole thing was hidden.
Nimrat Kaur: Yes, there were only two or three obscure articles in the newspapers. That's it.
(Akshay interrupts to say there was only one article).
It is amazing how even I did not know about this event despite being someone who has grown up fairly aware of what was happening.
Akshay: Imagine if it had happened today! In Yemen, some thousand people were saved and it was all over the news. But I don't know how they managed this (to keep such a large scale evacuation a secret).
How did you get this information if it was such a secret?
Nikhil Advani, producer, pipes in: (Director) Raja Menon's uncle Sunny Mathew was one of the refugees. He told him the story.
It suited the Americans not to talk about this because they had stopped entering and coming out of Kuwait. They just shut the press; nobody was allowed to speak about the 1,70,000 people, who were left behind to fend for themselves.
Now that you have made the movie, aren't you facing any objections?
Akshay: It's okay now.
Nimrat: The political situation in India was different then. The alliances were different. They don't exist anymore.
Akshay, your character looks very demanding. Did you do any homework for it?
I did nothing; just grew my beard.
When you read a script like this, you know you don't have to go to Kuwait, nor do you have to tell someone to do a bombing, so that you can feel it.
When you read the script, you just feel it. You get into their shoes and realise what they must have felt.
I had seen Waqt, starring Balraj Sahniji, and I can never forget it. There is a happy family and an earthquake later, everything is gone.
That movie got stuck in my head. How one man loses his entire family and becomes a pauper. The same thing happens in this film. A lot of people lost their lives.
The biggest trouble was that when Iraqis attacked, they were killing a lot of Kuwaitis. They used to come to an Indian (locality) and ask the people if they were Indians or Kuwaitis. They would ask them for passports for identifications. But when you go to work outside, you cannot keep the passports with you. You had to give it to your boss.
And when there was no passport, they used to kill. So how did we prove that we were Indians?
How do songs fit in such a serious subject?
Nimrat: The song takes place before all this happens.
Akshay: It was just before the attacks. That night, there was a party, even in real life.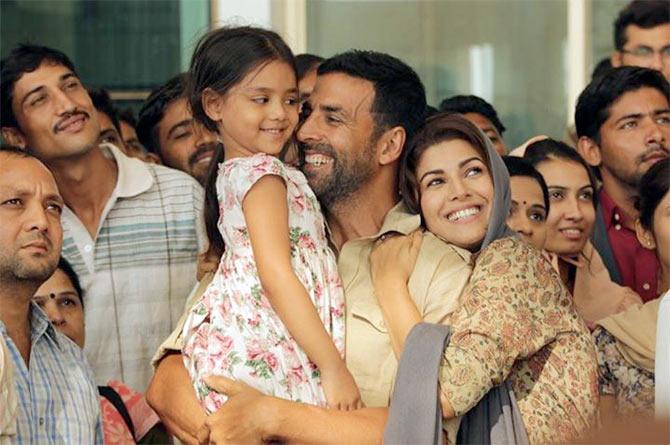 How challenging was the shoot?
Akshay: We were very lucky that we got to shoot the film in Ras al-Khaimah (United Arab Emirates). It's near Dubai, and looks like Kuwait.
Nimrat: Yes, it is literally stuck in the 1990s. You don't have to change anything. There is nothing in the name of modern signage or anything and so it naturally lends to the story well.
Did you pick up the local language?
Akshay: I speak a little Arabic but it is a very hard language. It was not easy for me. So when they gave me the lines, I had to memorise them. If you ask me to repeat it now, I won't be able to.
Tell us about your character, Ranjit Katyal.

Akshay: There were three or four people who took the initiative to get the people out from Kuwait into Jordan and from there, to India but we have got all the stories together and made it one man's story.
But the man I play was actually there and he was the main guy. He was a multimillionaire and though he lost everything at that time, he has become a multimillionaire again and lives in Kuwait.
Is Airlift similar to Hollywood film Argo?
Akshay: I have not seen Argo but I did heard people saying it is similar. But it can't be, ours is a real story. So how can we copy the story?
Nimrat: I have seen Argo and the two stories are very different. Argo was a very small operation.
Airlift is a human drama, and people had to face trials and tribulations. It's not like this man figured it out in one shot, and it was a success. There were a lot of disappointments. They tried many different things that did not work out.
It's a constant back and forth of are we going to make it or not? Are we going to get killed? I'm sure people must have thought what's going to happen because they were rendered homeless and jobless. They didn't have money. Their identity was lost overnight.
People were just running, looking for food and shelter. Just the basic necessities were a challenge. There were no bathrooms.
It took about 488 flights and some 58 days to bring them back.
Akshay, off late you are doing stories about unsung heroes, like this one. Any other real life heroes you want to bring to the big screen?
There are many such characters. Like now, I am doing a film with Neeraj Pandeyji called Rustom. But we shall talk about it later.
Nimrat, after The Lunchbox why did it take so long to sign your next film?
I was away for half a year filming Homeland. When I came back, the scripts did not come at the right time. It's just a matter of chance. I didn't plan to give myself a two year gap.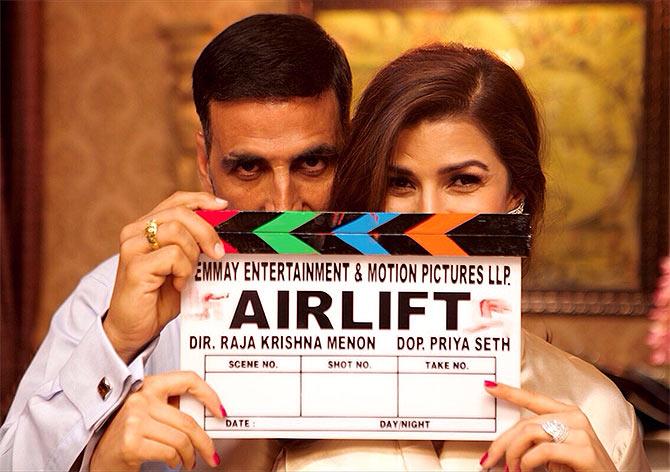 How was the experience of working with a star like Akshay Kumar?
Nimrat: I have not felt -- even for a second -- that I was working with a huge star.
Akshay: She has done a Hollywood film, so who is the bigger star, her or me? We would say Nimratji, please...
Nimrat: See this is what I come on the set for. I've been so lucky from day one that I did not feel that I was working with someone whose films I have watched...
Akshay: (interrupts) ...from childhood.
Nimrat: I was actually going to say that (laughs).
Akshay: It doesn't matter.
Nimrat: We used to have those GK quizzes on Bollywood (when we were kids) and one of the questions would be: 'Akshay Kumar ka sahi naam kya hai?' (laughs).
Akshay: So tell me my mother's name.
Nimrat: You've haven't told me that; how would I know?
Akshay: It's in the producer's credits. Aruna Bhatia.
Nimrat: Correct.
Akshay, what do you enjoy more -- action or comedy?
I enjoy everything. I am comfortable with comedy as well as action.
But a challenge is much more enjoyable, like this movie. It was a challenging role. Rustom is a challenging role. In Houseful 3, the role is very comfortable.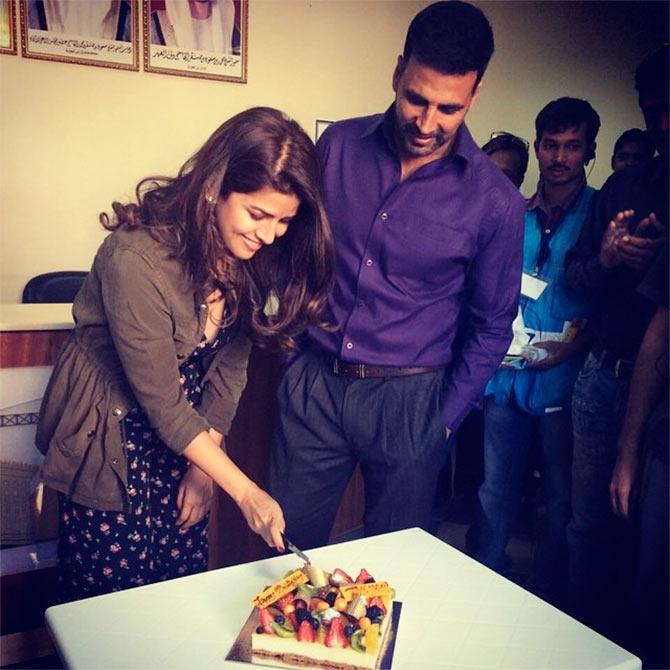 Nimrat, you have worked with Irrfan Khan in The Lunchbox. How different was it working with Akshay Kumar?
Nimrat: To be honest, I did not work with Irrfanji. I have worked with Akshayji.
Akshay: (Interrupts) Unko sirf lunch bheja (referring to the film The Lunchbox).
Nimrat: Unko sirf chittiyan bheji aur khana bheja (laughs). That's about it. So I've worked only with Akshay.
Akshay: You didn't shoot even for one day with him?
Nimrat: Not even one day. There was one cafe scene where we were sitting tables apart but we were not even in the same shot.
So how was Akshay as a co-star?
I was very intimidated before I met him because in your mind, you know he is such a big star and working for so many years. I was thinking how confident would he be with a newcomer.
So I was very unsure and hoping that I am not in a situation where I did not know how to find myself.
But right from the start, there were no formalities with him. He is one of the most wonderful and easy people I have met.