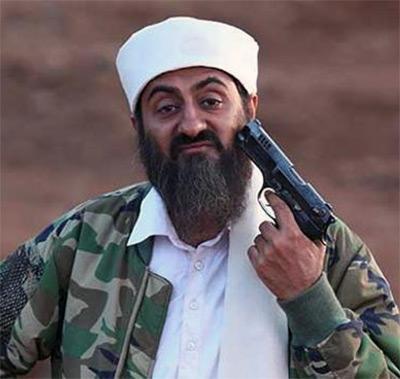 'Once Tere Bin Laden was over, the stardom was over, six months of living the Shah Rukh Khan life was over...'
Pradhuman Singh returns with Tere Bin Laden: Dead Or Alive.
When Pradhuman Singh's mother saw the trailer of the first Tere Bin Laden movie, she could not recognise her son.
Six years later, with the second film Tere Bin Laden: Dead Or Alive ready for release, she's very excited.
The young actor plays an Osama Bin Laden lookalike, and looks completely different than what he looks in real life. Yet, he says he completely relates with the character.
He tells Jahnavi Patel/Rediff.com why.
How different is your character in the second Tere Bin Laden movie?
It isn't different at all.
My look is completely the same as it was in the first film. We kept it that way because we wanted people to feel that it's Noora (Pradyuman's character in Tere Bin Laden), but his character in the second film is called Paddi Singh. His accent is also different in the two films.
He is a folk singer form Punjab, who comes to Mumbai to become a famous singer. Unfortunately, things don't go right and the people in Mumbai call him a beggar. This is when he meets Manish Paul's character, Sharma. Sharma tells this guy that he can become a star, not because of his voice but because of his face.
Noora was very content but Paddi is a bitter and frustrated person, as he wanted to become a celebrity.
Plus, he doesn't get famous as an actor, as Sharma had promised him.
Now, all he wants to do is wrap up everything but someone wants him dead and someone else wants him alive.
Was it easy to play?
Yes. The first part had a certain innocence, the character was very different from what I am in real life. So I had put in a lot of effort. I was isolated for three months -- I was living with a rooster! I used to wear the pathani all day long. I wasn't supposed to fool around on the sets.
This time, Paddi Singh was more free-flowing, more fun. I liked this character because it's more me.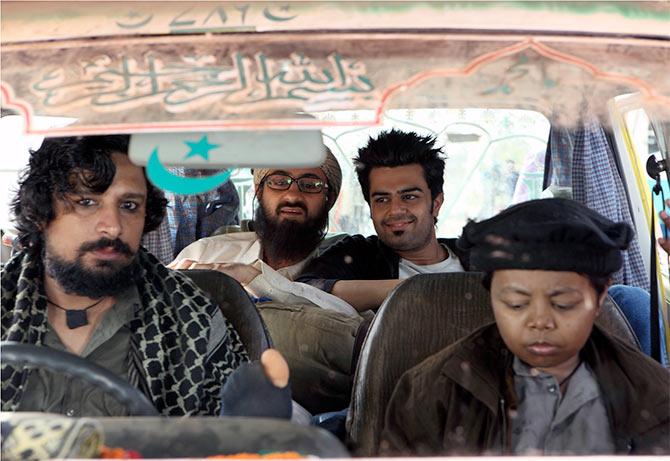 What was more challenging this time?
I have co-written the script, so that was challenging.
As an actor, the most challenging part was not to become complacent.
When people watch me (in theatres), they should say this guy has nailed it. I want that. I don't know whether I've done it or not because, honestly, people who have watched the film have neither said that I'm great nor not good.
Director Abhishek Sharma did not push me too much but I wanted to push myself. I wanted to get the comic timing right, the words right, to have the same equation with Manish Paul that I had with Ali Zafar in the first part...
When people watch the film, I don't want them to say Ali-Noora were better than Sharma-Paddi.
Do you think your equation with Ali Zafar was better?
Tere Bin Laden was our first film. We were inexperienced people and that's why you see so much innocence in the characters.
We were clueless about how films were made.
Ali had done music videos, so he was still calm but I didn't even know that much. I had done theatre but that is no comparison with.
This one is more fun and frolic, more tongue-in-cheek and Manish Paul comes in with massive experience. He has done television all his life.
I have done a few films by now, so I'm kind of comfortable in front of the camera. Both of us are from Delhi, so we understand each other's lingo. We had a lot of fun on the sets.
I like both the actors.
What was it like playing Osama Bin Laden's lookalike?
It was fun! I never realised I looked like him. It came as a shock and I laughed when Abhishek first told me.
I told him, 'What is wrong with you? All this while my mom thought I looked like a hero and you are turning me into a terrorist.'
It was funny initially, then it got serious.
I wasn't sure if I should do it or not. During the part one, I thought Abhishek was making a biographical film and I told him I did not want to take the risk -- you never know, somebody might come and kill me!
Then he told me what the character really was and I thought it was insane. I felt I had to do this. Then, I wasn't scared of playing a terrorist but I was worried about whether I would be able to do justice to it.
I didn't know I had it in me and that surprised me. It was a great experience.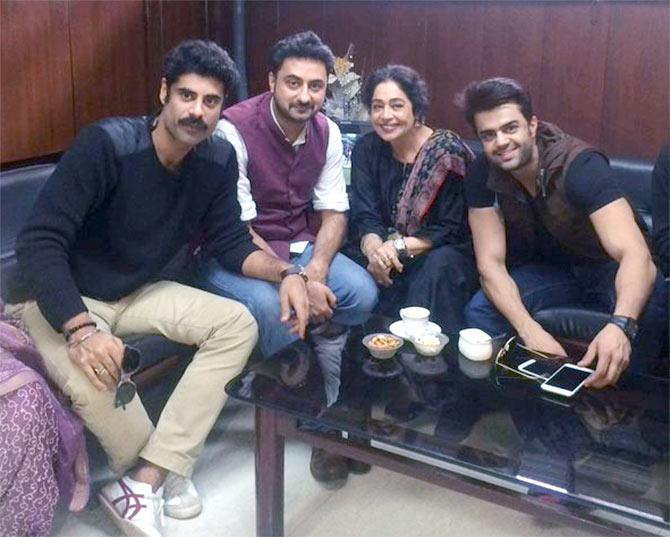 Sikandar Kher, Pradhuman Singh and Manish Paul with Kirron Kher in Chandigarh. Image: Manish Paul/Twitter
What do you take back from this character?
What I took back was Noora's innocence. I never thought this character will catch on and capture people's imagination.
When his rooster dies in the first film, before everyone starts laughing, there's a big 'aww' that happens -- people are feeling sad.
Once the film was over, the stardom was over, six months of living the Shah Rukh Khan life was over...
That is what I took back.
My mom did not have a clue as to what I was doing. She knew I was doing a film and kept asking me about it. I was fairly confident about it but I wasn't sure about telling her -- we all know how mums are and being a single mom, it gets tougher on her.
I was fairly young when I got the film, maybe 24 or 25, so she would have never been able to understand me playing Bin Laden. So I thought I would make her watch the trailer when it came out.
After watching the trailer, she asked me, 'where are you?'
I told her I was in the entire trailer, that I was the bearded guy.
That's when she flipped and realised that what I did was something serious. Now, she is more excited than me.