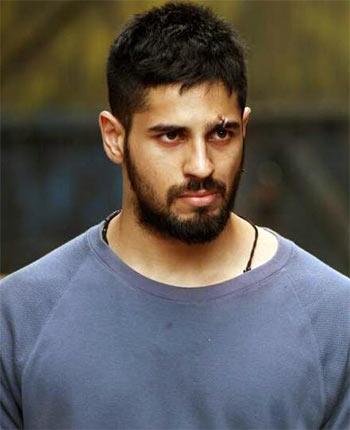 'It was tough to take my eyes off Kareena Kapoor!'
'I have grown up watching Akshay and Jackie Sir's films. They are the coolest guys I have worked with. Jackie Sir was our in-house bidhu.'
Sidharth Malhotra, in a candid chat about Brothers.
Sidharth Malhotra takes his intense look in Ek Villain over to his next film, Brothers.
Brothers will see him share the screen with Akshay Kumar, Jackie Shroff and Jacqueline Fernandez.
Sonil Dedhia/Rediff.com spoke to the hunk.
Did you bond with Akshay on the sets?
Akshay taught me how to make action look convincing.
The action in this film is completely different. We had to make contact with precision. We did a lot of rehearsals before the shooting started. We would get up early every day and train together.
Both Akshay and I come from Delhi, both of us are Punjabi and neither of our families is connected to the film industry. So we had a good tuning.
You are selective about your films.
I believe in doing quality work. I love to work in a film which has good content and a reliable director.
Also, it takes me a lot of time to prepare for a particular character. Like for Brothers, it took four months of preparation. I had to gain 10 kilos, learn mix martial arts and other physical training.
Brothers is releasing this week. I have already finished shooting for my next film, Kapoor & Sons. I am on the verge of starting my next film (Kal Kisne Dekha in which he will be paired opposite Katrina Kaif).
How challenging was the Brothers shoot?
The most challenging thing was to stand in the same frame with Akshay Kumar.
He's an icon of action films and has such great screen presence.
He has been in the industry for 25 years. What he has learnt (in the movies and in martial arts), I had to learn in four months.
I was training myself for six hours every day, which is physically draining. To gain 10 kilos and maintain that weight is difficult too.
Director Karan Malhotra knew he had to make Akshay and me look like brothers. So he made Akshay lose 10 kilos. I feel happy that our physical transformation has made our characters believable.
Are you insecure that Akshay might overshadow you?
It is definitely nerve-racking when you sign a film with big stars like Akshay Kumar, Jackie Shroff and Jacqueline Fernandez. But that did not make me insecure.
The film has enough for everyone.
I have grown up watching Akshay and Jackie Sir's films. They are the coolest guys I have worked with. Jackie Sir was our in-house bidhu (laughs).
He plays my father, but he was like a friend on the sets.
The film doesn't have much humour, but the shooting was fun. Akshay's pranks and his Punjabi non-veg jokes were amazing (laughs).
In Brothers, you will see two heroes -- not one hero and one villain -- fighting. The audience will be confused about whom to support: Akshay or me.
I think this may be the first time men cry watching a film. Men don't tend to talk about their issues and show their emotions. We have shown the vulnerable side of men in this film.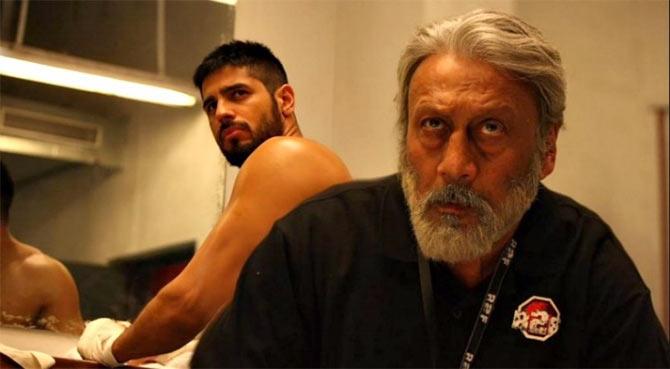 IMAGE: Sidharth Malhotra and Jackie Shroff in Brothers.
Jackie Shroff mentioned that Sidharth Malhotra would be a good choice to play his character in the Ram Lakhan remake.
It's a big compliment.
I bonded really well with him. He doesn't carry a starry attitude.
The same holds true for Akshay.
Even Rishiji (Rishi Kapoor in Kapoor & Sons) did not make the environment formal. They are so easy to work with.
Hopefully, I will use their off-screen persona and be relaxed while shooting for my future films and not let stardom get to my head.
What sort of relationship do you share with your real life brother, Harshad?
He is six years older than me. We would fight a lot, but I wasn't as aggressive as I'm shown in Brothers.
I was bullied a lot by my brother, even beaten up.
He was stronger, so the easiest thing I could do was to scratch him!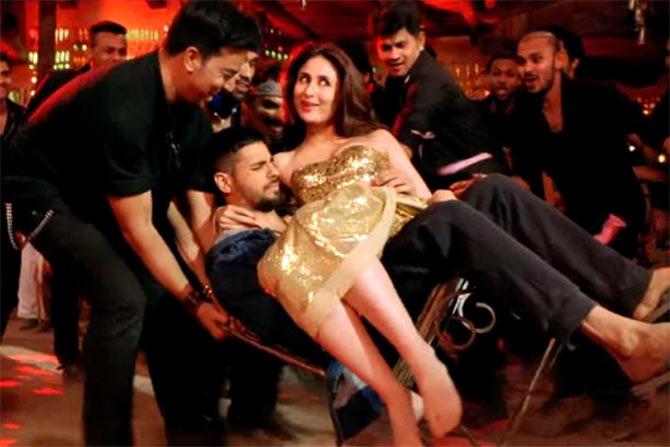 IMAGE: Sidharth Malhotra and Kareena Kapoor in Brothers.
How was it shooting the Mary item song with Kareena Kapoor?
It was tough to take my eyes off Kareena Kapoor!
I am a big fan of her work and would love to do an entire film with her.
In Brothers, my character is such that I only look left and right, and she's right in front of me! (laughs)
I was very angry with Karan and asked him why he gave me such a role in the song. My character had to look intense and angry, but it was very difficult because there was such a beautiful performer dancing and coming close to you.
You want to look at her, but cannot. I had to go against my natural grain and concentrate on ignoring.
Kal Kisne Dekha has you paired with Katrina Kaif. Nervous?
It is a love story of a couple that spans different age groups.
We have done some workshops. There is no nervousness in working with established stars.
The film is tougher because I have to play different age groups -- our characters go from 28 to 46 to 60.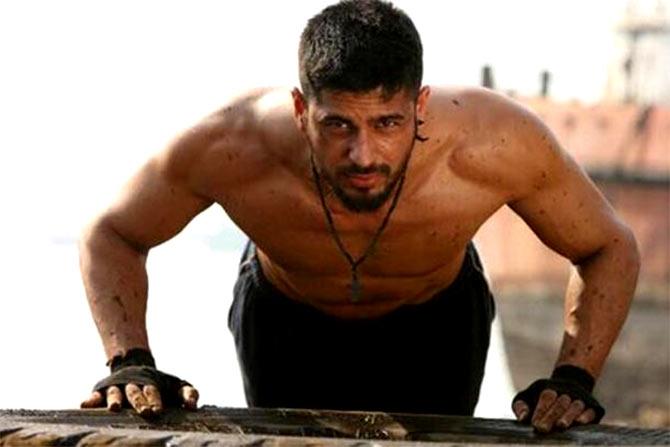 IMAGE: Sidharth Malhotra in Brothers.
How have you found the trade-off between stardom and losing your anonymity?
I don't come from a film background, so I am grateful to everyone who loves my work.
At the same time, I am trying to get immune to gossip and link-up rumours about me.
There are times when I have to explain to my friends and family. I guess that's the flip side of stardom.
But it's a great place to be in.
There are rumours that you are seeing Alia Bhatt.
I was seeing her all the time for 45 days during the shooting for Kapoor & Sons (laughs).
Jokes apart, I am single and don't have affairs with my co-stars.
I'm very fond of Alia and we bond well. Our off-screen chemistry helps us work better on screen.
Do you miss being in a relationship?
I've had my share of dates and know the feeling of being in a relationship.
I cannot just start dating and create that special one in my life (laughs).
MORE BHAI STUFF...