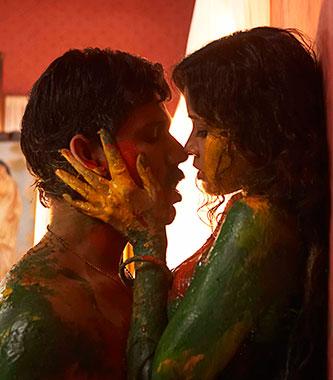 'People, who make a big deal about doing bold scenes, don't look at them with the right perspective,' Randeep Hooda tells Rajul Hegde.
Randeep Hooda is glad his film Rang Rasiya has been delayed, and is releasing only now on November 7.
Directed by Ketan Mehta, the film co-stars Nandana Sen, and is about an 19th century artist Raja Ravi Varma, played by the actor himself.
Randeep talks to Rajul Hegde about his latest film, why he didn't wait for the film to release, and why he didn't feel uncomfortable doing the bold scenes in the movie.
Rang Rasiya releases after five years. Was the wait depressing for you?
The film has been going to film festivals, it hasn't been dead. I am glad it's releasing now, not before, because it would have been before its time.
The wait was a bit demoralising because there was a period when I had no work. I refused some movies -- which turned out to be big ones -- because I thought this would be my ticket to being a world famous artist.
I have no qualms about the film's delay because the story is years old and the way we've done it is not dated.
Why do you think it would have been before its time if it had released earlier?
We made this film at a time when biopics weren't being made. People are now getting interested in watching such movies.
Also, I was an unrecognisable face at that time. But with my releases in the last few years, I have some force behind me.
And the audiences have become more educated now.
Why made you say yes to this film so early in your career?
I would have said yes anyway because I am a big fan of (director) Ketan Mehta's work. Ghulami and Mirch Masala are two of my favourite films. They are original, have a message and are also entertaining.
When I read the script of Rang Rasiya, I asked Ketan who this man was. Like most people, I hadn't heard of him.
He just smiled and opened a book of pictures. I had seen a few pictures.
He then showed me pictures of Goddess Laxmi and Saraswati and they really got me hooked. I had the prints of similar paintings in my house and every Diwali, we would pray to it.
The whole country has been praying to his paintings but nobody knows who the painter is!
I started reading about him and the literature that Ketan gave me. I discovered that he was the first Indian rockstar, who was patriotic and had a very colourful personality.
In those days, if you wrote a letter to him without writing his address, it would reach him. The Indian government could not handle his fan mail, so they put up a separate post office for his mail!
What kind of homework did you do for this role?
I practiced tying the mundu (a garment worn around the waist) and walking comfortably.
I learnt some aspects of painting from a painter from the ND studio art department.
I tried Malayali accent too but it sounded funny in Hindi. We didn't know how he spoke and walked, so we captured his body language from paintings and black and white pictures.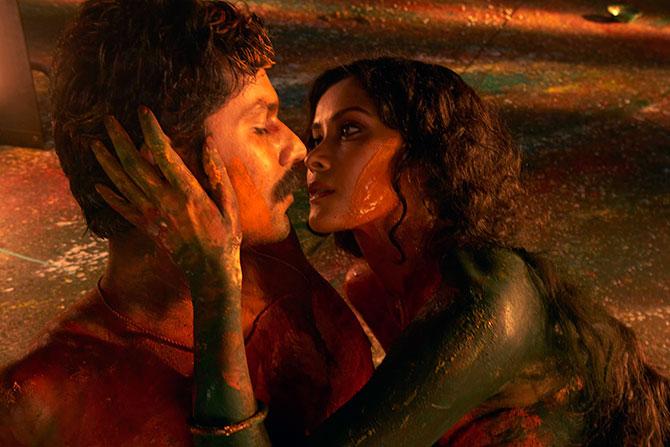 Image: Randeep Hooda and Nandana Sen in Rang Rasiya
How comfortable were you shooting the intimate scenes?
I never had any discomfort.
People, who make a big deal about doing bold scenes, don't look at them with the right perspective. It's a same as doing an emotional scene; I don't even consider them bold.
It's about two people having feelings for each other and it culminates into a physical intimacy. Graphic pornographic images are not in the film.
Yes, there is frontal nudity but that's out of love from a muse to an artist.
You play polo and off late we have seen a lot investing in various sports and promoting them. Would you also like to invest your time and money in a sport?
Actors only put their name on the teams, they don't even play those sports. I play sports professionally.
I have got my own polo team.
I do not do it for publicity but I want more and more people to play it. It's a great sport.