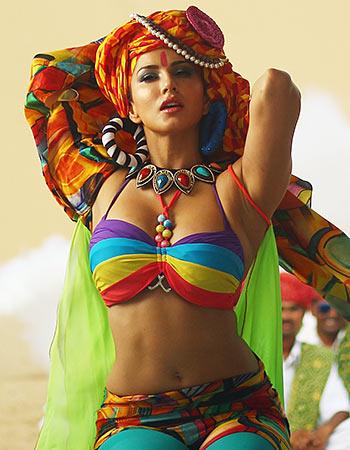 'There are two things that will never go out of business in most countries around the world -- oil and sex.'
Sunny Leone gives us her point of view.
It's a Saturday afternoon and Sunny Leone is sitting in a tastefully done up office, sipping from a can of Red Bull.
The actress is still trying her best to leave behind her baggage of being an adult star, and find recognition as a Bollywood heroine.
"The audience may not say I am the greatest actress but if they call me a decent actress, I would happy," Sunny says, with a big smile.
In an interview with Sonil Dedhia/ Rediff.com, Sunny discusses her new film Ek Paheli: Leela, why she doesn't mind her sex symbol tag and why she finds Ranveer Singh sexy.
It's been three years since your first film Jism 2 released. Are you happy with your career in Bollywood so far?
The journey in Bollywood hasn't been easy.
It is impossible for an adult star to work as a heroine in a mainstream film but I have been lucky that I was accepted and loved.
I am looking forward to the release of Ek Paheli: Leela. The movie looks really beautiful and has been shot well.
Have you picked up Hindi?
Haan, main Hindi roz bolti hoon (laughs) (Yes, I speak Hindi every day).
I am still working on my accent but I have picked it up really well.
You have three films (Ek Paheli: Leela, Mastizaade and Tina & Lolo) releasing this year. Are you nervous?
I am definitely nervous. I have worked really hard on all the movies.
I hope the audience notices that I have improved as an actor and have progressed as far as my acting is concerned.
Tell us about your character in Ek Paheli: Leela.
It's the toughest character I have played so far because she is a rustic.
A part of the film is set in Rajasthan so I had to speak Hindi in a Rajasthani accent. It was difficult to pick up the accent and the mannerisms of a village girl.
The other challenge was the hair and make-up. My body was painted every day to get a tanned look and on top of that, it was incredibly hot.
How did you pick up the mannerisms and the accent?
It was tough. Every day we had workshops on the sets.
The director (Bobby Khan) helped me a lot. I might not be the greatest actor in Bollywood, but I am a good listener (laughs).
I'd take help from the assistants; I would just grab someone from the director's team and ask them to teach me the language.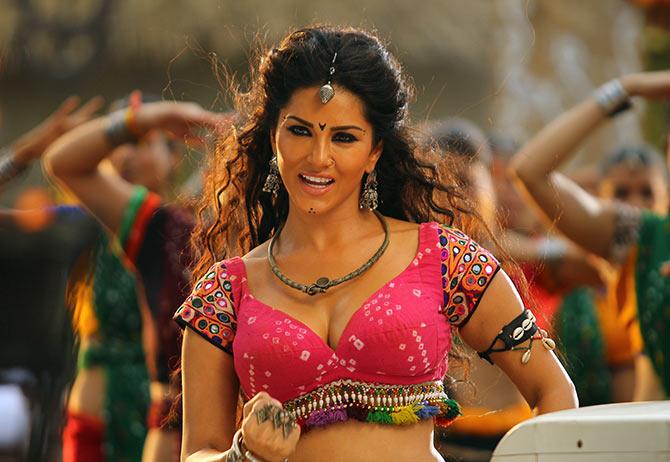 Y
ou have emulated Rajinikanth in a song in the movie.
Yes, that was a lot of fun.
I love South Indian movies, everything is so colourful.
I had fun imitating Rajinikanth's steps where I twirl my sunglasses. I had to practise quite a bit for it.
There's a line in the film where your character says, "Glamour industry main success ka shortcut is short skirts." Do you agree with that?
I don't necessarily believe in it because I think the key to success is determination and hard work.
But I guess it's a good dialogue. The writer has done a good job since you remember it.
You always maintain that you want to be taken seriously as an actor but your sex symbol tag always precedes you. Will that ever change?
I don't know. Whatever I have done so far has brought me so far. It doesn't matter if I have a tag.
As long as the media keeps tagging me as an adult star or porn star in every single article, my sex symbol tag will never go away.
I think every individual is sexy in his or her own way. I can't get rid of my sexiness so people can perceive me as they want to.
The audience may not say I am the greatest actress, but if they call me a decent actress I would happy (smiles).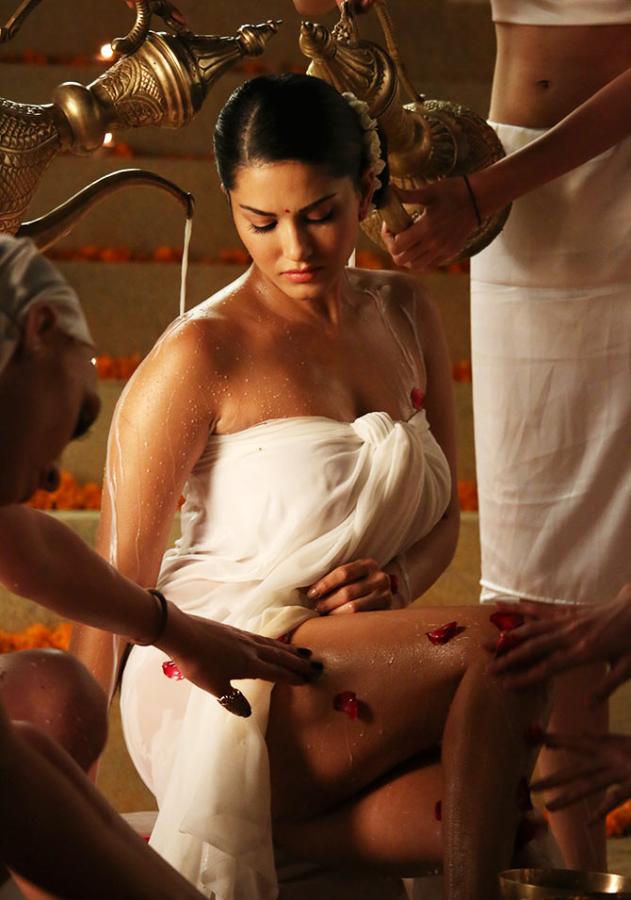 B
ut the kind of roles that you have done so far has a lot of sexiness…
(Interrupts) Yes, that's because the role requires it.
When you see Ranveer Singh or Salman Khan or Katrina Kaif, they are in gorgeous sexy costumes or no shirt, in a chiselled body. Is that not sexy? That's sexy too.
You become the talking point of any film you star in. Your co-stars could feel insecure at your hogging the limelight.
I just read an article about that and it was so stupid.
I have no idea if my co-stars feel insecure; I have never asked them, nor have they ever complained.
I do my work and that is all that matters to me.
Ekta Kapoor said in an interview that Sunny Leone is a sweet girl in a sex-starved nation. Do you agree?
I don't think India is a sex-starved nation. I wouldn't say that about any country.
She (Ekta Kapoor) feels that way and she is entitled to her opinion.
There are two things that will never go out of business in most countries around the world -- oil and sex (laughs).
There are so many unfortunate incidents happening with women across the country. What do you think can be done?
It all starts with education. If our teachers in school and parents at home teach us the basic etiquette, maybe the message will come across very clearly.
This is applicable to any country in the world.
I also feel all women should learn some self-defence technique.
W
hich actor do you find the sexiest in Bollywood?
It has to be Ranveer Singh.
He is not only a good actor but whenever I see him on television or at awards functions, I feel he has a larger-than-life personality. He is an attractive looking guy.
An Indian actress whose wardrobe you'd like to steal?
Priyanka Chopra. She has a great sense of fashion and her style is very hip.
Your husband Daniel Weber has lost a lot of weight. Is he preparing for his debut film Dangerous Husn?
No, it's not for his debut film. In fact, for the film he needs to bulk up. The workout sessions are tougher and longer now.
But yes, Daniel works out in the gym like a maniac. Sometimes I feel lazy to go to the gym but he will not miss even a single day.
He has always been health-conscious; he is very particular about his diet.