'No other actor in India was as lucky as me,' Soumitra Chatterjee tells Indrani Roy/ Rediff.com
The brilliant actor Soumitra Chatterjee turns 80 today, January 19. On this occasion, we re-publish this interview, dated May 2012.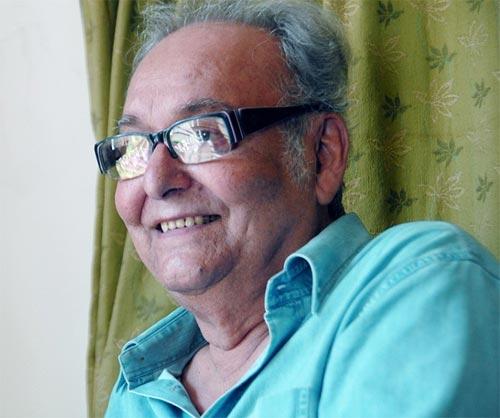 Fame rests easy on actor Soumitra Chatterjee's shoulders.

That, perhaps, is natural for an actor for whom success is achieved only through hard work and an insatiable hunger to excel.

"I could have given you the interview on Sunday but since I have a show (a play called Raja Lear) that evening, I would not like to speak to you at length in the morning. It might affect my diction later," Chatterjee told this correspondent.

Before one could recover from a statement laden with such unflinching dedication, came the assurance, "However, I can give you some time on May 8 morning."

When we reached his south Kolkata residence for the much-awaited interaction, the actor, in his inimitable style, recounted his experience of working with one of the most famous names of Indian cinema, his passion for the medium, his love for a good script and his indifference to an award.

Excerpts:

The Dadasaheb Phalke Award is a prestigious honour. After serving the medium of cinema for years, how does it feel to receive it?

To be honest, I don't have much faith in awards. I don't think about them at all. Never did.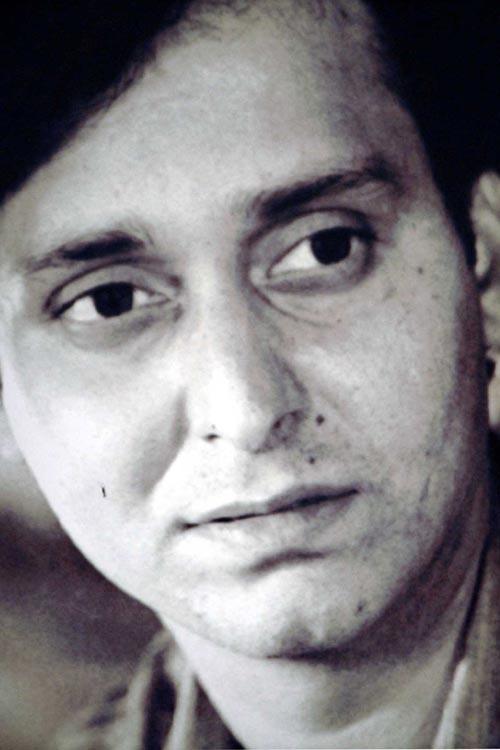 Image: Soumitra Chatterjee in his younger days. Photograph: Dipak Chakraborty
Why so?
I think most awards have lost their credibility.

Also, I have always been rather indifferent towards accolades of any kind.

I did dream of gaining fame and of being liked by the people but I never worked towards getting awards. They never really figured in my scheme of things.

Moreover, I often noticed that National Awards were given to most undeserving candidates. The choices made by the jury raised a lot of doubt in my mind.

Mercifully, Dadasaheb Phalke is an award of a special kind. It's given for lifetime achievement and not against any competition.
The handful of Bengalis who got this award are stalwarts; they are names that gave a new dimension to the medium of cinema.

The first to get the award was producer and founder of New Theatres, Calcutta, B N Sarkar. He virtually revolutionised Indian cinema.

Others to get this are composer and musicians Pankaj Kumar Mallik and Raichand Boral, singer Manna De, actress Kanan Devi, filmmakers Satyajit Ray, Tapan Sinha, Mrinal Sen.
These are names of unquestionable merit and excellence. Naturally, I feel proud to have my name tagged with them.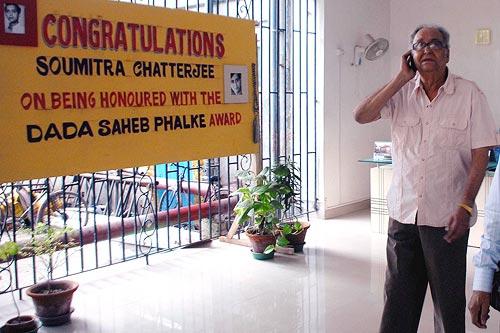 Image: Soumitra Chatterjee
Having come such a long way, do you have any regrets?

Not really. Life travels along its own course and it travels fast. It is not possible to plan ahead and calculate.

However, when I was younger, I used to regret having not got a chance to play a Shakespearean character either on screen or on stage.

(Recently, Chatterjee has been playing Raja Lear in a play of the same name. Apart from getting rave reviews, the play is running to full houses every day).

But now with age, my perspective has changed. We work for the entertainment medium. Here we have to eat what we are offered. We don't have a choice.

As I am an actor, it's not practical to be too optimistic about the kind of roles that I would get. If I constantly crib, I would end up being thoroughly disgruntled.

You have worked with the best directors of your time. Were you just lucky?

Of course. Perhaps, no other actor in India was as lucky as me.

I have about 40-50 memorable films under my belt. This is the rarest of rare gifts one can ask for as an actor. I had the chance to act in 15 films by (Satyajit) Ray alone. I played some excellent roles in films directed by Tapan Sinha, Mrinal Sen, Ajay Kar et al.

They ruled the Bengali film industry in our times. The experience of working with such stalwarts enriched me as an actor and helped me evolve as a human being.

I must mention here a film -- Koni -- directed by Saroj De. According to me, it was one of the best films I worked in. The film had such inspirational value. The film's catchline 'Fight Koni fight' became a mantra for success for every struggling middle-class Bengali at that time.

In fact, in hard times, I often chant this line to myself to lift my aging spirits.
(Koni is the inspirational story of a swimming coach and his trainee Koni, a girl from a slum, who fight all odds to achieve their aim.)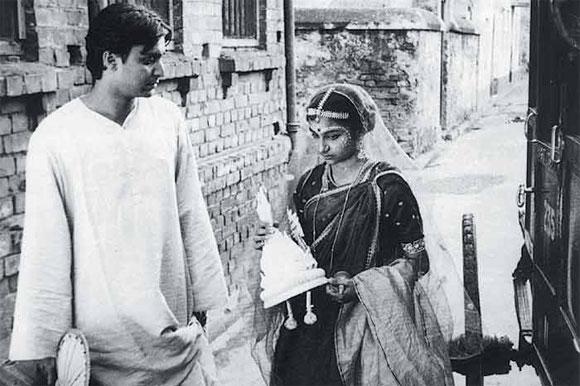 Image: Soumitra Chatterjee and Sharmila Tagore in Apur Sansar
It is often alleged that once an actor starts a career with a Ray film, s/he finds it difficult to adjust with other directors. Is it so?

No, I never faced such a problem. After Ray, the next director that I worked with was Tapan Sinha. In fact, it was Ray who suggested that I should take up Sinha's Kshudito Pashan.

In Sinha, I discovered another great guide. After Ray, what I learnt from Sinha alone was enough to sustain myself as an actor.

During the shoot of Kshudito Pashan, Sinha told me I would have to rehearse. Rehearsals for films were not too common then.

However, I was not surprised as I had practised my role before facing the camera in Ray's Apur Sansar. Once the set for Kshudito Pashan was built, Sinha taught me, almost like a child, how I should run, how I should use my shoulders, my eyes, my posture. My entire role was literally handcrafted by Sinha.

Those lessons were invaluable. At times, I am tempted to follow them even today.

What about your colleagues?
(Smiles) It was a golden era for Bengali films. There were stars like Uttam Kumar -- I worked in eight films with him -- Sabitri Chattopadhyay, Pahari Sanyal.
As comedians, we had Tulsi Chakraborty, Jawhar Roy, Bhanu Bandyopadhyay -- it was a galaxy.

Then I had the chance of working with Chhobi Biswas in three films before he passed away. Sharing the camera space with such names was an education in itself.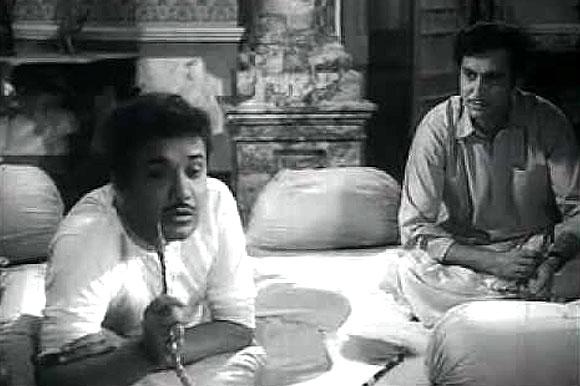 Image: Uttam Kumar and Soumitra Chatterjee in Stree
Audiences in your time belonged to two teams -- one that idolised Uttam Kumar and the other one that worshipped you. The divide was as distinct as that between the fans of cricket legends like Sunil Gavaskar and Kapil Dev.

Uttam Kumar was the matinee idol when you appeared on screen. Yet you carved out a place for yourself. How did you do that?

I never tried to imitate Uttam Kumar and neither did I ever consider him a threat. He was a glamorous star, in fact, one of the most formidable actors on screen I ever came across. I watched his acting prowess with an eagerness to learn.

We shared a deep bond of trust and friendship. He was a friend of my brother-in-law. Therefore, even though we were professional competitors that never affected our off-screen camaraderie. I am yet to see any other actor as glamorous or as popular as him.

But even then, Uttam Kumar's presence never put any extra pressure on me. I kept listening to my inner voice instead and kept working hard.

Also, since I had already come in touch with thespian Shishir Kumar Bhaduri the great, I set the sky, not Uttam Kumar, as my limit.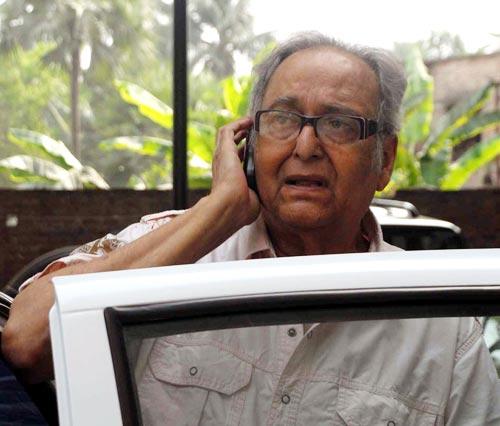 Image: Soumitra Chatterjee
You never tried to get a foothold in Bollywood though many of your contemporaries acted in a number of Hindi films.

Somehow Mumbai never attracted me.

Though working in Hindi films meant earning more money, I was not drawn towards them. As a youngster, I did not understand the value of money. Now I know how precious it is.

Also, I did not quite like the kind of lifestyle that the actors of Bollywood led at that time. I had the feeling I would not be able to do what actors like Raj Kapoor, Dilip Kumar and Amitabh Bachchan needed to do as professionals.

I am not saying what they did was wrong -- I have tremendous respect for such big names of the Hindi film industry. But I loved being in Bengal. I won't exist unless I speak Bangla (laughs).

I did my graduation in Bengali. The language became an intrinsic part of my being. Had I settled in Mumbai, I would not have been reciting poems or writing plays and poems.

I enjoy being a Bengali to the core.

I must also mention here that having worked with Ray in so many films, I already was getting enough of global attention.

Hence the ambition to get national recognition simply did not exist.
You worked in so many Satyajit Ray films. Can you share with us some anecdotes?
Ray gave me tremendous freedom as far as work was concerned.

However, while working on his last film with me, Sakha Prosakha, he said, "I gave you a long rope all this time, but in this film, you would need to follow my thoughts."

I played the role of a mentally retarded person in this film.

"Both you and I have seen mentally challenged individuals but we need to synchronise our perception for this role," he said.

And I sincerely obeyed my mentor (smiles).

You have always had a very clean image as an actor. There was no scandal, very little gossip...

I consciously protected my image, so to say. During our times, purification of the medium had started with the arrival of Ray.

Also, I have always been pretty discreet. I avoided doing something that would put my family, my wife or my kids to shame.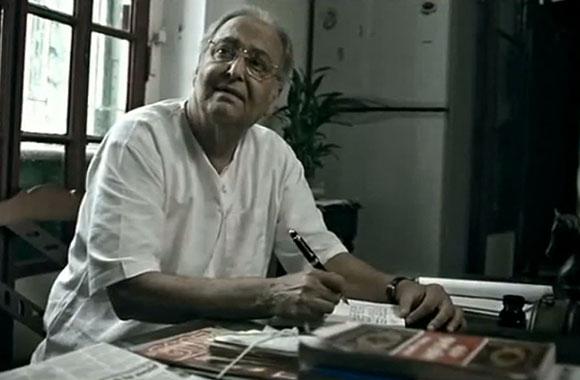 Image: Soumitra Chatterjee in a Thumbs Up ad
Theatre or film -- which is your favourite medium?

I love acting in both. I still get as excited about a good role in a film as about a play.

However, in case of most of the plays that I act in, I write it, do the script, direct it, and even script the music. Being the pivot gives me tremendous pleasure. It is something I relish.

You do a lot of ad films even now. Why?

I do them for money. Nothing else. Some ad films do pay well.

Name a few directors of recent times who have impressed you.

Gautam Ghosh, Aparna Sen, Raja Mitra -- I worked in a film, Ekti Jeevon, directed by Mitra -- to name a few.

Which modern actors have impressed you the most?
I don't get to see modern films these days. I can't name any one in particular. It will be unfair to judge as I see few films now.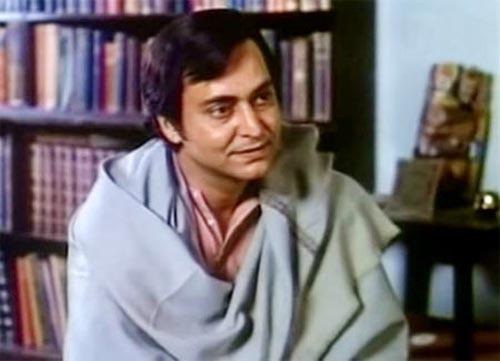 Image: Soumitra Chatterjee in Sonar Kella
Do you approve of the modern Feluda?

Yes. I only like Sabyasachi Chakraborty (he plays the Ray-created sleuth Feluda aka Pradosh Chandra Mitter) of the trio.

I don't like either of Felu's 'recreated' assistants -- Topshe and Jatayu.

Bengali viewers have partially accepted this new Felu -- they do miss his old counterpart, though.

Once when Shashi Kapoor was playing Feluda in a Hindi television serial, Ray had told me, "You and Jatayu (played by actor Santosh Dutta) are not there, Bengalis would never like this serial."

In fact, I feel Feluda created by Sandip (Ray's son) is not as devout a Bengali as Ray had portrayed him to be.

Do you think Bengali cinema has come of age? We are seeing some really offbeat films these days. Has the pattern changed? Are filmmakers dealing with better scripts than before?

I don't think so.

Undoubtedly, Bengali films have seen a shift in theme and storyline but if you talk of the script, I hardly come across something fascinating these days.

Who can write better scripts than Ray or (Tapan) Sinha?

I don't think today's scriptwriters can ever match the brilliance of their predecessors. I am sorry to be so blunt but this is exactly what I believe.
Soumitra Chatterjee
Which do you think is your best film?

I can't say. One who has worked in 400 films can't make a choice. I am my worst critic. I am seldom satisfied.

As a veteran in the industry, what will be your tip to the actors of today? What makes an actor successful?

A four-letter word called love (chuckles). Chase your love and you are sure to be successful.