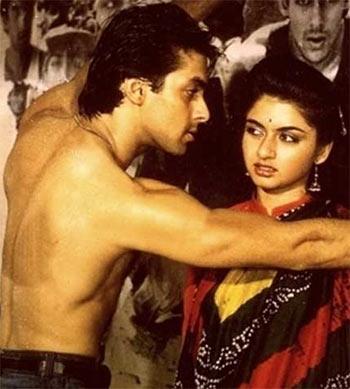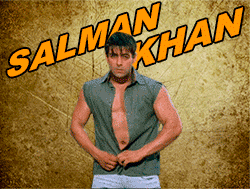 'Sooraji said the hugging scene had to look passionate because it was the first intimate scene in the film. I looked at Salman and burst into tears.'
It was a combination no one forgot -- an innocent Bhagyashree, a romantic Salman Khan and first time director with a dream.
Maine Pyar Kiya went on to become both a blockbuster and a film that will always be mentioned in Bollywood history.
It was the first time that Bhagyashree -- who was battling her family's resistance to her love for Himalaya in her personal life -- met Salman.
Salman was 24 years old and just beginning what would be a super-successful reign as an actor.
Bhagyashree, Salman Khan's romantic interest in his first hit film. Maine Pyar Kiya, talks to Patcy N/Rediff.com about her first co-star who will soon celebrate his 50th birthday.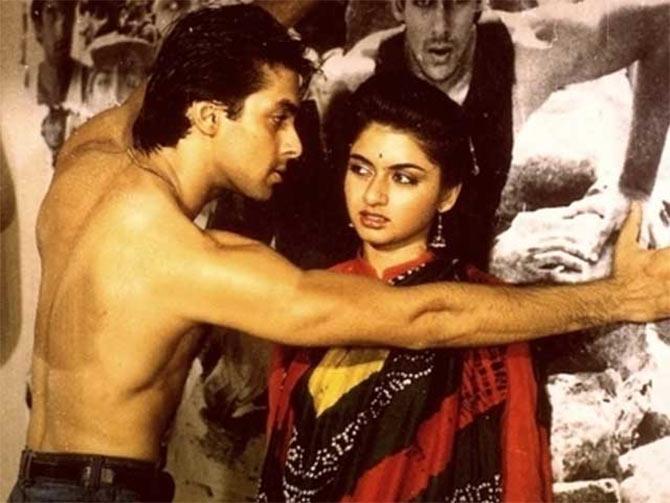 Salman and I first met at Sooraj Barjatya's office for a look test. Sooraji had told me they had selected a boy and wanted to see how both of us looked together onscreen.
We didn't have to say any dialogues. We just had to pose, walk, talk to and look at each other.
I found Salman very quiet, very sincere, very attentive. I guess it was because he always wanted to become an actor. Now that he had this opportunity, he wanted to prove himself and make it perfect. That's why he was so focused.
As we started shooting and got to know each other, the three of us (Salman, Sooraj Barjatya and Bhagyashree) really bonded well. We would have lots of fun together.
We were all new and raw so we would constantly help each other to do better.
There was a prominent photographer at that time -- I don't want to name him. He had come to do a publicity shoot and wanted some of those hot, sizzling pictures. We were shooting in a hotel; I think it was Holiday Inn or Sun N Sand (both in Juhu, Mumbai).
That photographer was telling Salman to kiss me without my knowledge and how to hold me during the shoot and stuff. Both of them couldn't see me and didn't know I was listening.
Salman asked the photographer, 'Have you asked her?' He replied, 'No. What is the need of asking her? You do it; after all, it is just one shot.'
Salman said, 'I am not going to do anything like that. You take her permission; if she says it is okay, only then will I do it.'
I thought it was really nice and extremely chivalrous of him. It was very gracious and gentlemanly because the photographer just takes one photo but that one moment is caught on camera and you may not want it.
Salman did not say all that before me; he didn't even know I was there.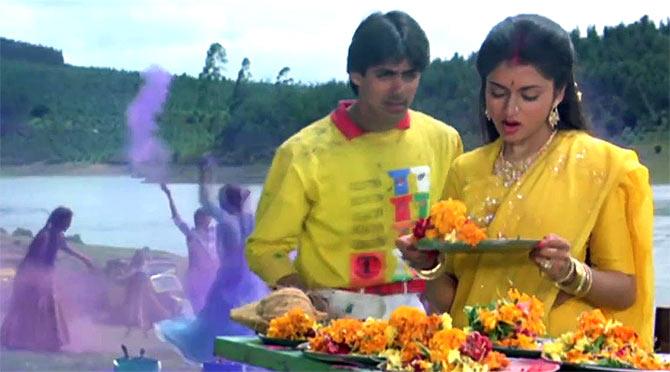 We were in Ooty shooting for Dil deewana bin sajna ke mane na when Salman came to know about my relationship with Himalayaji. He began teasing me in the morning itself. He would come very close to me and sing in my ear, 'Dil deewana bin sajna ke...'
I started wondering what had happened to this guy; he had never behaved so strangely before. Now, there were people on the sets and he was trying to flirt with me.
He harassed me throughout the day. In the evening, I told him the members of the press were on the sets and there were so many outsiders so why was he behaving like that and he said, 'I know.'
I asked him, 'What do you know?'
He said, 'Why don't you call him here?'
I asked, 'Call who here?'
That when I came to know that, through a common friend, he had come to know I was seeing Himalayaji. He was singing the song because he knew I was missing him. He asked me to call Himalayaji to Ooty.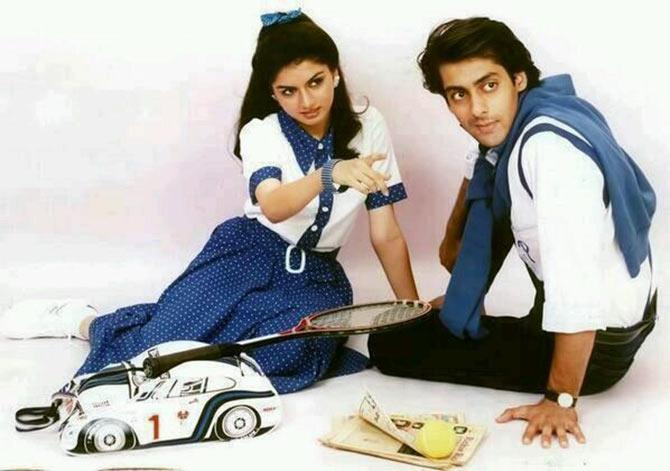 We had a great friendship and shared great camaraderie.
There was a scene in the film after the song Kabootar ja ja when Salman comes home and I hug him. I had always thought that the only person I would hug was the one I am in love with. In fact, all my firsts have been after marriage. Earlier, I had never been to a disco or a dandiya night. My New Year celebrations would end at 12.30 am.
Sooraji said the hugging scene had to look passionate because it was the first intimate scene in the film. I looked at Salman and burst into tears.
Salman asked me what happened and I told him I had never hugged a man before. He consoled me saying it was not real; that we were just acting. I was 18 then and very embarrassed that I was actually going to physically hug someone.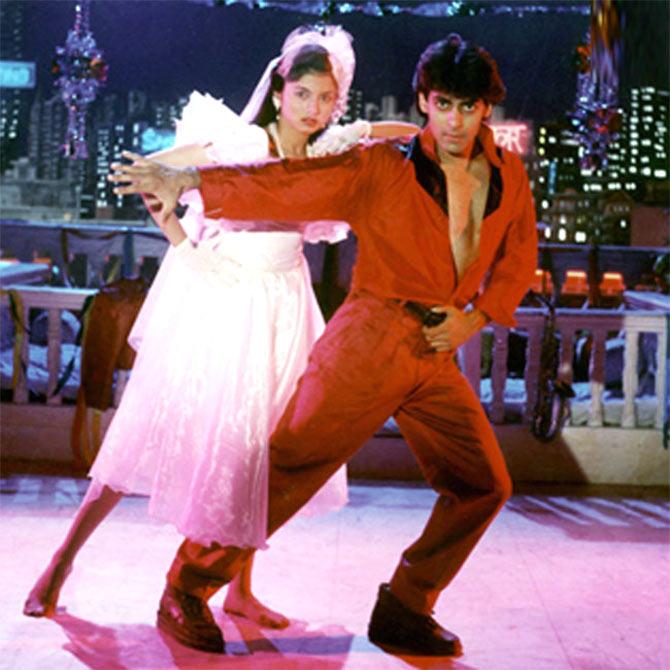 After my marriage to Himalayaji, (Bhagyashree started shooting for Maine Pyar Kiya when she was 18. By the time she turned 19, she was already married. The post production of the film took nine months. She was 20 years old when the film released) there was another week of the shoot remaining.
Salman came to me and said, 'Bhagyashee, are you happy? Is everything alright? Can I do something to make it better?' He even asked if he should talk to Himalayaji since my family were against the marriage.
'What will you say,' I asked him. 'I will tell Himalaya that you better look after her otherwise you will have to deal with me,' he said.
'What makes you think you can do that,' he asked. He told me, 'Beti ki family hamesha aise jaakar bolti hain na (Doesn't the daughter's family always say this)?'
I told him, 'If you say this, another problem will start.'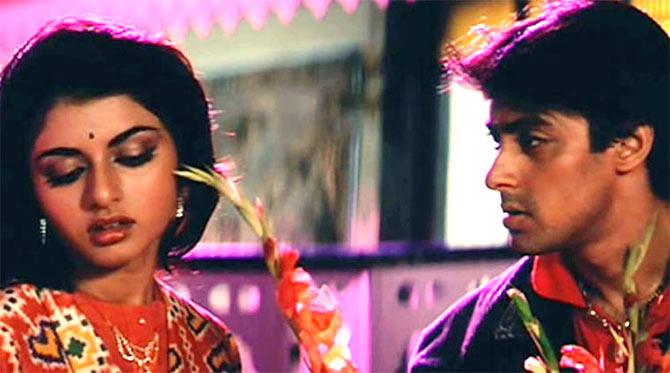 I remember Salman as a very family-oriented person. He cares a lot about his parents. He really loves children. It really surprises me that he hasn't gotten married yet; anyone who loves children so much would want some of their own.
I have heard so many things about Salman since then… there have been a lot of ups and downs in his life. I think may be success affected him for some time in between -- it went to his head and he moved away from what he was really.
I think some of the incidents in his past have suddenly grounded him and he is doing lot of charity work now.
I think Salman's Prem from Maine Pyar Kiya is the best.
There were rumours that Salman would launch my son Abhimanyu, but that is not true. A journalist asked me if I would like my son to be launched by Salman. I said yes -- who wouldn't? -- but that doesn't mean Salman is going to launch my son.