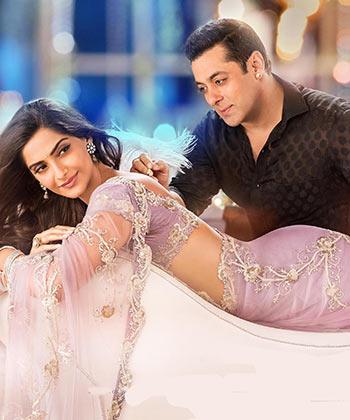 'Most of the time we do close-ups you'll be looking at the camera or your main lead, your leading lady, is left of the camera, right of the camera -- she's never there. So, your best close-ups are looking at some unfortunate-looking assistant director or a cameraman. All the romantic close-ups I'm looking at some guy.'
Salman Khan tells P Rajendran/ Rediff.com how he shoots his romantic scenes.
When Sooraj Barjatya first created a character called Prem, Bollywood got a hero like Salman Khan. This Diwali, the director and actor bring us the fourth version of Prem.
Days before the release of Prem Ratan Dhan Payo, P Rajendran tunes into a freewheeling conversation between Khan, his co-star Sonam Kapoor and the international media.
Salman and Sonam had already been through a few interactions with the international media in the run-up to the release of their Diwali release, Prem Ratan Dhan Payo, before they met journalists in New York on a video conference call.
Khan, his muscles bulging through a white shirt with broad blue, red and yellow stripes, smoothed his forearms at intervals, stroked his young beard and mustache through the discussion. He dominated the conversation, with Sonam Kapoor -- clad in a dark yellow-green top with mirror work and a muted red skirt, and wearing horn-rimmed glasses and biting her little finger at intervals -- pitching in with her own comments as the situation permitted.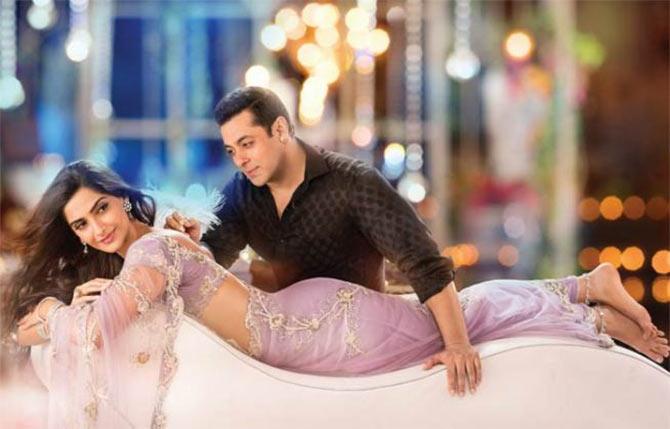 The ball was set rolling with a question about whether Salman Khan's films could break more records than they already have:
Salman: Our population grows really fast, so that's some more fans. Hopefully, they'll start making some more pictures here as well because they'll think it's profitable business to make more theaters and make more money. Only because of these two reasons I think I might be able to break more records.
After Bajrangi Bhaijaan, I certainly believe Prem Ratan Dhan Payo is going to break all records and after that it will be difficult for any other film to do that because (director) Soojar Barjatya has his own fan base -- from Maine Pyar Kiya to Hum Aapke Hain Koun...! to Hum Saath-Saath Hain.
This time, it is the parents (who were fans) who are telling their children -- and the grandparents are telling their children -- that we want to see this movie. This film I'm not worried about.

I want everyone to go see this film -- not in ones and twos.
For a romantic movie you go as two couples; two girls, one guy; one girl, two guys... just to start dating each other and stuff like that.
Then there are films like Dabangg and Wanted that you go and see with five or six people.
But films like Hum Aapke Hai Koun...!, Hum Saath-Saath Hain, Prem Ratan Dhan Payo you go with your whole family -- and our families are very large. You know the time whole families used to go for movies? Like, 14 or 15 (people). I think that should happen this time.
I hope I'm not wrong; if I'm wrong it is going to be a waste of a beautiful film and a great learning experience...When we finished the movie, I thought I was... in a beautiful, peaceful -- you know, almost like some holy place.
Sonam: A happy place.
Salman: A happy place. The energy is so (good) with this movie, I just hope that the way we feel about it you guys also feel the same way. There're no movies without you guys not going to the theatre and not watching it... You've seen how beautiful (the preview) looks, how large it looks -- no matter how large or beautiful it looks, till the audiences don't go to the theaters it doesn't make any sense. We're nobody.
Salman, you are working with Sooraj Barjatya after a very long time. And Sonam, it is the first time you are working with Rajshri Productions. How was Sooraj as a director and how was it working with him?
Sonam: He's an amazing filmmaker. There is such kindness and generosity as a human being that you just learn from it. I'm fortunate he considered me for this film and decided to cast me. It was like luck, and I'm very, very grateful for the opportunity.
Salman: Sooraj, to me, the qualities that he has are godlike... Undoubtedly, he's one of the best directors we've ever had.
As a human being, I think Sooraj is on a different plane altogether. He's the finest human that I have ever met, and he's been like this since the time he was 19. You know some people have that (quality)? You are angry and you're upset and you're agitated and then you see a picture, a face, and you relax. Sooraj Barjatya has that power... His eyes, his face, his complexion, his hair.
Have you seen Sooraj?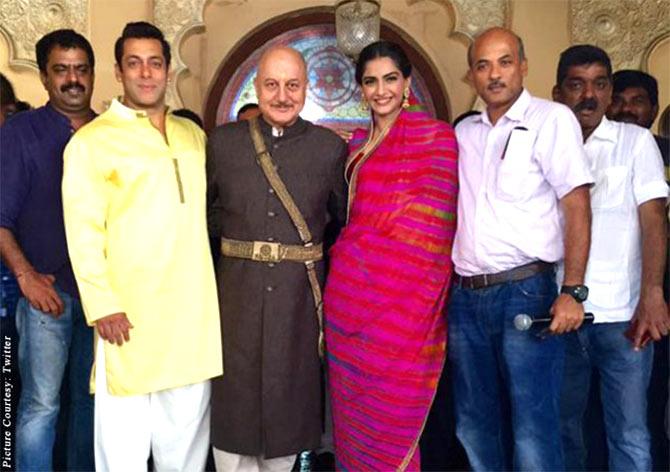 Of course...
Salman: You need to meet him... He's like the nicest person you'll ever meet. He actually believes what (he says). He will never do anything he is not convinced of. He's one of the strongest people I have ever met. He does not need to raise his voice; he does not need to show any anger. He's so clear in his thinking. He speaks very little. He listens. He imbibes like crazy. In like the worst situations, he manages to see some good in that.
I'm almost there. I'm almost just like Sooraj -- just on the other extreme. (The audience laughs at the joke).
(Besides seeing this film about family values) what do you think families can do to be together?
Sonam: There's a reason this film is so relevant... I feel (the film) is so relevant because the one thing we actually lack -- though we have every media for communication -- is communication. We're actually not communicating and talking to each other, seeing each other. We can't (put off) our phones and we don't connect...
Soorajji told me something really, really amazing when Khoobsurat was coming out. I was very worried about the fate of the film. He said,'(Khoobsurat) is a family film. People want to watch this stuff. So it will do well. Don't worry about it.'
And he was right! He was absolutely right. That way he understands the pulse of what the world needs at that point.
Your question is what would it take (if) art is a reflection of what is going on in society at the moment. Cinema is a reflection of what is needed to propagate change. And a film like Prem Ratan Dhan Payo or other films that propagate that kind of change... is what they need to bring families together.
Salman: As families, we all have problems. Some chotta-mota (small) problem happens.
It's usually about respect: Why is the younger brother not giving me respect?
It's about money.
It's about property.
Nobody actually wants these problems. It's just that we don't know how to sort them out.
Some third person comes into our lives and destroys brothers. He comes, and we listen to him. It's just that we are not communicating with each other... Suddenly we start doubting our own people's intentions. Everyone wants peace. It's just that we're not yet striking the right chord. You strike the right chord and everything will be fine...
My friends see films at the stage where they are just rushes... This particular guy I know is with his phone all the time. I wanted to see his reaction. So I stood behind. He was watching the film. In the first 15 minutes, he put his phone aside... This film has that thing: it just gets you into it. But you need to see it with the right mindset. It's a funny film. It's full of humour, sensitivity, romance.
The plot is so beautiful (that) in all that romance, what it comes down to is one small point, which is messing all of us up: that brothers and sisters should not fight. There is no reason they should fight... All you've got to do is just sort it out; it doesn't take much to sort this stuff out.
When you do not address that problem right then and there, it gets stretched. Then it gets awkward for both (siblings) to come closer and other people take advantage of it. But we just let go of the ego and sort it out right then, (saying), 'What do you want?' Just negotiate and finish it. It's all going to be fine.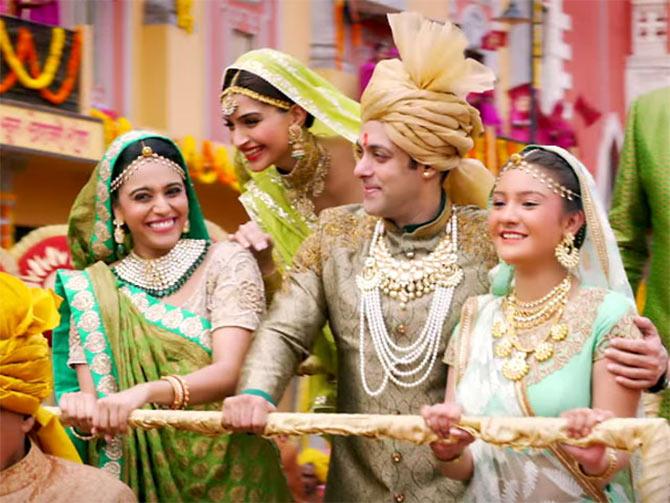 There is the same kind of picturization of the songs in Prem Ratan Dhan Payo as seen in the 1990s and early 2000s.
Salman: I know what you are talking about. That Taa Thaiya Taa Thaiya. No, this is not that kind of stuff at all.
Sonam: It's a coronation sequence.
Salman: The whole film is about modern-day relationships... This is about one dude, you know, who has everything except love. This is about that.
I mean, if you've seen Sooraj's earlier films... Hum Aapke Hai Koun...! They were teachers. They lived in huge -- humongous -- houses.
Sonam (laughing): Yeah, that's true.
Salman: This time he's making a film of people who actually live in palaces... (But) the emotion is the same. No matter what the setting is, your emotion has to be correct. I believe he's got the emotion correct.
I believe that when Sooraj Barjatya comes in and makes a movie he changes people. When there was Maine Pyar Kiya, a lot of people named their kids Prem (after the main character). They did a contest recently of how many Prems are there. And, Jesus Christ, there are lots of Prems. (They say) my parents, when they saw Maine Pyar Kiya, they named me after that. So that is what Sooraj Barjatya has done: Got people together. Every wedding after Hum Aapke Hain Koun...! had functions... He's got back our culture.
When you leave a Sooraj Barjatya film after the end titles, you emerge a better person -- at least for some time, till your own life and your thinking takes over. Then you see it again on TV and again you feel this is the way our families should be.
He's done the same thing in Prem Ratan Dhan Payo -- that every woman would want a man in her life like Prem, and he wants every man, every boy, to be like Prem. And he's starting off with me. I failed miserably. But I'm sure the rest of the generation, the rest of the boys...
Sonam: You did not fail miserably.
Salman: ...will match up to Prem.
(Sonam tries to correct him again)
Salman: I'm just kidding. They understand.
Is there any point in the film you wondered, who follows these traditions now?
Sonam: Sab ko karna chahiye (Everyone should do it).
Salman: Hum sab karte hai. (We all do it).
We also do it here in the US...
Salman: If you're following (traditions) in America, we are following it here, too.
Sonam: I hope they're following it. It makes sense, no?
Absolutely...
Salman: And, you know what, the kids have seen something really special about this movie... The music of this film -- about which I also had my doubts... But as soon as it came in it caught on like (wild fire). Everyone is been listening to Ram Leela and Jalte Diye.
Sonam: And Prem Ratan Dhan Payo.
Salman: The music company is so happy. Bhushan (Kumar, owner of T-Series, which has the rights to the film's music), was also worried about the music... But Sooraj has his own fan following.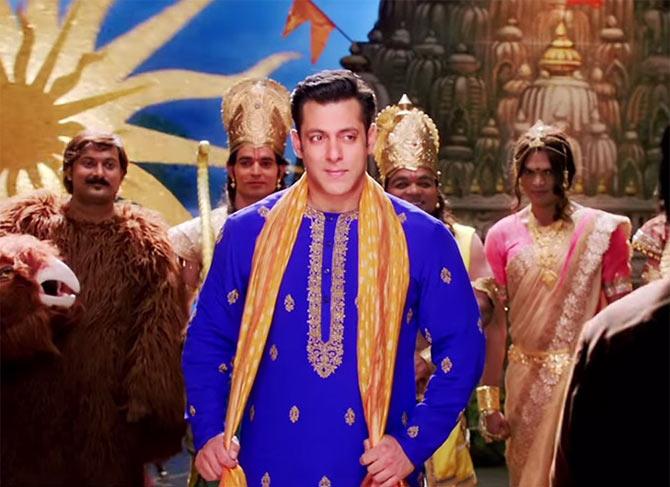 You're reuniting with Sooraj Barjatya after 16 years. How is this Prem different from the ones we've seen you play earlier?
Salman: The first one will always be fresh: Maine Pyar Kiya. Sooraj wrote Prem. I played Prem. Now did Prem make us, or did we make Prem? We don't know. I've been accepted as Salman Khan because of Prem, the character that Sooraj wrote for me.
Then came Hum Aapke Hai Koun...! Sooraj just took it to another level of greatness. It's still one of the better films we've made in our country.
Hum Saath-Saath Hain was better still.
Then there was a break. In this gap of 16 years, Sooraj has grown tremendously. He is a lot simpler than he used to be when he was 19. We all get more and more complicated; we all start developing fears. (But) he, right now, is fearless -- and he's really simple.
That is what Sooraj has made out of Prem Ratan Dhan Payo. He's made a really sweet and a very simple movie about romance and about family values with an incredible amount of entertainment and humour. You've seen Sooraj's films. Every film has the mark of entertainment and comedy. He doesn't need to give a message. He just writes and the message automatically comes in.
How was it doing romantic scenes with each other? Was it easy, awkward or…
Salman (hurriedly): Very comfortable. It is a romantic film. Most of the time we do close-ups you'll be looking at the camera or your main lead, your leading lady, is left of the camera, right of the camera -- she's never there. So, your best close-ups are looking at some unfortunate-looking assistant director or a cameraman. All the romantic close-ups I'm looking at some guy.
Sonam: That's not true. I was there (laughing).
Salman: Or, or, or...
Sonam: He's kidding.
Salman: Or a cutter stand.
Sonam: All the romantic (stuff) is reserved for me.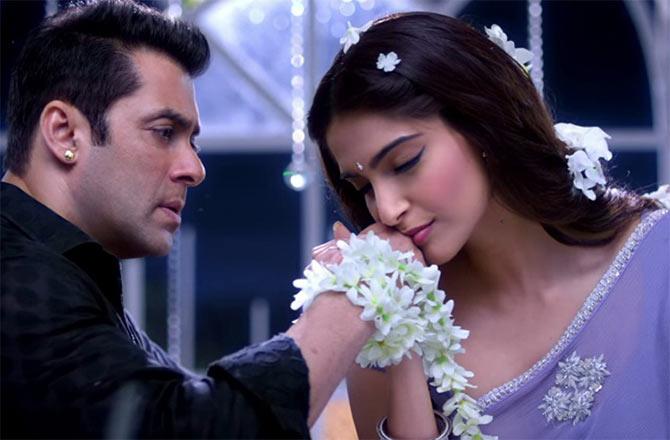 Salman: So, as far as chemistry, when there's chemistry there's a script behind it -- there's always a script behind it. And it is the same look for everything. It is just the screenplay and the background score that will change the look... It's the same look. I mean, at least for me.
Sonam: Not for me. That's not how I act.
Salman: That's how I act because I find it very comfortable; people have accepted me acting like that.
Sonam: No, I think...
Salman: It's the script and the screenplay and the... romantic scenes that build the (story). We have a great chemistry, but there are also a lot of people you don't enjoy working with and you have to work with them because, you know, you have to work with them.
Sonam: Oh really?
Salman: It was really amazing romancing Sonam Kapoor, my friend's daughter... You embarrass me with these questions.
Sonam: Why is it embarrassing? It's acting, no?
Salman: It's acting. (Puts his head down on the table)
How much do you relate to the character that you play -- both of you?
Salman: I believe that I'm Prem and Vijay, both, somewhere deep down.
Sonam: With Mythili, I think she's a very modern-day girl and she knows what she wants from the person she wants to spend the rest of her life with -- and she knows what she wants from life. She's not afraid to ask for it. At the same time, she has all her values intact.
In a lot of ways, I hope I get inspired by that. We all make mistakes when we are younger in a lot of ways. And I think she's got enough courage to be, like, I'd rather be alone and happy than unhappy with somebody, and she has the courage to face that.
In a recent interview you said, 'My life's journey scares me.' So, many years later, giving blockbuster movies, do you still feel scared?
Salman: I said that? I say these things some times. Rarely. Must have been one of those days. But it is beautiful. I don't know -- I'm living each moment. And we'll see what happens in the near future.
And it'll be all good...
Salman: It should be all good.