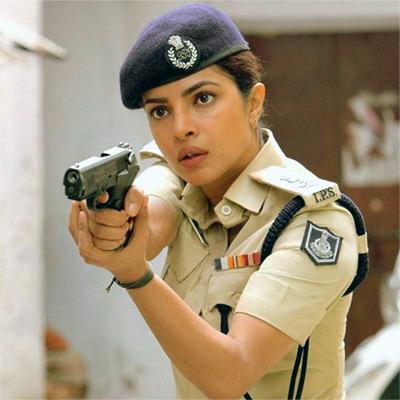 'We have trained Priyanka well for the role of IPS officer Abha Mathur. She learnt all the mannerisms of the Indian police. The Quantico people are taking the real advantage of it.'
'It's okay, I am happy that America knows what we can do.'
Jai GangaaJal director Prakash Jha raves about his heroine.
Even as Priyanka Chopra makes waves internationally, she's making news back in India as well.
Her latest film Jai GangaaJal will release on March 4, and its director Prakash Jha is super excited about it.
Jha makes his acting debut with this film as well.
He tells Rediff.com contributor Rajul Hegde about how his film benefited Priyanka's Quantico.
You have lost weight. Is it for your acting debut?
I want to be fit anyway. But yes, once I decided to act, I thought I am responsible for looking fit.
When did you develop this passion for acting?
It's not a passion but an extension of my own creative faculty. I wanted to do something new. I wanted to see how challenging it is to perform what I have been preparing.
I have often done small roles in my films. The character of a Deputy Superintendent of Police in Jai GangaaJal, who has seen it all, was of my age too. So that clinched it for me.
How did you prepare for your role?
I play a complex character. While developing the script, I spoke to several DSPs. I felt close to it and started seeing myself in that role.
Finally, I worked on it. To be an actor, you have to understand the technicalities of being there and being able to perform. I wasn't going to compromise on that. It worked out well.
Are you open to acting in more films now?
If there are good acting opportunities, why not? I have already explored the territory of acting with this one, now I would like to expand.
Do you think training Priyanka Chopra for the role of an IPS officer in Jai GangaaJal benefited her FBI act in Quantico?
That's what we believe.
We have trained her well for the role of IPS officer Abha Mathur. She learnt all the mannerisms of the Indian police. The Quantico people are taking the real advantage of it. She did a crash course for one month, performed and it turned out to be excellent.
Even the police officers in the academy were surprised with the way she looked and performed. It's okay, I am happy that America knows what we can do.
How was it working with Priyanka?
Priyanka is an amazing actress. She's dedicated, focused and probably has 48 hours in a day!
When I signed Priyanka, she was already a big star. In these six months, she has become so big.
Her grasp of her character was very quick. We would discuss the role for hours, and all she said on the first day of the shoot was that she had so many questions. She is hungry for work, always ready to work. She is a dream actor.
Apparently, she bullied you during the shooting.
Yes, she did. She never failed to tell me that I was the junior actor on set. She always told me that you may be a big director but don't forget that you are a junior actor here.
I used to say, 'charan sparsh apkay' and she would feel happy.
Since I was acting and directing, I would say 'roll the camera' while standing in the frame and then do my scene. At the end, I would say 'cut'.
If I asked her whether the shot was okay, she would say, 'It's your job to look at me, not my job to look at you.'
What do you love about her?
She is simple, easy, supportive and humble. If there is a new actor and even if he's doing a small role with her, she would be concerned about him.
She makes actors comfortable and makes sure they respond well.
Watch: Prakash Jha shows off his acting skills! Video: Afsar Dayatar
Your films are a mix of entertainment with reality.
My films are about society, not individuals.
I cannot show my hero landing on the ground and the villains flying off in the air. I have drama and lots of dialogue-baazi. My stories have characters whose conflicts are not about things like a rich girl and a poor boy, but about ideals and values.
There are 12 songs in the film although even though it's a socio-political thriller. Why is that?
Apart from being a thriller, the film also about the farce in society.
When I started editing, I felt I needed to narrate the subjects and that's how the songs came in. They are all folk songs.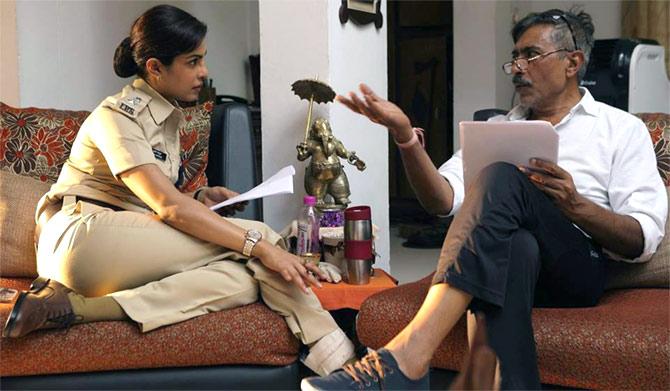 IMAGE: Priyanka Chopra and Prakash Jha on the sets of Jai GangaaJal
Whose idea was it to get Amruta Fadnavis, wife of Maharashtra Chief Minister Devendra Fadnavis, to record the song?
The song appears during my character's transformation.
I had this voice in my head, a deep heavy voice singing this song. A friend of mine introduced me to this voice. She had recorded for Kunal Kohli earlier. When Salim Merchant and I heard the song, we knew this was the voice we wanted.
Amruta is a trained classical singer. She was very happy to record the song for us. We recorded the track in two sessions, over a couple of hours. Later, we wanted to re-dub certain portions and she came back without a fuss and did the needful.
Will you ever make a non-political film?
My next directorial will be a non-political film. After that, I begin with Raajneeti 2.
Deputy Chief Minister of Bihar Tejaswi Yadav recently said you have shown Bihar in a poor light...
I respect his sentiments. That is the way he thinks about the movies or the work I have done.
What can I say about that? There is no argument on somebody's sentiments. If he has reasons, I can talk but everyone has got the right to express an opinion.