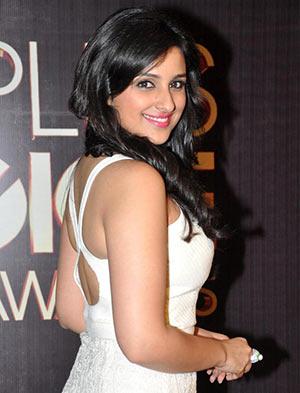 'There is a lot of insecurity in this job. That is why we are paid so much money.'
Parineeti Chopra comes clean.
Parineeti Chopra's upcoming film Daawat-e-Ishq is all about food.
And the actress, who is known to be a big foodie, has taken up a food yatra, where she binges on the different kinds of cuisines in India.
Parineeti discusses her gastronomic experiences while shooting for the film with Patcy N and Sonil Dedhia, and insists that she is not competing with her cousin Priyanka Chopra.
Read on:
Daawat-e-Ishq is all about food. Were you on a binging spree when on location in Lucknow?
Oh yes, totally! I am a big foodie. If you keep food in front of me, it is very hard for me not to eat it.
It was crazy shooting the food scenes. Apart from breakfast, lunch and dinner, we had to have food on the sets at any given time. So we were all constantly eating.
There were so many retakes and we would end up eating the whole day!
Many people call themselves foodies, but I think it's a much misused term.
People who understand food and who take a real interest in knowing how food is cooked, and about the cuisine, flavours and textures -- they are foodies.
I am a big foodie. If I close my eyes and you give me something, I can tell the flavour and what country the food belongs to. I really love understanding food.
In this film, we have dealt with Indian food, mainly Hyderabadi and Lucknowi. Every day we had something new to eat.
It takes a whole day to shoot a scene so you are eating the same thing again and again. For the sake of continuity you have to remember which hand you ate with, the number of bites you took...
You go mad and by lunch and dinner time you don't feel like eating!
Were you familiar with Lucknow since you had also shot Ishaqzaade there?
Yes, I knew the best places to eat. Anupam Kher (costar) has lived in Lucknow for many years and knew all about the food there.
Anupam sir and I used to order food for Aditya (Roy Kapur, costar) from a new place every day.
The first day we ordered tunde ke kebab. The owner of the restaurant is a good friend of Anupam sir, so from the next day he started sending us free kebabs (laughs).
Are you a good cook?
I am a very bad cook. I can't make anything, not even tea.
I just don't enjoy cooking. I don't have the patience for it.
When I reach home, I want the food to be ready.
There were rumours that the release of Daawat-e-Ishq was postponed because you didn't want to compete with your cousin Priyanka Chopra's film Mary Kom.
That's absolutely rubbish.
The marketing team at Yash Raj Films came up with a brilliant marketing idea and they needed time to execute it, so Adi (Aditya Chopra) who is the producer of the film decided to postpone the film by two weeks.
When it comes to Priyanka, I have no plans to fight with her or compete with her. She is a senior actress and much ahead of me.
I hope Priyanka does well because she has worked so hard for Mary Kom. It's a very important film for her.
As people, we are different. We are not insecure about each other.
If her films work, I am happy and she is happy for me when I fare well in my work.
What is the one thing you want to change about your lifestyle?
I would want to include more hours of sleep. I feel I am always short on sleep.
Do you have a secret crush on a Bollywood actor?
(Laughs) My secret crush is no longer a secret. Everyone knows that I have a huge crush on Saif Ali Khan.
What qualities do you seek in your life partner?
I need a strong man to fall in love with. I also want my man to have a great sense of humour.
He should be sensible, mature and I don't care if he is 20 years older than me.
What is your idea of a perfect romantic date?
I have never been on a romantic date. If I fall in love, I would love to go on a date, but I don't miss it.
I will date a person only if I fall in love with him.
Any holiday destination that you desperately want to go to?
I have been to most places but I would love to go to Madagascar.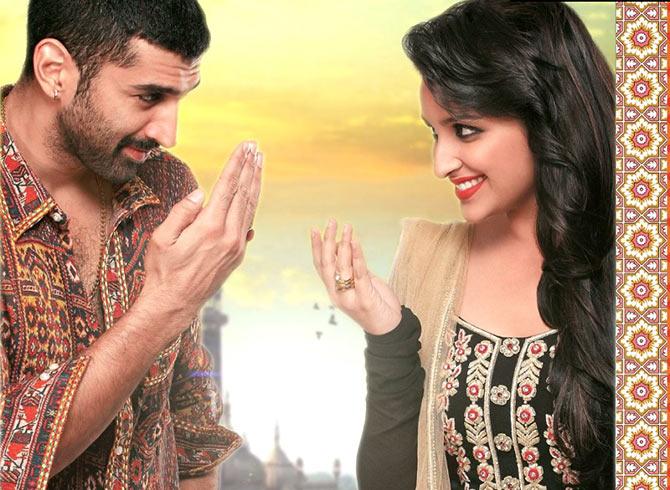 Aditya Roy Kapoor and Parineeti Chopra in Daawat-e-Ishq
Coming back to your film, you speak a very different kind of Hindi in this movie. You learnt it from Elahe Hiptoola (producer of Nagesh Kukunoor's films). How difficult was that?
It was not difficult. I love languages. I enjoy understanding how people talk. Even in real life, when people talk differently, I catch it.
Dakhaani (the way Hindi is spoken in Hyderabad) is not difficult to understand. And Elahe is a very good teacher. Everything just gelled.
Anupam sir and I are father and daughter in the film, so we both had to learn Dakhaani. It took me 15 days to learn.
What do you look for in a role?
It has to be something that makes a difference to the story.
In many films where the director says this is a typically heroine role, you don't have to do anything. You just have to look good, dance, and it's a love story.
That doesn't excite me. Directors offer me strong roles and characters because they feel I may be able to pull it off.
I don't want to only run around trees because that is not going to make any difference to my audience.
Normally it's a hero's film but when they talk about me they say your character was so awesome, you were so good. That is a great thing for me.
You have to make a statement. You have to impress your audience.
You never wanted to be an actress…
For years the film industry never affected me. Not even after my sister became an actress.
In fact, I would tell her that acting is the easiest job and she would get very angry because she knew the profession.
I thought actors wear good clothes, they are so rich, they make so much money, they travel everywhere and they only have to do hair and make-up.
When we watch a film, we see amazing, beautiful things like snowy mountains and the heroine dancing on top. But that is not easy.
If you are on that snow mountain all day in scanty clothes, dancing within the focus mark and at the same time, you have to think about light, have to act differently for different camera angles and lenses...
It requires learning and understanding technical things. It requires intelligence. I came to know about all this when I was at Yash Raj Films.
Our day starts early in the morning and finishes at midnight. We don't get time to sleep and we are constantly judged because of what we do.
Our films are in your hands and there is a lot of insecurity in this job. That is why we are paid so much money.
Do you find it difficult?
Yes. My personal life was very important for me, the people I am with, my friends, where I go... all this was very important and it's gone now.
But I am enjoying my profession a lot. I enjoy acting. I have started taking days off. After two months, I want a one day break just to be at home.
I have started scuba diving. There are things that I am doing apart from films, to keep me normal, otherwise emotionally it is very draining.
What's a day like in your life?
Every day is different. If I am shooting a show, then it lasts for eight or 10 hours. I have to do three to four hours of dubbing. There are costume trials of some other film.
When I am doing interviews like today, there will be six hours of interviews. If there is narration, then three to four hours for that.
So in a day, there is at least 14 to 15 hours of work.
There is two hours of hair and make-up in the morning to get ready for all this.
That's why actors say 24 hours are not enough. When you reach home you have to sleep because you have to be up at 4 am again.
If I am shooting for a film then the shift is from 6 am to 6 pm, for which I have to get up at 4 am to be on the sets by 5 am. We start shooting a 6 am because the light is best at that time.
You had a three-film contract with Yash Raj and it's over now…
People misunderstand the contract. I have to do a minimum of three films with YRF in any time -- it could be spread over 20 years. I can work with YRF after the contract too.
This is my fifth film with YRF. I am getting better scripts with them; my next film is with Illuminati Films.
You have said you don't mind being the typical heroine if it means acting in a film that has any of the Khans.
Yes, I will even be a tree I had said. I was joking. I just meant that I would love to work with them. I have been offered in the past but I didn't have much to do in those films.
I would love to do a film with Shah Rukh Khan or Salman Khan where I also have a great role.
Why did you decide to endorse Pantene shampoo?
Once I started working in films, I didn't have an option but to change my looks. From short hair in Hasee Toh Phasee to coloured hair in my upcoming film Kill Dill.
I've had to put my hair through various chemical and heat treatments which left it rough and dry. Every month I would find myself running to the salon to chop off split ends.
Pantene shampoo is a big saviour for me. I endorse something only if I believe in it and I truly think this shampoo is wonderful.