'I don't have a family member in the industry and haven't been launched opposite a superstar. I don't have multiple film deals with any studio.'
'It's difficult because I have to prove myself with every film.'
Yet, Taapsee Pannu is one of the the busiest actresses in Bollywood.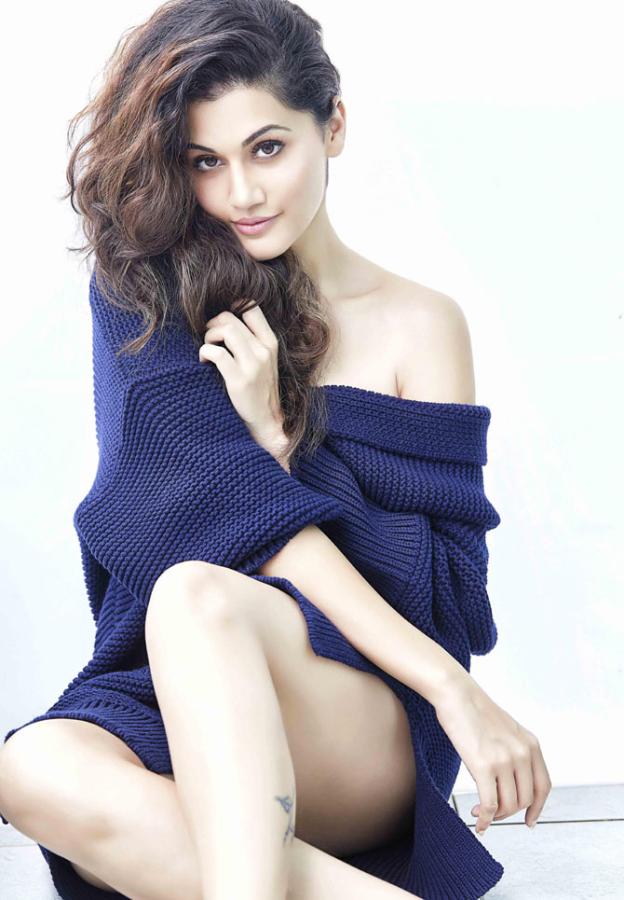 IMAGE: Taapsee Pannu
Taapsee Pannu has not one but two movie releases coming up this Friday: Running Shaadi and The Ghazi Attack.
She has as many as five releases this year, including Naam Shabana, Tadka and Judwa 2.
The PINK actress talks to Patcy N/ Rediff.com about her movies and why she was once open to seeing a psychologist.
Did you expect PINK to be such a big hit?
When we were working on the film, I knew it would be a good film. I knew people would like it but to what extent was not clear.
I knew it would be a hit but to what extent, I had no idea. It almost turned into a revolution.
Two of your films -- The Ghazi Attack and Running Shaadi -- are releasing on the same day. Does it worry you as an actress that the films may eat into the other's business?
No. In fact, it excites me. Had it been in the South, it would have worried me, as people there have seen me quite a bit.
For Hindi audiences, they have seen me in only three films till now. So it's good that they will see me a lot and will feel my presence.
You have five releases this year. How busy have you been?
I have been shooting for the films in the last three years. It's just that the schedules kept getting pushed ahead and so did the releases.
I have been working nonstop for quite some time now.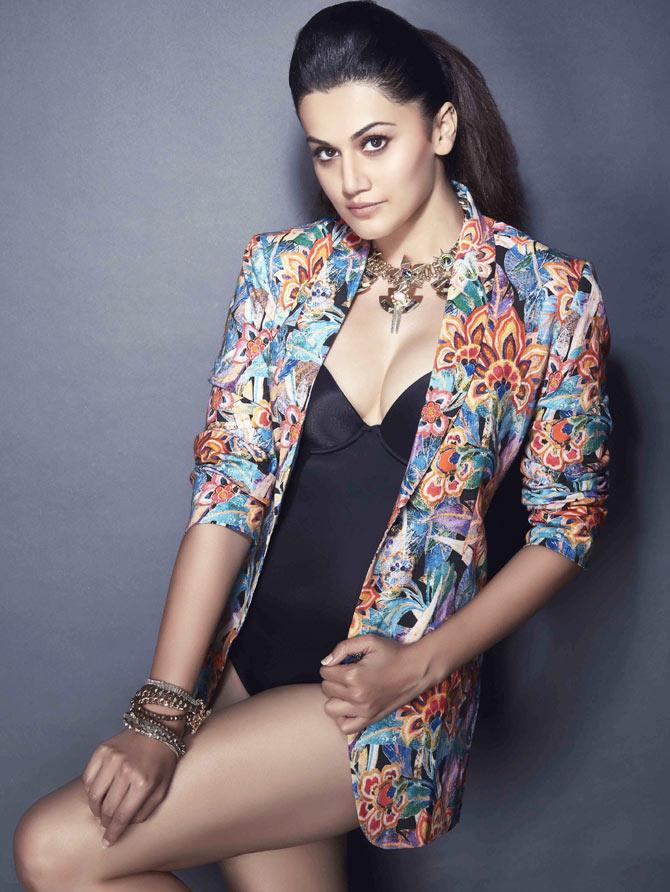 IMAGE: Taapsee Pannu
You worked with Akshay Kumar in Baby and now, you are shooting for its prequel Naam Shabana. He must have left a great influence on you.
A couple of days ago, I had a chat with him and I told him that everybody feels you are rubbing on to me, that's why I have so many releases this year. He told me, 'Yes, yes, I want you to do them, it will make me happy. I want you to have multiple releases every year.'
I do get influenced by the people I work with. Akshay is a workaholic. If I can do half of what he does, I will successfully retire.
When you do so many films, does it not confuse you as an actor?
I do one film at a time. I finish one film and get into the next. The only thing that overlaps is the patchwork of some films.
How long does a character that you have portrayed stay with you?
It depends. PINK was pretty hard on my brains (laughs). After the film, I had to take a break for 10 days and just be on vacation to get out of it.
But for films like Running Shaadi, it is like how I am in real life. It was like any other day for me.
Have any of your films left you disturbed?
PINK did that to an extent. I used to feel that that incident did happen to me. By the end of two months, when I was done with it, I almost got convinced that it had happened to me!
In fact, I was open to seeing a psychologist. I thought I would go on holiday and if that doesn't work, I would consult someone. But that worked for me after 10 days.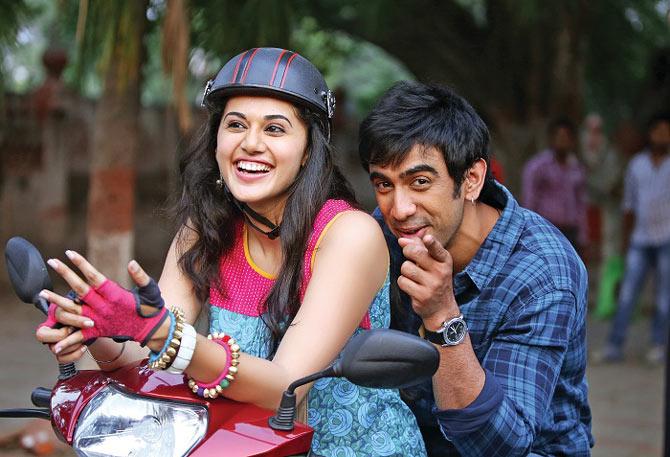 IMAGE: Taapsee Pannu and Amit Sadh in Running Shaadi.
How did you decide on Running Shaadi?
Running Shaadi is the second Hindi film that I signed after Chasme Baddoor. When I met the director Amit Roy, he asked me to read the script within a couple of minutes. I had no idea whether he was good or not.
When I read the script, I realised why the director thought about me because it's the way I am, the way I speak, the way I behave. That's why it was exciting to do such a film.
Running Shaadi is your second film with Shoojit Sircar after PINK.
It's actually the first. Because of Running Shaadi, I got PINK.
For Running Shaadi, I hardly met him four-five times; I did not have much interaction with him.
It was only when he offered me PINK and we started doing workshops that I got to know him more.
How was it working with first-time director Amit Roy?
Amit is an extremely chilled-out person. It did not feel like he is a first-timer. This was something he always wanted to do.
Cinematography happened to him by chance. The clarity that he had was really commendable.
I owe a lot to him for making me the actor that I am today because he helped me to cope. The actor you see in me in Baby and the films after that, I give credit to Amit Roy.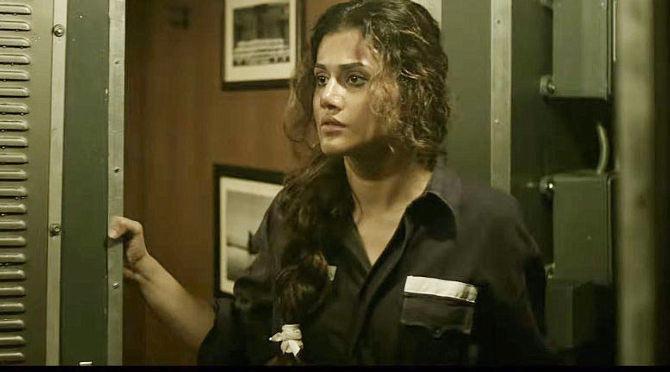 IMAGE: Taapsee Pannu in Ghazi Attack.
What should we expect from you in The Ghazi Attack?
I have special appearance in The Ghazi Attack. Since girls are not allowed inside a submarine, the only way I could have gotten inside it was by becoming a refugee!
It is important to have a civilian present, then you can see the film through the civilian's point of view. Otherwise, it would probably become too technical. That's the reason behind having my character there.
Since in the 1971 war, Bangladesh got its independence and got its own identity, they made me a Bengali girl from Bangladesh.
Was it tough to get a foothold in the industry since you are not born into it?
Well, yes it is. I don't have a family member here and haven't been launched opposite a superstar. I don't have multiple film deals with any studio.
It's difficult because I have to prove myself with every film. One mistake and you will be thrown out of the industry immediately. You can take your time but you have to be steady.
The people I have worked with have really believed in me after seeing my work. They have repeated me in their films. That helped me make my own circle here of people.
If you don't have a godfather in the industry, the audience will become your godfather. It happened for me.
Have you ever watched a film and wished that you were in it?
Yes. There are lot of films like that but in recent times, there was Highway, Queen, Piku and NH10.
You are a part of Judwa 2. Any pressure considering the first was a huge hit?
I don't have any kind of pressure. I am in good hands, be it (co-star) Varun Dhawan, (director) David Dhawan and (producer) Sajid Nadiadwala. I think I am going to have fun shooting the film.
What is Tadka about?
Tadka is the remake of Malayalam film Salt N' Pepper. Prakash Raj is directing that. We are still shooting it.