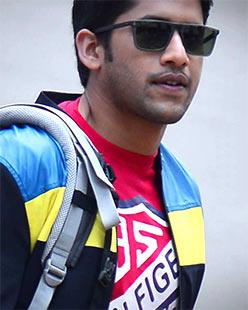 Naga Chaitanya, son of Nagarjuna Akkineni, is back with a feel-good love story, Oka Laila Kosam. He stars opposite Pooja Hegde.
The film is directed by Vijay Kumar Konda of Gunde Jaari Gallanthayinde fame.
Chaitanya played a difficult role in Manam and received accolades for his performance. The film had three generations of Akkinenis and was a fitting tribute to the late ANR.
Chaitanya's performance in Autonagar Surya was also lauded though the film didn't do as well as expected.
As his new film releases this Friday, October 17, Chaitanya opens up about the film.
What made you want to work with director Vijay Kumar Konda in Oka Laila Kosam?
I saw Gunde Jaari Gallanthayinde and liked it. The film's success was a bonus.
Since I wanted to do a romantic film, I felt that the director would suit.
How would you define Oka Laila Kosam?
It is a romantic comedy.
Love stories are a dime-a-dozen. In what way is this love story fresh and different?
In a relationship, the boy and the girl have to like each other. What if the girl doesn't like the boy? To what extent will the boy go to win the girl? That is what this film is about.
Most love stories are about teenagers in college. This one is slightly mature. I play a 24-25-year-old who is getting marriage proposals he is not interested in.
Why did you want to produce it under your home banner Annapoorna Studios?
My father and I were looking out for films to produce. We were hearing scripts.
When we heard this script, we found Vijay Kumar Konda to be a nice person to work with and production friendly too. So we decided to produce the film.
What was it like being involved with the production?
I was involved on a day-to-day basis. It was a learning experience under my father's guidance.
Your character is called Karthik again. You were called Karthik in Ye Maaya Chesave too...
I have no sentiments about that name. The director kept the name as Nithin was also called Karthik in Gunde Jaari Gallanthayinde.
Could you elaborate about your character a bit?
He is a fun loving, light-hearted character, very giving and is willing to do anything for the people he loves - friends or family.
He believes in love at first sight and is always on a journey to discover new things.
How did you feel remixing your grandfather ANR's song Oka Laila Kosam and also titling the film so?
It was definitely emotional. It was from my favourite film.
I didn't pick it up to do it better. The director suggested we remix it as it would be suitable for the situation.
We convinced Anup Reubens and he did it. Then the film was also named Oka Laila Kosam as it was apt and blended well.
What is the USP of Oka Laila Kosam?
First is the feel-good factor, then the entertainment aspect and finally the audience is now looking for something fresh and not the regular commercial format films. This film is not in the same old formula style.
Some portions of the film seem to have been re-shot?
My father saw the film and he suggested some changes. Keeping that in mind, we re-shot those portions.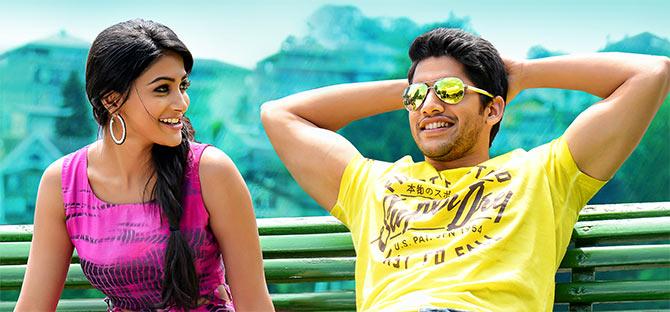 How was it working with newcomer (in Telugu films) Pooja Hegde?
She is not like a newcomer. She was fluent with the lines. She has done a Tamil film before.
She got into her character. She is a talented girl and now she has bagged a biggie opposite Hrithik Roshan.
Pooja has a good future.
Have you signed any other new projects?
I am doing Sudhir Varma's film. It's a crime entertainer that has action elements. I am listening to other stories.
Are you extra cautious in selecting your films?
Definitely. I made mistakes earlier and don't want to repeat them. That's how you learn.
The sweet success of Manam must be ringing in your ears. How do you see the film in retrospect?
The outcome of the film was unexpected. We could not gauge what level it would go to.
We wanted to make a good film for my grandfather, keeping in mind the quality and the output.
It was great to see the outcome of Manam.