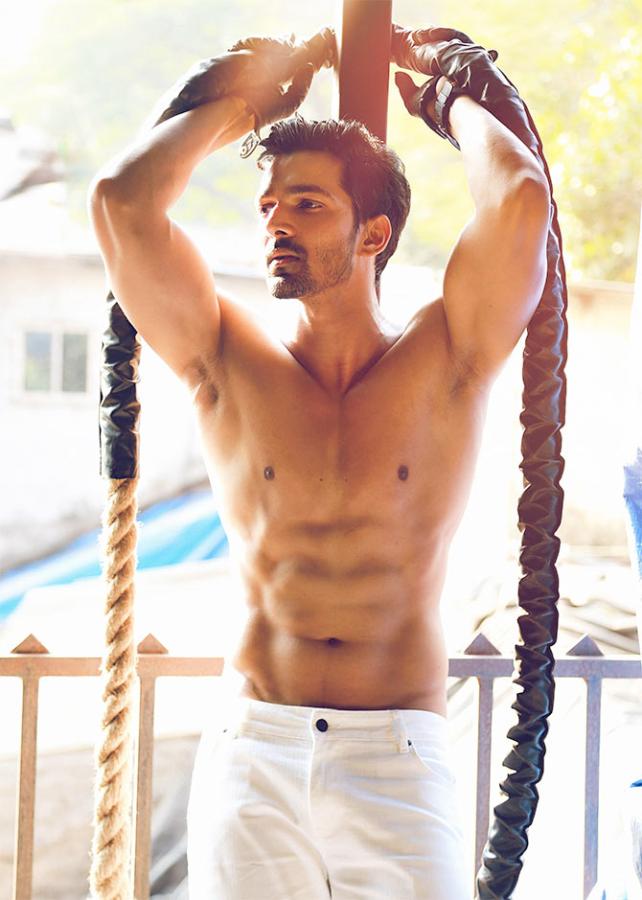 'For two and a half months, I insisted that the role of Inder belongs to me.'
Newbie Harshvardhan Rane gets ready for Bollywood.
Harshvardhan Rane is all set to try his Bollywood luck, with his debut film, Sanam Teri Kasam.
Directed by Radhika Rao and Vinay Sapru, the romantic musical will release on February 5.
In a conversation with Rediff.com contributor Radhika Rajamani, Harsh talks about his filmi journey, his first Bollywood release and his stunning Pakistani co-star Mawra Hocane.
Isn't Sanam Teri Kasam your second film? You signed Satra Ko Shaadi Hai first.
Yes, Satra Ko Shaadi Hai was the first film I signed. I got a call from John Abraham sir's office for that film. It was an absolute pleasure. Anyone who is self-made, is self-inspiring like John sir and Shah Rukh sir.
John sir's first two productions have got National awards.
How does it feel making your debut in Hindi when you have carved a niche in Telugu cinema?

I want to constantly do better than my last film.
I ran away from home at the age of 16 and went to Delhi and worked hard. I felt I should do whatever job I get. After that, I came to Mumbai got my first television serial Left Right Left. It was an army-based show.
Then I did an acting course from Barry John sir.
Then, I got my Telugu film offer and I was happy because I had no film background. I did Thakita Thakita, starring four heroes, and yet people noticed me.
Then there was a period when there wasn't much work so I would buy old furniture and re-texture them.
In 2013-14, I had did films like Prema Ishq Kaathal, Maaya, Gitanjali and Anamika.
(Director duo) Radhika Rao and Vinay Sapru have made so many music videos, famous ones (like Kaanta laga and Kaliyon Ka Chaman), and they are experts in presenting people well.
I believe there is a shallow side to every actor, who craves to be presented well.
For two and a half months, I kept speaking to the directors and insisted that the role of Inder belongs to me. The directors finally gave in, and signed me up.
I could see my father in my role though. I had lost touch with my parents. My parents separated when I was 10 and I grew up mostly on my own before leaving home at 16.
My father passed away a few years ago. That I could relive my dad's memories was the catch point to sign this film and I had the directors' expertise to showcase me beautifully.
Tell us about your role.
It is a combination of Salman sir and my father. Salman sir may seem rough on the outside but as one gets to know him better, they realise there are layers to him.
My father was like an unpolished diamond -- tough outside but warm inside.
The character I play, Inder, is an introvert -- blue-blooded, serious, sombre and silently romantic. He does things with his heart and may not follow social norms.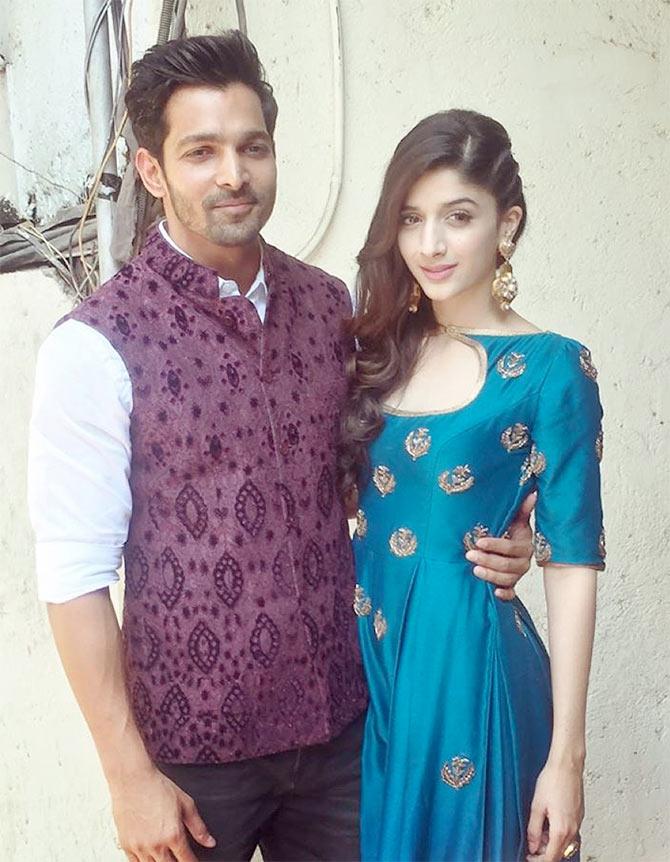 Image: Harshvardhan Rane with co-star Mawra Hocane. Photograph: Mawra Hocane/Instagram
Your co-star Mawra Hocane is an established actor from Pakistan and is making her debut in Bollywood with this film. How was she to act with?
Apart from being insanely cute and stunning, she is a perfect cut-out of a princess. She looks like a princess pulled out of a fairy tale. She performs in a natural way. She is brilliant. She will go a long way.
How was it acting on home turf?
When people heard my voice, they were shocked that I could speak Hindi. I was brought up in Gwalior.
But it was a shocker for me too; I have not dubbed in Hindi before. Sync sound was used for Left Right Left. My voice in the Telugu films is dubbed.
Once in a while, Radhika ma'm and I would exchange a line or two in Telugu on the sets. I am happy I could dub in Hindi. This is the first thing I should have done but I do difficult things first.
How was it being directed by Radhika and Vinay?
I call them experts, who present people beautifully and make the theatre experience worthwhile for the audience. They go an extra mile to get things right.
For instance, for the last shot in Lonavala, I had to take three U-turns on a five kilometre-stretch to just get a board in the frame which gave the distances right and in the proper way. It was the highway, and it was difficult since vehicles kept passing.
I was blown away by their attitude of not giving up and trying to get the perfect shot.
They attempt things that has not been done before. For instance, the girl is seen in a bear's costume.
They make songs special and they are responsible filmmakers.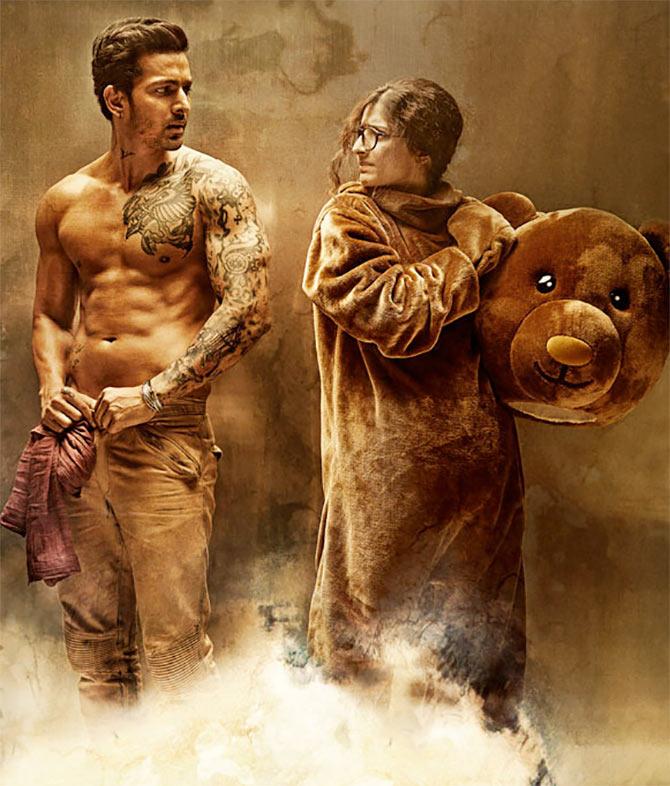 Image: Harshvardhan and Mawra in Sanam Teri Kasam
When is Satra ko Shaadi Hai releasing?
Soon. I am hoping and praying people will see my work which will be different in terms of characterisation.
Have you signed any other Hindi film?
Talks are on. I listen to scripts and when my heart is convinced, I will sign.