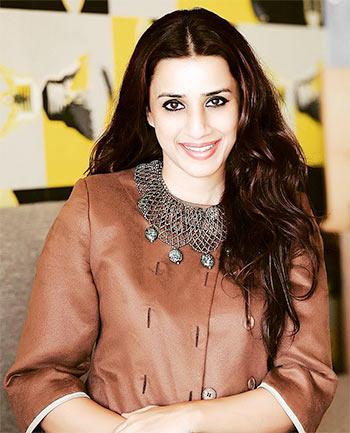 'I got the script of OMG: Oh My God and I believed in it so much that I quit my job.'
'Singh Is Bliing was a success but it was not a film that made a difference.'
Meet Ashvini Yardi.
She came, she saw and she conquered.
That's the best way to describe Ashvini Yardi's journey from television to films.
By the time Paresh Rawal-Akshay Kumar-starrer OMG: Oh My God came her way, Ashvini had already achieved everything in television. She has to her credit hit shows like Saat Phere and Kasamh Se which took Zee TV to new heights.
After 15 years of working with the channel and tasting success, Ashvini moved on to Colors. She was first employee of the channel and the one who named it.
While this supremely talented lady was writing success stories one after the other, she soon realised there was nothing more for her to achieve in the television industry.
That's when she decided to explore Bollywood.
Ashvini's story is an inspiration for all the women who dare to dream big and follow their instinct.
We celebrate Women's Day by starting a series on the super successful women of Bollywood.
Ashvini Yardi opens the special series, and tells Namrata Thakker/ Rediff.com her story.
My grandfather was a producer. He owned Prabhat Studios with V Shantaram and other partners. It was India's first studio in 1929.

But the way my sister and I were raised, we had no interest in films.

We never watched Hindi films and couldn't even speak Hindi. We were like the snob community of Malabar Hill, in South Bombay (laughs). During my childhood days, I used to look down on Hindi movies.

We were not brought up the way I show in my serials.

We were treated equal to men. So it's quite amazing as to how I was brought up and what I am doing now.

I grew up wanting to be an architect. I sat for the architectural entrance exam but realised that's not something I want to do.

So I told my dad that I wasn't sure anymore about pursuing architecture, and that I wanted to take up Arts in college. This was in late 1980s.

That was the best thing I did because things were changing so drastically in India in terms of economical change.

I majored in Psychology and wanted to go to the US thereafter. I wanted to apply in the Academy of Arts in San Francisco because I love the Arts and wanted to get into that space.
So I thought of changing careers quite a few times.
I ended up doing a marketing and advertising course in St Xavier Institute of Communications. During this time, Zee TV was launched in 1992.
By the end of the term, my friends and I started dropping our resumes to agencies. We were as confused as everyone else. This includes Imtiaz Ali, he was a part of my gang.
Then, a friend informed us that Zee TV was hiring.
It was a Hindi channel and I couldn't speak a line in Hindi but he still asked me to drop my resume. Since everyone was going, I ended up applying to Zee.
I got a call from them saying I got the job, and my salary would be Rs 1,500 per month. That was really shocking for me (laughs). My father was even more shocked because my driver was earning more than me.
So that was the disastrous pay scale that I started my career with. But I loved Zee because everyone had fresh ideas and everybody was new. Nobody could say that he/she has mastered television.
I think the average age in the office was 26 or 27. I learnt everything on the job and I loved it. So I did not take that trip to the US.
The other reason I did not go to the US was that I had met my husband at Zee. I was there for 15 years and did everything. I am an expert at launching channels, thanks to Zee TV.
They would tell me to launch two channels a month and I would say, 'Okay sir, done.'
Somewhere in the late 1990s, I was asked to launch two English channels and that was my exposure to world media. My job from 1999 to 2004 took me to various markets and gave me exposure that I am happy to have today. I dealt with studios and big companies and saw how they worked.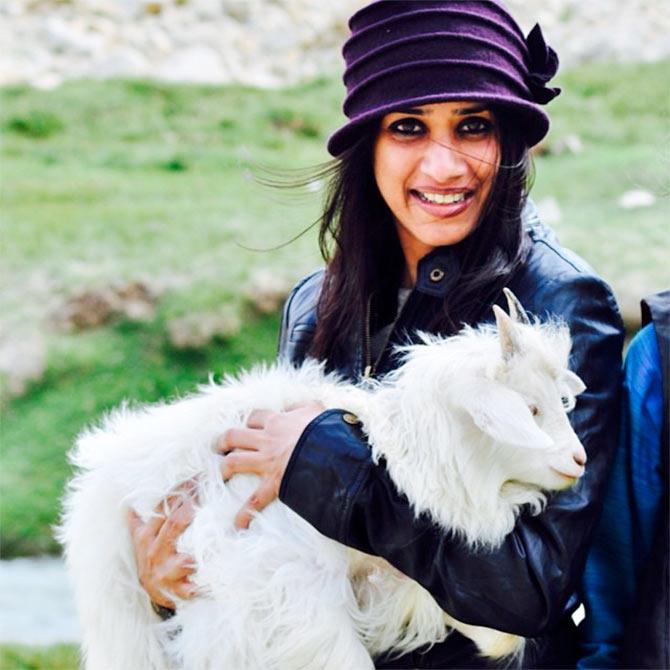 IMAGE: Ashvini Yardi/Instagram
Since satellite had just started, we were taking baby steps. In 2004, I remember I was in Breach Candy hospital, seven months pregnant, and I got a call saying that I was taking over Zee TV.
I said I wasn't sure about when I would be getting out of hospital. Plus, I asked them if I could take up an English channel because they were smaller. But I wasn't given an option.
That's how I took over Zee TV, from a hospital bed in 2004.
In 1999, when I started working in Zee's English channels, Zee TV was at number one. But in 2000, Ekta Kapoor entered Star Plus with Kyun Ki Saas Bhi Kabhi Bahu Thi and Amitabh Bachchan hosted Kaun Banega Crorepati and things changed.
So on my first day in office in 2004, after I took over Zee TV, I realised things were not the way they used to be in 1990s. I walked into office and got the ratings and I still remember that Star was around 800 and Zee was at 100.
I was given these ratings and asked to get Zee close to 500. You know, I must have been drugged in hospital to have actually taken up this job (laughs).
I didn't know what was going on because the shows that we did in the 1990s had drastically changed. Ekta came at the perfect time and I just couldn't relate to the saas bahu things.
So when I took over Zee, I was in shock because I couldn't relate to any of the shows and I realised that our channel is not what it used to be. And, I had taken this job with a three-month old kid.
Basically, there was a bit of trial and error initially to figure out what the audience needed. Shows which worked earlier did not work this time around. That's when I realised that it's about what the housewives want to see and not what I want to see on television.
So my team and I went to various places, spoke to housewives and did a lot of research. Then I did a show on the nanny who looked after my son as well as Saat Phere. That was the turning point for us.
I got the idea because the sales of the fairness products were going up daily back then. I remember the Saat Phere ratings soon touched Kyun Ki... and Kahaani Ghar Ghar Ki.
We did shows with women issues thereafter and everything worked. We went from 100 to 600.
I was very aggressive and all I wanted to do was to beat Star TV. That's when I got a call from Raghav Bahl (founder of Network 18), who was staring a new channel.
We met up, and I had many ideas for a new channel. At the end of the interview, he asked me, 'Will you take over?'
I was the first person he spoke to.
He asked me to decide everything, and that that gave me freedom to do whatever I wanted to do. I could hire the CEO and name the channel as well. That got me really excited.
I had spent 15 years in Zee TV and loved my experience but I thought it was time to change. So I took the plunge and joined Network 18.
I named the channel Colors and I was the first employee. I recruited everybody, including the CEO Rajesh Kamat.
My target was to be at number three by the end of the first year. It looked tough because other channels were doing well. I remember a week before the launch, we had a party in office and a tarot card reader was there.
I don't believe in tarot cards but she asked me to ask a question. Since I am very aggressive when it comes to work, I asked when will my channel be number three?
She told me I was very negative because I should have asked for number one, not three. So I asked her when will my channel be number one.
She picked up the card I had chosen and said, 'Nine months.'
I laughed because that was impossible.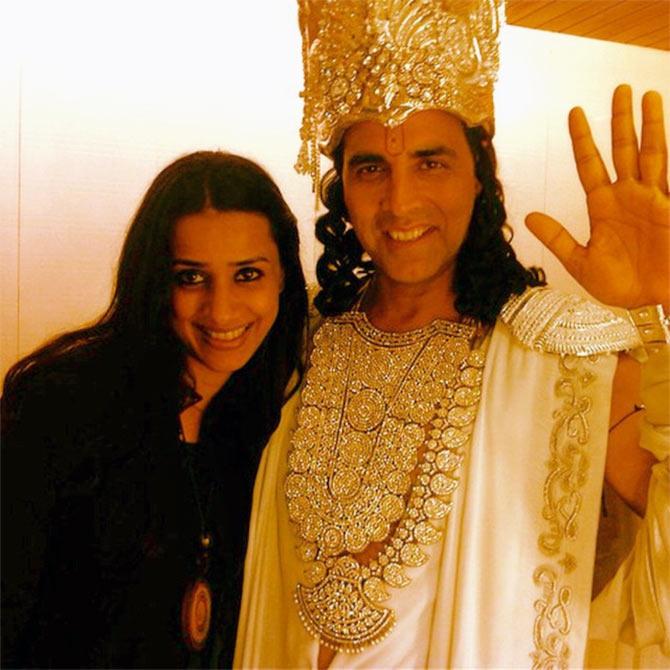 IMAGE: Ashvini Yardi and Akshay Kumar on the sets of Oh My God. Photograph: Ashvini Yardi/Instagram
But in nine months, we were number one! Colors was a phenomenal success story. The risktaker that I am, I started thinking what next.
If Colors wasn't that successful, I think I would still be working there. I was touching 40 and I thought I needed to do something bigger.
I love movies so I wanted to be in movies, so I started thinking about it.
I started talking to my friends from Bollywood. I wanted to start my own company. If I hadn't got the script of Oh My God, things might have been the same for another two or three years.
So I got the script of Oh My God and I believed in it so much that I quit my job.
I started my production house called Grazing Goat Pictures with Akshay Kumar.
Since I had not done much work in the movies, I thought it would be a great idea to team up with a Bollywood star.
The first day collections of Oh My God were horrible. They were around Rs 3 crore. But then, it picked up through word-of-mouth.
You can't stop a good concept. The film also won the National Award for Best Screenplay.
After that, I honestly could not find a good script. Under the pressure of running the company, I did a few films that did not work. My two regional films -- Marathi film 72 Miles and Punjabi film Bhajji In Problem -- were fabulous.
Singh Is Bliing was a success but it was not a film that made a difference. It was a commercial success, and made me feel great.
I think Bollywood is star-driven, not male-driven. In television, there are more women -- whether it's programming or any other creative department.
I don't see that in Bollywood. It's so star-driven. In the past few years, women-centric films have come and so the female star power has gone up. But earlier, they were treated as second to the male.
Three-four years back, filmmakers wouldn't think of making films with Deepika Padukone or Kangana Ranaut in the lead. But now, that's changing. Plus, we have female directors like Gauri Shinde, Farah Khan and Zoya Akhtar in the industry now.
Pay disparity is worldwide. It will take a long time before actresses get paid equally. But what can be worked out is that if a film crosses so much, a certain chunk can be given to the actress.
For example, Tanu Weds Manu Returns did a business of Rs 150 crore and that's something even male stars can't do. So I think Kangana should get a share of the profits.
Women have broken the glass ceiling in television. Bollywood, I feel, is still getting there.
But most women who come to Bollywood, come only to act. They don't want to do anything else. The glamour quotient is so high in Bollywood that everyone wants to act.
People say I should direct films but I don't think I have that much patience. I might go hysterical on the sets (laughs).
I am a very active producer. I sit by the monitor and have a lot of opinion. But I don't want to say no to direction because I had said no to movies and now I am here.
I have signed a few TV shows, and I am really excited about them. I have taken six months off and not doing films because I am building my talent management venture called Viniyard Films. I doing a web series as well, which should be ready by June.
I am simultaneously working on couple of scripts for Oh My God 2.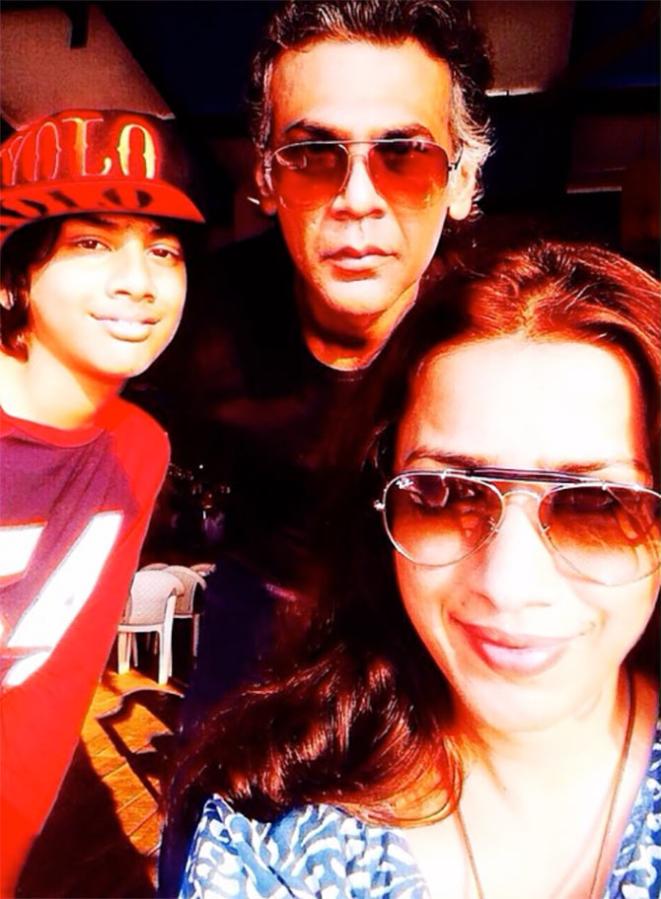 IMAGE: Ashvini Yardi with hubby Sachin and son Vivaan. Photograph: Ashvini Yardi/Instagram
I am a risk taker when it comes to work but as a mother, not at all. I am totally bullied by my teenage son Vivaan. I am a very traditional parent in that sense.
I have been married to Sachin for 19 years now. We were dating for three years before our wedding. Because he is from the same industry, I don't do anything without talking to him.
That way, I am a very pativrata wife (laughs). I don't do a thing without his okay. He is very balanced and gives me sound advice.