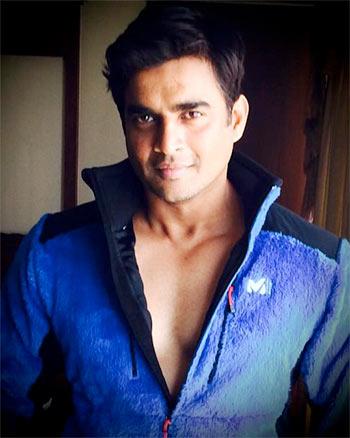 'The success of Tanu Weds Manu Returns was a good surprise to have just before my birthday.'

Actor R Madhavan, who turns 45 today, talks about the success of his latest film.
Its double celebration time for R Madhavan.
The actor turns 45 today, June 1, and he's riding high on the success of his latest release, Tanu Weds Manu Returns.
The reclusive actor usually prefers a quiet birthday, but this time he is planning to throw a big bash for his family and close friends.
He talks to Sonil Dedhia/ Rediff.com about his birthday plans and playing Manu.
You turn 45 today. How are you planning to celebrate your birthday?
Normally, my birthdays are very quiet. I go to the temple with my family and later take blessing from my parents. A few friends come over to my house and we talk about the year gone by.
I am 45 this year and it's like a double celebration since my film has also done well.
I am hosting a party for family and close friends from the industry and outside. It's my way of thanking them for their love and support.
Tell us about your most memorable birthday.
The most memorable birthday was when I was living in Canada. I was an exchange student and staying with cowboys.
It was like a Madrasi student going on a horse to school (laughs). It was a very unique sight.
The cowboys have a tradition that they put pink flamingos in your garden to tell the world that it's your birthday.
The whole lawn of my house was full of flamingos that the town had put up. It was an unforgettable birthday.
Has your son planned anything special for you?
He is just nine years old and is amazed by what his father is. He often asks me why people follow me and admire me and why do girls smile at me (smiles).
He cuddles up to me and says I love you baba, which is the best birthday gift I get from anyone.
He looks a lot like me. I think he is a better version of me. He has the ability to look at someone and make them smile, which is what I like the most about him.
Were you expecting such an outstanding response to Tanu Weds Manu Returns?
It was a good surprise to have just before my birthday (laughs).
I was expecting it to be a good film but I wasn't expecting it to trend over 3 Idiots or get a rating of 8.6 out of 10 on IMDB.
That the Monday and Tuesday collections at the box office were better than the weekend is a true testimony of the fact that the audience loved the film. I think that's the power of good story telling and brilliant writing.
I think our director Aanand L Rai and writer Himanshu Sharma are the true superstars of Tanu Weds Manu Returns.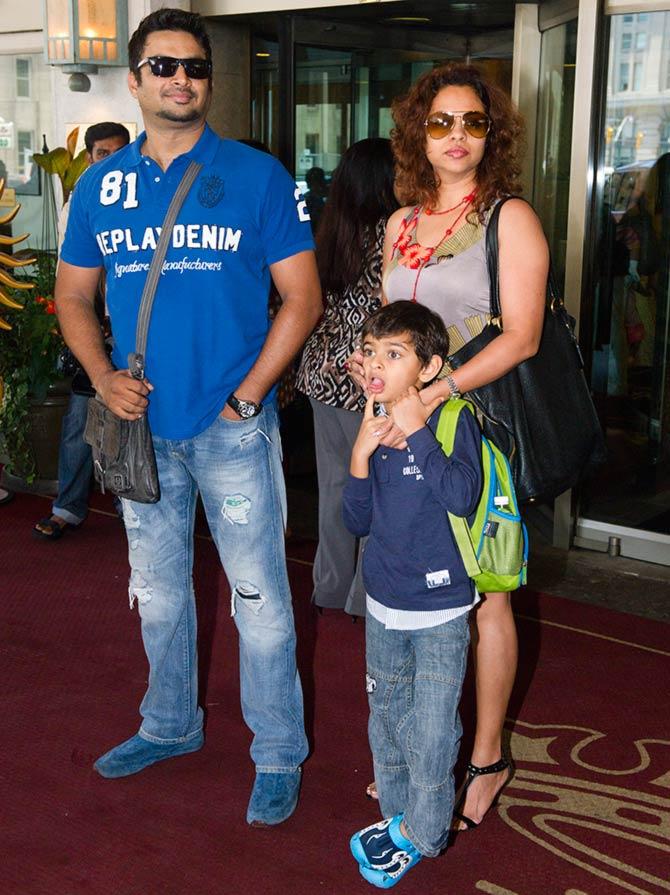 Image: R Madhavan with his wife Sarita and son Vedant. Photograph:

Mark Blinch/Reuters
What was your wife's reaction to the film?
After she saw the film she told me, 'Kangana is brilliant in the film. I loved her performance.'
And I was, like, whose wife are you? (laughs).
So she watched the film again and told me, 'Maddy, you were brilliant in the film. This is probably your best performance to date.'
She gave me the best compliment that I was looking for.
Kangana Ranaut has been praised a lot in the film. How has she evolved as an actress?
I am very proud of Kangana. She has done a great job against the odds. She was always termed an outsider and has proved her mettle.
It is a wonderful feeling when small-town dreams get fulfilled.
She has got two National awards and I think she deserves all the credit that is coming her way.
Although you didn't have any powerful dialogues in the film, you still made your presence felt through subtle emotions and expressions.
It's so easy for an actor in an Indian film to turn around and say that enough is enough, I also want a double role in the film, give me some interesting dialogues and long sequences. But then it wouldn't have turned out the way this film has.
I've always believed that the script is the boss.
Secondly, my character Manu has a lot of flaws which I had to hide with my performance.
I'll give you an example: Manu is a straightforward and honest person, so right after he gets a letter from Tanu (Manu's wife Tanu sends him a divorce notice), he straightaway meets Datto (Tanu's lookalike) and proposes to her.
It's a big character flaw. But we can't make him wait for five months to develop his love for Datto and then propose to her. He just loves her because she looks like Tanu.
So I had to be smart and conduct the character in a certain way and make him look believable.
How does it feel when your contemporaries from the industry praise your performance?
It feels very humbling. I had taken a break for three years and a lot of people questioned my decision but I feel the wait has been worth it.
I could be doing films back-to-back and still wouldn't get the kind of love that I got for this film.
All the compliments from my colleagues have been a huge morale booster.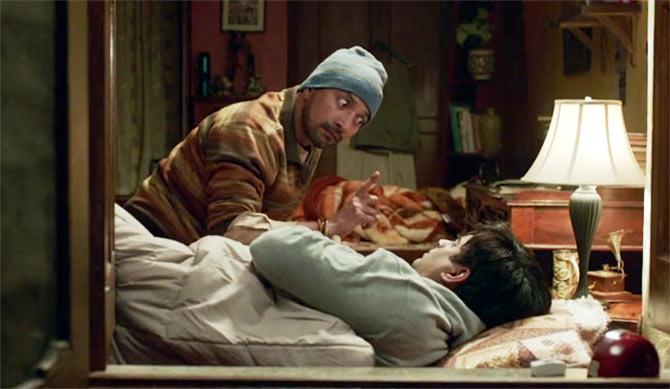 Image: Deepak Dobriyal and R Madhavan in Tanu Weds Manu Returns
Which is your favourite dialogue and scene in the film?
I think the best dialogue I like in the film is by Jimmy Shergill when he says, "Ab utro ghodi se, hum ek baar chadh nahi paayein, yeh hai ki utarne ka naam hi nahi le rahein!"
The best scene in the film is by Deepak (Dobriyal). He is the maddest person in the entire cast. He is so hilarious in the scene where he does 'kya kya kya kya kya?' (laughs).
Every time when there was scene between Deepak, Jimmy and me, Aanand would fume and shout, 'Tell them to finish laughing and then I will come on the sets. I am tired of their laughing.' And then he himself would go in a corner and start laughing. Even the cameraman while shooting would be laughing.
There is an amazing scene in the film which was edited. I think that was probably the best dialogue.
Pappi (Deepak Dobriyal's character) tells Manu: "If Kusum gets wedded, I will kill you, this Xerox copy of bhabhiji and myself." He actually says the lines in English. Every time we would try to shoot it, we would laugh and couldn't complete it.
There are so many funny scenes in the films which are edited out. I think an uncut version should come out of this film.
When is your next film Saala Khadoos releasing?
It's ready and I think the film has come out really well.
I wanted to do a film that would take me out of my comfort zone and Saala Khadoos is the one.
We are planning to release the film in September or October.