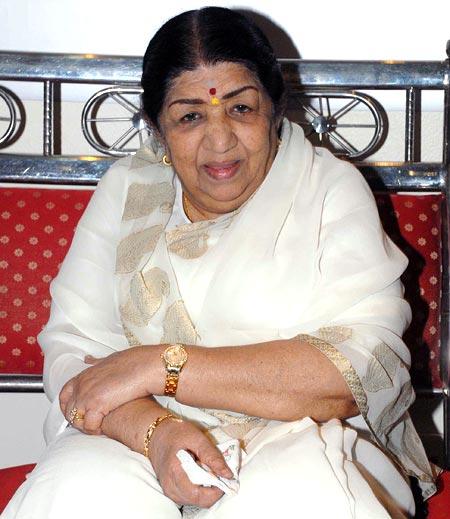 'When I recorded songs I would rush out as soon as I was done singing'
'My voice is a gift from God and my parents'
'Every human being has an area in their life that is to be kept away from others'
Singing doyen Lata Mangeshkar, who turns 86 today, September 28, looks back at her glorious singing career and tells Subhash K Jha why she'll never pen an autobiography.
In a career spanning over seven decades, Lata Mangeshkar, one of the most respected singers of her time, has received more bouquets than brickbats.

And while she is thankful for all the love and support she has been constantly inundated with over the years, she'd rather not dwell on all the unpleasantness she's faced in her personal and professional life and with good reason.
Read on:
What is the greatest gift you've received in your life?
The love that I've received from my well wishers and fans. I don't know where I'd be if not for their love and affection.
Not a day passes without your fans admiring your voice. What do you think about that?
You mean do I marvel at my own voice? Of course not! If I did I'd probably have gotten smug and self satisfied.

I don't even listen to my own songs. My voice is a gift from God and my parents. My father's voice was beautiful. Whatever little time I got to spend with him -- he passed away when I was 5 -- I learnt so much.
You don't listen to your own songs?
I try not to because when I do I feel like I could've done much better.

When I recorded songs I would rush out as soon as I was done singing. I never stayed back to hear my songs. This annoyed many music directors of the time but I couldn't help it. I couldn't bear to hear myself.
Why have you always said no to penning an autobiography?
I don't see the need to reveal every detail of my life.

Most importantly, people end up hurting a lot of individuals and families with the written word. Sach aksar kadwa hota hai (Truth is often bitter).

I don't want to hurt anyone. In any case people don't need to know everything about me.
So are we to presume you have many secrets?
In my opinion every human being has an area in their life that is to be kept away from others.

Time teaches us to sift between the good and the bad, between the truth and the lie. Some things are best left unsaid.
Even your saddest songs bring so much solace. You've given us so much joy. Are you a happy person?
I believe in letting bygones be bygones. Bahot logon ne mera dil dukhaya hai (A lot of people have hurt me). That's their karma, their destiny. Why should I turn around and abuse them?
How do you deal with criticism?
So many singers have accused me of stealing their songs. I never did that. And I never saw the need to protest. The truth will always remain the truth.
So many of your colleagues are no longer among us. Do you miss them?
I miss all of them. I've learnt so much from so many people. The one name that needs to be mention is poet lyricist Pandit Narendra Sharma.

He was a father-figure to me. He taught me self restrain. I had a bad temper when I was young. Panditji taught me to pay no heed to naysayers.

My mother was also a great source of inspiration. My father passed away when I was very young. So my mother was like both my parents.
What was the most valuable lesson you learnt from your mother?
She taught me to value those who are down and out. The world tends to ignore and abuse the weak. My parents taught me to always help the needy. We'd seen very hard days. In our home there were free meals for every guest.

But when we fell on hard times there was no food for the family. There were days when my siblings and I didn't eat the entire day. I learnt to share what I had with others. Believe me, the joy you feel in giving is much greater than the joy one feels in receiving.

Whenever someone comes to me for help I do all I can. Ho sakta hai kayee log mujhe bewaqoof banake chalen jaate hon (It's possible that many of them have made a fool out of me). But I believe in giving back.
Many singers you helped turned around and accused you of monopolising playback in Hindi films?
Was it my fault if composers came to me with work? I never went to them. I only asked for work in the beginning of my career. They later turned around to abuse me. And they continue to do that.
Anuradha Paudwal, for example?
I don't want to name anyone. But even when I was new and struggling I never took away anyone's work. I remember I was rehearsing for a song with Bappi Lahiri. We were ready to record. Kavita Krishnamurthy had sung the scratch recording. When I heard the number I refused to record it. I told Bappi to keep Kavita's version.
She never turned around and criticised you?
She never did. She is a decent woman. She has always spoken well of me. Alka Yagnik too. Some singers who came later took my guidance in the wrong way, saying, 'Bada humpar ehsaan kar rahi hai (She's doing us a great favour).'
Your advice to young singers?
They must learn Hindustani classical music and they must not get carried way by overnight success. Humility is the key to longevity.