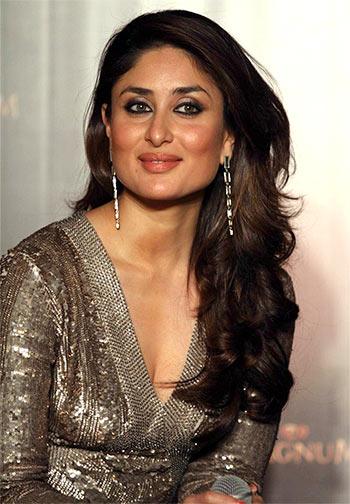 'As actors we are here to entertain people. We shouldn't take things seriously and give lectures on women's empowerment.'
'Trust me, everyone wants a huge commercial film.'
'I played Anil Kapoor's wife in Bewafa and now I am playing his nephew's wife in R Balki's film. This shows I've had a long career.'
Kareena Kapoor, star of this year's Eid release Bajrangi Bhaijaan along side Salman Khan, clearly doesn't believe in mincing words.
Striking up a conversation with Kareena Kapoor is easy.
Famous in the film industry for being candid and opinionated, she constantly springs surprises with her unique take on everything filmi.
Fresh off a long holiday in the Maldives, the actress talks enthusiastically about her forthcoming film Bajrangi Bhaijan, her co-star Salman Khan and surviving in the cut-throat film industry for over 15 years.
Sonil Dedhia listens in.
How was your holiday?
Maldives was amazing. I love beaches and we had an amazing time.
It's always good to travel so you can unwind, spend time with yourself and your family and not worry about your work.
It sometimes gets difficult to constantly be in the film industry.
Dil Dhadakne Do has done well. Do you regret turning it down?
I never look back and regret anything. Some films are just not meant to be.
However, I must say that I want to work with Zoya Akhtar.
She is a lovely person. I enjoy her company.
She makes films that I can identify with totally as a viewer and as an actor.
Would you have agreed to do Bajrangi Bhaijan if Salman Khan wasn't in it?
Yes, of course, because I hadn't worked with Kabir (director Kabir Khan) before, but I know what kind of films he makes.
But I am sure Salman, who turns producer with Bajrangi Bhaijaan, would have thought something while offering the role to me.
I have a special relationship with his family.
His sister Alvira Agnihotri made her first movie, Bodyguard (as a producer), with me.
And then Arbaaz Khan turned director in Dabangg 2 and I did a special song in his film.
It's nice that they feel comfortable working with me (smiles).
Is it important for you to work with the three Khans (Salman, Aamir and Shah Rukh)?
I think it's very important.
Whether it was Sharmilaji (Sharmila Tagore), who worked with Rajesh Khanna, or Rekhaji who worked with Amitabh Bachchan, or Hemaji (Hema Malini) who worked with Amitabh Bachchan and Dharmendra, every top heroine of their generation worked with the top stars.
Also, they all are comfortable working with me because I am a dependable actor and have given successful films.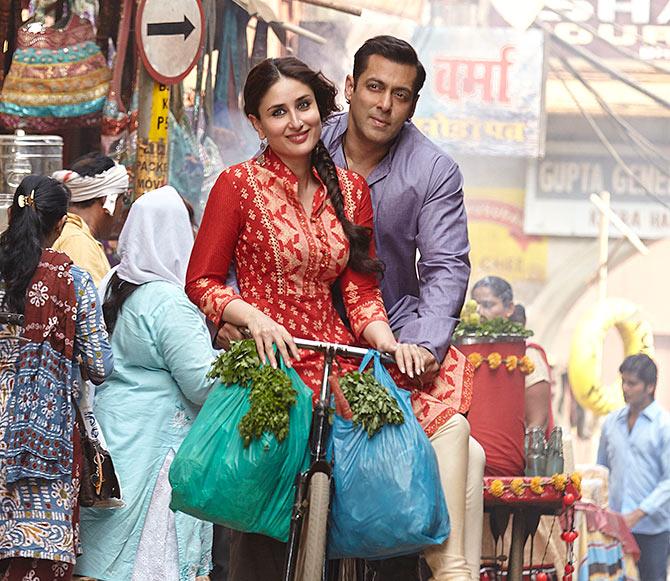 Image: Kareena Kapoor and Salman Khan in Bajrangi Bhaijaan
Tell us about your character in the movie.
I play a school teacher from Chandni Chowk in Bajrangi Bhaijaan.
My character helps Salman through his journey as he reaches out to a child who comes to India from Pakistan.
It's a very different kind of film because people are used to seeing Salman in comedies like Kick and Ready.
However, I think this is a story with way more depth. People love seeing Salman and me together, so it's definitely for the masses.
The court verdict in Salman's hit-and-run case came while you were shooting the film. Was he emotional or disturbed?
Salman is a person who is unfazed by success and also failure.
I remember Salman, when I was a 12-year-old, he and Lolo (elder sister Karisma Kapoor) were shooting for producer Bhappie Soni's Nischaiy. He was as warm then as he is now.
The best part is he doesn't like to interfere with anyone, wo apne duniya main mast rehta hai (he is happy in his own world).
Somehow I connect with him on that level because I am like that too. I want to do things on my own.
He is a strong-headed person. He is emotional yet very strong.
Tough times only make him stronger. Whether it is his career or his personal life, he has always fought back and risen like a phoenix.
There was a time when his films were flopping and they said he was finished, but he rose like a volcano.
The one big difference is that in my journey as his heroine, from Kyon Ki to Bajrangi Bhaijaan, I have seen his stardom go through the roof.
There is no doubt that he is India's biggest superstar. The best part is that he doesn't know it nor does he show it.
What was it like shooting in Kashmir?
I had visited Kashmir earlier but never shot there. There was a sense of deja vu when I landed in Srinagar.
My entire khandaan -- daddy, uncles and grand-uncles -- have shot many films in Kashmir.
Even Ranbir (Kapoor) has shot there (for Rockstar), so I was really excited.
We were staying at hotel Lalit, which was the Oberoi Grand back in the day.
There were a couple of old hotel staff who remembered me as a child visiting my parents at their shoot.
There were emotional moments. When I walked around the hotel, I felt as if I was walking down memory lane.
Are you looking at Bajrangi Bhaijaan breaking all box office records?
I can surely say that Bajrangi Bhaijaan will be the biggest hit of the year.
The movie has Salman in it and on top of that it has Salman and me coming together after Bodyguard.
People love seeing Salman and me together. I am sure they will enjoy watching this film.
The film is directed by Kabir Khan, who comes back after Ek Tha Tiger. We also have Nawazuddin Siddiqui who is an amazing actor.
There are some films that have this destiny, the dynamics just come together.
I hope people enjoy this story, though, because it is not a usual Salman Khan film -- it does not have action and comedy. It is a story with song and dance.
After 15 years in the industry, what keeps you going?
I hate being constantly pitted against anyone as I have worked really hard for 15 years.
The fact is that I love acting; it is my passion.
I really enjoy my work. I look forward to acting, getting on to a movie set and I enjoy the atmosphere of getting into my character. Honestly, I don't know anything else.
Actors like Kangana Ranaut, Deepika Padukone, Vidya Balan are being applauded for doing women-oriented roles. In your career you have done such films but don't often get credited for it.
Film like Queen, Piku or Tanu Weds Manu Returns had strong content.
No matter who was in the film, it was bound to work.
As actors we are here to entertain people. We should not take things so seriously and start giving lectures on women's empowerment.
I have done content-driven films as well, like Omkara, Chameli, among others.
I want to maintain a balance between doing women-oriented and commercial cinema because masala films are in my DNA and that's not going to change.
I don't care what people say but I love to dance. I'm doing a song in Brothers because I enjoy it.
If I'm good at dancing and I look good, then I think it's great. Trust me, everyone wants a huge commercial film.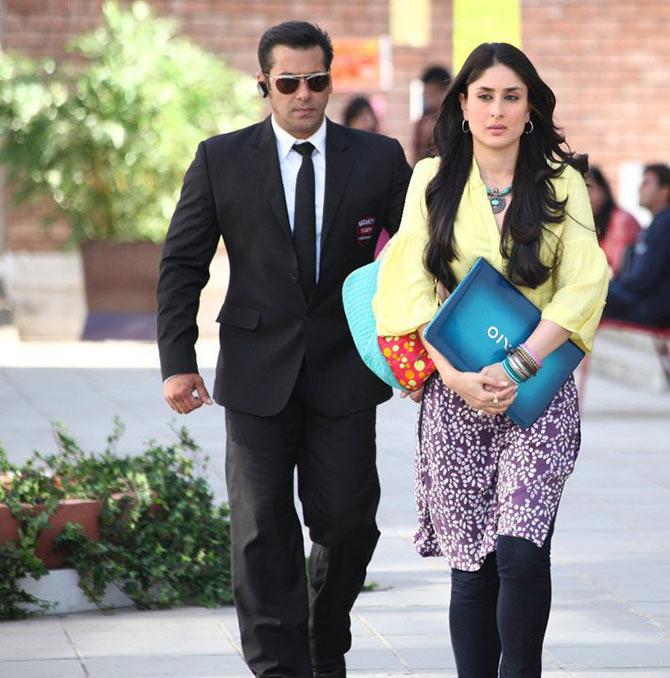 Image: Kareena Kapoor and Salman Khan in Bodyguard
You are soon going to start shooting for director R Balki's film, where you play Arjun Kapoor's wife, which is pretty unusual.
I am very proud to say that I played Anil Kapoor's wife in Bewafa and now I am playing his nephew's wife in Balki's film (laughs).
People in the industry usually talk about an actress's shelf life, but this shows that I have had a really long career.
I play a very important, but completely different, role from what I have done so far.

Do you have any plans to start a family?
Yes, but as of now that thought is furthermost from our minds.
It doesn't even come up for discussion at home.
We are both enjoying our relationship; we are immersed in our careers.
I'm greedy for everything, including motherhood. However, I don't have any answers to when that is going to happen.