'The best way to carry on that good man's legacy is to make films like he did, love cinema like he did, and unearth talent like he did. K Balachanderis frozen forever in Uttama Villain on celluloid,' Uttama Villain director Ramesh Arvind tells Rediff.com contributor Praveen Sundaram.
Ramesh Arvind, a veteran actor in Kannada and Tamil cinema will be making his directorial debut in Tamil with Kamal Haasan's Uttama Villain.
Incidentally, his first film in Kannada (Rama Shama Bhama – in 2005) was also with Haasan. It was the remake of Balu Mahendra's Tamil film Sati Leelavati.
Aravind, who has acted in more than 120 films in all South Indian languages, is, like Haasan, a K Balachander protégé. He has also acted in two Hindi films, Aur Ek Prem Kahani and Mumbai Express.
He talks to Rediff.com contributor Praveen Sundaram about Uttama Villain.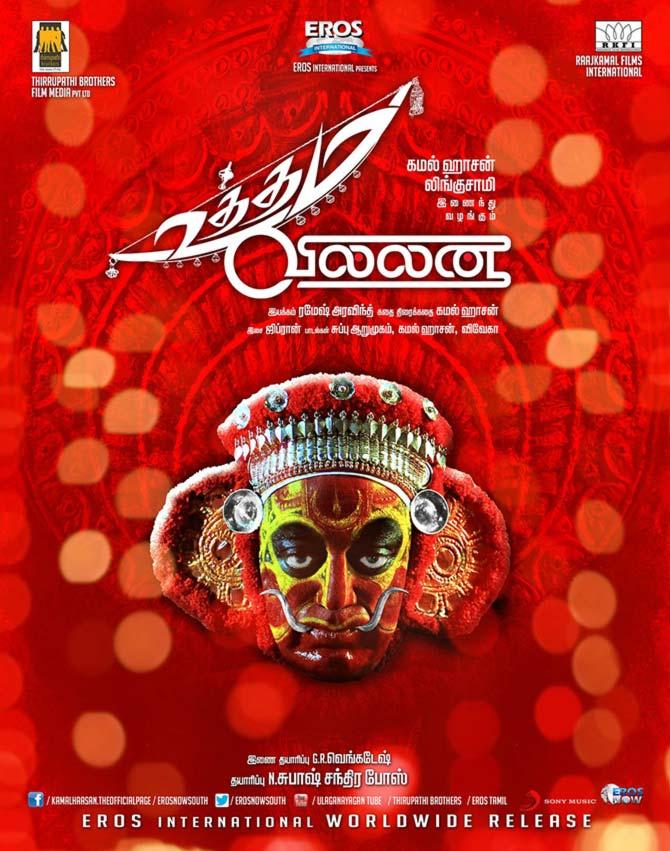 Uttama Villain Poster
Did you choose this project to make your debut as a director in Tamil or did Kamal Haasan pick you?
Two years ago, sometime in March 2013, Kamal Haasan asked me if I remembered a subject we had discussed once, and said, 'I want you to handle it'.
So I picked it up and have focused only on Uttama Villain for the last two years.
Did you have many brainstorming sessions with Kamal Haasan or was it a bound script and you just had to go on the floors and direct it?
It is his story, his screenplay. But any script develops when it is bounced off others, and I was a big bounce board I think.
It is finely detailed. The next one year went into executing it, which was basically the job that I did.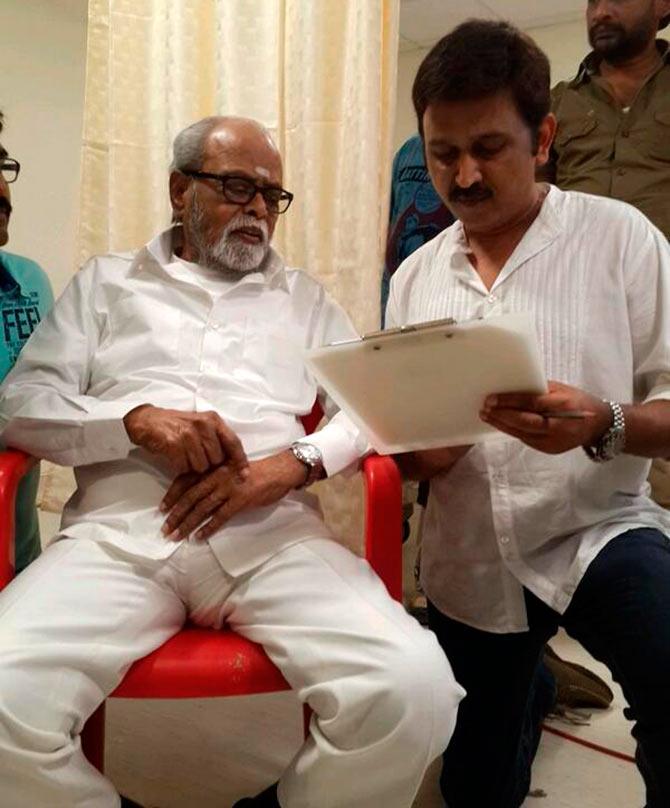 Actor-director Ramesh Arvind wit K Balachander
The trailer appears to be a tribute to the late K Balachander…
Yes. The next trailer which we will release on March 1 with the audio release will be a tribute to KB Sir. We are what we are because of him -- Kamal Sir, I, or any of the other actors introduced by him.
Incidentally, his character's name in Uttama Villain is Maargadarshi, meaning guide or mentor. That is what he was for us in real life. He introduced me as an actor and his last film was with us.
The best way to carry on that good man's legacy is to make films like he did, love cinema like he did, and unearth talent like he did.
He showed us how to approach cinema. The making of Uttama Villain is a documentary tribute to the man because you will see him alive, kicking in full emotion.
You will watch KB Sir talking, walking, and crying in the film. KB Sir is frozen forever in Uttama Villain on celluloid.
Has Crazy Mohan written the dialogues?
No, they are written by Kamal, but Crazy was part of the discussions initially. We even thought of having him as our dialogue writer.
Then the film took another direction. It was another kind of humour, it had musical stuff going on and so we thought it would be unfair to use his great talent in this kind of a musical film.


Kamal Haasan in Uttama Villain
The cast includes Andrea, Pooja Kumar, Jayaram, all familiar faces associated with a Kamal Haasan film. Did you cast them for the comfort factor?
One's priority is always talent in any department. If the talent comes with goodwill and friendship, then nothing like it.
A talented guy, who also is a good friend, solves a lot of problems on the set. In any work you do, not only cinema, you want to collaborate with friends.
But like I said, talent will be the first priority.
What was your experience of working with music composer Gibran?
He is terrific! I was floored by his musical knowledge obviously, but his humility and attitude towards work are amazing!
I watched Gibran in action when I visited Chennai. I witnessed the Vishwaroopam Part 2 composition being done. I observed how he was operating with Kamal Sir, the comfort level he had. There was no looking back after that. It was a musical experience of another kind.
Uttama Villain is another ball game in terms of music, visually too, of course.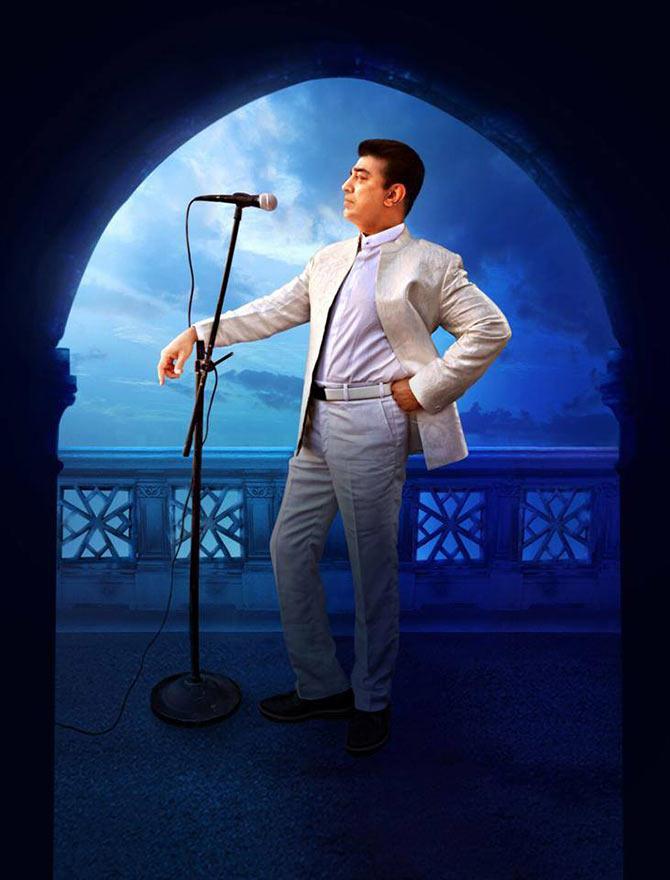 Kamal Haasan in Uttama Villain
Craig Mann, the Canadian re-recording mixer, has worked in Uttama Villain. Incidentally, he won the Academy Award for Whiplash earlier this week.
I've been getting quite a few surprises in the last two weeks. I did a Kannada film called Accident for which I teamed up with composer Ricky Kej and then went on to collaborate in three Kannada films with him. And then this man suddenly lands up with a Grammy!
And then just two weeks later, I hear that Craig Mann, who did the sound mixing for Uttama Villain, has been awarded an Oscar!
We are happy that we have an Oscar winner in our credit list.
Have you used actors from Karnataka too, since you come from there?
Lot of actors, actually! The first 50 days of shooting happened in Karnataka and the whole film was supposed to be shot in Karnataka because my network was there and I had my team there.
Unfortunately, the worker's strike started and we had to move to Chennai. When we were filming in Bengaluru, a lot of local talent was part of it.
Many popular Kannada faces will be speaking Tamil with Kamal Haasan.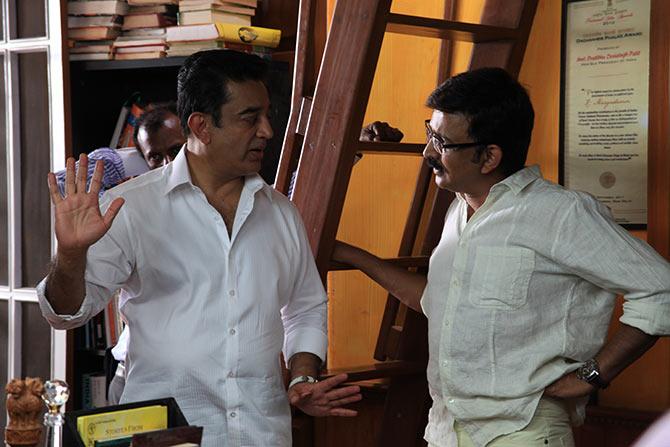 Kamal Haasan chats with director Ramesh Arvind
Could Uttama Villain be a Tamil-Kannada bi-lingual or is the cultural milieu very different?
It was meant to be, but then there were logistics problems. Making a film is not a problem at all, but financial aspects are involved.
It has to be lucrative on both sides and we couldn't arrive at a quick decision then. So now it is in Tamil and Telugu with English subtitles. But I am just waiting to do a Kannada and Tamil next.
And I'm sure you would want Kamal Hassan to be in it…
(Laughs) Of course, that would be fantastic!
Kamal is a delight. It's delightful to have an actor of his calibre and who is so involved.
Would you like to direct more Tamil films now?
Yes! Not only in Tamil but in any language in the world which offers me a good project, something creative, and innovative. I would love to collaborate with the best minds in the industry.
When does the film release?
In the first or second week of April.