'Both Jackie Chan and I come from middle class families. He had one goal: to provide meaningful movies to people.'
'He calls himself a cheap action star. He would say, 'I used to do cheap action and comedy but at the end of the day, I didn't go to the Oscars; they came to me.'
'That's the kind of mentality he lives by. You feed off that and realise that you can make it too.'
Kung Fu Yoga actress Amyra Dastur shares her learnings from Jackie Chan.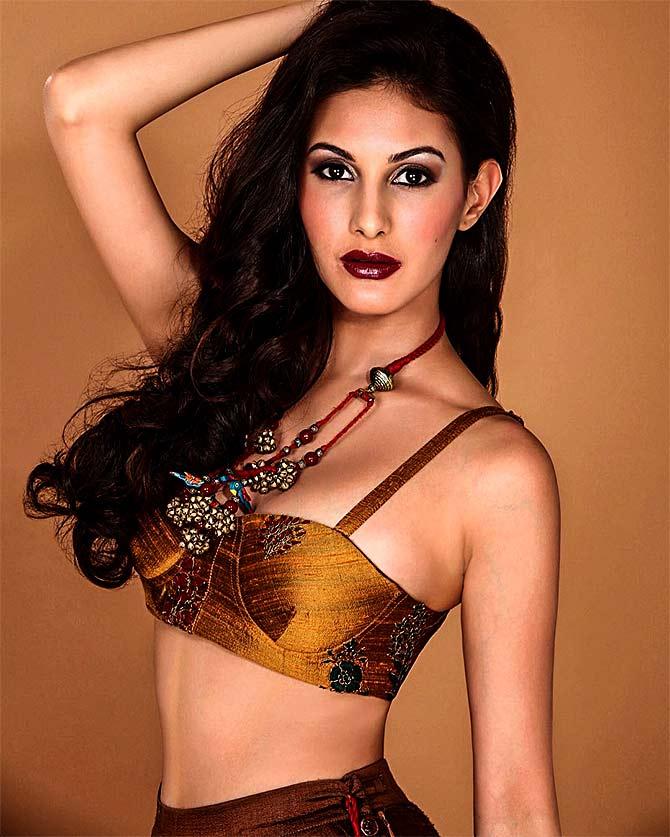 IMAGE: The Imdo-ethnic look! Photograph: Amyra Dastur/Instagram
Mumbai girl Amyra Dastur loves to kick butt.
And so, her international debut in the Jackie Chan-starrer Kung Fu Yoga is a dream-come-true in more ways than one.
"I am into fitness. I have been into gymnastics and that's why they chose me!" Amyra exclaims.
She loved the action that she learnt on the sets and now, wants to incorporate in her dance numbers in Bollywood!
Amyra discusses her love for action with Jahnavi Patel/ Rediff.com.
You took time to sign your next film after Mr X in 2015.
Actually, I didn't. I was going to do two Telugu films -- one of them was with Puri Jagannadh -- and Kung Fu Yoga happened to come up. So I got out of them and took up Kung Fu Yoga.
Kung Fu Yoga took about 10 months of my life.
In the middle, I was going to sign a Bollywood film but I didn't have the dates. I knew my role in Kung Fu Yoga would be substantial but didn't know it would be throughout (the shoot) because even though we were given a script, the action isn't scripted.
We took 10-15 days per sequence. The film took a lot of time.
What is your character like?
My character Kyra is a modern Indian girl. She's a fun person, chilled-out, and kicks butt.
She is the younger sister of Disha (Patani)'s Ashmita in the film. She has got that little immaturity.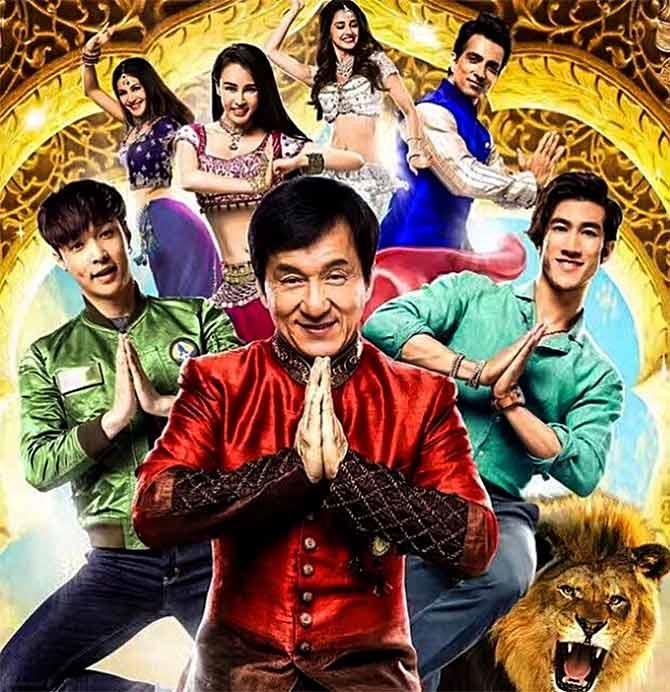 IMAGE: Amyra, Disha Patani, Sonu Sood, Miya Muqi, Yixing Zhang, Aarif Rahman and Jackie Chan in a Kung Fu Yoga poster. Photograph: Amyra Dastur/Instagram
Were you on the lookout for an international project?
No. You know, we all hope and dream and at the end of the day, I've grown up watching Jackie Chan. For me, this happened by chance.
I happened to audition for it and I got it.
I didn't even know what it was for. (Casting director) Mukesh Chhabra just gave me a piece of paper and asked me to learn it in an hour. He auditioned me and didn't tell me anything about the actor, director or producer.
Then after a month, he called me.
When we saw Jackie Chan at the press conference, he didn't carry any baggage of his stardom. How did you break the ice with him?
I was star-struck when I first met him, obviously. I was meeting the guy, who I have been seeing on TV while growing up.
He made me realise that you don't have to be part of the film industry per say, you don't need to have a filmi family, you can come from a simple place and still become something substantial.
Both Jackie Chan and I come from middle class families.
I went to boarding school and apparently, so did he. He was sent to learn Kung Fu; I went because my mother wanted me to become independent.
Both of us came back and got into movies.
I started working at a very young age; I started modelling.
It's not very similar but I understand where he is coming from.
He had one goal: to provide meaningful movies to people.
He calls himself a cheap action star. He would say, 'I used to do cheap action and comedy but at the end of the day, I didn't go to the Oscars; they came to me.'
That's the kind of mentality he lives by. You feed off that and realise that you can make it too. It just takes time, hard work and perseverance.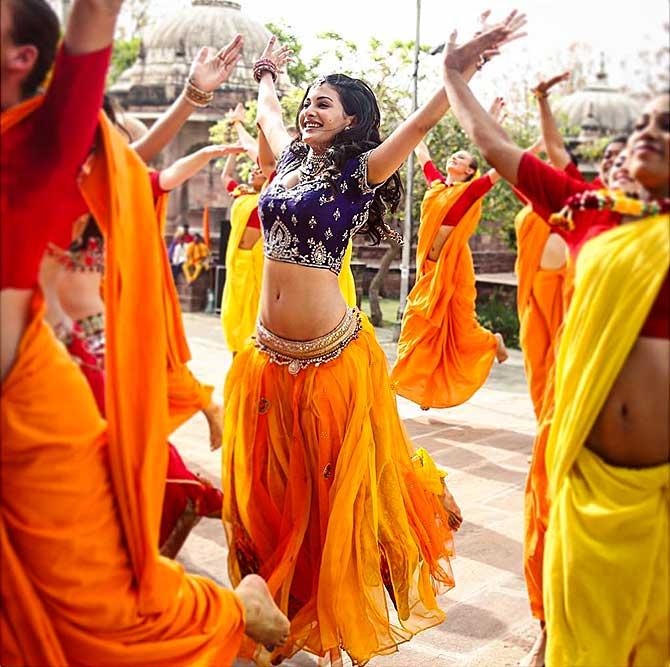 IMAGE: Dancing away to glory in Jodhpur, Rajasthan. Photograph: Amyra Dastur/Instagram
He seemed to have so much energy on stage. Did that translate on set as well?
Yes. I used to curl up in a corner and go to sleep quietly. He would always wake me up. He never let me sleep on set. He would suddenly shake me or say, 'Shot ready.'
We played football. He made us exercise and stay active.
That was a lot of fun but I would have liked to slept a little more!
You have worked in three film industries: Bollywood, South and Chinese. How different is the working style?
In China, if they said they would roll at 8am, it would start at 8am. I have never seen that here; it's always half an hour or an hour late.
In China, they value your time. They will not waste even a minute. There would be no technical glitches. I was really surprised. Then again, it's a million dollar budget.
In the South, they are very respectful. I have never seen so much love and respect towards people. If you are a girl, they won't shake your hand, they will say 'Namaste'. They are very traditional.
I think of Bollywood as home because I have grown up in Mumbai.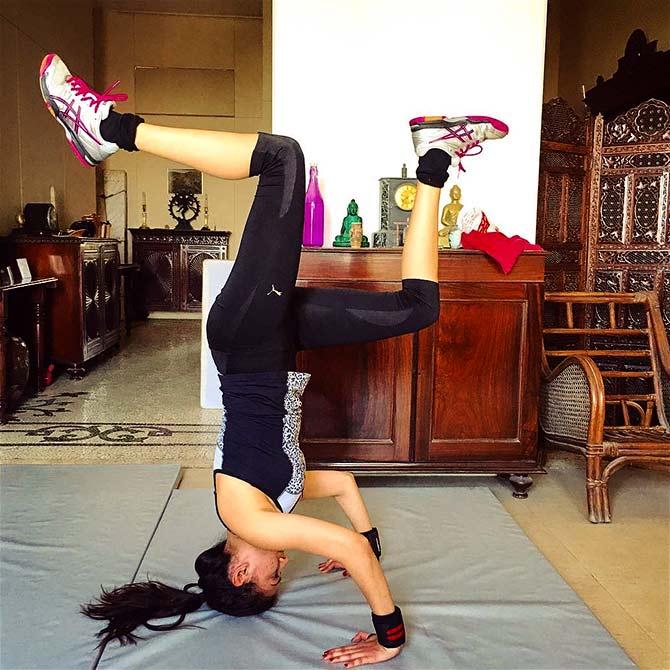 IMAGE: This is what her mornings look like. Photograph: Amyra Dastur/Instagram
Do you think learning a different type of action will help you?
I am doing a song in a Tamil film now (Odi Odi Uzhaikkanum, starring Santhanam). We are going to incorporated some acrobatics in that. That's why I wanted to learn the action, for the flexibility and the core strength, especially while dancing.
Jacqueline Fernandez did that split in Kick, and everybody was mesmerised. Why? Because it was new and different.
That's what I want to bring to my movies too.
I love songs and dancing. If I can incorporate action, it's a dream come true.
Would you have preferred to make your debut with Kung Fu Yoga?
I am happy with the way I debuted.
I got to play a Banarasi girl (in Issaq), a cop (in Mr X), four different characters in Anegan. And now, I got to do comedy.
If I didn't do those films, I wouldn't have gotten this film.
IMAGE: It's wake up and make up for Amyra! Photograph: Amyra Dastur/Instagram
What do you enjoy watching?
As funny as this sounds, I love crying! I love those dramatic scenes.