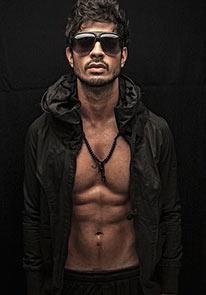 'I was very nervous working with Rani Mukerji in Mardaani initially because she is such a senior actor.'
Meet Tahir Raj Bhasin.
Mardaani is not only Rani Mukerji's show.
The film marks the debut of Tahir Raj Bhasin, who plays the sinister villain and deals with human trafficking.
Delhi-based Tahir, 27, came to Mumbai four years ago to get his big break.
He talks to Patcy N about Mardaani, and the years that led up to it.
Tell us about yourself.
My father was in the Air Force, so I travelled all over India. I was born in Delhi.
My mother worked for Confederation of Indian Industry, and Aptech Computers. My younger brother is a pilot with Cathay Pacific.
I am the only one in my family to get into acting.
I hosted an NDTV Youth Special when I was 18. It was like a talk show in the casual MTV style. After that, I joined Barry John's acting workshop. And then decided to come to Mumbai.
What was your parents' reaction when you told them you want to be an actor?
They were shocked. I did a Master's degree in films from the University of Melbourne, but I actually went there to do a Master's degree in Media, so film and television were a part of it.
My parents thought I would join a television production company on the management side.
So there was a lot of stress in my family. But when they realised I was serious about it, they supported me.
You can go mad if you are rejected constantly. I was rejected for four years.
I joined the Institute of Advanced Acting and Behavioural Studies for a year. I learnt a lot about body language. I also did workshops with theatre personality Jehan Manekshaw and Naseeruddin Shah.
You have done some modelling too?
This is an expensive city. To pay the bills I did a few ads like Samsung, Canon camera...
I failed the film auditions but I started getting ads. I couldn't do too many ads as I would become a recognised face. I couldn't do television also for the same reason though I had lots of offers in serials.
Were you frustrated with the lack of work?
I am a huge optimist.
Lots of my friends from the corporate world started buying houses, cars and here I was trying to make ends meet.
I knew if I took a regular job and tried acting auditions on weekends, as many people do, it would not benefit me.
The first six months I asked my parents for money.
How did you get your first film, One By Two?
I got it through a friend, Panchi, who was casting director for the film.
The day of the audition there was no water in my building so I did not bathe. I looked sleepy and unkempt.
Fortunately, they wanted a person who looked messy. I guess that's why I got selected!
I am a huge Abhay Deol fan. It was just a 10-minute role, but the scene was with Abhay so I took it.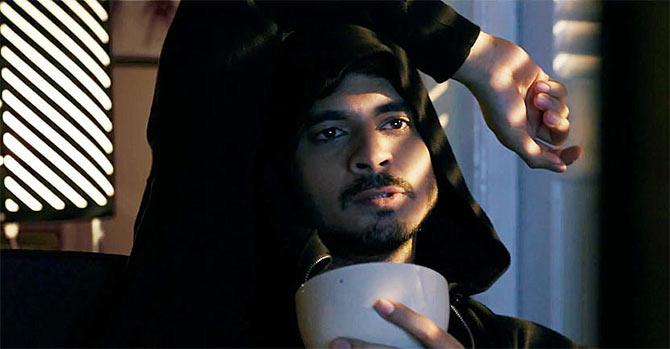 Tahir Raj Bhasin in Mardaani
How did you get Mardaani?
The credit for that goes to casting director Shanoo Sharma. I have been auditioning at Yash Raj Films for the last two-and-a-half years. She had seen me but I was rejected every time.
Then she called me one day and I was shortlisted. Still, there were 100 actors. Slowly that was reduced to five.
All five of us met director Pradeep Sarkar, Gopi (Gopi Puthran, the writer of Mardaani), and Shanoo Sharma. We were given two scenes from the film and the brief and one day to prepare.
I got selected after two months and five auditions.
Were you satisfied with a negative role?
I think when you are a struggler for years, and when you get a Yash Raj Film and Pradeep Sarkar directing it, you take it.
You don't question it; you just say I will do my best.
Were you apprehensive that your role would be cut short?
No, not at all. I had read the script and because I am educated in films, I knew I played an antagonist and my part was important.
If I am not shown in the story who would Shivani (played by Rani Mukerji) fight with?
How was it working with Rani Mukerji?
Rani was like an elder sister to me on the sets.
People say I looked confident in my character. I got this confidence only because of Rani Mukerji and Pradeep Sarkar. They never made me feel I was a newcomer on the sets.
After and before the scene, Rani would discuss it with me to help me improve.
I was very nervous working with her initially because she is such a senior actor. I felt awkward at the beginning, but she treated me like a friend.
And working with Pradeep Sarkar?
He is a perfectionist. I have grown up watching his music videos like Euphoria's Dhoom Pichuk Dhoom.
He will make you give 15 takes till you get it right.
I gave 12 takes for one scene! It's a scene where a girl is just standing in a towel and she drops it.
I was very uncomfortable doing that scene. Although the girl was above 18, it was difficult for me morally.
Do you have a three-film contract with Yash Raj?
I have no contract with Yash Raj Films. There are conversations, but nothing is signed yet.