'When I started off, I did not know I wanted to act. I just wanted to go to London.'
'After doing the first three films, I realised that I loved acting.'
'Aashiqui 2 came along and gave me the confidence I needed, that I can shoulder a film. It was a turning point for me.'
Straight talk from Aditya Roy Kapur.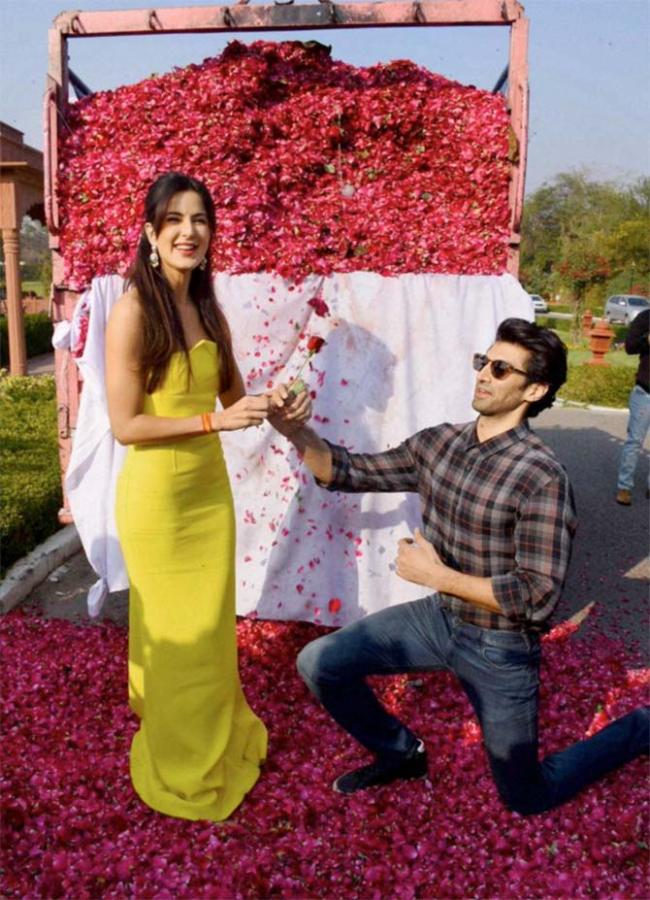 Image: A truck full of roses for Katrina! Photograph: UTV Motion Pictures/ Twitter
Aditya Roy Kapur may be doing fewer films than his contemporaries but he's not worried.
The actor has his plate full with the Katrina Kaif-starrer Fitoor, and a film with his Aashiqui 2 co-star Shraddha Kapoor.
He's also not insecure of not being in the spotlight all the time.
"I'm not good with PR. When I don't have anything, I like to disappear. I don't know how to be in the news," he tells us honestly.
He talks about his movies in this candid interview with Jahnavi Patel/ Rediff.com.
Why do you have such few movie releases?
After Aashiqui 2, Daawat-E-Ishq was the first script I liked and said yes to.
Fitoor happened after that.
I just couldn't find anything else that I loved, so I just waited for Fitoor to start.
It hasn't been ideal, to be honest. I'd love to do more films and have more releases, especially at this stage in my career.
More importantly, I'm most happy when I'm on set.
What was the one thing that drew you to Fitoor?
Katrina Kaif. (laughs)
There's actually a story behind this. Two and a half years ago, there was an article in the newspapers, where Gattu (Abhishek Kapoor, director) was making a film with Katrina and Sushant (Singh Rajput). I don't often read about somebody else's project and feel that this is something I'd love to do but that happened with Fitoor.
A year and a half later, for whatever reasons, it came to me and I felt it was destiny. I was already sold on the project. I did not even feel the need to read the script because I had seen Gattu's previous films and respected his sensibility. I felt he would be able to adapt the film well.
There were some reports that you weren't happy with Daawat-E-Ishq's box office collections and you were skeptical about signing films. Is that true?
Daawat-E-Ishq did not do as well as we expected, so yes, when a film doesn't do as well as you wanted it to, it hurts, especially after you have put your sweat and blood on it.
At the end of the day, filmmaking is a business. You want everyone to make money.
I signed Fitoor while shooting for Daawat-E-Ishq, so it wasn't like Daawat-E-Ishq released and then I got the film.

Fitoor has taken its time to be made. Was it difficult to maintain your look?

It was difficult to get the look.
In Daawat-E-Ishq, I played a chef and took the role seriously. I ate everything in front of me, as I had put on weight.
When Gattu saw me, he was surprised and asked me to lose all that weight. It took me 10 months to lose 17-18 kilos. Once I got there, it was easy to maintain it but getting there was tough.
More than maintaining the weight, it was difficult to maintain the mood, especially when you're dealing with a subject like Fitoor.
How was your experience working with Rekha, who was initially cast in Tabu's role?

The experience of shooting with Rekhaji was lovely. I just shot three days, but when we are in the presence of actors who are so great with what they do, you learn a lot.
Rekhaji knew how the set had been running in just two minutes and she knew what the dynamics were.
Apart from that, the way she rehearses, you learn by just observing. She was a warm and supportive person and made me feel good about what I was doing.
I learnt a bit more about the craft of acting. I feel like a better actor after working with her. For whatever reason, it did not work out and Tabu came on board. But these things happen in the movies. There was no one better than Tabu to play the role.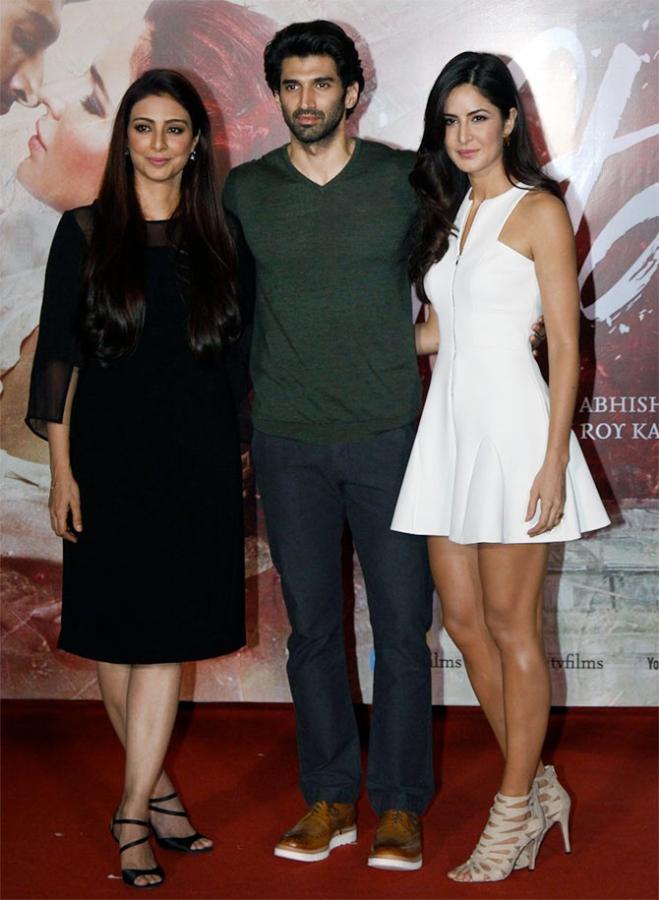 Image: Tabu, Aditya Roy Kapur and Katrina Kaif at the Fitoor trailer launch. Photograph: Pradeep Bandekar
Abhishek Kapoor's movie characters tend to have internal conflict. Was your character similar in that sense?

It was a challenge.
I play an artist in the film, so I took painting classes for it. You have to convince people of your character through body language. I had to learn welding and such things. That was a fun challenge because I got to learn a new skill; it's one of the perks.
Apart from that, I play a middle-class Kashmiri guy, which is very far away from my upbringing. I'm a city boy, born and brought up in Mumbai. I talk fast, have a certain sense of humour and have grown up watching Jackie Chan movies.
So I had to slow myself down. I went to Kashmir, spent time with the people there and got an insight into their mannerisms and state of mind.
Another big challenge was that this guy has been in love with a girl ever since he saw her. It's one-sided love, which is something I've never felt in my life.
Tell us one thing about Katrina that amazed you?
A bunch of things!
I have always respected her for what she has achieved, the way she carries herself...
There's so much I've learnt from her. She's a lovely, warm and thoughtful person. If you're sick, she'll send you something and that's her way of showing affection. She doesn't like to be thanked. And she doesn't change herself to be liked.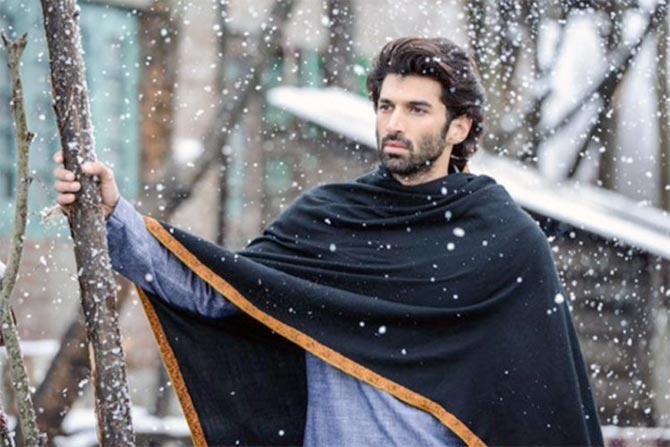 Image: Aditya Roy Kapur in Fitoor
What was it like working with Katrina and Tabu?
When you're acting with great actors, you end up becoming better.
Acting with Tabu was a dream; there was lots to learn.
In Katrina's case, I feel that she, as an actor, cares about the whole picture. Maybe it comes with experience... you realise you can give as good a close up as you want or at the end of the day if the scene isn't working, you don't work. She has that kind of perspective and objectivity.

How has your journey been so far?

It's been a journey of self-discovery for me.
When I started off, I did not know I wanted to act. I just wanted to go to London.
After doing the first three films, I realised that I loved acting.
Aashiqui 2 came along and gave me the confidence I needed, that I can shoulder a film. It was a turning point for me.
With Daawat-E-Ishq and Fitoor, I think I'm just learning more about myself. Some will hit and some will miss, you can't take it seriously.

Any particular genre you want to try?

I'd love to do comedy.
I would also love to do an action film since I've grown up watching action movies. Shooting the bad guys will be fun.

Does competition worry you?

No. You are always aware of what your contemporaries are doing. When they're doing good work, it inspires you.
I think if you envy someone, it will make you bitter.
Right now, we're all in a good place. All I can hope is do well in my zone and feel secure. There's no use looking elsewhere because you'll start forgetting what you lack.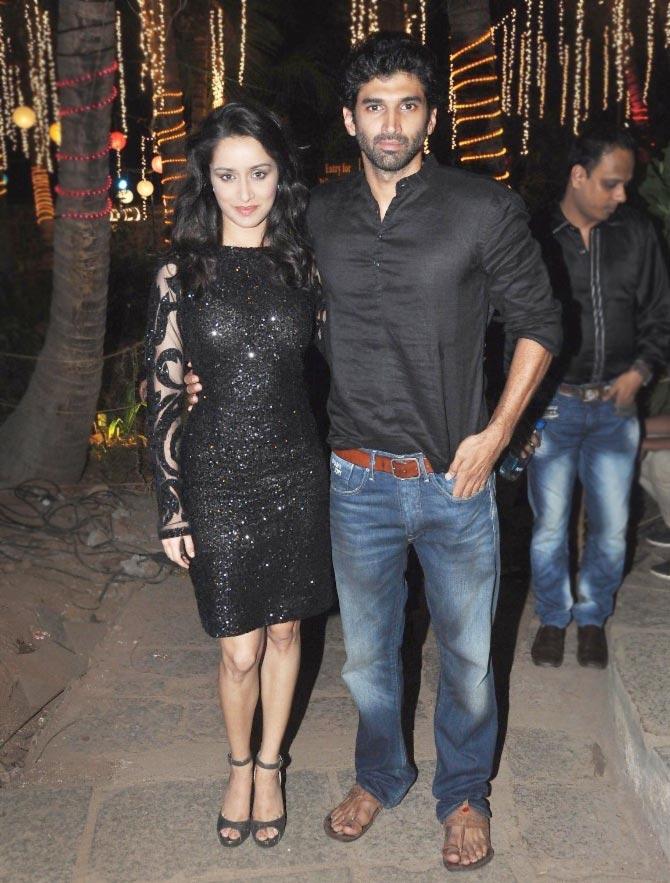 Image: Shraddha Kapoor and Aditya Roy Kapur at the Aashiqui 2 music concert
Are you excited to reunite with Shraddha Kapoor for the Ok Kanmani remake?
I'm very excited. It's a great subject for us to come together for. It's a different space from Aashiqui 2, so it will not be repetitive. We've had a lovely time shooting Aashiqui 2 together and I think it will be great to shoot this as well.

When will the shooting start?

In March. I think it will release this year.