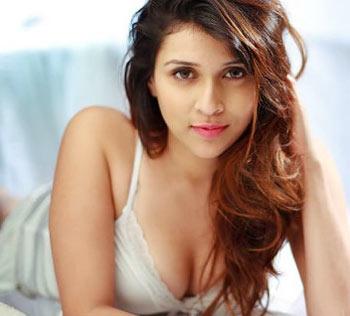 'I don't think anyone will invest crores of money just because I am Priyanka Chopra's sister.'
Mannara makes a bold entry with Zid.
Zid posters has been making waves, thanks to its leading lady's topless stance on it.
Barbie Handa aka Mannara seems quite comfortable with it.
After all, she's not new to showbiz and its trends.
Mannara is Priyanka and Parineeti Chopra's cousin, and she's here to try her hand at stardom.
The young debutante tells Rajul Hegde why she chose such a sexy movie to start her career with, and her equation with her famous cousin.
Why did you change your name to Mannara?
My real name is Barbie Handa. I want to grow up a little and move from Barbie to Mannara.
Mannara is a Greek name, meaning something that shines. And, of course, we all want to shine in our respective professions.
Anubhav sir (the film's producer) felt I should change my name. Even Priyanka agreed.
Mannara was the right name because Anubhav sir wanted the name to start with the letter 'M' because he is a big fan of Madhuri Dixit. So am I. I can watch Hum Aap Hai Koun...! and Dil To Pagal Hai any number of times.
My younger sister's name is Mithali, so my mom was happy that the name starts with M.
Is Mannara shining after the trailer launch?
I don't know whether I am shining or not, but definitely the film is shining because it is number one on YouTube.
In just five days, it has got two million likes. So I am very happy.
The song is doing really well too.
The kind of comments and compliments you see on YouTube is amazing.
Why did you choose such a bold film to debut in?
If you want to understand why I did a film like this you have to see the film. It has a wide spectrum of human emotions. The character Maya has many layers.
She is a young girl full of life; it's about how she falls in love for the first time.
Then you go deep inside the character and she looks dangerous and angry.
There are so many emotions I could not say no to it.
You have films where a girl is launched with four scenes and two songs and a glam doll chick coming in dancing around a tree. This is not like that; there is variation to it. I loved it.
Besides your being topless in the poster, you have done intimate scenes in the film. How comfortable were you?
For you, it's a topless poster but when I was to shoot the poster I told PC (Priyanka Chopra) that this is something Anubhav Sir wants to shoot.
I was a little unsure. PC told me to go for it, but ensure that it's done aesthetically and not looking sleazy.
I think it looks beautiful. The poster shows the dangerous, flirtatious, bold and sexy side of the girl.
I only trust my director. There has to be a certain level of trust and understanding especially when you know that it's such a difficult character to play.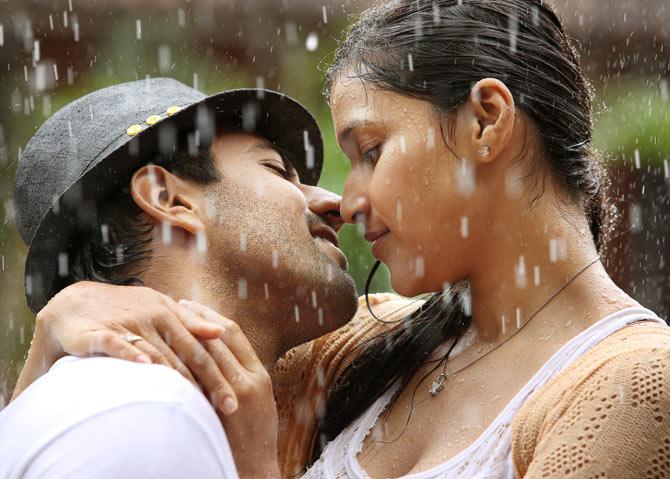 Image: Rahul Bhat and Manara in Zid
Did you have any inhibitions while shooting?
Why inhibitions? It's part of the character I am required to portray. I feel I have done it beautifully.
My family has complimented me. Parineeti (Chopra) said it's sexy and PC said it is shot aesthetically.
It's like a painting that has so many emotions.
It was reported that Priyanka did not want to promote the film because she thought it was too 'bold'. After much persuasion from you and her family, she agreed to promote the film. Could you comment on this?
I don't know about this. I spoke to her a few days ago -- she is in Los Angeles on work -- and she congratulated me on social media.
Parineeti talked about my film as well, during her promotions of Kill Dil -- she said that she finds the poster sexy and that there are no comparisons between the sisters.
We want to make the most of the opportunities given to us.
PC has seen the film. She said that I have been correctly cast. She also said it looks like very intelligent cinema.
How close are you to Priyanka?
I am close to her mom (Mannara's mother is Priyanka's father's sister).
I stay at Priyanka's old house in Mumbai. I am close to her as well. I used to borrow her clothes and shoes.
Ours is a close-knit, typically Punjabi family.
Were you always interested in acting or were you influenced by your cousins?
I grew up in Delhi. I did a course in design and it started from there. I started learning dance at night, after work.
I did stage shows on weekends with the troupe. We did international shows too.
One day my choreographer asked me if I would like to go to Mumbai and work as an assistant choreographer.
I shifted to Mumbai for a month, and kind of liked the place. After six months, I got modelling offers. I did 15-20 advertisements.
Then I got an offer to act in a south film. I told my mother I don't want to model but try Hindi films.
If I can act in a south film and get good reviews, might as well try Hindi films too. I auditioned for six or seven films and I was lucky to get this because I wanted a performance-oriented role.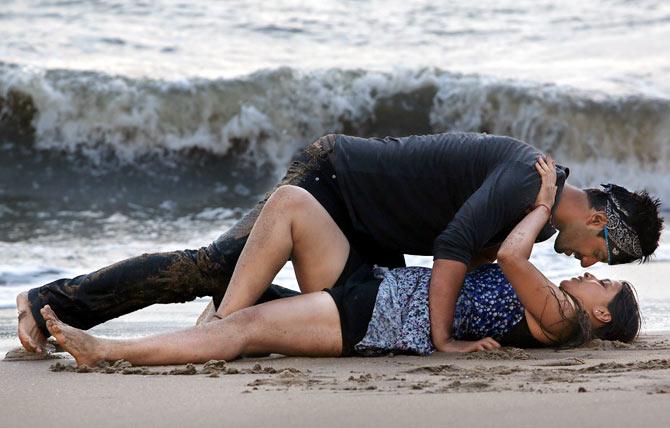 Image: Rahul Bhat and Manara in Zid
Did you get this film because of Priyanka's recommendation?
I don't think anyone will invest crores of money on someone's recommendation.
They didn't want a glamorous chick but someone who can act too.
What's your co-star Karan Vir Sharma like?
Karan has understood his character very well. He is old in the trade; he has done around 250 commercials.
He is from a filmi background and he understands the technical aspects of filmmaking.
He is a wonderful person to work with, down to earth, a true gentleman and guides you very honestly.