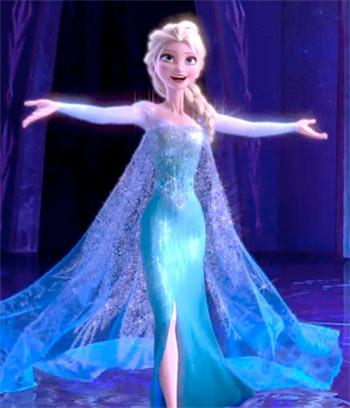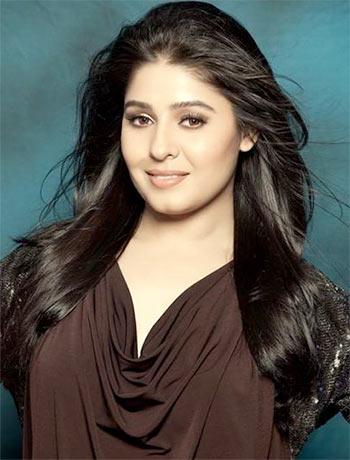 'Today, when I watch animated films again, I still feel connected with the child in me.'
Sunidhi Chauhan talks Frozen.

Everybody loves Disney's animated film Frozen.
And now, you can watch it in Hindi!
The Oscar-winning film will premiere on the Disney Channel on December 12.
Sunidhi Chauhan has lent her voice to the popular character, Elsa, and sings the fabulous song Let It Go in Hindi -- called Fanaah Ho.
Sunidhi is terribly excited about her latest work, and discusses it with Rediff.com contributor Rajul Hegde. She also sings for us!
How was your experience dubbing for Elsa in Frozen?
I was ecstatic when I gave my voice to Elsa! I have had a special love for animation films from my childhood. It makes me happy and takes me to a different world altogether.
Today, when I watch them again, I still feel connected with the child in me. I have seen Frozen umpteen times and love the film. Elsa is a strong character, has these super powers but she doesn't know how to handle them.
She loves her sister Anna, and cannot imagine life without her. I could relate with the character because I have a sister as well and love her to death.
Image: Sunidhi Chauhan sings Fanaa Ho
How was it recording the song Fanaa Ho?
The English version is called Let it go, and is Fanaa Ho in Hindi. The impact is the same.
Sometime it's very difficult to translate the exact feelings in another language but this time it was a smooth ride. I made sure it had the same impact because it's an iconic song and popular all over the world.
So I tried my best to make it sound big. We took four days to record the song.
You have dubbed for the film Rio too. Which was easier?
Rio was a lot of fun because I dubbed for a bird. I had to go a little overboard. Recording for this was easier because there wasn't much shouting. There the bird was flying, falling and feeling ecstatic. Frozen was more intense and real. It was like seeing me on screen.
Your reality show The Voice India did not garner great numbers.
People liked it and spoke about it. I think it did well. It was for a new channel (&TV) and it did fantastically well for a first season. People were looking forward to our second season.
Has the channel approached you for the second season?
Not yet. If I have time, I will do reality shows. But I have planned other things besides singing and TV shows.
You will be making your acting debut with Nagesh Kukunoor's next film which will co-star real life musicians like Salim Merchant, Shankar Mahadevan, Papon and Shivamani. Is that correct?
Yes. I will have more to say about that when the shooting starts. I am reading other scripts as well.
Image: Sunidhi Chauhan sings Girls Want to Swing
You have said that you don't want to play yourself on screen. But aren't you playing a singer in your debut film?
It's a singer's role but it's not me. My character is the total opposite of me.
You recently recorded a song for Vishal Bhardwaj's film Rangoon. Tell us about that.
Recording that song was very good. It's turned out really well. I have worked with him so many times; it's like being at home. They took five days to shoot the song.
Any actress you loved singing for?
I just love to sing and don't need to know who it will be picturised on. I appreciate the fact that actresses like Priyanka Chopra, Urmila Matondkar, Kajol and Priety Zinta lip sync the songs so well that it looks like they are actually singing them.
Image: Sunidhi Chauhan sings Move On
Who's your favourite actor?
Deepika (Padukone) looks stunning. She has evolved as an actor, and is getting better and better. Ranbir (Kapoor) is also a favourite. Imitiaz Ali is my favourite director. And, my favourite film is Highway, followed by Tamasha.
Any favourite signers?
I don't have any favourites because I get inspired by many of them. Sukwinder Singh is definitely the best. My latest obsession is Cold Play.
What are you working on these days?
I sang for (Sonam Kapoor's film) Neerja yesterday. It's a montage song.