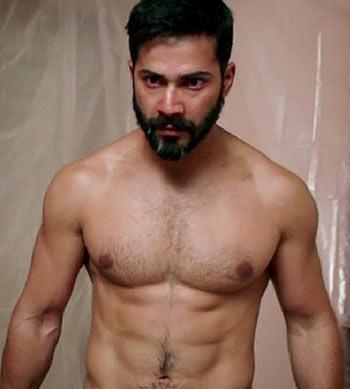 'I don't get angry in real life and to get this anger out in front of the camera was tough.'

Varun Dhawan gets ready with Badlapur.
Like many of the actors of his generation, Varun Dhawan is also experimenting with his acting roles very early in his career.
After playing light-hearted loverboy roles, the actor takes on a gritty revenge drama, where he ages up to a 40-year-old. Badlapur will release on February 20.
Varun talks about Badlapur. Patcy N/ Rediff.com listens in.
You have lost a lot of weight.
I lost a lot of weight because of ABCD 2 and because the producers of Badlapur are making me roam all over for the promotion of the film.
Your role in Badlapur is a big change from your usual loverboy roles.
It is necessary to be a loverboy to take revenge in the end.
You fall in love and then you lose your love and take revenge. That's the reason the first few movies were important.
There are so many revenge dramas, how is this one different?
There is not a single film like Badlapur. I can bet on that.
This is a Sriram Raghavan film; his earlier films have had different tones.
How tough was it doing this film?
It was very tough because I am not like this in real life.
I'm like Humpty (Humpty Sharma Ki Dulhaniya) and Seenu (Main Tera Hero) in some ways but not like Raghu (Badlapur). And I don't want to be him.
I don't get angry in real life and to get this anger out in front of the camera was tough.
It was difficult to understand how a common man can bear so much pain. To be in the character, I had to go through that pain and go deep in the character.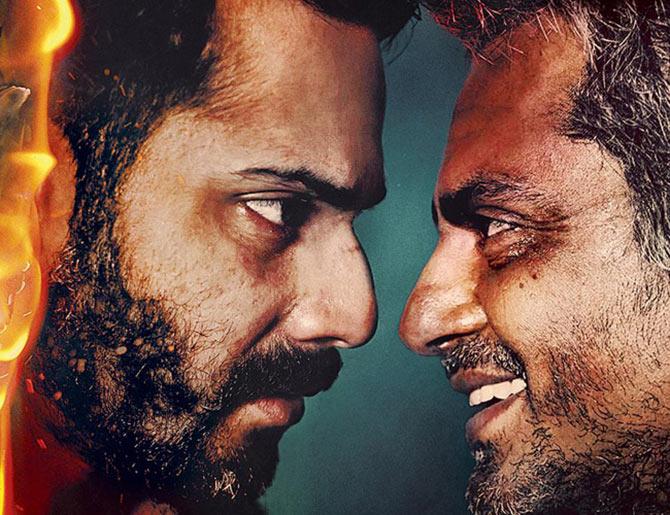 Varun Dhawan and Nawazuddin Siddiqui in Badlapur
How did you prepare yourself for the role?
Sriram had planned everything. We shot the film in Igatpuri. The place we stayed in did not have AC or fans.
They kept me there on purpose so that I was isolated and could get into the character.
I have undergone this process for the first time in my life and it affected me quite a bit.
Were you angry with anyone at home while you were shooting this film?
Yes, my mother. I would get angry with her but she was understanding.
What will you take back from the character?
That family means everything.
If I had to imagine life without my family, it would be very difficult.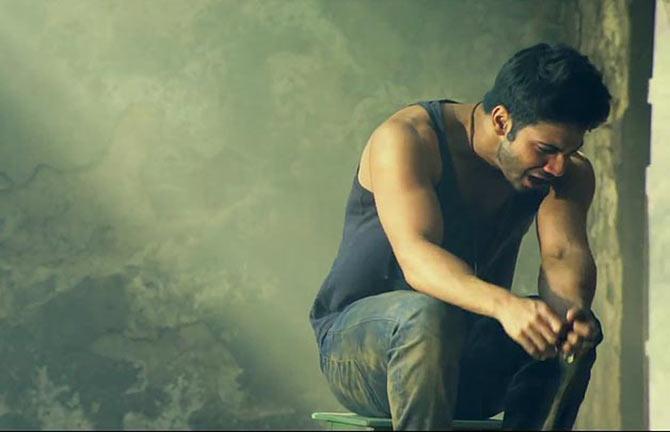 Varun Dhawan in Badlapur
Did it take you time to come out of the character after the shooting was done?
Yes. I had become serious. Sriram had told me not to talk to many people, so I had to be by myself. My anger in this film is in my eyes. I don't like myself to be like that.
Now I will do a few comedies.
Which genre of film do you like doing?
Obviously, comedy. You make everyone happy and you are also happy.
Your father David Dhawan did not want you to do Badlapur, right?
My father was scared initially, but later he was okay. He is a filmmaker and he understands it's a character.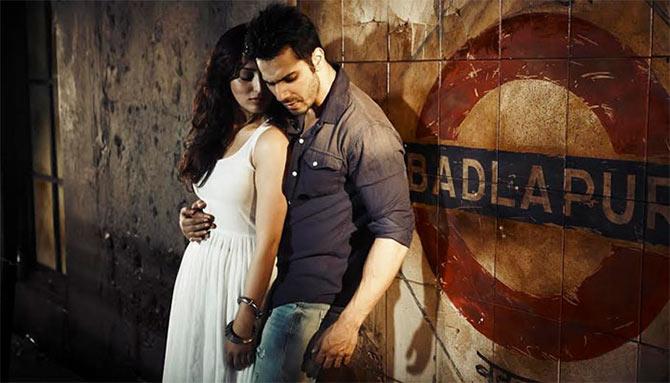 Yami Gautam and Varun Dhawan in Badlapur

You were advised not to play this character. Now that the trailer is out, what is the reaction?
My elder brother Rohit had encouraged me to do the role. Once the trailer and posters were released, I was shocked with the response.
The media has supported me a lot even though the film is very small -- the budget is Rs 25 crore. Still, we got huge coverage.
I feel the acceptance for such films has increased in our country.
You are not charging a fee for this film?
I have taken a fee cut for this film. Not just me, many people have.
If Dinu (Dinesh Vijan) is ready to produce a film like this, it is the least I can do.
Do you know now what are your strengths and weaknesses?
I think listening to the director is the number one strength an actor should have. I would never be able to do a film like this without a director like Sriram.
He believed in me, that after doing three comedies I could attempt a film like this, and that belief has got us so far.
The tagline of the film is 'Don't Miss the Beginning'. In real life, what are the beginnings you would not want to miss?
When you are signing a film, you should not miss the beginning process which involves workshops and discussions, otherwise it is difficult to understand the character.
Badlapur took eight months in the making but I will never forget the beginning of the shoot.
Sriram Raghavan's last film, Agent Vinod, did not do well. Was that a concern?
Not really. I react to stories and what kind of connection I have with the director.
Directors have good and bad movies. My father also made some flop movies and he had bigger hits too. That should not determine anything.
Sriram is a good director and this story was different.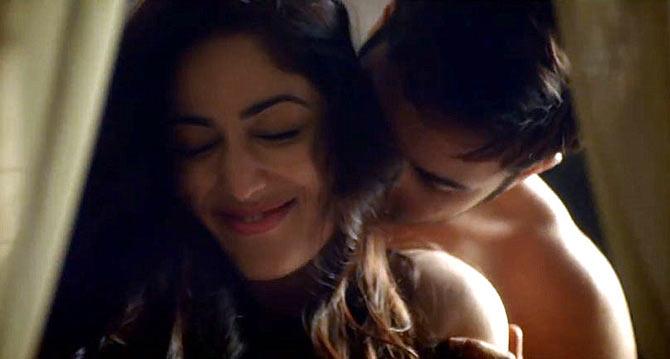 Yami Gautam and Varun Dhawan in Badlapur

Do you feel more confident doing films like Badlapur?
Definitely, but more than confidence is connecting with the audience. Everything you do is connected to them.
To do a film like Badlapur is a risk. I did it because I thought I could connect with the audience.
Your acting changes with every film.
Yes, the acting process does change from director to director.
Karan Johar and David Dhawan have very different styles. I try and follow the director's style.
How was your experience of working with Yami Gautam?
I think she is a lovely girl and a wonderful actress, and one of the prettiest actresses without make-up.
You are playing a father; how did you get the nuances right?
It's the first time I am playing a father, at the age of 27.
I watched my brother who is married. Lots of my cousins are married with kids, so I watched them.
I got to know that they become like children in front of their wives and how strictly they talk to their children.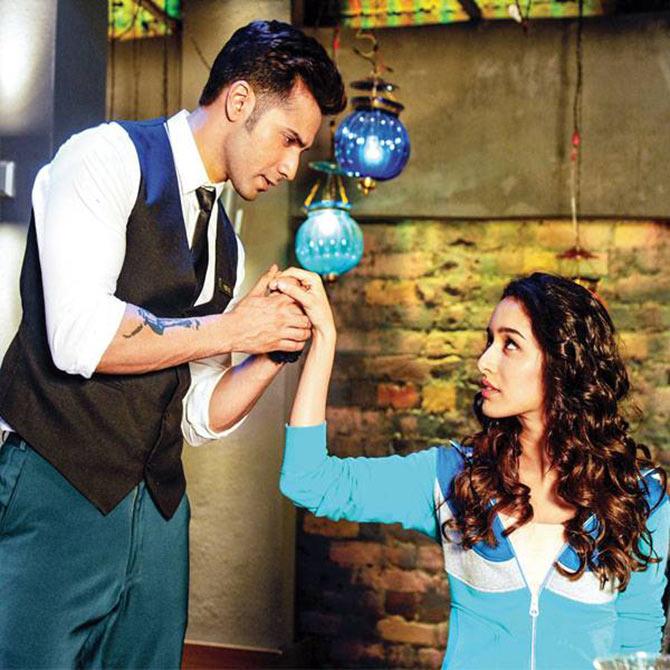 Varun Dhawan and Shraddha Kapoor in ABCD 2
From Badlapur to ABCD 2, isn'tthat a big transition?
It was difficult. For ABCD 2, we started shooting with two songs. So I had to just learn the dance and later slowly with the music we started grooving. So ABCD 2 is like rehab for me.
You have a young fan following. Will they like Badlapur?
The film is for young people. When I started promoting the film I first went to colleges. This film is not for kids.
Were you fed up of your chocolate boy image?
I was bored laughing so I did Badlapur. Now I am tired of my anger.
What next?
I will be doing a film with my brother Rohit, along with John Abraham.