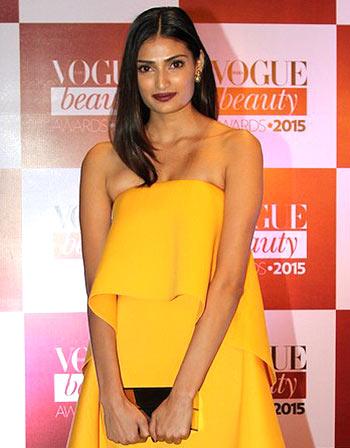 'I asked Salman Khan, 'What did you see in me?' He said, 'I just saw the confidence and the spark in you'.'
'I want to make Salman Khan proud. That's most important for me because he's shown so much faith in me and Sooraj'.
'I am nervous about the comparisons with original Hero, but I think we've catered to today's audience'.
She always wanted to become an actor but telling her parents -- actor-businessman Suneil Shetty and his wife, Mana -- was a different story altogether.
Then the leggy 22-year-old was spotted by Salman Khan's sister and her dream became a reality.
Athiya Shetty will be seen on September 11 on the big screen in the Nikhil Advani directed Hero, a remake of the blockbuster hit that set the spotlight firmly on Jackie Shroff.
Her debut is being carefully monitored by a man who is known as the hit machine; Salman Khan also happens to be the film's producer.
Athiya is super-confident and super-excited; her words tumble over each other as she tries to fit in her life in the 10 minutes that have been allotted to Patcy N/Rediff.com for the interview.
Read on to find out if she succeeds :)
You were supposed to be studying abroad…
Yes, I did study. But, instead of going to London as originally planned, I went to New York to film school instead.
I wanted to be an actor since I was three years old; I would dance to Madhuri Dixit's Ek do teen in front of the mirror and recite dialogues from Kal Ho Naa Ho, Kabhi Khushi Kabhie Gham..., Kuch Kuch Hota Hai....
Acting was something I always wanted to do. I was not just vocal about it.
Why wouldn't you talk to your father about it? How did you eventually convey your desire to act to your parents?
I was scared about what my dad would think. I wasn't sure he would be happy if I told him I wanted to be an actor at that point.
I was at Heathrow airport, London, when I spoke to my mom. We had gone there looking at universities where I could complete my college education.
My mother saw that I was very upset. She knew something had been bothering me for a while now. She asked me and I told her, 'I think I just want to be an actor.'
It upset them that I didn't tell them about my choice of career and was visiting countries to check where I could study. But they also knew I am always like that. I take a full circle and then I decide.
We came back to India and I found out about the New York Film Academy. I studied there for a year and learnt a lot about filmmaking in general.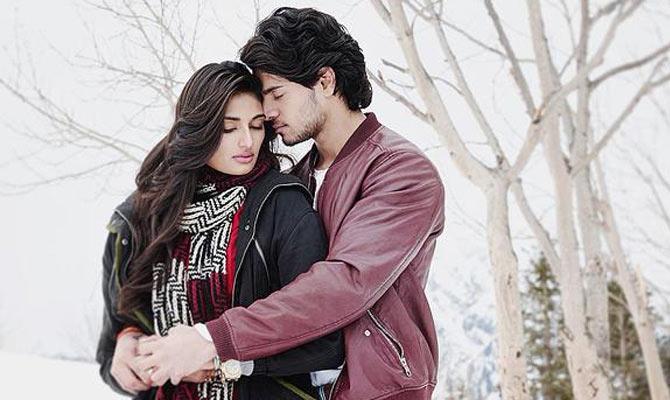 Image: Athiya Shetty and Sooraj Pancholi in Hero
How difficult was to live alone abroad on your own?
It was the first time I had lived alone and it was the best experience of my life.
I did not find living alone difficult. In fact, it was such a liberating feeling because simple things like ironing my clothes, doing laundry, making my bed made me feel independent and gave me the sense of accomplishment that I can do it myself.
I was used to people around me but I learnt to live in my own silence. I think that is very important for an actor to be alone and to be able to switch off.
I felt more mature and independent.

After you came back from New York, what did you do? What was your next step? How did you get the movie?

I use to go to a gym in Bandra (suburban Mumbai). I was seen there by Salman (Khan) Sir's sister. We started talking and I mentioned to her that I had returned from New York and wanted to be an actress.
She already knew who I was. She told her brother about me. He was anyway looking for a girl to star opposite Sooraj (Pancholi) in Hero.
I met him and he saw my pictures. That's how I got in. I still ask him, 'What did you see in me?' He says, 'I just saw the confidence and the spark in you.
Both Salman Sir and Nikhil (Advani) Sir are my mentors now. I am blessed that I have two mentors.
In the five months after coming from New York and getting this film, I learned dancing and Hindi diction. I learned everything a quality actor would need.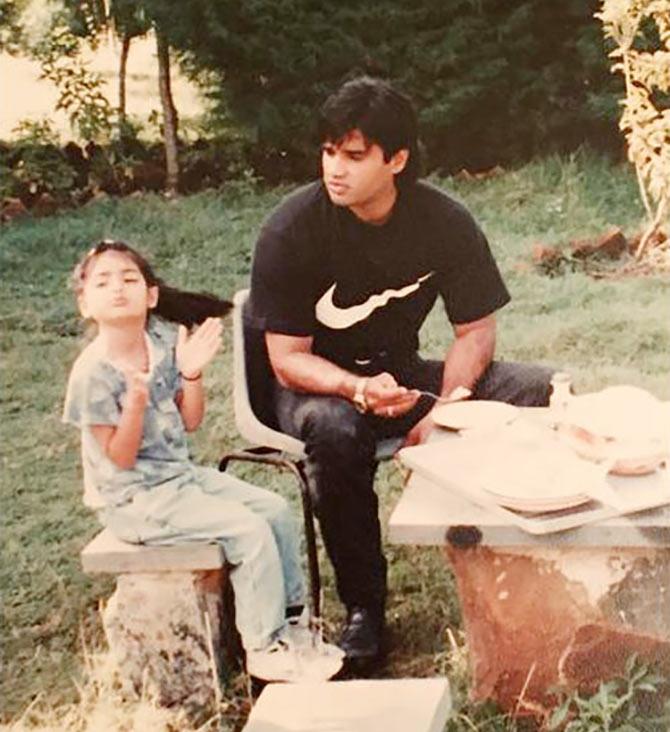 Image: Athiya with her father Suneil Shetty. Photograph: Athiya Shetty/Twitter
Your father constantly talks about your confidence. Do you think he was less confidence when he came into this field?

I don't know.
He always told me he didn't want to be an actor. It just happened.
As far as I am concerned, it is very different because I always wanted to be an actor.
During his time he just went with the flow, but today's generation has to plan everything.
I feel I am confident in my own skin and I think that's important for any girl. It reflects in the way you speak, in the way you walk and sit.

Did you have a proper audition for Hero?
No. But we did a lot of look tests and workshops with (casting director) Mukesh Chhabra which really helped us open up as people.
It rids you of your inhibitions, helps in character analysis, script reading and dialogues.
We also did a lot of analysis with Nikhil Sir.
Your exposure was different. You were a star kid.
I was a star kid but I was never treated like one, because I never went on the sets with my dad. I was always excluded from that.
I lived in town (South Mumbai), which was not part of the film industry in any way.

I went to school with Tiger, Krishna (Jackie Shroff's children) and Shraddha (Kapoor).
I am very close to Tiger and his sister Krishna. I grew up with them. They were my only connection to the film industry.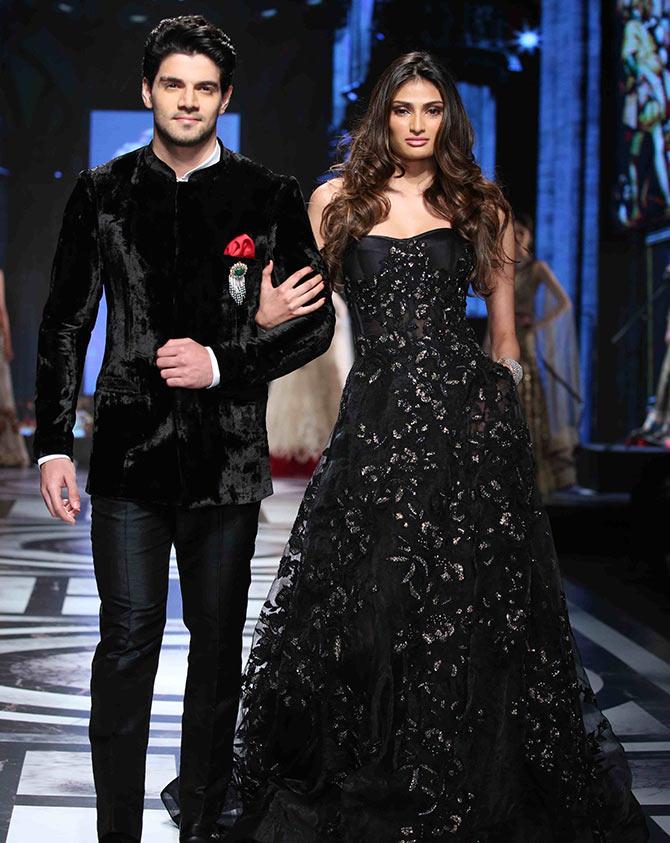 Image: Sooraj Pancholi and Athiya Shetty. Photograph: Courtesy Indian Bridal Fashion Week
How was it giving your first shot for Hero? Were you nervous?
I was extremely nervous.
My mother gave the clap and my dad was behind the camera.
Nikhil Sir had to say 'Action'.
The moment he said 'Action,' I was extremely confident. It's weird but I feel most comfortable when I am in front of the camera.

I think I was nervous because my parents were around; I had actually told them not to come. But they said, 'Of course, we are coming. We are not missing this.'
I think I was also nervous because it was my first film, my first shot, my dream coming true...

How was the process? Did Nikhil enact a scene for you? How was his direction?
No, not at all.
Nikhil Sir doesn't enact or give you directions. He doesn't come and whisper directions in your ear. He helps you create the moment, the atmosphere and the scene.

During the workshops too, we concentrated a lot on our characters. Simple things like how Radha (the character she plays in Hero) would walk, how she would interact, what her habits were, what she likes... As a result, things became much easier when we were on the set.

Nikhil Sir is the kind of person who has this ability to extract things from within the actor. He's been extremely patient and kind. He use to yell at me... Sooraj would run away so I would get all the yelling.

He's been amazing and I know that he would always be there for me.

Have you watched the original Hero?
I watched it once when I was young. I didn't want to watch it again because I didn't want to take anything from Meenakshi Seshadri's character. I wanted it to be my own. I didn't want any comparisons.
That film was a cult film. It's a one in a billion film that is remembered even today, so you can't compete.
I am nervous about the comparisons, but I think we've catered to today's audience.
The story and script is essentially the same but still it is a very different film.
Nikhil Sir was very clear that he wanted to make a very commercial film with a contemporary touch. We have shown that through our locations and our music.

There is freshness to this film because of the pairing and everything around it.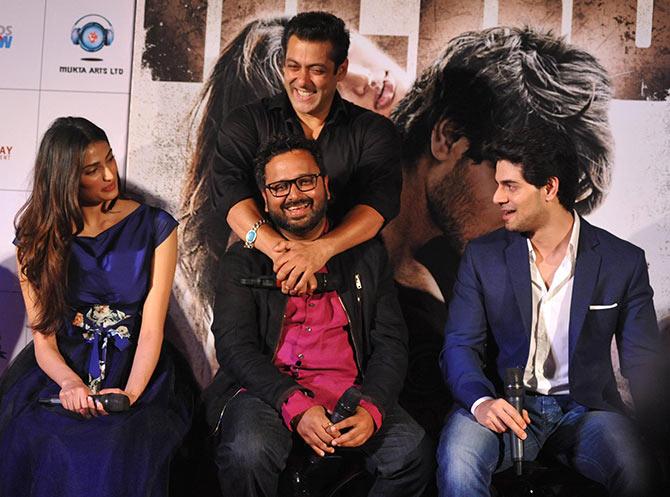 Image: Athiya Shetty, director Nikhil Advani, Salman Khan and Sooraj Pancholi. Photograph: Pradeep Bandekar
Salman says he's not worried about how much money the film will make. He just wants you and Sooraj to become stars. Does that reduce the pressure on you?
No. I want to make him proud. That's most important for me because he's shown so much faith in me and Sooraj.
He has given us everything... it is beyond what we have dreamed about.
As newcomers, we are really blessed.
More than anyone else, I really want to make him proud.
I want to make him feel he's made the right decision.

Your dad said that, after watching the trailer, he had tears in his eyes but his tears were for Sooraj, not you. Did that upset you?
Not at all. He and my mom are very fond of Sooraj. Since day one, my dad has this connect with Sooraj. I am not upset (about it).

What was the most difficult part of the movie?
I don't think that there was any moment that was difficult.
As a newcomer, you always have teething problems. There are things that you don't know. I made a lot of mistakes and Nikhil Sir helped me rise above those mistakes.

The entire experience helped me learn a lot about myself, about acting, about everything. It was like going to school.

What kind of mistakes?
Not getting my lines right. Not getting whatever Nikhil Sir was expecting from me. He had to sit and explain things to me... simple things like that.

And how was it working with Sooraj?
Working with Sooraj was amazing. I don't think I could have asked for a better co-star to debut with.
He is extremely selfless as a human being and as an actor.
He always thinks about the other person before he thinks about himself.

He is an amazing actor. He's very good at emotional scenes.

We have a great friendship and bonding and I think that shows on the screen.

Your mom said in an interview that, because of the controversy surrounding Sooraj, she was initially worried about the two of you working together but her worries evaporated when she met Sooraj and saw you actually working together.

My mom loves Sooraj. She sees a lot of my brother in him. She calls him even before she calls me when a song trailer comes out. She just likes him as a person.

Your dad is a good friend of Jackie Shroff's. What did he say when he came to know you were doing a remake of his movie?
He was really excited. I've known Jackie uncle ever since I was a kid. I spent a lot of time with him when I was younger because of Tiger and Krishna. So he was obviously very happy and supportive and said that it was meant to be.

Did he watch the trailer and call you back and say what he thought about the movie?
Yes, he did, but he spoke to my dad, not me. He said he was really happy and proud.

What next, after Hero?
I am reading scripts, but haven't signed anything yet.