'Some kids in school want to be friends only because I am an actress,' Ashnoor Kaur tells Rajul Hegde/ Rediff.com
Ashnoor Kaur, 10, plays Najma, a little girl from Lucknow, on Sony PAL's show Tum Saath Ho Jab Apne.
Acting is her passion, and but a career in tennis is just as exciting for her.
"I love playing this character on television. But to play tennis and perfect the game, I have started playing with my co-actor (Hasan Zaidi. His character Imran Bahi helps her become a tennis player in the show)," she says.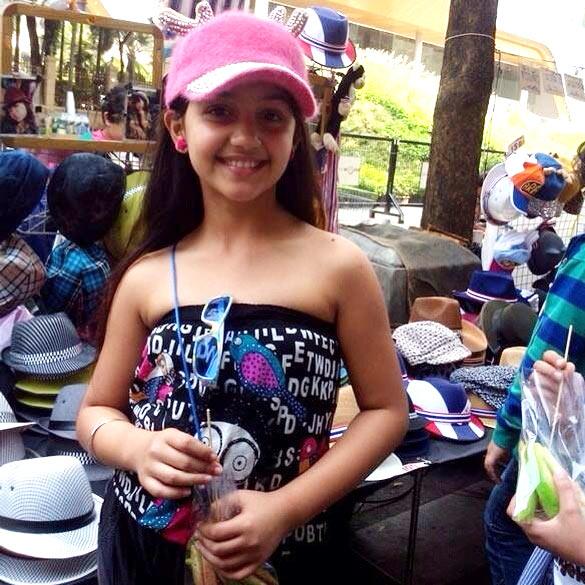 Image: Ashnoor Kaur
In this show, Najma comes from a conservative Muslim family. She faces many hurdles to achieve her dreams, but mother (Barkha Bisht) and her neighbour (Hasan Zaidi) help her out.
"In real life too, my parents are very supportive in whatever I do. They just want me to be happy, optimistic and confident," she says.
Ashnoor, who attends Ryan International School in Kandivali (a western suburb of Mumbai), has mastered the art of time management.
"I don't get to attend school everyday because of the shooting schedules but I am hooked to my studies (Ashnoor is in Class 6). I carry my books on the sets and make sure I complete my lessons. My mother is a teacher. She keeps a tab on my studies," she explains.
Her mother states that Ashnoor is a 'studious' girl. "She scores well in her exams and that works," her mother says. "Recently, her teacher gave her reference to other children in the class when she answered (a question) and they did not, despite being absent for the previous class. She was so thrilled!"
She adds: "Many child actors are from Ryan International School, so the teachers are very understanding and co-operative, when we take half day or full day leave for shooting."
The actress has received a lot of compliments for her portrayal of Nanhi in Na Bole Tum Na Maine Kuch Kaha, Prachee of Jansi ki Rani and Shobha of Shobha Somnath Ki.
"I take part in all competitions, from plays, singing or dancing in school, if they don't clash with my shooting schedules,"says the young actress.
She admits she likes the attention when she steps out. "When I go out, people call me by my character names like Prachi, Nanhi, Najma and Shobha. Sometimes they ask for autographs or pictures. I love it," she says.
She quickly adds: "Some kids in school want to be friends only because I am an actress. I have told them to be my friends only if they are genuine. Also, to treat me like one of them, not like an actress."
And how do the teachers treat her in school?
"They watch my shows and I receive lots of compliments from them. My birthday falls in the month of May, so I distribute chocolates before the summer vacation. Teachers say that they prefer taking picture with me rather than getting chocolates," she says with a smile.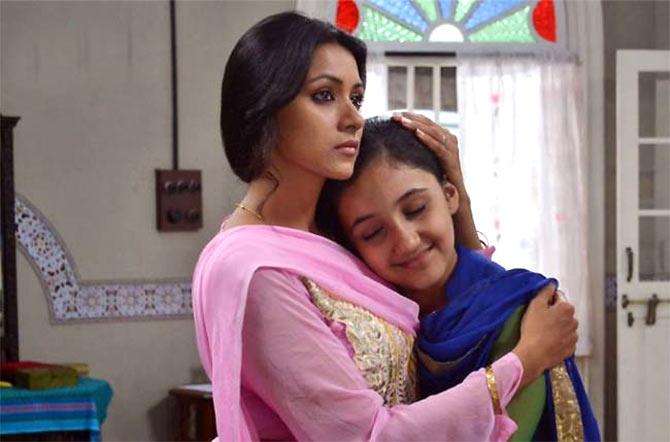 Image: Barkha Bisht and Ashnoor Kaur in Tum Saath Ho Jab Apane.
"Acting is my passion. I will take a break and concentrate on my studies during Class 9 and 10. I want to complete my studies and become an actress like Deepika Padukone," she says.
Any special plans for Children's day?
"I want to spend the day with my friends in a mall. I like to dress up Barbie dolls, so I hope my parents have planned something for me and will gift me a Barbie doll and a kitchen set!" she says with a smile.