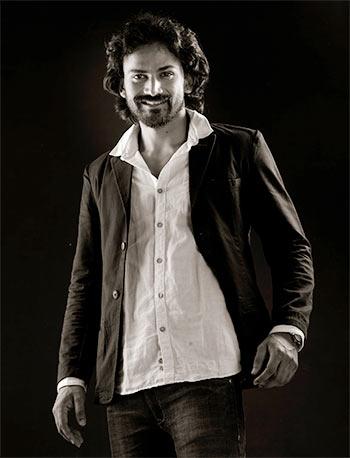 Kannada actor Dhananjay made a successful debut in Guruprasad's Director's Special.
The film won critical acclaim and Dhananjay's performance was much appreciated.
His second film Rhatte, directed by Arjun, releases today.
He talks to Rediff.com about quitting his corporate career to pursue acting, Rhatte, and his forthcoming films.
Your debut film with Guruprasad, Director's Special, was an offbeat film. The trailer of Rhaate, your second film, seems to suggest it's a commercial entertainer.
Director's Special was targeted at a completely different audience. Rhaate is a typical commercial flick and has been targeted at the masses.
My debut film did not have any fights or songs; this one has all of it. It is a love story and has a lot of flavours.
Are you a mainstream 'mass hero' now?
Yes, I play Raja, a small town cable operator who is deeply in love with a girl called Rani and who goes to great lengths to protect her.
We have shot in Gokharna, Bengaluru and a few other places.
Did you deliberately choose to do a commercial film after your debut?
Not at all. I pick scripts that I find interesting. I don't think or analyse too much.
I would like to do all kinds of films, offbeat and mass entertainers.
Why did you quit Infosys to join the film industry?
I completed my engineering and was placed at Infosys.
I worked there for about a year and then decided to quit my corporate career and pursue acting, which has been a childhood passion.
I am the kind of guy who cannot be confined to the four walls of a room or a desk and asked to work between 9 and 5.
I like my freedom and cannot work under somebody.
I always wanted to get into films but had no idea how. Slowly I began doing theatre and then went to Germany for a month to attend a theatre workshop and gradually got into the industry.
Tell us about your next release, Boxer.
Again, it is a commercial film in Pritham Gubbi's style. It is his first action film.
The film has come out well and the trailer should be out soon.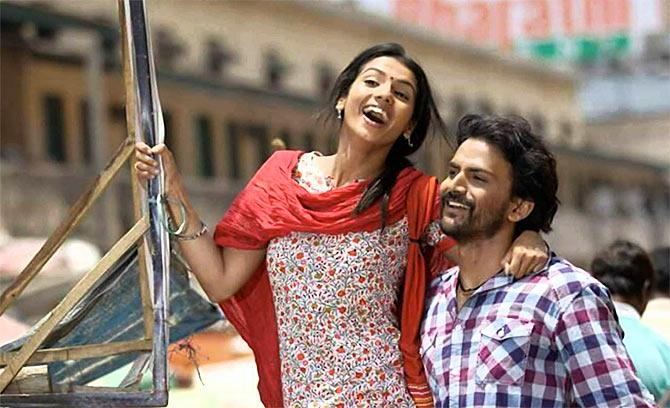 Image: A scene from Rhatte
What other projects are you working on?
I have signed Mr Nagabarana's film, a biopic of Allama Prabhu, the 12th century saint.
The shooting will commence next month.
I play the saint from when he was 18 to 60 years old.
Mr Nagabarana's films are very rooted in the folklore and traditions of Kannada culture.