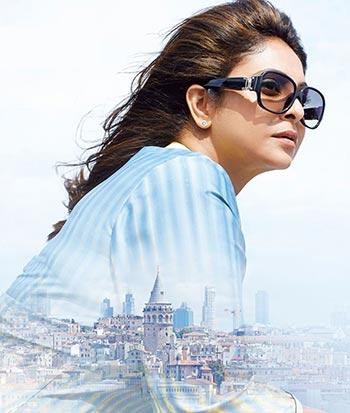 'I never get nervous about my films. But I do get nervous when Vipul's (husband, director-producer Vipul Shah) film is releasing because it affects our whole family.'
Shefali Shah gets ready to face the camera again.
Shefali Shah doesn't like doing mother roles in films but she agreed to play Priyanka Chopra's and Ranveer Singh's mom in Zoya Akhtar's Dil Dhadakne Do.
So what made her do it? Patcy N/Rediff.com finds out in this interview with the talented actress.
Why did you play the role of the mother, Neelam Mehra, in the film?
My character is layered; she comes across as a witch but she is vulnerable.
There were no dramatic moments for me in the script. The role was not massive on paper, but if you explore it, there is a lot that you could play with.
It is one of the best shooting experiences I have had. I wish we could all go back.
It was one of the best scripts I had read in a very long time. It was sharp, wicked, and emotional, without being melodramatic.
The other reason I said yes was because of Zoya. I know a director like her can't go wrong.
This is the second time you are working with Anil Kapoor after Black And White. How has he changed over the years?
He hasn't changed at all. He is as dedicated and committed as he was before. He must have been the most dedicated of the entire lot on the ship.
We were all partying but he stuck to his regime. He would shoot, work out, eat his diet food and go to bed.
Do you get nervous about your films?
No, I never do. But I do get nervous when Vipul's (husband, director-producer Vipul Shah) film is releasing because it affects our whole family.
For me, the experience of making the film is way bigger than anything else. If I get appreciation, that's the bonus.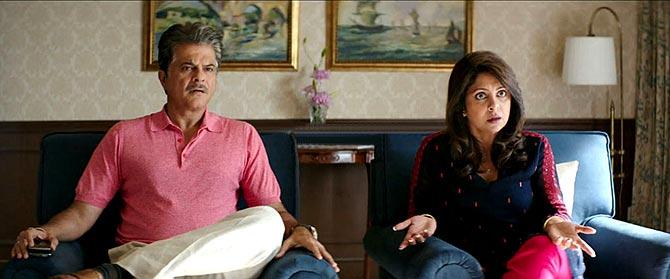 Image: Shefali Shah and Anil Kapoor in Dil Dhadakne Do

Have you come across a dysfunctional family?
Every family has chinks in their armour. I don't know of any family that is perfect.
Every family has its lot of compromises, weaknesses and strengths.
Some families have issues like the Mehras, and some have different issues, but there is this façade that everyone puts up that nothing is wrong and we all love each other. This is a very common thing in every family.
Do you prepare for any of your characters?
There is a basic prep that I do which understands the back story of my character, like where has she comes from, why does she behave in the way she does, what are her likes and dislikes, what would her nature be, is she an aggressive or reticent person, will she lie down and take crap or will she fight back.
This is the skeleton I build of my character. I don't work on every scene till I go crazy.
I am a spontaneous actor. I don't like giving more than two takes.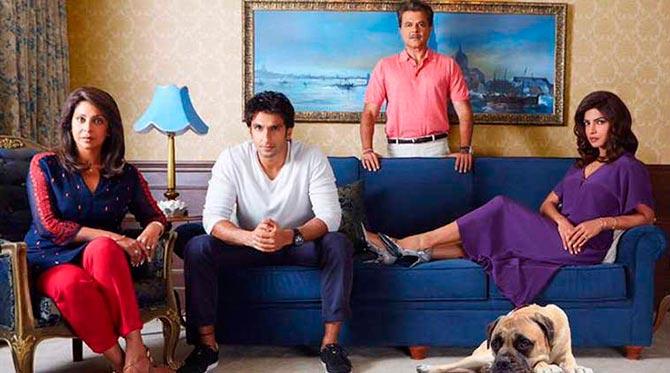 Image: Shefali Shah, Ranveer Singh, Anil Kapoor and Priyanka Chopra in Dil Dhadakne Do

What was it like working with Ranveer Singh and Priyanka Chopra?
I worked with PC (Priyanka Chopra) earlier in Waqt and she a complete trooper, great sporting spirit, extremely professional, helpful, somebody who adds positive energy on the sets.
Run (Ranveer Singh) is totally mad but I love him. I am extremely fond of the boy. He has his heart in the right place.
It is not easy to make an ensemble film -- if there is one person with the wrong attitude, you are jacked.
A lot of the time you are not at the centre of the scene and all you have to do is be in the background and be like a sofa, yet you have to be the character.
It has been said that there are too many characters in the film.
You really need a boss of a director to direct this one because the scale is huge. I am not talking about the production values; I am talking about the number of actors in this film.
There were 25 to 30 actors in this film, and the length of their roles is different -- some have two seconds and some may have 20 minutes.
But every character is important. To get them all and weave it together was done really well by Zoya.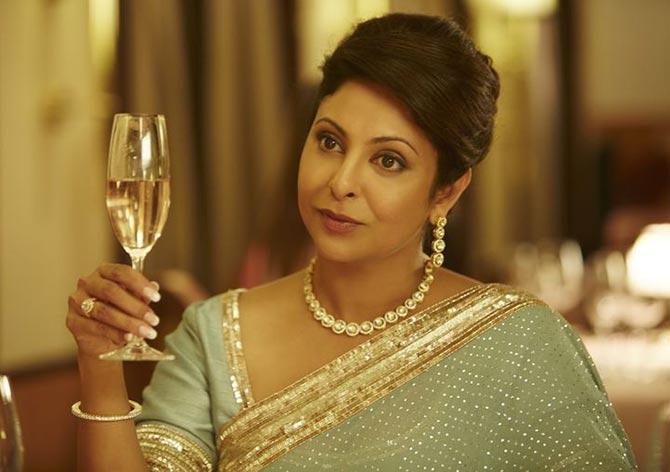 Image: Shefali Shah in Dil Dhadakne Do

Though you are very young, you played the wife of Amitabh Bachchan and Anil Kapoor (Waqt and Black and White respectively) and you looked very believable. How did you do it?
I don't know any other way to do it because if I can't be the character cent per cent, then I have failed.
I love my job way too much not to do it right. That is why I do selective work, something I thoroughly believe in and something to which I will give my heart and soul.
How critical are you of your work?
I am extremely critical. I hate myself all the time on the screen.
Vipul's feedback is very important to me because when I am beating myself thinking I am crap, he gives me a reality check. Nobody is going to be brutally honest other than him.
I am critical about his work too. I give him my honest opinion about his work. In fact, I am far more liberal about his work.
What do you do when you are not shooting?
I have a really full life. I am a mother, I love running my house, I enjoy cooking, I paint, I see three to four films a week with my girlfriend…
That's also the reason why I am selective about work because I don't want to neglect my home.