'Working in DDLJ has been one of the best moments in my career.'
Satish Shah relives the DDLJ moments.
We continue our special series on Dilwale Dulhaniya Le Jayenge, Hindi cinema's longest-running film that will complete 1,000 weeks on December 12.
Satish Shah, who played Parmeet Sethi's father in the film, had predicted that the film would become a superhit, when it was still being shot.
He speaks to Sonil Dedhia/ Rediff.com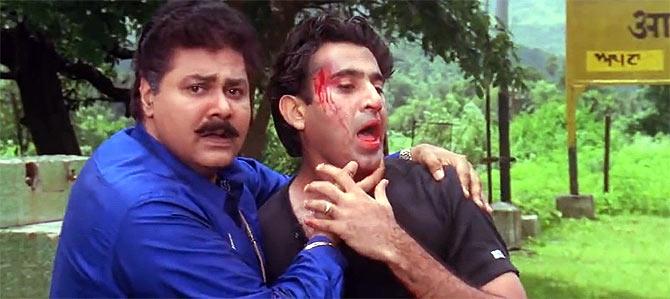 Image: Satish Shah and Parmeet Sethi in Dilwale Dulaniya Le Jayenge
On DDLJ completing 1,000 weeks
It's a great moment. I am proud to be a part of history in Indian cinema. Working in DDLJ has been one of the best moments in my career.
How he became a part of DDLJ
In those days, I was doing a television series called Filmy Chakkar. Someone from the production team at Yash Raj Films visited me on the sets, and told me that Yash Chopra's son Aditya was making his first film and he wanted to cast me.
I met Adi (Aditya Chopra) a couple of days later, settled my remuneration and I became a part of DDLJ.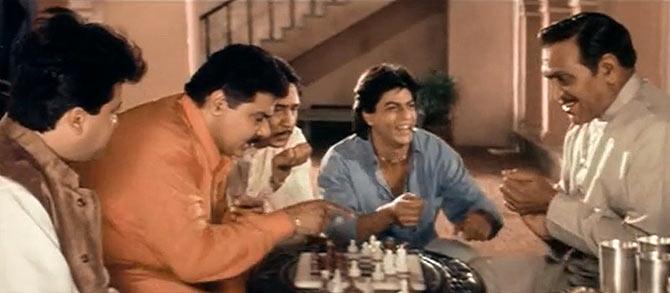 Image: Satish Shah, Shah Rukh Khan and Amrish Puri in the chess scene
Working with Aditya Chopra
I always treated Adi as my younger brother. He is a very shy person but during the shooting, he was very enthusiastic.
He had that 'can do' attitude in him.
He had planned the film very accurately. He knew exactly what he wanted from his actors.
At the same time, he accepted people's opinions. There were times when I would guide him. I improvised a lot and he let me.
There is a scene in the film where Amrishji (Puri) and I are playing chess. Shah Rukh Khan comes in and helps Amrishji with a winning move. So I say, 'You are not only genius, but indigenous.' This was improvised by me.
While shooting for the film, I had realised that Adi had worked really hard on the script and it showed when the film was made. Even today, after 20 years, people go and watch the film in theatre and on some days, it is houseful.
Shooting DDLJ
I had predicted that DDLJ would become a superhit.
Yashji (Yash Chopra) would come to the sets almost every day. Once, we were shooting for the song Mehdni laga ke rakhna and I went up to Yashji and told him 'Yashji, a year ago, I was shooting for Hum Aapke Hai Koun...! in the same studio and that film went on to become a big hit. I'm getting the same vibe with DDLJ. I am sure this film will be a huge success.'
Yashji did not agree with me.
DDLJ was among the last few films to have a grand premier. It happened at New Excelsior theatre in South Mumbai. It was a star-studded affair and we got a thunderous applause.
After the film, Yashji told me, 'Yaar tu toh bhagwaan hai. Shooting ke time bata diya tha ki yeh film superhit hone wali hai.' (You are God. You had predicted that the film will become a superhit during the shooting) and he gave me a tight hug.
Yashji was a very friendly person. He was such a successful filmmaker but still, very humble. Pamelaji (Pamela Chopra, Yash Chopra's wife) took care of us. It felt like a small family.
I got a lot of offers post-DDLJ and most of them had the same theme and script. I was already an established actor but DDLJ added another feather in my cap.
Shah Rukh Khan and I have done many films together before DDLJ, so we had a comfort level. That helped during our scenes in the film.
I had seen Kajol as a little girl. Her mother Tanuja is still a good friend of mine.
Why DDLJ is relevant even today
DDLJ had a great story and some beautiful songs. The dialogues have become iconic. Every time you watch the film, you discover something new.
Also, Adi got the perfect casting. I don't think you can replace anyone in the film.